2013 in Vietnam - Version 1.0
Washed dishes at Papa Foods. Ventured to Hanoi with Yoga Anna. Hoa Binh Museum Adventure. Thanh Hoa Adventure. Moved to Saigon in February 2013. Was encouraged to move there. Worked at Tan Van & New Star. Moved to Balo Hostel in April. My first apartment in May. Visited Dalat in June. Visited Cambodia in August. Moved to District 12. Moved to Tan Phu. Began teaching in Thu Duc, a high school, the Leaf Pagoda, Fellowship Youth Group (FYG) in District 1, English Rain, etc. Met people. Kathy took my first bike in March 2013. Lost another bike like a month later. Lost my third bike in December. Visited Long An with students in December.
Yearly - 2012 - 2013 - 2014 - 2015 - 2016 - 2017 - Monthly - 2012 - 11 - 12 - 2013 - 01 - 02 - 03 - 04 - 05 - 06 - 07 - 08 - 09 - 10 - 11 - 12 - 2014 - 01 - 02 - 03 - 04 - 05 - 06 - 07 - 08 - 09 - 10 - 11 - 12
American English Teacher - 2012-2017
January - February - March - April - May - June
Facebook - Infowars - Discord - Steemit - Telegram - Other Social Networks
Some highlights from 2013 in Vietnam - Version 1.0, as follows:
Yoga Anna
2012-11-29 - Thursday - 12:00 PM ICT - I arrived in the Hanoi Airport in Hanoi, Vietnam. Yoga Anna Dieu Le met me online in like December of 2012. I moved to Vietnam in November 2012 to teach English at New Star in Bac Ninh, until they changed their mind on that. In December, started working at Papa Foods as a dishwasher. Looked for English teaching jobs. Met people. Read more on my 2012 in Vietnam Adventure...
Moved to Hanoi
2013-01-01 - Tuesday - January of 2013 - I was still working as a dishwasher at the Papa Foods Restaurant until like the second week of January. I met Yoga Anna in person in January. I met other people. They helped me look for work. I visited a church in Hanoi with Joy Sanchez in December 2012. In January, Yoga Anna gave me a tour of Hanoi. I was couch surfing in Hanoi at her friend's house for like the last two weeks of January. Yoga Anna introduced me to her friends. We visited restaurants, a museum, street food vendors, old streets or old town. Many adventures. Fun times. Yoga Anna was trying to find students for me. I taught some of them English a few times. We had many conversations about history, philosophy, politics, life, food, fashion, etc. 2013-01-31 - Thursday - Yoga Anna connected me with the owner of the Muong Village Museum in Hoa Binh, which might be 100 miles south of Hanoi. I met with him at like a museum in Hanoi. We drove like in his car to his museum. Read More on January of 2013...
Museum & Thanh Hoa
2013-02-01 - Friday - February of 2013 - I was at that museum to teach the staff English. The owner was giving me a test drive. They gave me a tour of their museum. They showed me around. We had some good food. I met the staff. They had around a dozen staff. I arrived to the museum on Thursday night. I was there until Monday. The owner might have said that I wasn't a good English Teacher, allegedly. Yoga Anna visited. She told me that the owner didn't want me, allegedly. So, he didn't tell me directly. He knew some English. I didn't confirm the details. Monday morning, I slipped in the rain while carrying my luggage, dropped my phone. That broke my phone. I hopped on a bus. I went to Thanh Hoa, the hometown of Yoga Anna. 2013-02-09 - Saturday - hopped on a bus to Hanoi. I didn't return to Papa Foods in Bac Ninh. I walked around for hours looking for a hotel. Found one. Paid $20 USD. Hopped on my laptop, onto Facebook and asked the world what I should do. HNY (Tracy) encouraged me to look for work in Saigon. I bought a plane ticket that night.
Moved to Saigon (HCM)
2013-02-10 - Sunday - 06:00 PM - I arrived in the Saigon Airport from Hanoi. HNY picked me up and hosted me at her house at 89/40/24 Nguyễn Hồng Đào, Phường 14, Quận Tân Bình, HCM. Monday, as a family, we all went in vans to their hometown for Tet, AKA the Vietnamese New Years. I met HNY's family, relatives, friends. We had conversations. We ate food. HNY had a relative who was like a 13 years old boy. He knew some English and would talk to me.
Kathy
2013-02-17 - Sunday - 02:00 AM - I returned back to HNY's house. 09:00 AM - Peter took me to his church. In the afternoon, Kathy met me in person for the first time. She gave me a tour of Saigon. Monday, she drove me around again. HNY got me an interview with Tan Van. Her dad drove me it. Tuesday, she drove me around as well. HNY got me an interview with a school. Her dad drove me to it. Wednesday, I moved to distrct 8. Kathy drove me around. Kathy gave me more tours of Saigon. It appears as if Kathy was very interested in giving me tours, free of charge. I'm not specifically sure. Kathy and HNY helped me find work. Kathy pushed me to buy a $180 electric bike in February or March of 2013. She sold that bike to her friends without my consent. She bought me Vietnamese classes. Her friends invited me to dinner a few times at their free hospital clinic. Read more on February of 2013...
Tan Van & New Star
2013-03-01 - Friday - March of 2013 - Began teaching for Tan Van (507A Quang Trung, 10, Gò Vấp) on Friday. Kathy drove me on her motorbike to the kindergartens, preschools, middle schools, elementary schools, and high schools, to teach English as a Tan Van English Teacher. I signed a 6 months contract with Tan Van which they might have broke. Began teaching at New Star at 169 Độc Lập, Tân Quý, quận Tân Phú about a week later. Kathy drove me to work until April 2013. So, I remember watching the Karate Kid III on TV one time. I didn't watch the whole movie at that time, but saw part of it and it brought me back to the 1980's. Kathy cracked my laptop screen when she was hitting me. Read more on March of 2013...
April of 2013
2013-04-01 - Monday - 04:54 AM PST - April of 2013 - I emailed Andy of Papa Foods, "Andy, this is Joey Arnold. I found a job. I want to tell you all about it." No response to that email.
Paid
2013-04-05 - Friday - Tan Van paid me my monthly salary. Kathy wanted me to give her my salary. I said no. She got mad and said that she would stop driving me to work because I was too greedy or something according to her. I had many conversations and arguments with her on this. I told her that I never promised to compensate. She was probably expecting compensation. But a deal was never finalized beforehand, in the first place, originally, clearly, officially, completely, honestly, entirely. I wanted her to understand that. I went on to give her money but then she rejected it.
Balo Backpacking Hostel
2013-04-08 - Monday - 09:00 AM ICT - I moved into the Balo Backpacking Hostel which was renamed as De Journey Hostel. Kathy dropped me off there. Tuesday, she drove me to work one last time. After that, I paid a motorbike driver to take me to work a few times. Probably in April, in district 4, I bought a $100 bike. That might have been overpriced. Some months later, I lost that bike at the Balo hostel. I met the leaders of the Fellowship Youth Group (FYG) online and then we met in person probably in April. I began teaching them English. After that, began teaching at their English club in District 11. Read more on April of 2013...
First Apartment
2013-05-01 - Wednesday - May of 2013 - I moved to my first apartment at 191/37b Võ Duy Ninh, phường 22, quận Bình Thạnh, TP.HCM: rent: $150/month approximately. Wait, maybe only $130 apx. I New Star Teenage Girls English on Friday and Saturday nights. I would drink coffee at Fresco. Oanh Bui Bui and Ichada Pham were helping me get the rest of my things shipped from Bac Ninh to Saigon. 2013-05-08 - Wednesday - 11:53 PM - Robert wrote to me on Facebook that T.Dog would be the next to die on The Walking Dead (TWD). Tyler Capp emailed me saying that I burnt bridges. AES emailed me. I eventually bought a third bicycle and began riding my bike to work all over town each day.
Missing Things
2013-05-22 - Wednesday - 12:18 AM - I wrote on Facebook: "I'm missing my 32 GBs & 4 GBs USB sticks, Nalgene water bottle, screw drivers, etc...." During 2013, I was also working on Mea Omnia with Brent Groth. We would email each other, back and forth a lot. New Star Kids Classes Added. Read more on May of 2013...
Da Lat City
2013-06-01 - Saturday - June of 2013 - 2013-06-04 - Tuesday - 2013-06-07 - Friday - Tan Van Dalat Vacation Trip - Saw waterfalls, flowers, the market. Took photos. Visited a Catholic church. Took more photos. Saw a stripped horse (VN zebra). Rode on long 2-people bikes. I attended the FYG Q.11 house church on Sundays.
Needing Better Appearance
2013-06-12 - Wednesday - 05:34 AM - Tan Phu New Star Huynh Hong Le emailed me and told me all about that.
Drink & Talk
2013-06-25 - Tuesday - 01:03 AM - I emailed myself, "Vọng Nguyệt. Drink & Talk Club: daily: 7 - 9:30 PM. 36/70 Đường D2, phường 25, quận Binh Thanh, HCM. The club was on the second floor. Began attending around this time, if not sooner, and would attend a few times a week, generally, in 2013. Read more on June of 2013...
Santa Clause Farms:
2013-07-01 - Monday - July of 2013 - Yoga Anna emailed me: "Living and working on a sustainable school farm is my dream where I will have an experience to enjoy the great combination of physical and mental work." I replied: "Sounds good." She returned: "Hey Joey can you help me and my friend more?" I wrote: "No. I'm more of a micro-manager than I am a macro-Santa-Clause." Tuesday, I emailed FYG saying I was kicked out of my house. Cops might have complained to my landlord. I continued living at my first apartment until August. On Facebook, Opa Tom Helus wrote to me about how Vietnamese may not catch my sarcasm or whatever else I may sprinkle in what I write, what I say. Some of it may go over their heads. It can go over anybody's head. They may not get the context, the different possible meanings. They may have simply missed it. Kathy Bike Debate. Phoebe McGuiness asked me if people who get tattoos are bad or not. Snif Petite talked about being drunk. Chi Bellissa Nguyễn. Hoa Lê. Amber mentioned Tiffany Cumbo.
Bicycle Tires Popped
2013-07-20 - Saturday - 07:56 PM Blog Time - 02:00 AM ICT - Kids Did This - I wrote: "As I was riding my bicycle home today at 2 AM, kids started begging me for money. I stopped to firmly reject their request. The 7 year old boy popped my back tire. After that they began yelling. They started threaten me with rocks. Motor-bikes saw this but went on by. Does this mean that I cannot even trust the children in district Binh Thanh at 2 AM?" Scott Sidartha Schwartz replied: "you cannot trust Anyone ANYwhere at 2 am, bro." I replied: "I want to give people a benefit of a doubt. I tried keeping my eyes open. I am not sure if my tire was popped or not. A man put more air in that tire for 2,000 VND. I was not sure if there was a hole in the inner-tube or not, but the man just pumped up my wheel. We will see if it holds. Whenever bad things happen to people, it kind of scars us and it makes us more defensive, more distant, and more careful. While it is vital to be attentive, it is also depressing. At night, I usually avoid people, but like Michael Jackson and Pee Wee Herman, I kind of have a weakness and petty wire sweet tooth for children. The children refused to accept my no. They kept on asking me. I kept on saying no to them. Grown-ups will walk away but these kids thought they could make me change my mind....."
History of the New World Order
2013-07-23 - Tuesday - 11:09 AM - A history of the New World Order — Part I - Part II - Michael Journal - I copied and pasted information from the Michael Journal website which featured some outline of the Rothschild family, the central world bankers. They began really doing what they do in the 1700's.... Huỳnh Hoàng Anh.
District 12
2013-07-24 - Wednesday - I might have ventured to District 12 on this day. I made an album called "Wednesday in District 12." I remember going there to have dinner with 2 Vietnamese girls, Russia Nga Bich Nguyen and Tiffany Bang Lang Tim Ngan Vo, and a Vietnamese man, their friend, Hung Xuan Ha 90. Arnold Attic Island Reunion Photos Received via email. Trang Nhi said that I was complicated in my extreme love and hate for everything. Read more on July of 2013...
Tan Phu New Star Ended
2013-08-01 - Thursday - August of 2013 - Hong Le Huynh was the manager of the New Star English Center in the Tan Phu District, HCM. She told me they had to let me go because government was breathing down her neck. She said that they may hire me back someday. But that day never came.I didn't have a teaching certificate. So, I wasn't technically legal, allegedly, possibly, depending on the Vietnamese laws specifically. I taught at New Star from March to July. Lisa Olen messaged me, saying she was thinking about visiting Vietnam someday and that she wanted to know what a fellow American thought about it. For five days, I was in the hospital with Dengue Fever, around the first week of August, I'm guessing. Looking for a new room.
Animals Are Dying
2013-08-05 - Thursday - Animals Are Dying Video
Family Reunion
2013-08-09 - Friday - Mom's siblings, Karen & Brian, probably visited Mom. New Star told me to come in on this between 08:00 - 11:00 AM ICT.
Police Fined My Landlord
2013-08-13 - Tuesday - Saigon Time - Police Fined My Landlord - 400.000 VND ($20 USD) for that day. Threaten to fine the landlord daily, as long as I was there, maybe, or so I was told. Not too sure. I moved to Tan Binh by like Thursday.
Cambodia
2013-08-17 - Saturday - 07:00 AM ICT - 11:00 PM - I went to Cambodia on the bus on a visa run for the first time and came right back that same day. I had to move out of my Tan Binh room around Monday. After that, I moved in with Rick Hung Nguyen in District 12. Read more on August of 2013...
Leaf Pagoda
2013-09-01 - Sunday - September of 2013 - Began attending the Leaf Pagoda (Chua La) in August or September. I was watching Golden Boy, Now You Can See Me, Taken 2, How I Met Your Mother, Perception, etc...
Tan Van Foreign Language School
2013-09-05 - Thursday - 08:03 AM - Hoa Thien Bien Facebook messaged me: "hi, i have known Tan Van Foreign language school did not call you teach English 3 months ago. is it right? and when you call them, they did not answer, when you send mail, they did not answer. i wanna you answer, and if it is the truth, i will help you." The Kangaroo English began saying they would get me deported from Vietnam in September 2013. I asked people what my Vietnamese name should be. Began teaching at that high school. Dexter Goes to WOLBI Argentina. Sue Trang Nhi. Hoa Thien Bien. Read more on September of 2013...
Moved to Tan Phu
2013-10-01 - Tuesday - October of 2013 - I moved from District 12 to Tan Phu around the first week of October, possibly. I was teaching in the Thu Duc District to the staff of a food exporting company. Ron Clark was the pastor of Agape Church of Christ. He had a Obama Care health care debate on Facebook. I was in it. The Leaf Pagoda gave me my own weekend class in October 2013 which continued to February 2014, three hours weekly: 07:00 PM ICT on Saturdays and Sundays. Maybe it started at 07:30 PM. I forget.
Breaking Bad Dream
2013-10-15 - Tuesday - 05:46 PM - I blogged: "Me and Matthew Matthew Kurtz were touring the United States on a hot New Mexico Day in his van. As I was in the back making meth, I noticed that we were running out of gas. I tipped a can of gas into the gas receiver which is located inside of the van. Later, I noticed that it was overflowing. I put too much gas in it. As quick as I could, I grabbed the can of gas to save the day. Later, I started noticing small fires in the wood..." (continue reading)...
Breaking Bad
2013-10-17 - Thursday - 10:20 PM - I posted on my blog a Breaking Bad recap video from YouTube which was later removed.
Leaf Pagoda
2013-10-19 - Saturday - I met Hoa Mặt Trời.
Drink & Talk English Speaking Club
2013-10-21 - Monday - 06:12 PM - I wrote the following on my blog: "Luis Casanova "KICKED ME OUT" of the Drink&Talk English Speaking Club, which lacks native American English Speakers. Luis says that I must pay money to go to the club...." (continue more)...
English Rain
2013-10-22 - Tuesday - I got a message from English Rain. I taught English with that Vietnamese man in Q.Tan Phu a few times. Moc Cafe English. I told Fulton Hawk on Facebook about Hot Boy. Yuki Eye English. I was watching Fringe. Huyen Trinh Thi Thu. Thương Đoàn (Út Lỳ). Hieu Tran. Tan Phu Roomies - Minus the first man. I met lawyer Tan Huy maybe in October or before that. He became my student. Read more on October of 2013...
Speak Up English
2013-11-01 - Friday - November of 2013 - Sunday, visited Speak Up English and was told to pay. I argued with the owner on that until he let me go without paying after like thirty minutes. I thought I was mislead. I taught English at Mộc 37 Cafe. I talked about a new English Center that I wanted to build. English Rain at 7 PM on Fridays. Tiem Long was my student at Solo Cafe. I met Charlene Jolly. Two Hot Women Asked For My Number. I taught English at Z Coffee - Cocktail & Wine. I visited Grace Cafe and Master's Cup.
HOLA Got Talent 2
2013-11-17 - Sunday - 11:00 AM - 01:00 PM - approximately - English Club Party - met Angie Les - Angela Francis. and others. Played guitar. We took photos. Went to Pizza Hutt or something and ate pizza. I only met with them that one time.
Arnold Island
2013-11-23 - Saturday - 01:49 PM: Katie emailed me: "I sent you the highlights in photos. Dad is visiting Ricky now. Dad came and he saw and then he left. It was amazing to see Dad and he came here not to see NYC he came to spend time with his daughters. It was very moving and we all behaved well. Just wanted to share the happiness with you. Hope you are keeping up with creating art in whatever form you are doing. Your creativity and voice is a gift to the world. Katie."
Kyo York
2013-11-25 - Monday - 09:35 AM - Kyo York - : "Who is this original oatmeal character??" Met Tri Quang Dinh while biking to the Leaf Pagoda. Read more on November of 2013...
FYG District 1
2013-12-01 - Sunday - December of 2014 - My Heo left me a comment. She was friends with Tiffany, Russia, and Hung Ha, who I met in July 2013. Was teaching in District 1 with Felllowship Youth Group (FYG). I met some people at the 23/9 Park. Online, some people might have called me a pervert and other names, including fake Craiglist ads. Saigoniz Cousine. I knew Clarence Lumpy Rutherford.
Met Her
2013-12-10 - Tuesday - 02:59 PM ICT - I knew Huyền Na from the Leaf Pagoda. Matt Smith said he might visit me. He owes me money.
Stolen Bike - 23/9 Park
2013-12-13 - Friday - 03:12 AM - I wrote: "he police stole my bike.... (read more)...
Long An
2013-12-15 - Sunday - video - My Leaf Pagoda students took me to their hometown, Long An. I knew Phuong Huynh. I worked at Saigoniz. I knew Loan Gấu Mẹ Lona. Kieu Nhiep. Read more on December of 2014...
1920's - 1960's - 1980's - 1985 - 1986 - 1987 - 1988 - 1989 - 1990's - 1990 - 1991 - 1992 - 1993 - 1994 - 1995 - 1996 - 1997 - 1998 - 1999 - 2000's - 2002 - 2003 - 2004 - 2005 - 2007 - 2008 - 2009 - 2010 - 2011 - 2012 - 2013 - 2014 - 2015 - 2016 - 2017 - 2018 - 2019
At the Leaf Pagoda in September of 2013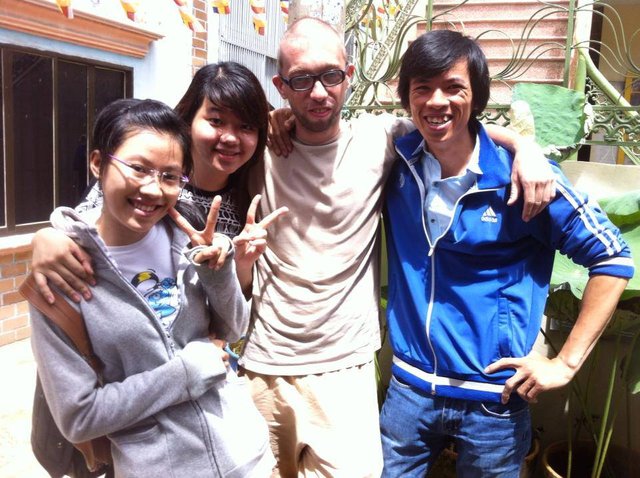 2013 in Vietnam - Version 1.0
Published in May of 2019 by Oatmeal Joey Arnold (@joeyarnoldvn) in Shelton, WA, USA - Biography - Contact Me - Taught English in Vietnam - Live Bookmark - Get My RSS Feed - My Newsfeed - Forbidden News - Infowars Activism Forum
About Me - Oatmeal Joey Arnold - you can contact/ befriend (add)/ follow/ subscribe/ watch/ like/ share me via: Bitchute - BearShares - Brighteon - Busy - Chess - Discord - Facebook - Freezoxee - Gab - IWA - @joeyarnoldvn - Minds - RSS - Serey - Smoke - Steemit - Tagged - Trump Town - Tumblr - Twitter - Weku - YouTube - Other Social Networks
2019-02-01 - Friday - 10:24 AM LMS - Reviewing the Month of January of 2019
2019-02-15 - Friday - 05:41 PM LMS - Gotham 506
2019-02-17 - Sunday - 10:08 PM LMS - Can America Learn From Athens?
2019-02-18 - Monday - 12:31 PM LMS - The Walking Dead 909
2019-02-18 - Monday - 06:07 PM LMS - Snow Day 1992
2019-02-20 - Wednesday - 09:36 AM LMS - Draft Dodging vs Loving War Debate
2019-02-27 - Wednesday - 11:38 PM LMS - Joe Rogan Alex Jones Experience 1255
2019-05-13 - Monday - 12:00 AM - Monday the 13th of May of 2019
2019-05-14 - Tuesday - 12:00 AM - Tuesday the 14th of May of 2019
2019-05-14 - Tuesday - 10:20 AM - December of 2014
2019-05-15 - Wednesday - 12:00 AM - Wednesday the 15th of May of 2019
2019-05-15 - Wednesday - 01:19 PM - 2012 in Vietnam - Version 1.0
2019-05-15 - Wednesday - 04:20 PM - 2013 in Vietnam - Version 1.0
2019-05-16 - Thursday - 12:00 AM - Thursday the 16th of May of 2019
Published at 2019-05-17 - Friday - 01:18 AM

Vy Tran met me in 2013 - she encouraged me