De Ja Fu
Ra Ra Roo Roo?
Almost seems like yesterday when the Portland Trail-Blazers did what many of the non-Jail-Tweekers spectators expected in falling once again to the 2-time defending world champs, Los Angeles Lakers, in the first round of the NBA playoffs like they did in 2001 and 1998. Like Scott Adams, the Dilbert creator, may say, that we must be in a simulation.
1991 | 1992 | 1995 | 1998 | 2004 | 2007 | 2018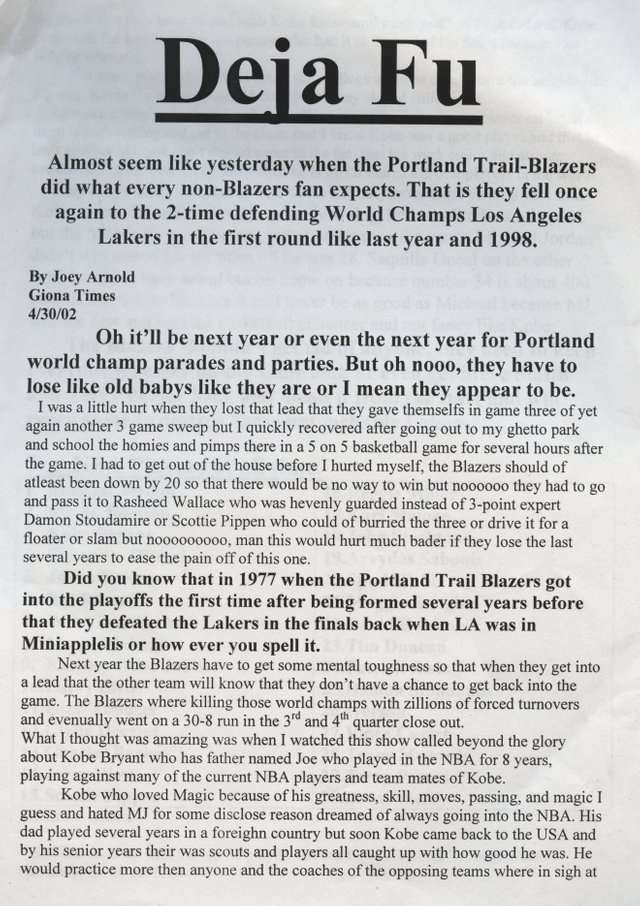 Next Year
Oh, it'll be next year or maybe even the year after that until Oregon gets to have their own world champion parades, parties, celebrations, Holocaust Deniers, I mean, Blazers Curse Deniers, seem to say year after year.
Old Babies
But they have to lose like old babies like they really are, what they appear to be, it seems, so far. I was a little hurt when they lost that 15 points lead they had in the third quarter of like a third game with the Lakers which ended with the Lakers winning somehow. I recovered emotionally by going out to the play basketball, b-ball, as I was living in the hood, the ghetto, and I went out to play ball with homies, Mexicans, and white people, and pimps, and stuff. I tried to smoke and school the homies. I'm in it to win it. We played in 5 on 5 basketball games for several hours.
The Blazers should have been down by at least 20 points instead of being up in order to make the pain of loss justifiable. But they had to pass it to Rasheed Wallace who was Heavenly guarded instead of passing it to my idol, the Mighty Mouse, Damon Stoudamire, my favorite Blazer besides Clyde the Glide Drexler. They could have passed it to Damon or Scottie Pippen who used to play with Michael Jordan on the Bulls. They could have buried a three pointer. Scottie could have fired it off or could have drove it to the hole for a layup, a floater, a slam dunk, a fade away, but noooooooooooooooooooo, man, this hurts much bader, more bad, more worse, than if they were to have lost the previous seven years in a row, and that would not even ease off the pain of what happened here.
Did you know that in 1977 when the Blazers got into the playoffs the first time after being formed a few years prior, that they defeated the Lakers in the Finals, back when the Lakers were in Miniapplelis, I mean, Minneapolis, Minnesota, which went on to get the Timberwolves, not to be confused with the Justin Timberlake. Wait, why did I write that? The Blazers lost the first 2 NBA Finals games to the Philadelphia 76ers, not the Lakers, but then won the last four games to win the title in 1977.
For the 2003-2004 season, I wrote, the Blazers need to get some more mental toughness in order to maintain larger leads with other teams, to not let opponents get back into the game at the end like the Lakers did, mostly with the help of Kobe Bryant, not to be confused with Shaquille O'Neal. The Blazers were killing them Lakers into zillions of forced turnovers and the Blazers went on a 30-8 run in the third and fourth quarter to close it out or so I thought. What I thought was amazing was when I watched this show, this documentary video on TV on Kobe who's father had my name, Joe, who also played in the NBA for 8 years up until the early 90's and Joe played against some of Kobe's teammates and others too. Kobe loved Magic because of his greatness, skills, ability to pass the ball, to assist, in getting others involved in plays. Kobe hated MJ because of reflection, inflection, the mirror, as MJ played too much like Kobe, or maybe there were disclosed reasons for the hate towards MJ. Kobe dreamed of going to the NBA. His dad, Joe, played several years in other countries, foreighn countries. They moved to America and people started seeing how good Kobe was at at school. The talent scouts found Kobe and got him into the NBA. Like MJ, Kobe would practice more than anybody. Coaches would sigh at his greatness, and they were chock, I mean shocked that they had to deal with Kobe for several more years in high school. Kobe even stole the ball from the last person who had it in his dad's like game in like Italy or whatever.
Skipping College
Not many people thought Kobe could successfully skip college and go straight to the NBA, especially as Kobe may not have been as strong, big, and as wide as big men, centers, like Kevin Garnet, Moses Malone, Karl Malone, and especially Shaq who has his own game and movie. Some do skip college, especially if they're bigger. To make a long story short, I will quit talking about the only decent player on L.A., assuming there is such a thing as a good player on the Lakers, and I will cut to the chase right now to say that I knew that Kobe was a good player but that he is not MJ. However, you can't deny access to the fact that Kobe's work ethics and attitude (attitute) towards being the best truly (truely) shows that Kobe is one of the best players in the world. Hey, all you Kobe Haters, I don't like the Lakers any more than you do, unlike my dad who loves the Lakers, but it is just that Kobe is a lot like 23, the number of my bus during high school, and I want to be like Mike, and Kobe is about to get a third ring and Kobe is only 23 years old and he is said to be an all-time great. Beyond that, Kobe is only going to get better with age, like wine, like cryptocurrencies. Michael didn't begin winning titles until he was 5 years older than Kobe was. MJ began when he was 28 years old, even as Kobe was 23 when he started winning NBA championships. Shaq is said to have talent, but come on, number 34 is like 400 pounds of Kazaam and is like 8 feet tall. Number 8 or number 24 will never be as good as MJ who is a basketball god, an enhancer of the game at a fundamental level. The Blazers shouldn't get rid of anyone. They need to keep everyone together on the same team, he same club. They should get Steve Smith or even Terry Porter back to help themselves destroy those untouchable Lakers.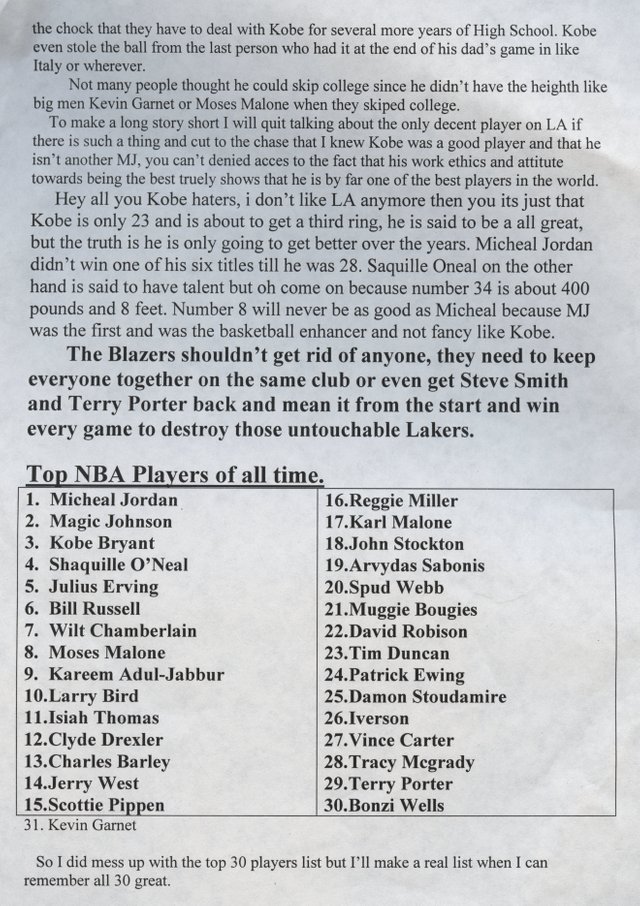 De Ja Fu
Published in August of 2018 | @JoeyArnoldVN
2018-08-24 Friday 10:07 PM LMS | De Ja Fu
2002-04-30 Tuesday PST JA 163 FGHS Giona Times
Published at 11:33 PM
Art | Articles | Biography | Family | Videos | Websites | Work
Social | Facebook | Gab | Minds | Twitter | YouTube | etc.
Support Me | Go Fund Me
Art | Education | Entertainment | Feed | Freedom | Health | How-To | Law | Music | Networks | News | Random | Religion | Science | Technology | Travel
Top 31 Player
List as of 2002, April 30th, Tuesday:
Michael Jordan
Magic Johnson
Kobe Bryant
Shaquille O'Neal
Julius Erving
Bill Russell
Wilt Chamberlain
Moses Malone
Kareem Adul-Jabbur
Larry Bird
Isaiah Thomas
Clyde Drexler
Charles Barkley (not Barley)
Jerry West
Scottie Pippen
Reggie Miller
Karl Malone
John Stockton
Arydas Sabonis
Spud Webb
Muggsy Bogues
David Robinson
Tim Duncan
Patrick Ewing
Damon Stoudamire
Allen Iverson
Vince Carter
Tracy McGrady
Terry Porter
Bonzi Wells
Kevin Garnett
So, I did mess up with this top ten 30 NBA players list but I'll make a real list, a better list, when I can remember all 30 all-time greats according to me.