The Giza Death Star Revisited: A New Steemit Novel Chapter 70
The Giza Death Star Revisited: A Novel Based on the Work of Joseph P. Farrell
©2017 by Carl Joseph DeMarco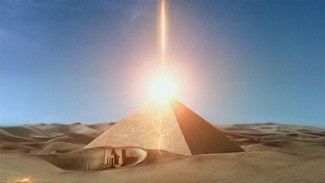 Prev. Chapters: 1, 2, 3, 4, 5, 6, 7, 8, 9, 10, 11, 12, 13, 14, 15, 16, 17, 18, 19, 20, 21, 22, 23, 24, 25, 26, 27, 29, 29, 30, 31, 32, 33, 34, 35, 36, 37, 38, 39, 40, 41, 42, 43, 44, 45, 46, 47, 48, 49, 50, 51, 52, 53, 54, 55, 56, 57, 58, 59, 60, 61, 62, 63, 64, 65, 66, 67, 68, 69
Chapter 70
"My Lord, ladies, the only thing more delicious than your chili and fry bread is your venison."
"Thanks. We try."
The gang was gathered outside under a large mess tent they had erected.
"I need to go to Las Vegas tomorrow to talk to a friend. I was wondering if any of you would like to go along with me."
"What's up?"
"Did any of you notice that flyover the other day?"
"Ah, it's not unusual to see private aircraft out here."
"There was something about the flight path of this one in particular that made me nervous."
"What do you mean?"
"Oh, let's just say it looked like they were trying to get a good look."
"I see. So what's that got to do with Vegas?"
"I have a friend there, who, due to his family name, is able to, shall we say, arrange certain things. We may need to boost our manpower around here, just in case."
"Can you be more specific, Giuseppe?" asked Georgeanne. "At least give us your high octane speculation."
"My high octane speculation is we're going to get some unexpected company in the near future."
"We'll go," offered One Flare.
"We're not going on a lumber run."
"I know."
"On second thought, both you boys have some Sicilian in you. That might be just what we need."
"I see where this is going," observed Greaves. He stuffed a morsel of sage hen in his mouth and eyed Daryl.
"Hey, I can work with anybody."
This post is Steem Verified