The Giza Death Star Revisited: A New Steemit Novel Chapter 51
The Giza Death Star Revisited: A Novel Based on the Work of Joseph P. Farrell
©2017 by Carl Joseph DeMarco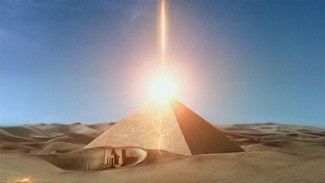 Prev. Chapters: 1, 2, 3, 4, 5, 6, 7, 8, 9, 10, 11, 12, 13, 14, 15, 16, 17, 18, 19, 20, 21, 22, 23, 24, 25, 26, 27, 29, 29, 30, 31, 32, 33, 34, 35, 36, 37, 38, 39, 40, 41, 42, 43, 44, 45, 46, 47, 48, 49, 50
Chapter 51
"Let's have a big hand for No Reservations!" exclaimed Cher as she strolled onto stage clapping her hands.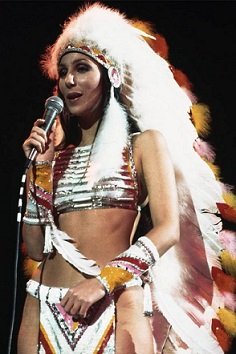 Anyone remember Cher?
It was dress rehearsal and Carrie's band just finished the three-song set they'd prepared for the concert. Müller and Edda stood up from their seats in the back of the hall and applauded mightily. Mr. Silva and his cohorts joined them.
The Holiday Inn Express in Gallup was the perfect venue for bureaucrats: it was comfortable while being completely uninteresting. It was so inoffensive it was offensive, except to bureaucrats and academics. The conference room had been gaily decorated for the holiday with a mix of Christmas, New Year's, and Native American. The celebrities stayed down the road at the historic El Rancho on historic Route 66, where stars of the great Hollywood westerns had stayed decades before during location shooting.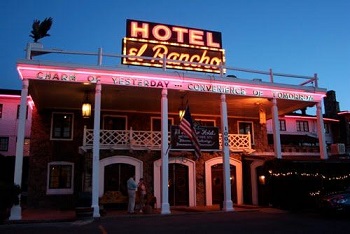 Hotel El Rancho
No Reservations took their bows and left the stage with their instruments as Blackfire made their entrance.
"And now, I'm proud to announce our grand finale for the evening, not just a spectacular local talent, but a band that's ignited places all over the world, Blackfire!"
As Carrie, Mary and the two boys who were in the band made their way back to their rooms in the hotel, Mr. Silva and his sinister band quietly exited out the back and moseyed toward Carrie's room behind them. It was just about at that moment that Thorny and One Flare pulled up to the hotel in One Flare's '68 Volkswagen Westfalia.
a '68 Westfalia, also called a Volkswagen bus.
"You sure this is the right place?"
"You can't hear the music?"
"Yes I can hear the music."
"Gyawd. Alright then."
"Jeezus, what a ride. Why didn't we take the 442?"
"Cuz Westfalias are cooler than 442s, and use way less gas."
"Cooler than a 442," scoffed Thorny.
442
"Chicks dig Westfalias. What time is it?"
Thorny checked his watch, "almost 10."
The front desk clerk noticed them and immediately thought, "Are you here with the event?"
"We're actually here to meet one of the bands. We'll be in the audience tomorrow night."
"Excellent. Would you like to dial their room?"
"Sure. Thanks. Tsosie. 301."
"I'm afraid there's no answer. Maybe they're still in rehearsal."
"OK, we'll wait here in the lobby."
"The bar's open if you like."
"Can't. Driving."
The boys made their way into the rehearsal hall to catch Blackfire. They pulled up chairs next to Müller and Edda and nodded hello.
Thorny leaned over to One Flare and shouted in his ear over the din, "Have you ever seen such a Nazi-lookin' couple in all your life?"
"Dude, we're from DC. You haven't?" One Flare shook his head and the boys got into the music.
This post is Steem Verified