The Giza Death Star Revisisted: A New Steemit Novel Chapter 3
The Giza Death Star Revisited: A Novel Based on the Work of Joseph P. Farrell
©2017 by Carl Joseph DeMarco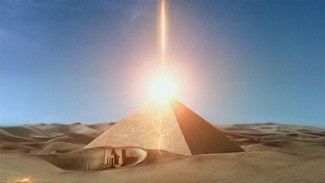 Chapter 3
Müller hopped out of the cab of the lead truck and surveyed the grounds. He then waved his hand over his head in a circular motion and the men debarked. The tall blonde woman approached him and stood stolidly face to face. The clanks and clips of men at work made a din around them.
Müller's penetrating blue eyes glared momentarily, giving way to a sly smile. He was all of 6' 4" and broad shouldered.
"Take Red Team to the cellar. Al-Mutawalli will be waiting with the keys to the vault. Dismiss her even before it's opened. Even she doesn't know what's inside. Make sure you count the spheres and that every compartment in the crates is packed before you leave. The cylinder seals and tablets are already together in tackle boxes. Leave the boxes behind since they might be tagged."
"What's a tackle box?"
Müller exhaled. "Tool box. Art supply box."
"I see. Why is it called a tackle box?"
"Edda," he put his hand on her cheek, and stroking it, reached out with his fingers and entwined her golden locks. With the speed of a rattler, he pulled them just hard enough to make his point. "First I will shoot you, then swear in German," He remarked half-jokingly. "This is not the time for English lessons." He released her.
"I will take Green Team to the exhibit galleries where we will take some notable items for the press and the academics to worry about, and to deal with any interruptions." Two operators were just jogging past, one lumbering with a crate because his partner had been left behind for cussing in German, and the other with an M240 machine gun.
Müller stopped them. "Who are you? Rambo? Who brings an M240 to a museum heist?" He snatched the weapon away and motioned for the thug to help the other thug with the crate and jogged off with them towards the museum.
"Why Red and Green? These are not the normal code colors," Edda shouted after him.
Müller stopped and turned, hollering festively, "Poor Edda. You are so rigid in your ways." He raised his arms, M240 and all, "Because today is Christmas!" He turned on his heels, snapped them together, and after skipping a few steps, trotted up to his team being careful to sing "O, Tannenbaum" loudly in English.
This post is Steem Verified