The Giza Death Star Revisited: A New Steemit Novel Chapter 6
The Giza Death Star Revisited: A Novel Based on the Work of Joseph P. Farrell
©2017 by Carl Joseph DeMarco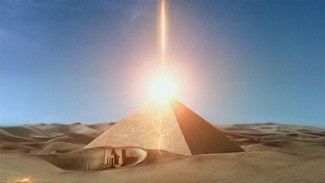 Prev. Chapters: Ch. 1, Ch. 2, Ch. 3, Ch. 4, ch. 5
Chapter 6
Secretary Powell picked up the phone. Suzy's voice was on the other end, "I have the Vice President for you, sir."
"Put him on."
"Colin----"
"I'm not helping," interrupted the Secretary of State.
"What?"
"I'm not helping. I presented your bullshit story to the UN, and that's it. In nine months I'm out of here."
Dick laughed nervously. "You haven't heard what I'm going to say yet."
Powell swung his chair around and put his feet on the corner of the desk. "I saw the Deutsche Welle article, Dick." He paused and emphasized the final word. "Anyway, sounds like Rummie's mess. Or CIA's."
"True. True enough. But we have another problem." He related what Tenet had told him about al-Mutawali's story.
"Dammit, Dick! I told you that would happen. This is one FUBAR I can't fix for you."
"Well neither Rummie nor Tenet can either."
"What is it they used to say back in the old neighborhood? Oh yeah. 'Well, duuuhhh.'"
"What do you suggest?"
"I wouldn't disgrace this office by saying it aloud." He slammed the handset into its cradle.
Meanwhile, in Brookings, South Dakota, an odd professor of Physics and History at South Dakota State University was noticing the same article. "Interesting. Very interesting," he mumbled. "I better keep this."
He slid the article into a folder and labeled it "Baghdad Museum Heist" and set it on a shelf.
This post is Steem Verified