Punday 51, HUGE PRIZE announcement. All former entrants should pay attention! Last chance to jump in for this big prize pool!
It's Week 51! That means next week will be a whole year of Pundays!
SO, we should do something special.
Like give away BIG prizes!
At the end of this post, I will share links to all the Pundays we've had ever. (Just found them all… that was a little bit of WORK!) Your job, should you choose to accept it, is to find your favorite pun by someone else and post it on next week's Punday. I suggest you find it this week, though, so that you're ready to go… only the first person to post a particular pun will be eligible for… THE PRIZE.
Next week, everyone will vote with their upvotes (SP irrelevant, sheer quantity of upvotes is all that matters) on their favorite of the nominees.
The Top 10 Nominees will all move on to the following week, and we'll have another round of voting. Everyone whose nominee makes it into the Top 10 will get 1 share in SBI, and so will the nominees themselves!
Whichever of the top 10 nominees wins will get 5 more SBI shares, and so will whoever nominated them in the first place!
This week's entrants are also eligible, so submit your best puns! Spread the news far and wide, feel free to encourage your followers to vote for the pun you've nominated (or your own pun if you've been nominated), it's not cheating to advocate for yourself, after all, that's how the Oscars, Emmys, and Tonys ultimately are decided.
Format for nominating:
"I nominate @AuthorOfPun for their pun on http://www.steemit.com/LinkToThePunPost
And then
Copy/Paste or Screenshot of the actual pun you're nominating"
I'll remind you of this again next week, but go find your favorite puns now!
There's no business like show business, so let's show you the business we're dealing with today!
https://steemit.com/contest/@improv/punday-monday-50-that-s-a-pretty-big-number-all-things-considered-come-have-some-prizes
Awards for last week, yo!
(and stop on by @freewritehouse for some different award possibilities, lots of prizes being given out there...!)
MOST puns
No NEW Punster, and No Video punster this week, so this prize will go to MOST puns punster, @ablaze for a tons of cloud puns!
Pocket Choice awards
Nada - no one chose a winner, so no winner is chosen!
... I think we need a few more of our participants to learn about #POCKET
https://steemit.com/pocket/@improv/pocket-friday-a-punday-monday-related-post-enjoy
@biophil can teach you. Check out his posts! Regardless,
The folks in the POCKET Choice winner's circle are @miniature-tiger, @lilygolightly, @chrisroberts, @stinawog, @f3nix, @doctorcrypto, @heroic15397, @littlescribe, @diebitch, @acolucky, @ablaze, and @paul.atreides.
and our grand prize...
The prize for best pun
Best pun of the entire week
Best Overall Pun
(or BOP )
goes to...
DRUMROLL, PLEASE
.
.
.
@fishyculture! AGAIN! She's got the shaggy dog stories and the bada-bings down pat! SO proud of all you punsters, and she's just taking that extra leap every time!
And what prizes do they win, you ask?
Why, as usual, all the punsters got full strength upvotes on their submissions.
Our category winners will each get to choose a post (of their own or someone else's) and I will give that post a fully powered upvote and a @tipu tip!
This week's pun topic is...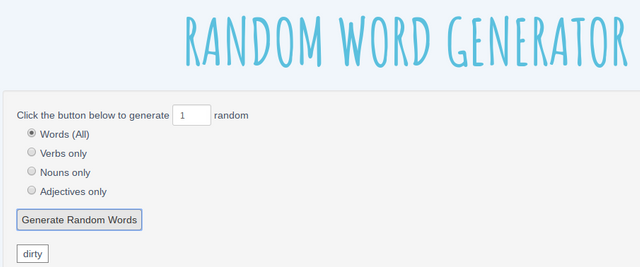 Dirty! (just like @eroticabian's freewrites every day! Ha!)
As in,
Why can teenager plants never go to the parties? Because they're always grounded!
Perfect,
I'm so good at puns....
If you've never punned before, it might seem like magic! You can do it, too! Learn how in My Free How-To Guide on Punning!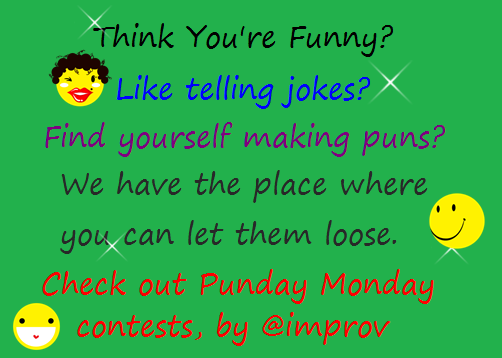 Thanks to @pixiehunter for making that image!

Feel free to share these images! And thanks to @f3nix for making this banner for us!
All the Pundays
https://steemit.com/contest/@improv/puns-and-prizes-learn-to-pun-easy-fun-anybody-can-be-a-hit-at-parties
https://steemit.com/contest/@improv/new-pun-contest-and-announcing-pun-contest-winners-prizes-worth-ones-of-cents
https://steemit.com/contest/@improv/2nd-pun-contest-winner-and-week-three-pun-announced
https://steemit.com/contest/@improv/pun-contest-week-3-winners-and-week-4-begins
https://steemit.com/contest/@improv/pun-contest-week-4-winners-and-week-5-announcement
https://steemit.com/contest/@improv/pun-contest-week-5-winners-and-week-6-announcement
https://steemit.com/contest/@improv/munday-punday-week-6-winner-and-week-7-announcement
https://steemit.com/contest/@improv/pun-day-monday-8-with-week-7-winner-announcement
https://steemit.com/contest/@improv/pun-day-monday-9-contest-week-8-winners-announced
https://steemit.com/contest/@improv/pun-day-monday-10-and-week-9-stormy-winners-announced
https://steemit.com/contest/@improv/pun-day-monday-11-and-week-10-winners-announced-prizes-keep-getting-better
https://steemit.com/contest/@improv/pun-day-monday-week-12-and-week-11-winners-announced
https://steemit.com/contest/@improv/pun-day-monday-13-contest-announcement-also-winners-from-week-12-also-bonus-prizes
https://steemit.com/contest/@improv/you-won-t-believe-number-4-joke-contest-pun-day-monday-14-winners-announced-for-week-13-adding-pocket-prizes
(first POCKET post: https://steemit.com/pocket/@improv/pocket-this-is-the-official-1st-choose-your-favorite-joke-from-pun-day-monday-14-and-send-their-author-pocket-in-the-comments-to)
https://steemit.com/contest/@improv/contest-free-to-play-pun-day-monday-15-pocket-chosen-winners-week-14-winner-announcement
https://steemit.com/contest/@improv/pun-day-monday-16-jokes-pocket-puns-upvotes-contest-prizes-sbd-free-and-winners-from-week-15
https://steemit.com/contest/@improv/punday-monday-come-play-in-week-17-win-pocket-win-tips-win-acclaim-easy-to-enter-fun-to-play-nine-out-of-ten-dentists-agree
https://steemit.com/contest/@improv/pun-day-monday-18-contest-winners-announcement-from-17
https://steemit.com/contest/@improv/pun-day-monday-19-and-awards-for-18
https://steemit.com/contest/@improv/punday-monday-20-and-prize-announcements-from-19-funny-jokes-can-be-found-and-made-here
https://steemit.com/contest/@improv/punday-monday-accepting-new-contestants-21-prizes-for-20-and-sleep-deprivation-and-babies-well-one-baby
https://steemit.com/contest/@improv/punday-monday-22-join-us-prize-announcements-for-21
https://steemit.com/contest/@improv/contest-punday-monday-23-contest-results-from-punday-monday-22
https://steemit.com/contest/@improv/contest-free-to-enter-punday-monday-24-prize-announcements-for-23
https://steemit.com/contest/@improv/punday-monday-contest-prizes-jokes-this-is-number-25-jump-on-in
https://steemit.com/contest/@improv/punday-monday-enter-this-contest-crypto-prizes-read-funny-jokes-this-is-number-26-jump-on-in
https://steemit.com/contest/@improv/punday-monday-27-on-a-tuesday
https://steemit.com/contest/@improv/start-2018-with-a-laugh-and-an-opportunity-to-win-punday-monday-28-and-prize-announcements-for-the-last-punday-of-2017
https://steemit.com/contest/@improv/puns-they-are-so-great-they-are-the-best-you-cannot-believe-how-important-puns-are-to-humanity-this-is-punday-monday-29-rejoice
https://steemit.com/contest/@improv/punday-30-join-this-free-contest-and-have-some-fun-and-maybe-win-some-funds
https://steemit.com/contest/@improv/punday-monday-31-come-join-the-fun-prizes-and-jokes-for-all
https://steemit.com/contest/@improv/punday-monday-32-prizes-and-new-contest
https://steemit.com/contest/@improv/free-to-enter-contest-try-your-punning-skills-win-crypto-prizes-punday-monday-33
https://steemit.com/contest/@improv/punday-monday-34-happy-valentine-s-day-also-prizes-join-the-fun-enter-this-contest
https://steemit.com/contest/@improv/punday-monday-35-come-have-fun-and-pun-with-a-ton-of-dun-nuns-one-part-of-that-sentence-is-false-guess-which
https://steemit.com/contest/@improv/punday-monday-36-march
https://steemit.com/contest/@improv/punday-monday-37
https://steemit.com/contest/@improv/punday-monday-38-st-patrick-s-day-celebration-limericks-and-puns-and-fun-and-funds-prizes-galore
https://steemit.com/contest/@improv/free-puns-get-your-free-puns-punday-monday-39-a-freewritehouse-project-prizes
https://steemit.com/contest/@improv/punday-40-huzzah-for-multiples-of-10-hi-freewriters-and-punsters-what-a-wonderful-way-to-start-your-week-hey
https://steemit.com/contest/@improv/punday-41-all-are-welcome-welcome-freewriters-and-musicians-and-cryptocurrency-analysts-prizes-welcome-minnows-and-dolphins-and
https://steemit.com/contest/@improv/1000-followers-prizes-as-celebration-this-is-punday-monday-42-gentle-werewolf-and-freewrite-all-in-one-post
https://steemit.com/contest/@improv/punday-monday-43-join-for-prizes-and-fun-free-upvotes-for-everyone-who-makes-an-effort
https://steemit.com/contest/@improv/punday-monday-44-come-for-the-prizes-stay-for-the-laughs
https://steemit.com/contest/@improv/punday-monday-45-just-a-week-s-worth-of-mondays-until-it-will-have-been-a-full-year-since-punday-began
https://steemit.com/contest/@improv/punday-monday-46-contest-free-to-enter
https://steemit.com/contest/@improv/all-are-welcome-contest-punday-monday-47-prizes-for-new-punsters-and-previous-punsters-come-join-us
https://steemit.com/contest/@improv/punday-monday-48-oh-boy-we-re-within-a-month-of-my-steemit-anniversary
https://steemit.com/contest/@improv/punday-monday-49-make-a-joke-win-a-prize
https://steemit.com/contest/@improv/punday-monday-50-that-s-a-pretty-big-number-all-things-considered-come-have-some-prizes