Show @steemitbloggers your support in our quest for 10K delegation, enter to win 1 Steem!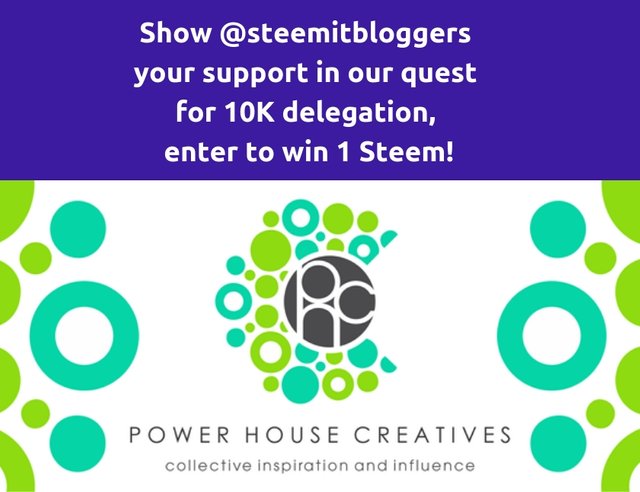 UPDATE February 2nd at 10:52pm EST - THE POLL IS CLOSED and while @steemitbloggers/#powerhousecreatives came in second, we won in SO many other ways! I'll do the drawing for the Steem prizes in the morning, but I wanted to shout out and say THANK YOU to everyone for supporting us! You Steemians ROCK! ❤️
UPDATE February 2nd at 12:30pm EST - Thanks to a generous donation of 1.5 STEEM from @foxyspirit, I'm upping mine to 1.5 as well, so now 3 STEEM is up for grabs in the giveaway!
If you've spent any time on the blockchain and/or Discord this week, I'm sure you've bumped into someone talking about @theycallmedan's contest to give away a 10K SP delegation for a year.
As we're coming down the homestretch, the @steemitbloggers/#powerhousecreatives family (founded by @jaynie and maintained with the help of her Rockstar Admin & Advisor @zord189) is running at a solid third place, behind two MUCH larger communities. We are tiny, but we are mighty! 😊
Fellow member @cheese4ead pointed out on his post The Race to a 10,000 Steem Delegation. The Final Straight that...
With all due respect to our honorable competitors, we are truly multinational. We have members from 24 different countries, including, India, Philippines, Belgium, Ireland, Russia, Wales, Malaysia, South Korea, England, South Africa, USA, Scotland, Denmark, Australia, Netherlands, Canada, Uruguay, Croatia, France, Indonesia, Germany, Slovakia and Bulgaria.
Part of the reason we're doing so well is because SO many people from the Steemit community have stepped up and supported us in big ways! And I think I can speak on behalf of all the Steemit Bloggers (Power House Creatives) and say...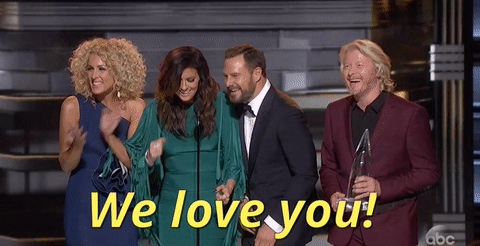 via GIPHY
So, to make a long story short (yeah, I know - too late...LOL), I thought I'd post this list of all the support posts that have found their way onto the blockchain this week. Then I got the idea that it might be a cool way to give a little appreciation back by having a random drawing for 1 Steem for all the non-steemitbloggers Steemians who've taken that extra step to support us!
The breakdown -
Check out the list of AMAZING support posts and upvote/resteem/comment as you wish (optional)
Write a post supporting @steemitbloggers to win the delegation, and share the link in a reply to this post
When the delegation contest ends, I'll choose ONE non-steemitblogger support post at random & send them 1 Steem as a THANK YOU!
Depending on how many entries I get, I may add in some secondary prizes, like a @tipu tip or upvote. 😊
Here's the list I have so far (in no particular order) -
NOTE: All entries marked with a 😍 are from people outside of the Steemit Bloggers community
Please shout out with a link if you find/have one not listed here!
Oh, and....
Come join us!
Also, if you're interested in joining our Steemit Bloggers/Power House Creatives family, here's how to go about it -
So who wants join the POWER HOUSE CREATIVES?
Regardless of who wins this delegation, I can say that I am so proud to be part of the @steemitbloggers/#powerhousecreatives community, and Steemit as a whole. You've all re-ignited my belief and faith in this platform! ❤️

Thanks for stopping by!
My posts may occasionally contain affiliate links. If you click through,
I might get a wicked small commission, with no extra cost to you.
Blog graphics created on Canva
My photographs are taken with my trusty Nikon,
sometimes utilizing my handy dandy tripod.
All words and images are mine (unless otherwise indicated),
and can sometimes also be found on my various social media sites.
Speaking of witch which...

I have one billion many homes on the interwebz.
Here are a few...
On the Steemit blogging site,
I am a proud member
of these awesomesauce communities


   



 
 


 
 
Links: PowerHouseCreatives; steemsugars; steemusa;
anonyvoter/steemians directory; helpie