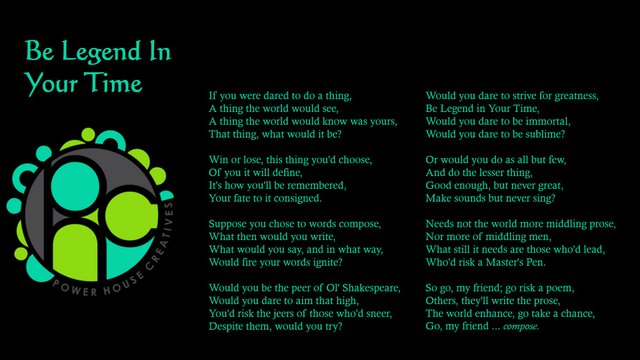 Be Legend In Your Time 
If you were dared to do a thing,
A thing the world would see,
A thing the world would know was yours,
That thing, what would it be? 
Win or lose, this thing you'd choose,
Of you it will define,
It's how you'll be remembered,
Your fate to it consigned. 
Suppose you chose to words compose,
What then would you write,
What would you say, and in what way,
Would fire your words ignite? 
Would you be the peer of Ol' Shakespeare,
Would you dare to aim that high,
You'd risk the jeers of those who'd sneer,
Despite them, would you try? 
Would you dare to strive for greatness,
Be Legend in Your Time,
Would you dare to be immortal,
Would you dare to be sublime? 
Or would you do as all but few,
And do the lesser thing,
Good enough, but never great,
Make sounds but never sing? 
Needs not the world more middling prose,
Nor more of middling men,
What still it needs are those who'd lead,
Who'd risk a Master's Pen. 
So go, my friend; go risk a poem,
Others, they'll write the prose,
The world enhance, go take a chance,
Go, my friend ... compose.  

And ... the Great @theycallmedan 10,000 STEEM Delegation SlugFest continues. The members of Nominee Groups, effectively down to three, are scrambling: Posting; commenting; resteeming; convincing; cajoling; coercing; bribing and outright begging ... friends and strangers alike ... for their Poll Votes.
This is how the sausage is made. 
Well, let me not depart from your expectations nor deprive you of groveling: VOTE for SteemitBloggers (recently re-branded as the Power House Creatives). Please, I beg of you. What do you want? A Yellow Lambo ... you've got it.
Qurator ... A Class Act
Earlier today, one of the other Top 10 Nominee Groups, @qurator, bowed out and asked its members who hadn't yet voted to support SteemitBloggers. An extract from my comment on their Announcement Post:
Now that's ... class.

Thank you for this selfless gesture. Your commentary was correct ... this would indeed mean a great deal to our group, the Power House Creatives (SteemitBloggers). We are a small group (95) of creators with a singular purpose ... Create Great Content.

And, sometimes, we feel like fools because of it.

Creating Great Content requires expending a lot of time and effort. In an era of endemic vote manipulation, sometimes one wonders, "Why bother?"

One man, gives not another man honor.
Nor, may another take it away.
Honor, and dishonor ... is something we do for ourselves.
We, the Members of The Power House Creatives (SteemitBloggers) humbly ask for your support as well.
Quill

How To Vote
Click this Link 
When asked, Login to steemconnect
Select "steemitbloggers"