Guess what is back!?

SundayCook!!!

With colder days I need warm, confy and elaborated food...that is usually cooked on Sundays :)

Advinhem o que está de volta!?

O SundayCook!!!

Com dias mais frios preciso de comida quente mais elaborada e que nos conforta...normalmente cozinhada ao Domingo :)
For SundayCook#53 I prepared | Para o SundayCook#53 preparei:
Roasted chicken with lemon [EN] | Frango assado com limão [PT]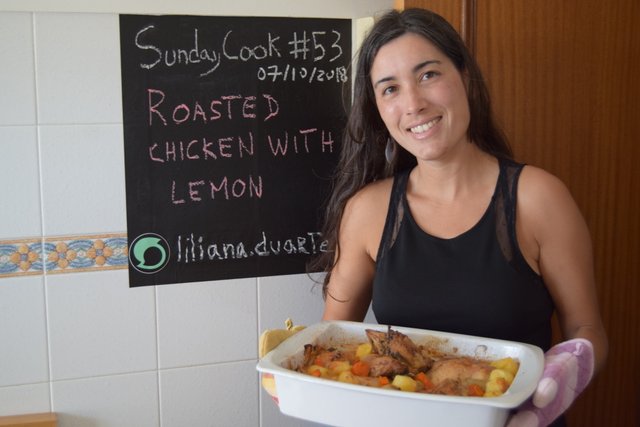 As I said last year on my SundayCook return post:

"When I think of Sunday food I usually think on a roast, and a good chicken roast is priceless!!"

This time I was inspired by one of my mother's recipe, a delicious and easy one because we only need to place the ingredients on a roasting tray.

Tal como disse há um ano no post de regresso após a pausa do SundayCook:

"Quando penso em comida de Domingo penso normalmente em assados, e um bom assado de frango vale muito!!"

Desta vez inspirei-me numa das receitas da minha mãe, é deliciosa e simples de preparar porque só precisamos de colocar os ingredientes num tabuleiro de ir ao forno.
Ingredients | Ingredientes:
1 kg chicken | - 1 kg frango do campo
0.5 kg potatoes | - 0.5 kg de batatas
2 carrots | - 2 cenouras
0.2 kg onions | - 0.2 kg cebolas pequenas
2 cloves of garlic | - 2 dentes de alho
2 bay leaves | - 2 folhas de louro
1 lemon | - 1 limão
salt and pepper (to taste) | - sal e pimenta (a gosto)
olive oil (to taste) | - azeite (a gosto)
| | |
| --- | --- |
| 1 - Season the chicken with salt, pepper and the smashed garlic cloves. Let it getting flavor for 6-12 hours (season the night before and reserve on the fridge). | 1 - Temperar o frango com sal, pimenta e os alhos esmagados. Deixar a ganhar sabor por 6-12 horas (temperar na noite anterior e guardar no frigorifico). |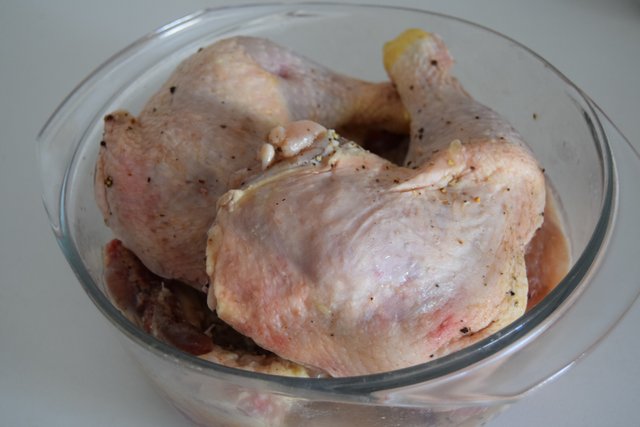 | | |
| --- | --- |
| 2 - Place the chicken on a roasting tray. Set aside. | 2 - Colocar o frango num tabuleiro. Reservar. |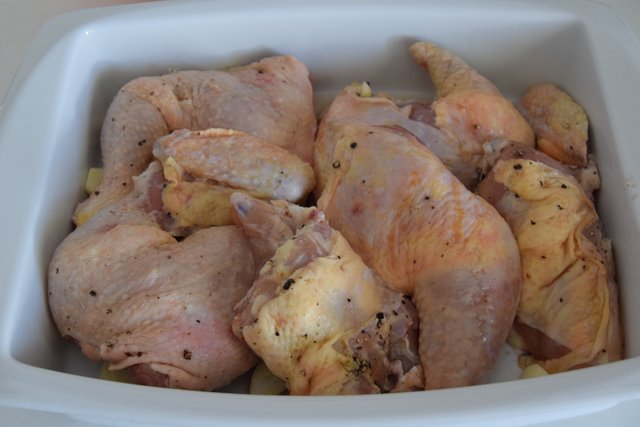 3 - Preheat the oven to 180 - 200 ºC.
4 - Peel and wash the potatoes, carrots and onions.

3 - Pré-aquecer o forno a 180-200 ºC.
4 - Descascar e lavar as batatas, cenouras e as cebolas.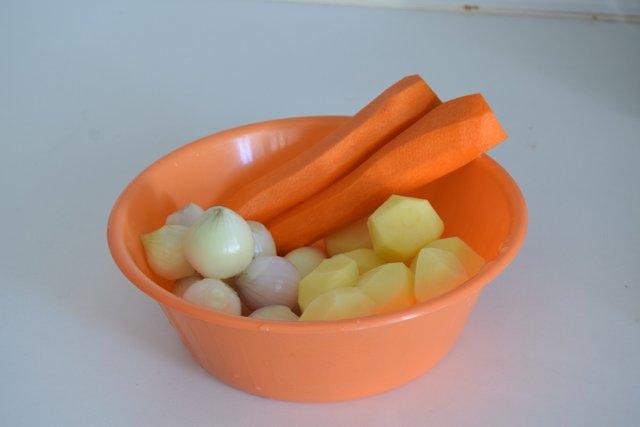 | | |
| --- | --- |
| 5 - Cut the carrots in large slices and place it along with the potatoes, onions and the bay leaves on the roasting tray. Drizzle with olive oil and place it on the oven to roast for 30 minutes. | 5 - Cortar as cenouras em rodelas grossas, e colocar juntamente com as batatas, cebolas e as folhas de louro no tabuleiro. Regar com azeite e colocar no forno a assar durante 30 minutos. |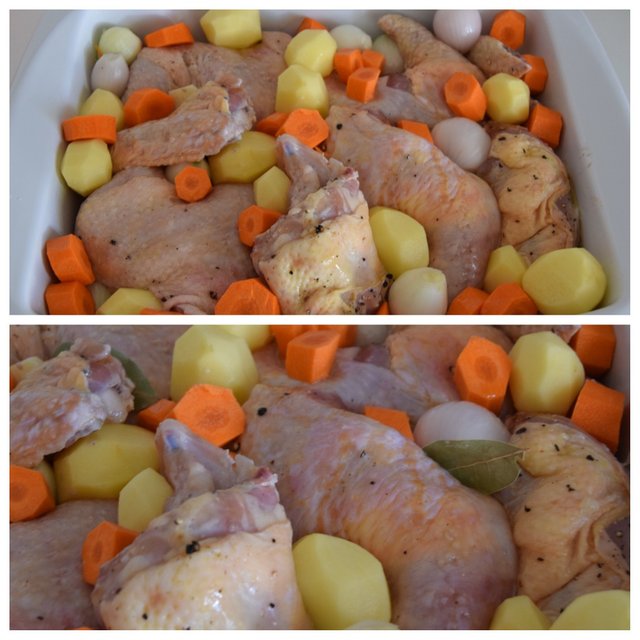 | | |
| --- | --- |
| 6 - Meanwhile, squeeze the juice of the lemon to a glass. | 6 - Entretanto, expremer o sumo do limão para um copo. |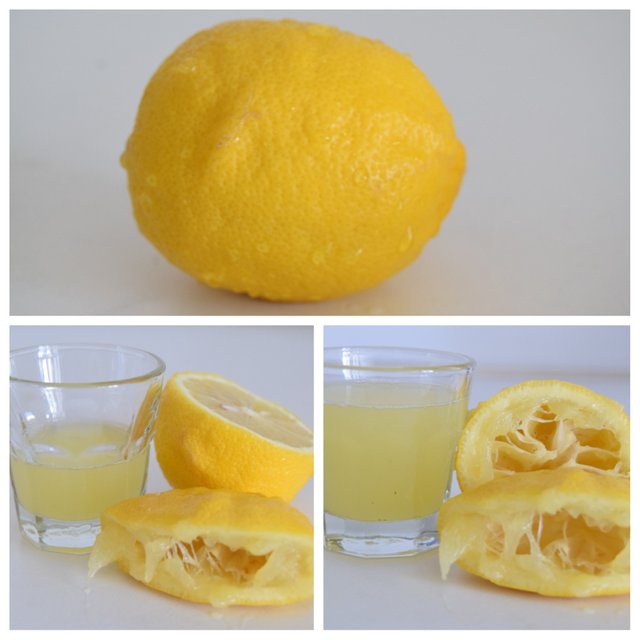 | | |
| --- | --- |
| 7 - Drizzle the chicken with the lemon juice, and let it roast for about one hour (until cooked...and crispy!). | 7 - Regar o frango com o sumo de limão, e deixar assar por mais uma hora (até estar cozinhado e crocante!). |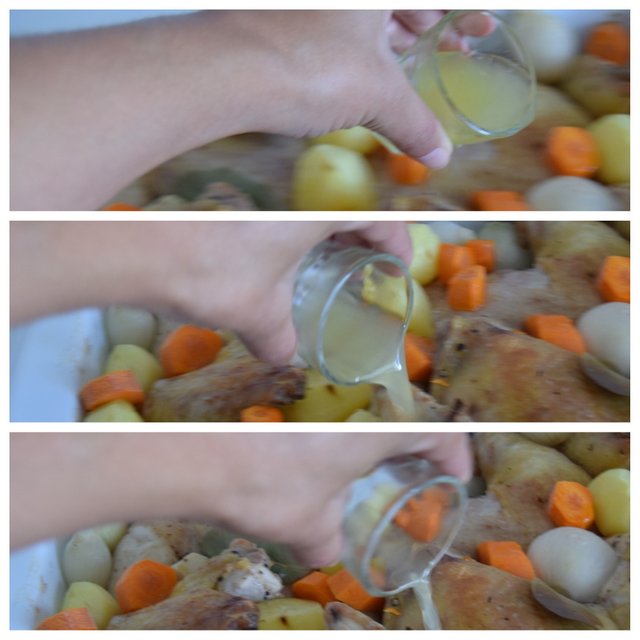 It's ready to serve!! | Está pronto a ser servido!!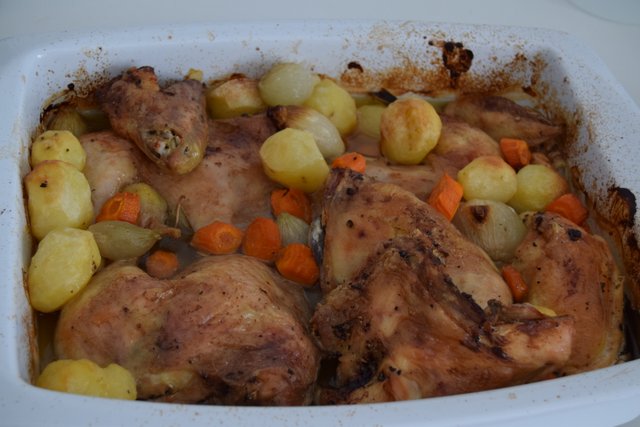 I served it with white rice and lettuce & tomato salad, one of my favorite combinations | Servi com arroz branco e salada de alface & tomate numa das minhas combinações favoritas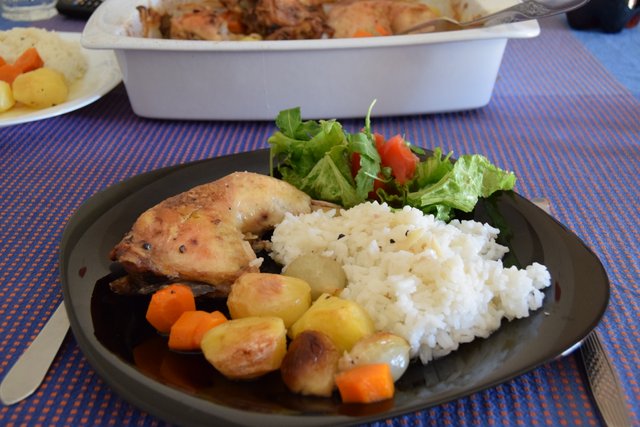 Now in Kraków and looking to this dish...I'm starting to miss Portuguese flavours | Agora em Cracóvia e a olhar para este prato...começo a sentir falta dos sabores Portugueses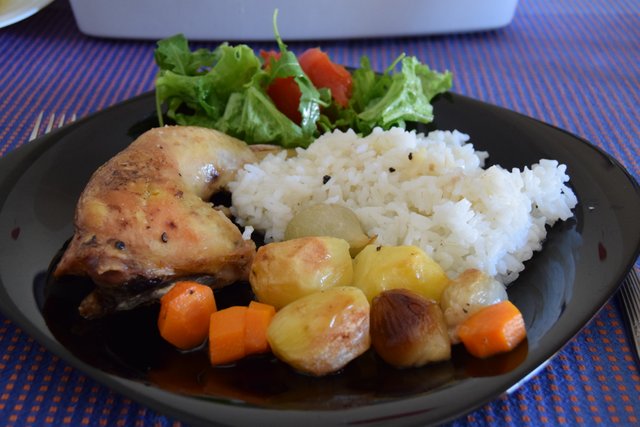 The chicken skin was crispy as I like! | A pele do frango estava crocante tal como gosto!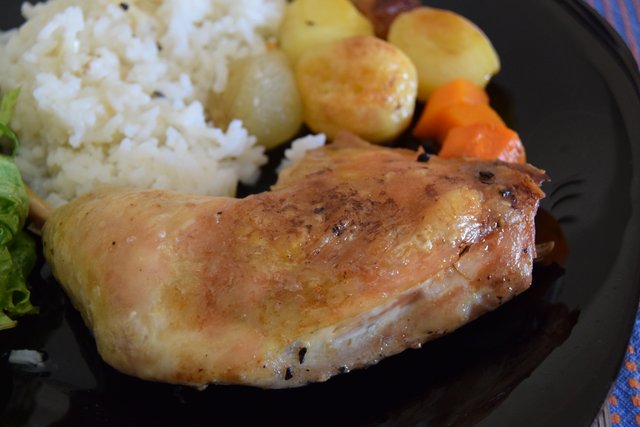 The potatoes and onion were also perfectly cooked | As batatas e cenouras estavam tabém perfeitamente cozinhadas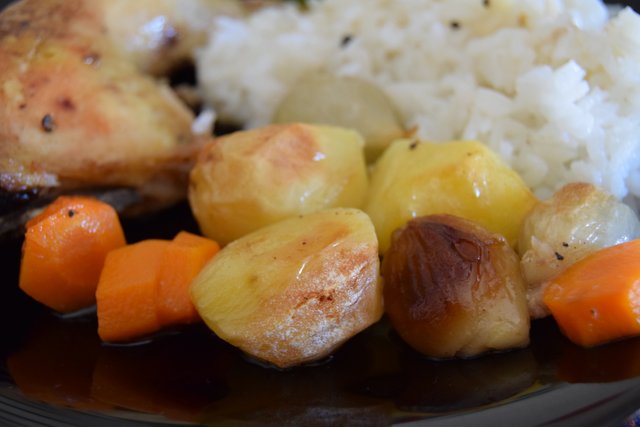 For those who didn't noticed, this SundayCook dish was prepared exactly one month ago, on the October 7th. Why did I take so long to share it?

Easy, it takes me much time!!

The easiest part is cooking and taking pictures. Then I have to select the photos and compile it into a nice follow step-by-step, write and format the post...at least I need 2 to 3 hours in a good productive day.

I believe I just made it now because I'm on vacation and I took the free time between airplanes flights to write the post.

Para os que não repararam, este SundayCook foi preparado há exatamente 1 mês, no dia 7 de Outubro. Porque demorei tanto a partilhá-lo?

É fácil, leva-me imenso tempo!!

A parte mais fácil ainda é cozinhar e fotografar. Depois tenho que selecionar as fotos e arrumá-las de forma a que seja um passo-por-passo acessível, escrever e formatar o post...preciso de pelo menos umas 2 a 3 horas num dia produtivo.

Acredito que consegui acabá-lo agora porque estou de férias e aproveitei o tempo livre entre vôos para escrever o post.
---
I will come back with another delicious Sunday cook!!
Stay tuned!!
What is Sunday Cook?!
This Sunday Cook project began with a strong will to contribute to Steemit with my personal view of Portuguese cuisine. I really believe we have plenty of good food. Despite I'm not a professional or nothing similar, I can assure that I'm doing my best, and hopefully, I'm improving my skills too!
On Sundays (cold Sundays), I like to prepare more elaborate and delicious food. It requires time and patience. Usually, I cook some traditional Portuguese food, or at least with Portuguese inspiration :) I try to do it in a healthier way, using the minimum fat as possible, and normally I pick some recipe and transform it. During the week I don't like to spend much time cooking (no time at all), that's why I get totally motivated to cook on Sundays!!
---
PORTUGUÊS
---
Eu voltarei com outro SundayCook delicioso!!
Fiquem atentos!!
O que é o Sunday Cook?!
Este projeto iniciou-se com uma grande vontade de contribuir para o Steemit com a minha visão pessoal da cozinha Portuguesa. Eu considero que temos excelentes pratos. Apesar de não ser profissional nem nada que o valha, garanto que tenho feito o meu melhor, e espero estar a melhorar os meus dotes culinários!
Nos Domingos (quando está frio), gosto de preparar comida mais elaborada. Requer tempo e paciência. Normalmente, cozinho pratos da cozinha tradicional Portuguesa, ou pelo menos inspirados na mesma. Tento cozinhá-los de uma forma saudável, usando o mínimo de gordura possível e normalmente pego numa receita e adapto ao meu gosto. Durante a semana não gosto de perder tempo a cozinhar (nada mesmo), e é por isso que me sinto motivada a cozinhar nos Domingos!!
---
Links for previous posts | Lista de links para posts anteriores: