Hello everyone!!

The SundayCook is back and I'll share another delicious and typical Portuguese recipe (obviously!)

If you like fish than you'll love this recipe!! If you don't...I believe you'll love it too!!

Olá a todos!!

O SundayCook está de volta para partilhar mais uma receita tipicamente portuguesa e deliciosa (claro!)

Se gostam de peixe, é certo que vão adorar esta receita!! Se não gostam...creio que vão gostar na mesma!!
For this SundayCook I prepared | Para este SundayCook preparei:
Portuguese Fish Stew | Caldeirada de Peixe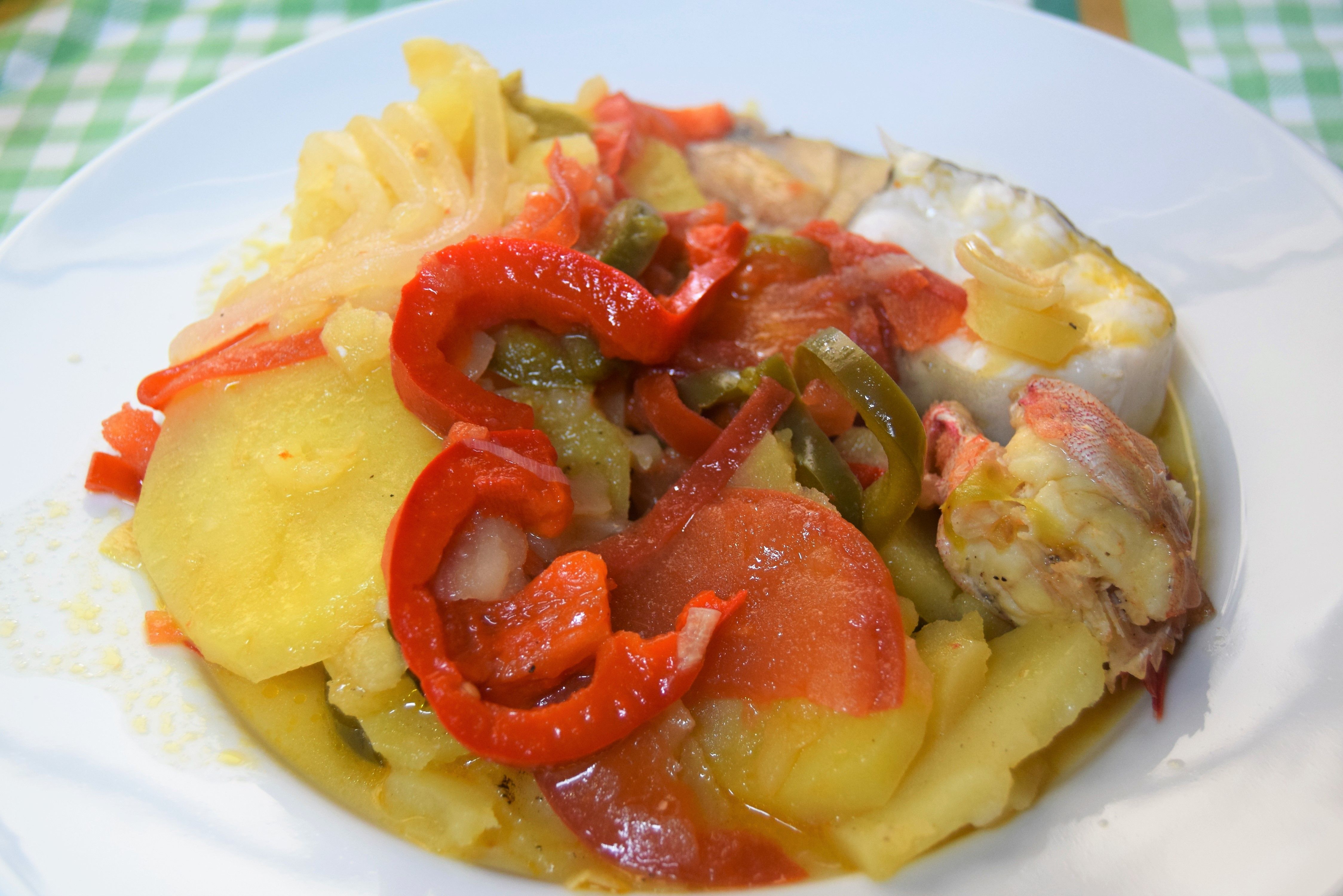 This recipe is super easy, we just need to put everything in a large saucepan to cook and wait!

Let me say that I had some limitations choosing the different types of fish, but I guess everyone can use the fish they like best!

Esta receita é super fácil, apenas temos de colocar tudo numa panela ao lume e aguardar!

Deixem-me já avisar que tive alguma limitação na escolha das espécies de peixe, mas creio que cada um pode colocar o peixe que mais gosta!
Ingredients | Ingredientes:
1,2 kg fish (conger, perch fish, gurnet fish or other type of fish) | - 1,2 kg de peixe (safio, perca, ruivo ou outro tipo de peixe)
3 medium onions | - 3 cebolas médias
3 cloves of garlic | - 3 dentes de alho
1 red pepper | - 1 pimento vermelho
1 green pepper | -1 pimento verde
1 kg potatoes | - 1 kg batatas
6 medium ripe tomatoes | 6 tomates médios maduros
1 bay leaf | - 1 folha de louro
coriander (to taste) | - coentros (a gosto)
white wine (1 glass) | - vinho branco (1 copo)
olive oil (to taste) | - azeite (a gosto)
black pepper (to taste) | - pimenta-preta (a gosto)
salt (to taste) | - sal (a gosto)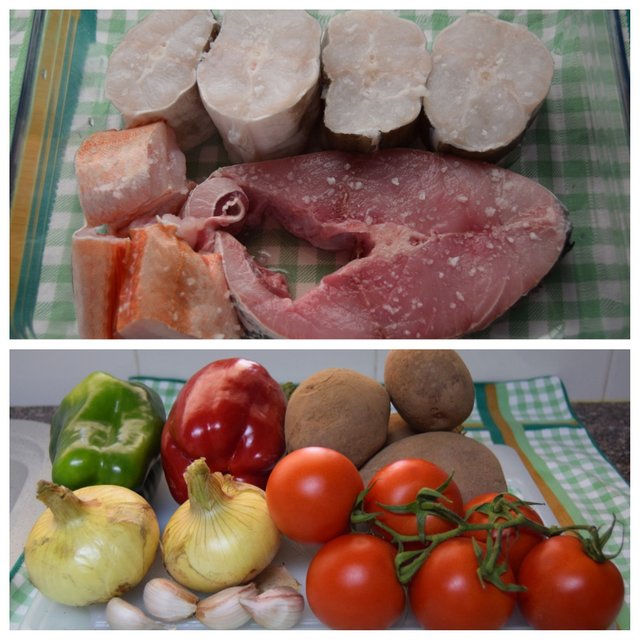 Preparation | Preparação
1 - Wash and seanson the fish with salt. Set aside.
2 - Peel the potatoes, onions, and garlic; remove the tops and seeds from the tomato and peppers. Wash all the vegetables.

1 - Lavar e temperar o peixe com sal. Reservar.
2 - Descascar as batatas, cebola e alhos; retirar os topos e sementes do tomate e dos pimentos. Lavar todos os vegetais.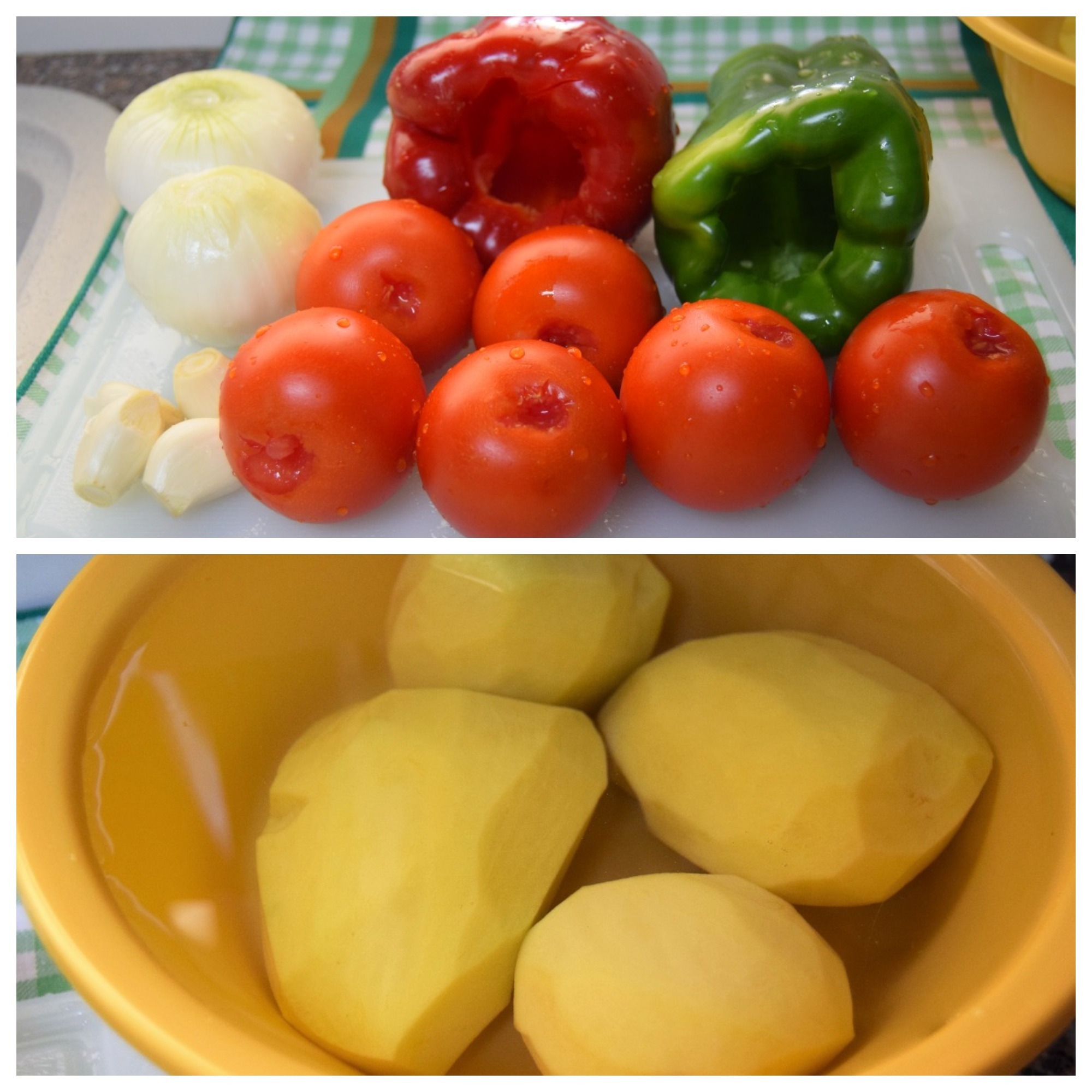 | | |
| --- | --- |
| 3 - Cut the vegetables into regular round slices. I used a mandoline for that task. | 3 - Cortar os vegetais em rodelas regulares. Usei uma mandolina para esta tarefa. |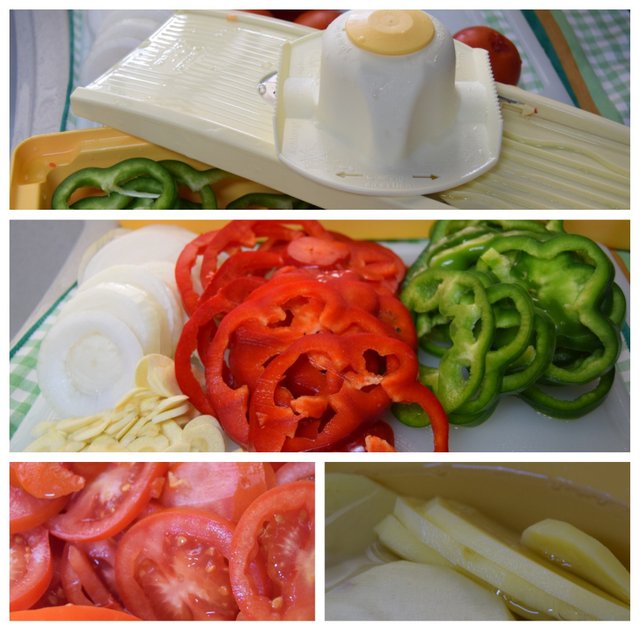 | | |
| --- | --- |
| 4 - In a large saucepan, place a layer of sliced onions and garlic, a layer of peppers, a layer of tomatoes, a layer of potatoes. Season with salt, bay leaf, coriander and some black pepper and drizzle with olive oil. Finally, place a layer of fish. | 4 - Numa panela grande, colocar uma camada de cebola e alho, uma camada de pimentos, uma de tomate e uma de batatas. Temperar com sal, folha de louro, coentros e pimenta preta e regar com azeite. Finalmente colocar uma camada de peixe. |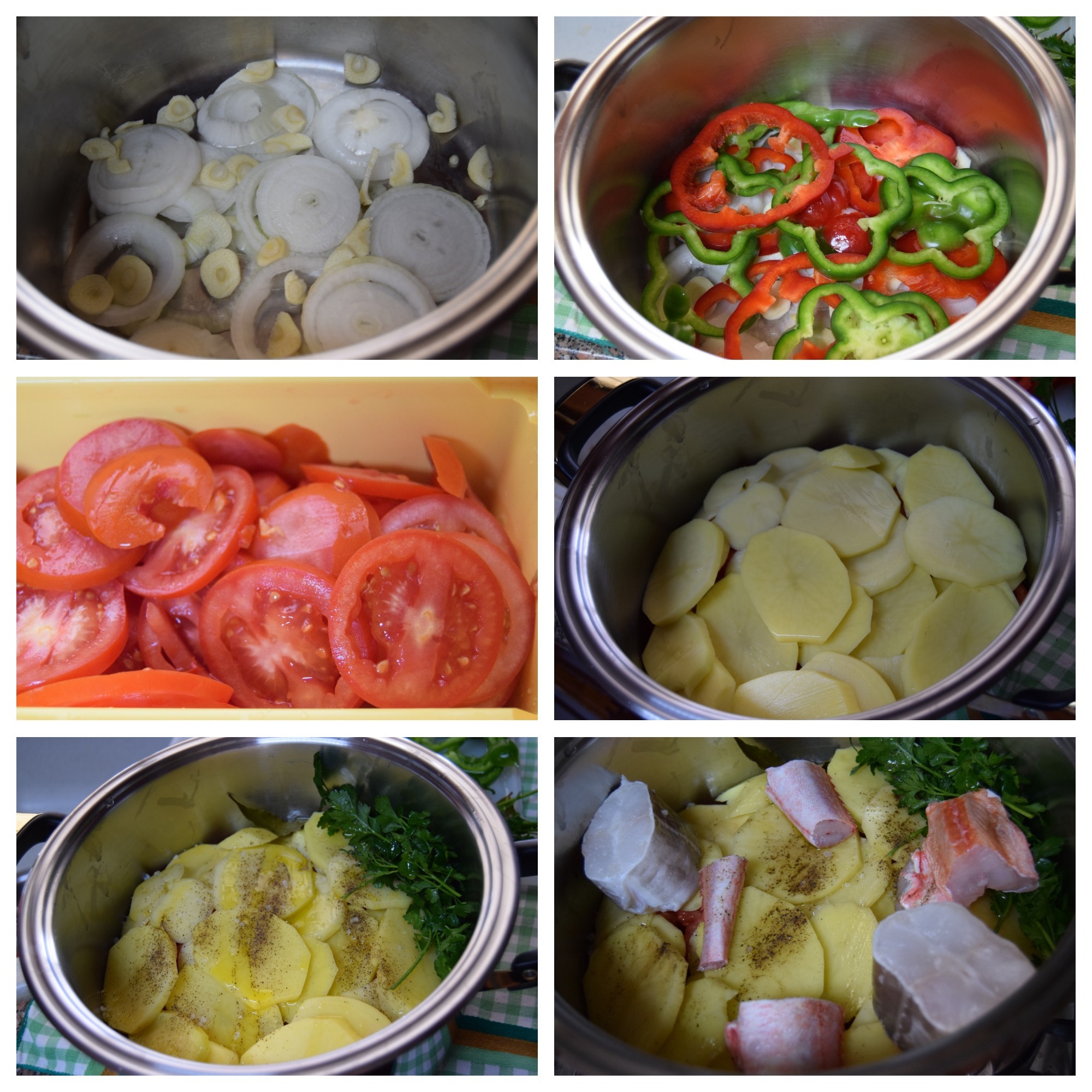 | | |
| --- | --- |
| 5 - Repeat the process once more and drizzle with white wine. | 5 - Repetir novamente o processo e regar com o vinho branco. |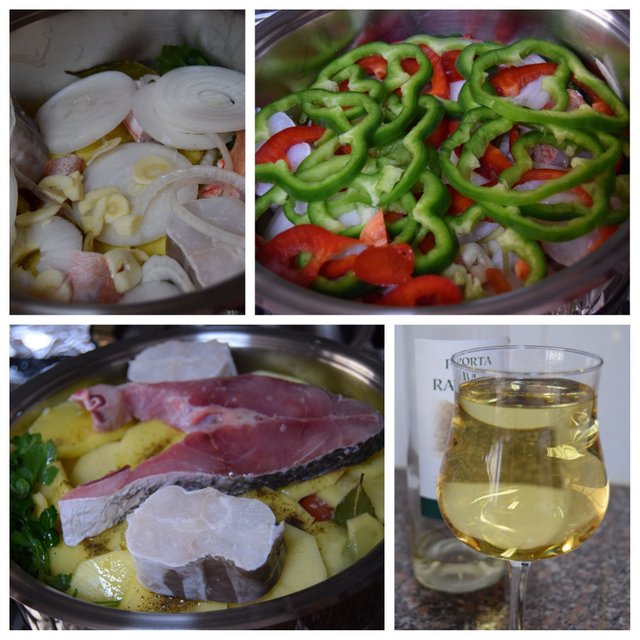 | | |
| --- | --- |
| 6 - Bring to medium-low heat and cook for about 45 minutes, stirring gently occasionally. | 6 - Deixar cozinhar em lume médio baixo por cerca de 45 minutos, mexendo gentilmente de vez em quando. |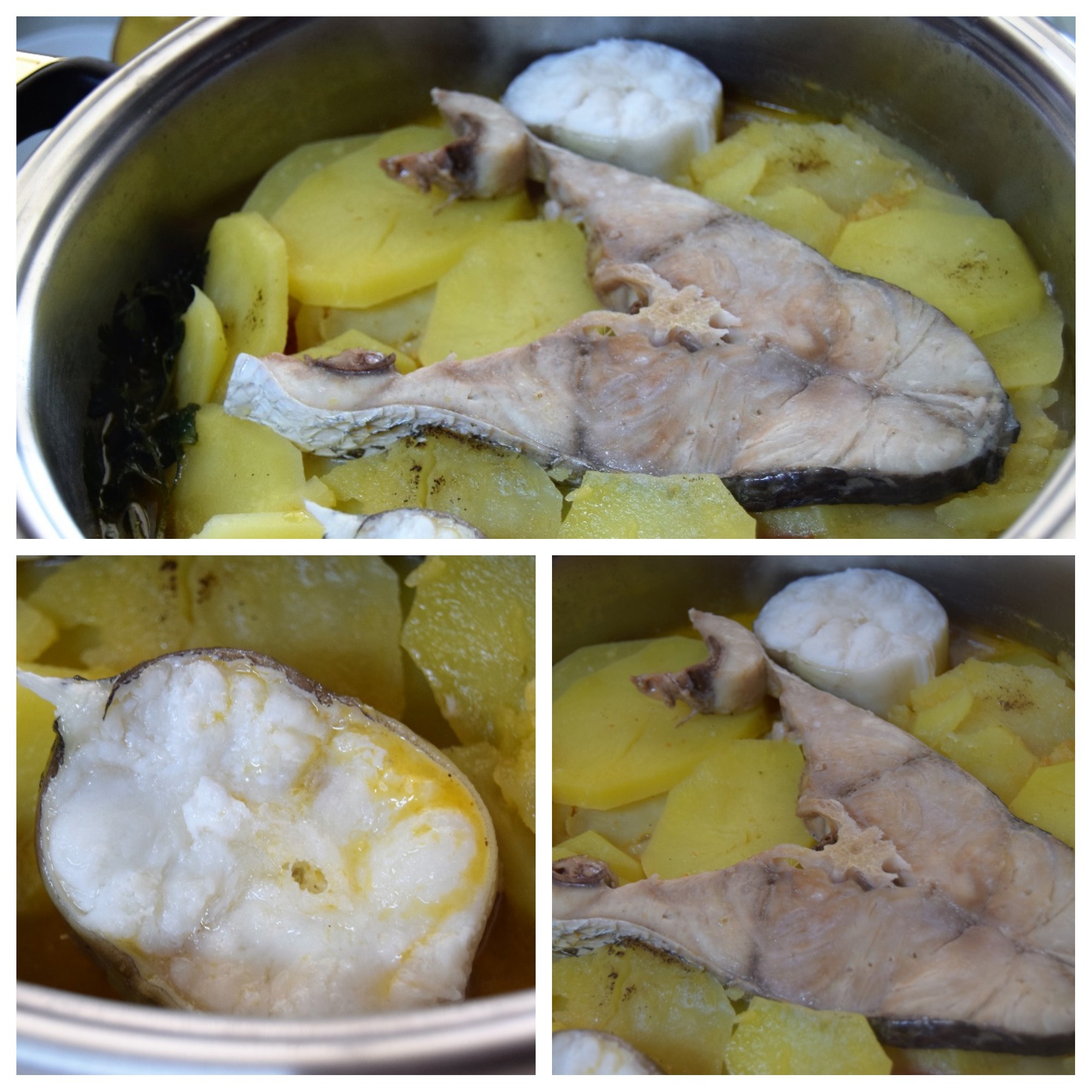 | | |
| --- | --- |
| 7 - Turn off the heat. | 7 - Desligar o lume. |
It's time to serve!! | Está na altura de servir!!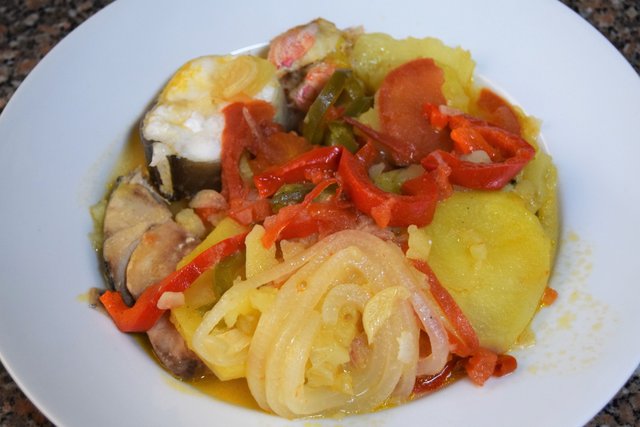 I know you'll love this dish | Tenho a certeza que vão adorar este prato
Independently if you decide to cook this recipe or ask for it on a beach restaurant in Portugal | Independentemente de optarem por fazer esta receita ou pedirem o prato num restaurante de praia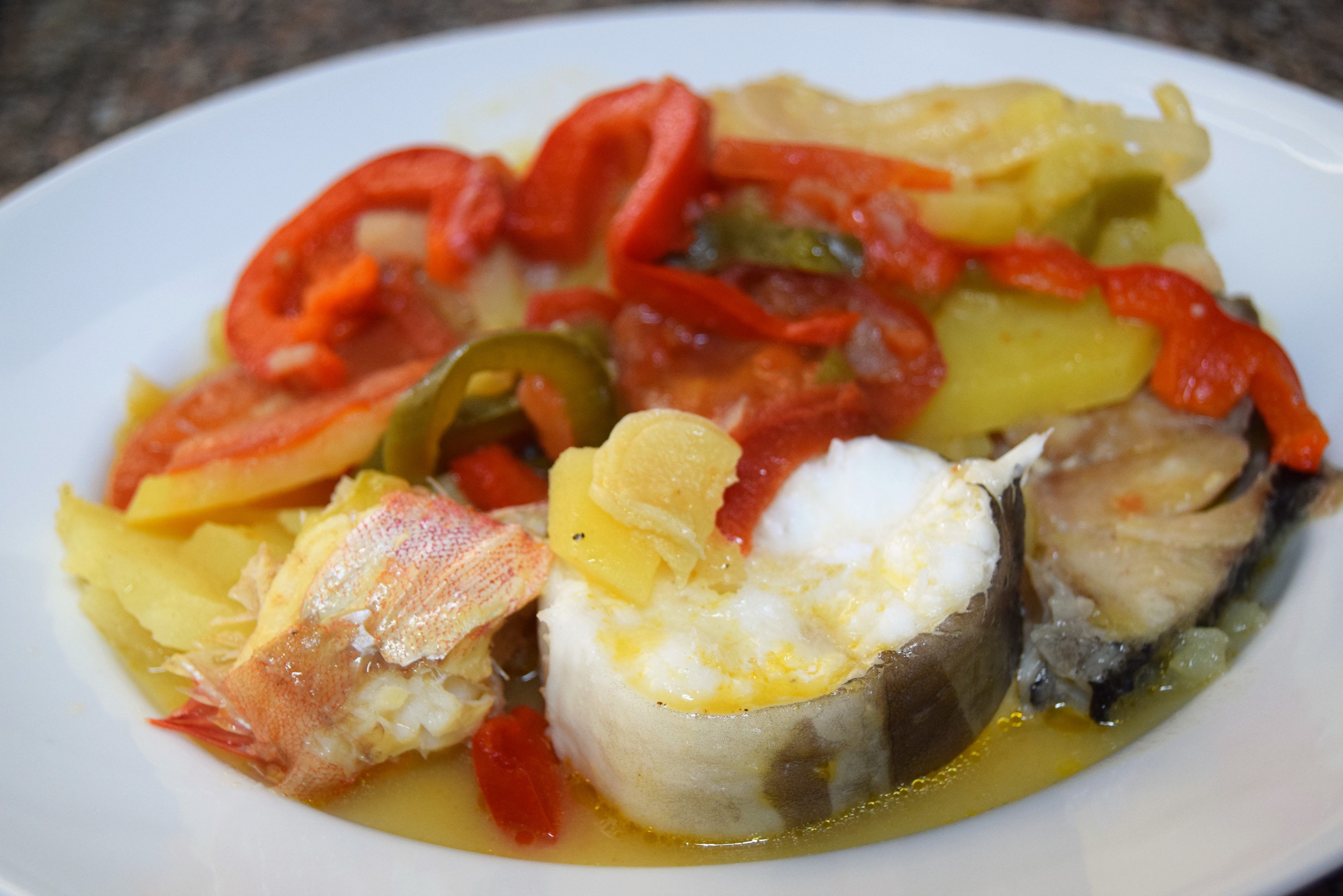 If you decide to cook this I recommend that you use your favorite fish | Caso optem por cozinhar recomendo que escolham os vossos peixes preferidos
Also be aware of the fish bones (this was the problem of this recipe, specifically the gurnet fish) | Tenham em atenção a quantidade de espinhas dos peixes (esse foi o problema desta receita, especialmente o ruivo)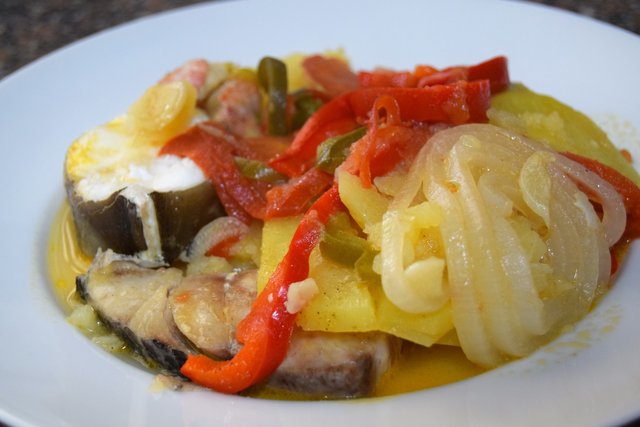 Anyway, the flavors that I love were on this dish, it's great for these spring/ summer days!! | De qualquer modo, os sabores que adoro estavam lá, é um prato óptimo para estes dias de primavera/ verão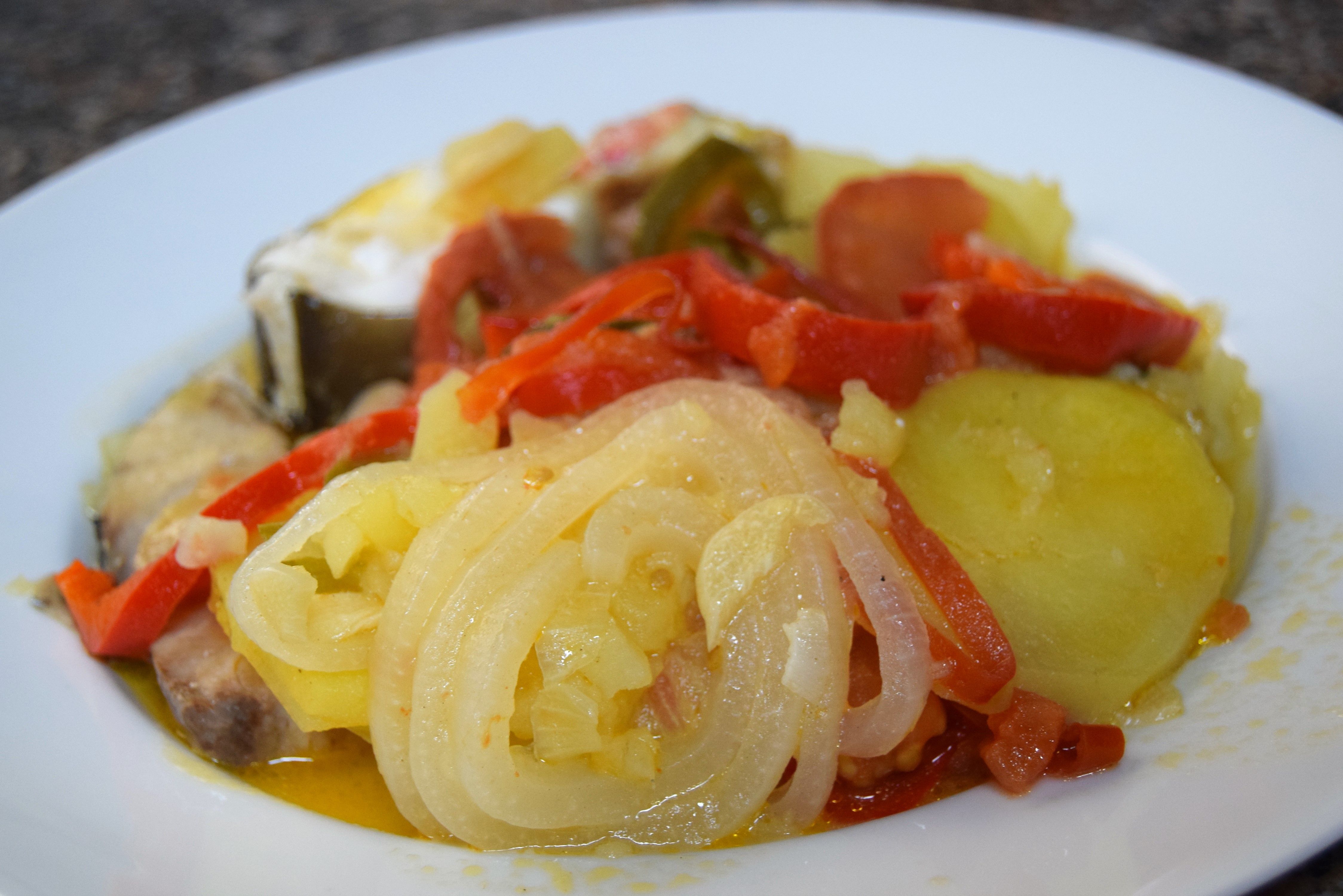 ---
I will come back with another delicious Sunday cook!!
Stay tuned!!
What is Sunday Cook?!
This Sunday Cook project began with a strong will to contribute to Steemit with my personal view of Portuguese cuisine. I really believe we have plenty of good food. Despite I'm not a professional or nothing similar, I can assure that I'm doing my best, and hopefully, I'm improving my skills too!
On Sundays (cold Sundays), I like to prepare more elaborate and delicious food. It requires time and patience. Usually, I cook some traditional Portuguese food, or at least with Portuguese inspiration :) I try to do it in a healthier way, using the minimum fat as possible, and normally I pick some recipe and transform it. During the week I don't like to spend much time cooking (no time at all), that's why I get totally motivated to cook on Sundays!!
---
PORTUGUÊS
---
Eu voltarei com outro SundayCook delicioso!!
Fiquem atentos!!
O que é o Sunday Cook?!
Este projeto iniciou-se com uma grande vontade de contribuir para o Steemit com a minha visão pessoal da cozinha Portuguesa. Eu considero que temos excelentes pratos. Apesar de não ser profissional nem nada que o valha, garanto que tenho feito o meu melhor, e espero estar a melhorar os meus dotes culinários!
Nos Domingos (quando está frio), gosto de preparar comida mais elaborada. Requer tempo e paciência. Normalmente, cozinho pratos da cozinha tradicional Portuguesa, ou pelo menos inspirados na mesma. Tento cozinhá-los de uma forma saudável, usando o mínimo de gordura possível e normalmente pego numa receita e adapto ao meu gosto. Durante a semana não gosto de perder tempo a cozinhar (nada mesmo), e é por isso que me sinto motivada a cozinhar nos Domingos!!
---
Links for previous posts | Lista de links para posts anteriores: