Good morning everyone!!

This is a special SundayCook because I will show how to use leftovers smartly (and deliciously)!

I have no clue if eating leftovers is common in other places, but I hate to waste food, and usually, ​I don't waste it!

Bom dia a todos!!

Este é um SundayCook especial porque pela primeira vez vou mostrar como se usam as sobras de forma inteligente (e deliciosa)!

Não faço ideia se é normal comer-se as sobras noutras partes do mundo, mas eu detesto desperdiçar comida e normalmente não o faço!
On last SundayCook I prepared: Christmas cod fish | No último SundayCook preparei: Bacalhau da consoada
On Christmas day (25/12) I prepared for our lunch | No dia de Natal (25/12) preparei para o nosso almoço:
'Roupa Velha'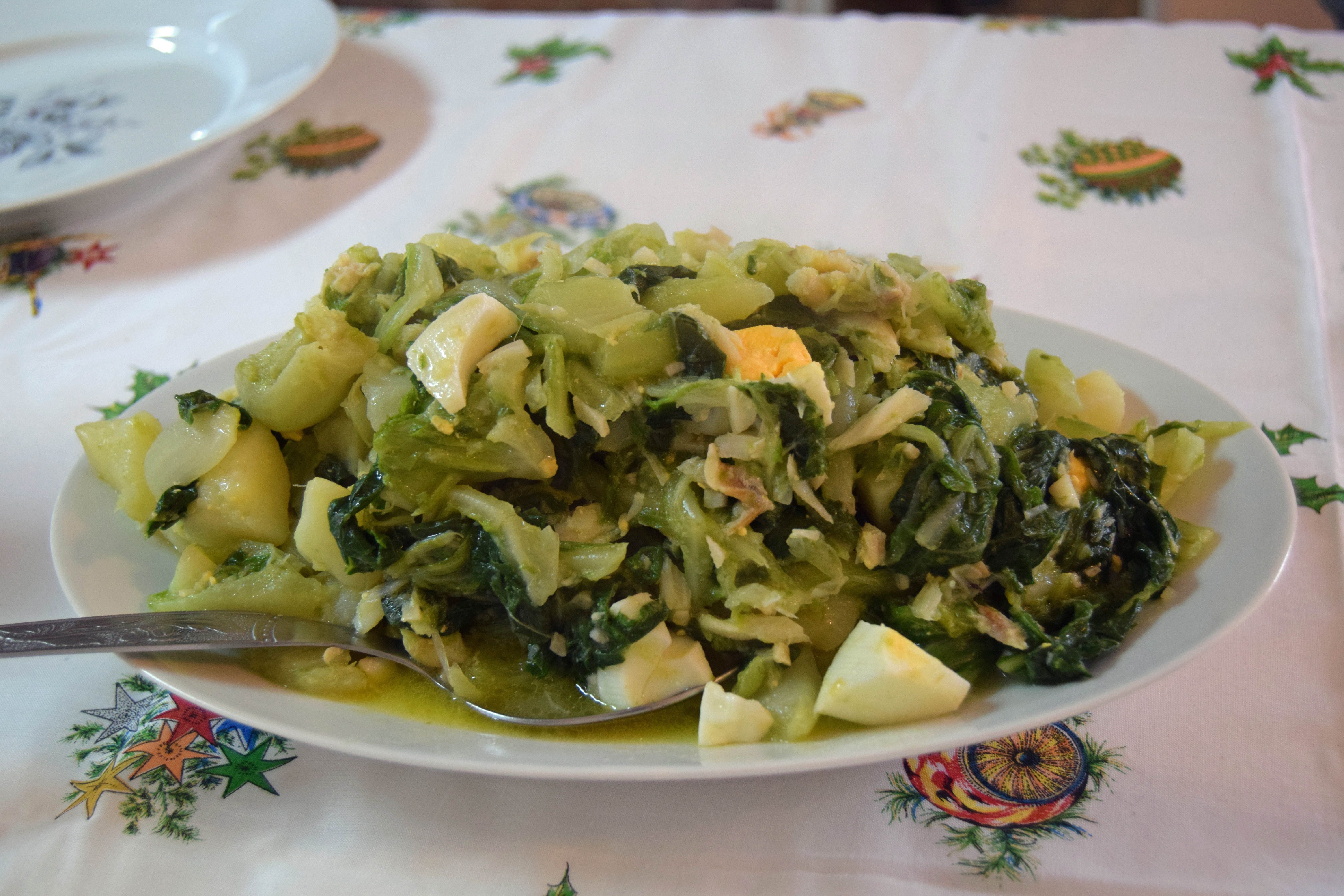 You'll see this one is much easier to prepare!! | Vão ver que este ainda é mais fácil de preparar!!
Why!? | Porquê!?
We already have the ingredients prepared | Porque já temos os ingredientes prontos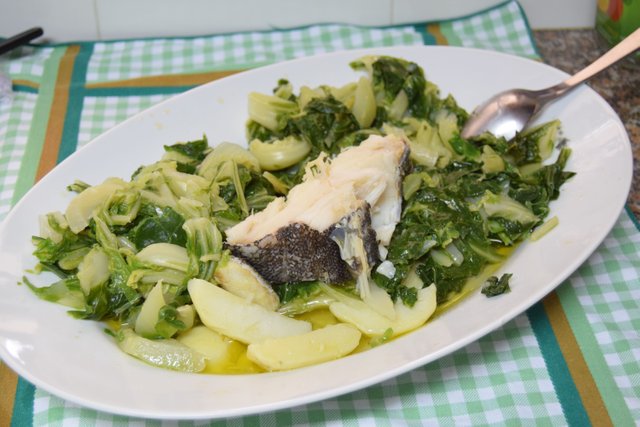 Ingredients | Ingredientes:
cooked codfish, potatoes and greens | - bacalhau, batatas e couve cozida
3 boiled eggs | - 3 ovos cozidos
garlic (a lot) | - alho (muito)
bay leaf | - folha de louro
olive oil (to taste) | - azeite (a gosto)
Directions
1 - Remove the cod fish bones carefuly.
2 - Cut the potatoes into smaller pieces.

1 - Escolher as espinhas do bacalhau com cuidado.
2 - Cortar as batatas em pedaços mais pequenos.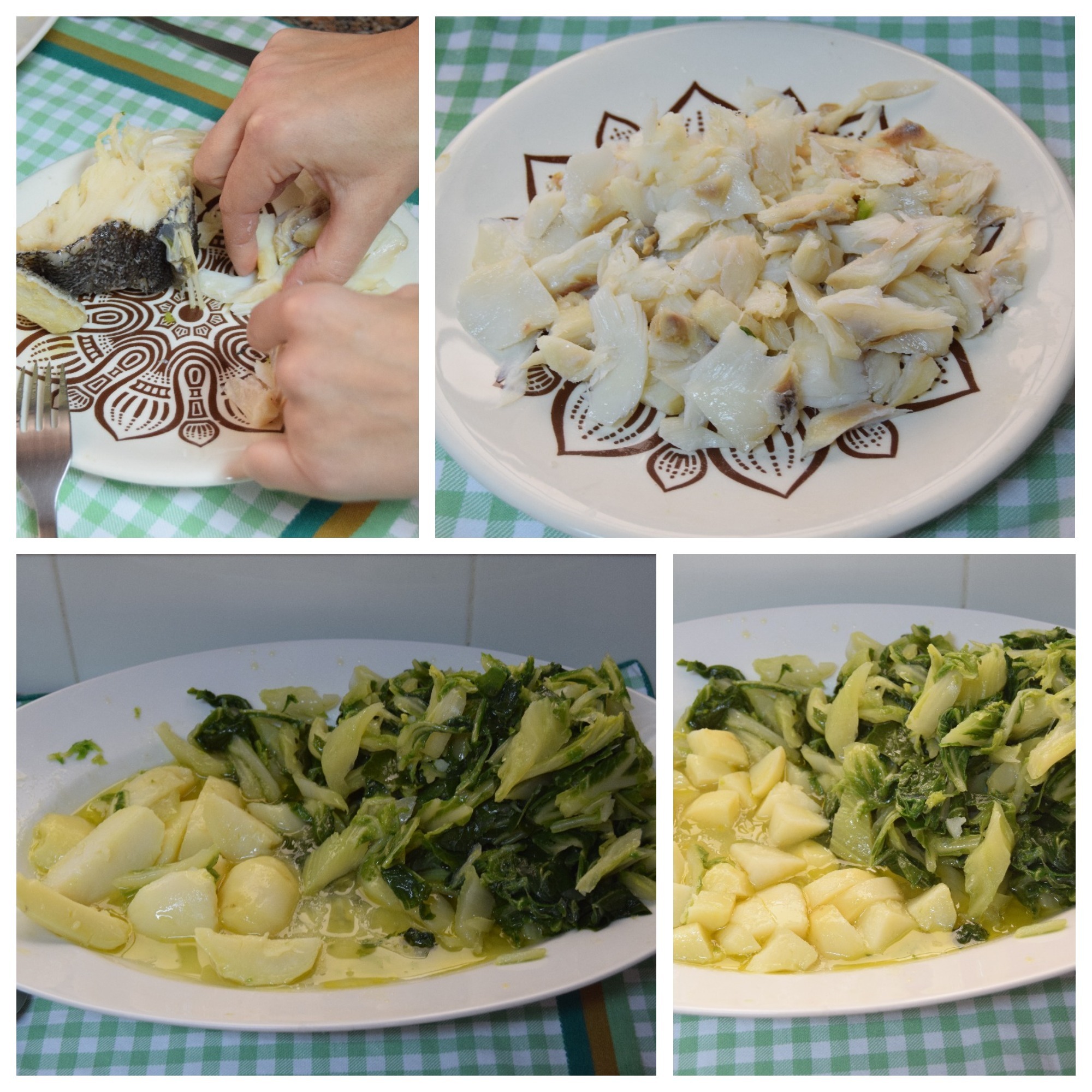 3 - Place the eggs in a small saucepan to boil.
4 - Meanwhile, cut the garlic into small pieces, and add it to a saucepan with olive oil. Add the bay leaf and let fry for 2-3 minutes (until the garlic aromas are released).

3 - Cozer os ovos numa panela pequena.
4 - Entretanto, cortar o alho finamente, e colocá-lo numa panela com azeite. Juntar a folha de louro e deixar fritar durante cerca de 2-3 minutos (até que o alho comece a libertar o seu fantástico aroma).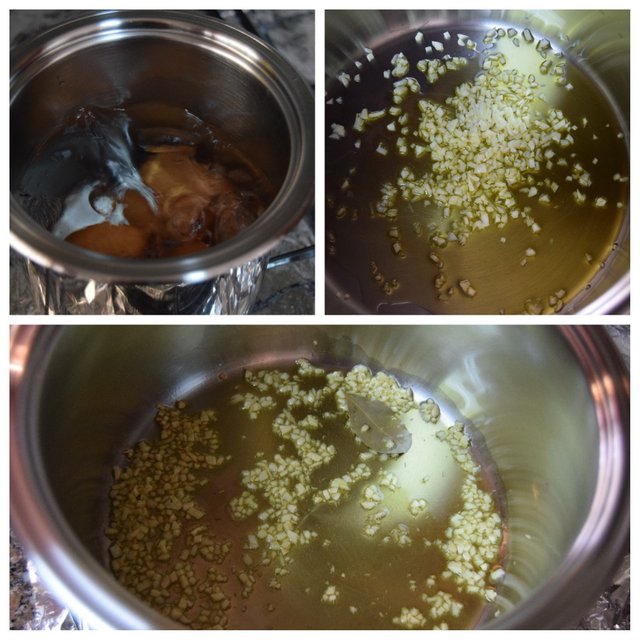 5 - Add the codfish to the mixture, and then the greens and potatoes. Stir gently to get the flavors.
6 - Cut the boiled eggs and add it to the previous mixture. Stir gently.

5 - Juntar o bacalhau ao refogado, e depois as couves e batatas. Mexer com cuidado para ajudar a ganhar sabor.
6 - Cortar os ovos e juntar à mistura anterior. Mexer com cuidado.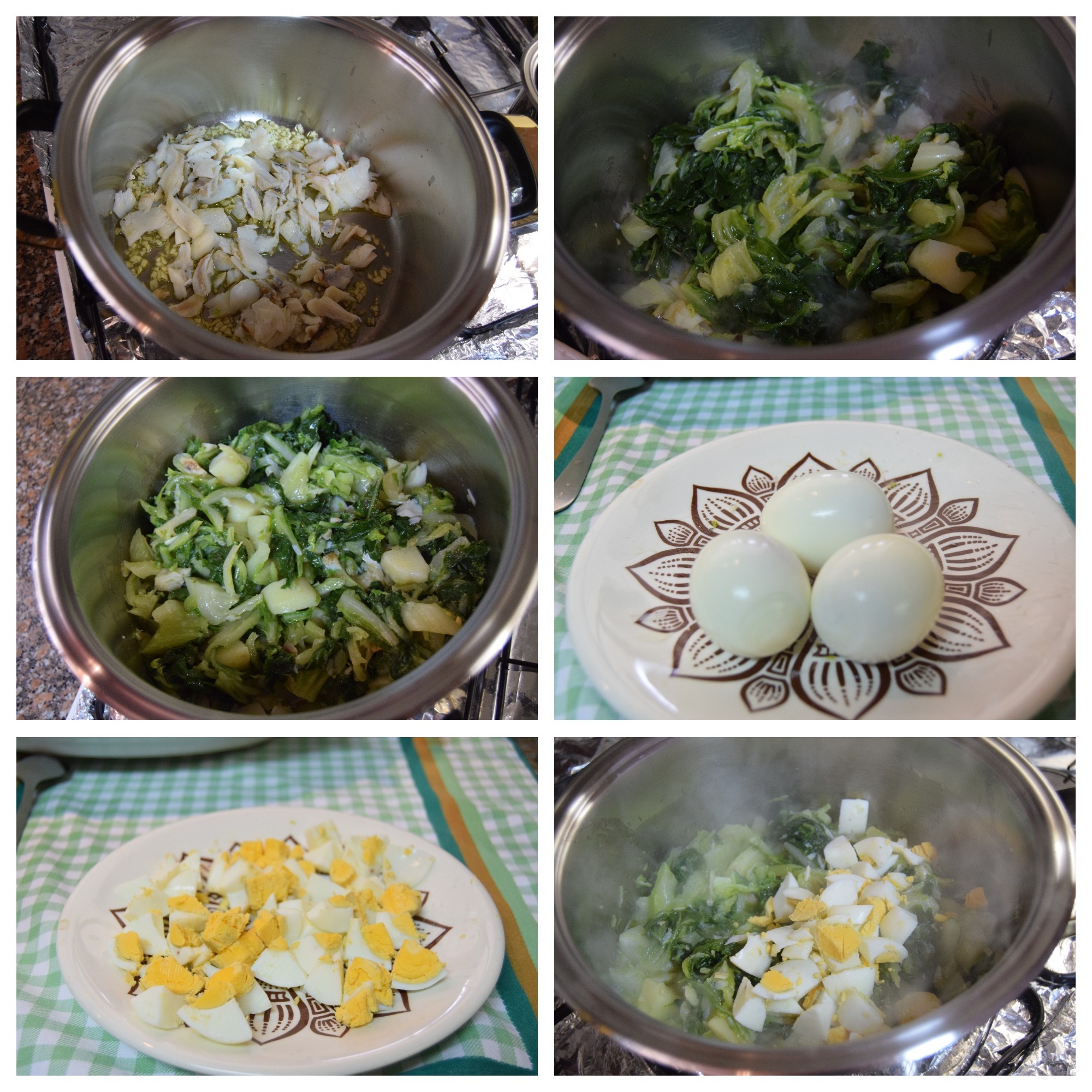 It's ready to serve!! It was easy, right? | Está pronto a ser servido!! Foi fácil, certo?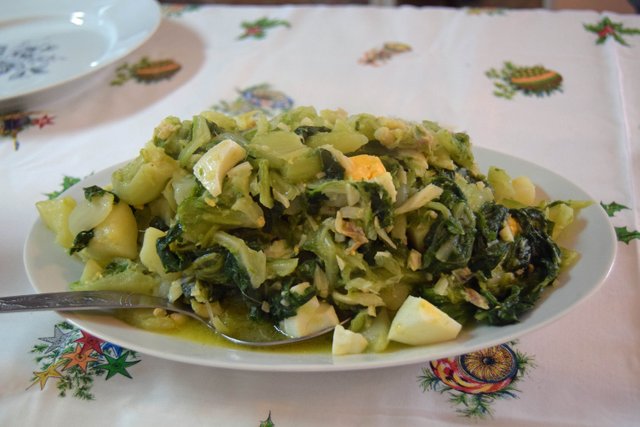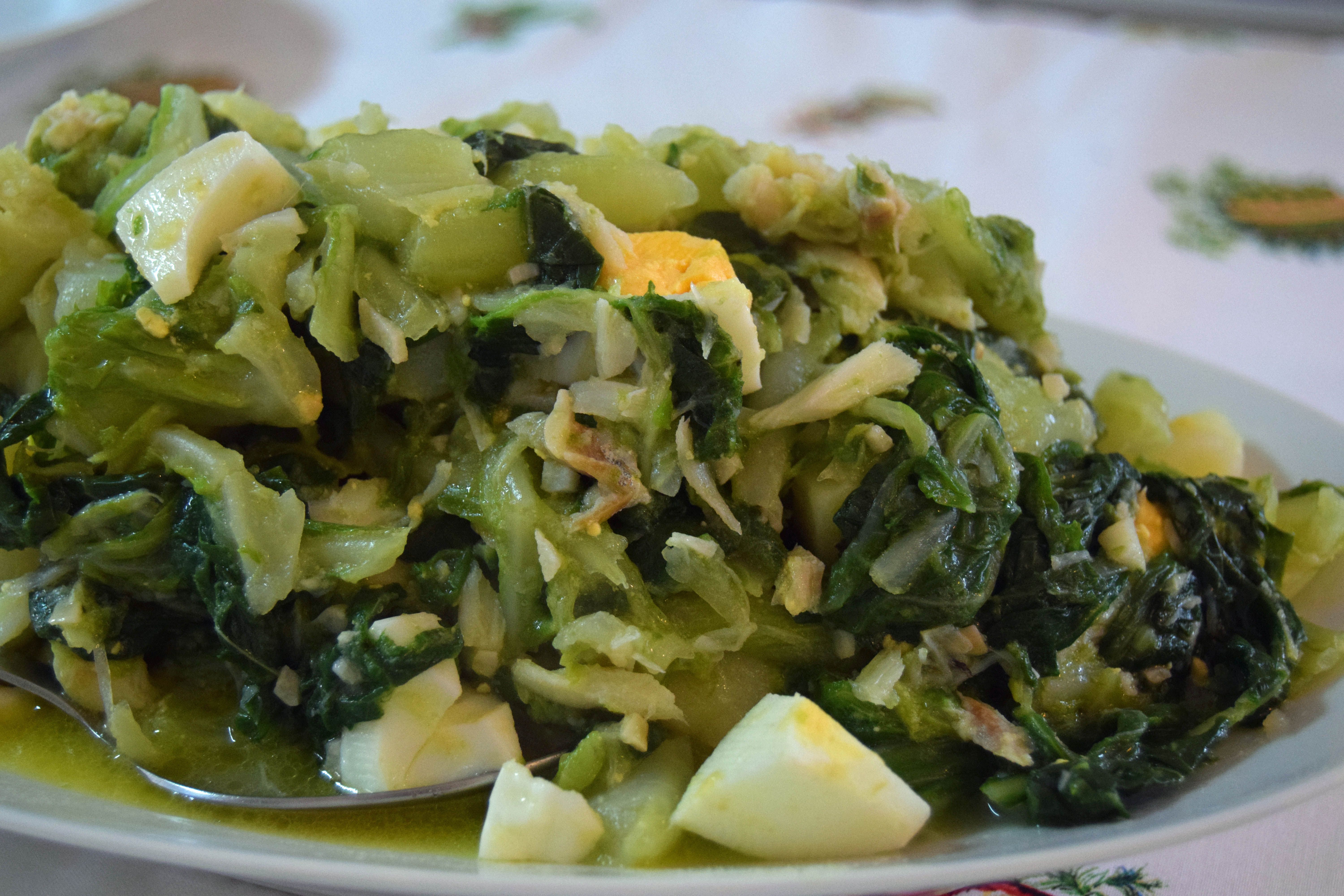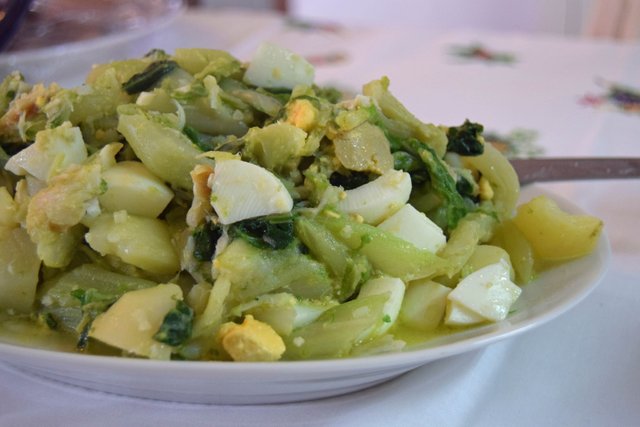 What do you think of reusing food? Do you also use leftovers? | O que acham do reaproveitmento da comida? Também usam sobras?
---
I will come back with another delicious Sunday cook :D
Stay tuned!!
What is Sunday Cook?!
This Sunday Cook project began with a strong will to contribute to Steemit with my personal view of Portuguese cuisine. I really believe we have plenty of good food. Despite I'm not a professional or nothing similar, I can assure that I'm doing my best, and hopefully, I'm improving my skills too!
On Sundays (cold Sundays), I like to prepare more elaborate and delicious food. It requires time and patience. Usually, I cook some traditional Portuguese food, or at least with Portuguese inspiration :) I try to do it in a healthier way, using the minimum fat as possible, and normally I pick some recipe and transform it. During the week I don't like to spend much time cooking (no time at all), that's why I get totally motivated to cook on Sundays!!
---
PORTUGUÊS
---
Eu voltarei com outro SundayCook delicioso :D
Fiquem atentos!!
O que é o Sunday Cook?!
Este projeto iniciou-se com uma grande vontade de contribuir para o Steemit com a minha visão pessoal da cozinha Portuguesa. Eu considero que temos excelentes pratos. Apesar de não ser profissional nem nada que o valha, garanto que tenho feito o meu melhor, e espero estar a melhorar os meus dotes culinários!
Nos Domingos (quando está frio), gosto de preparar comida mais elaborada. Requer tempo e paciência. Normalmente, cozinho pratos da cozinha tradicional Portuguesa, ou pelo menos inspirados na mesma. Tento cozinhá-los de uma forma saudável, usando o mínimo de gordura possível e normalmente pego numa receita e adapto ao meu gosto. Durante a semana não gosto de perder tempo a cozinhar (nada mesmo), e é por isso que me sinto motivada a cozinhar nos Domingos!!
---
Links for previous posts | Lista de links para posts anteriores:
---
---
Thanks to @steemitboard for creating this awesome badges!
---









---
---