This time it was more difficult to have this Sunday Cook because I spent the weekend out. But even so, I decided to prepare my Sunday Cook for Monday lunch, and I had tremendous luck at the supermarket because I found everything I needed...and more! I found colored carrots!! How awesome!!
I'm too optimistic and didn't realize I wouldn't have time to eat this meal at lunch time. I had to leave for work without tasting my roasted pork neck (my favorite part).
This Sunday Monday I cooked ...
Roasted pork neck with vegetables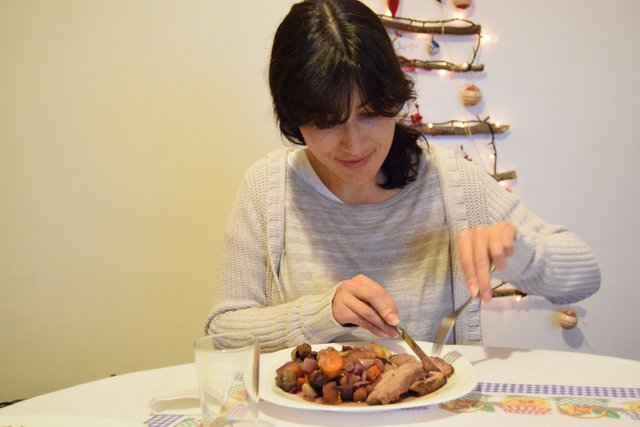 It's VERY VERY VERY GOOD!
Ingredients
Part 1 (previous seasoning)
pork neck (1 kg)
garlic clove (to taste, I like plenty)
black pepper and salt (to taste)
red pepper (to taste)
white wine
1 lemon
Part 2
1 big onion
carrots (I used plenty of them, regular orange, yellow and purple carrot)
2 medium sweet potatoes
mushrooms (400g)
1 lemon
Preparation
If you want the pork to get flavor, you'll need to season it with lemon juice, white wine, smashed garlic, black pepper, red pepper and salt, a couple of hours before. I did it on Sunday night and put it in the fridge.
In the next day...
Pre-heat the oven 180 ºC - 200ºC.
Pick a roaster tray and cover it with sliced onion. Then join the pork neck and seasoned gravy. Add the olive oil and it is ready to go to the oven (180ºC), for about 30m!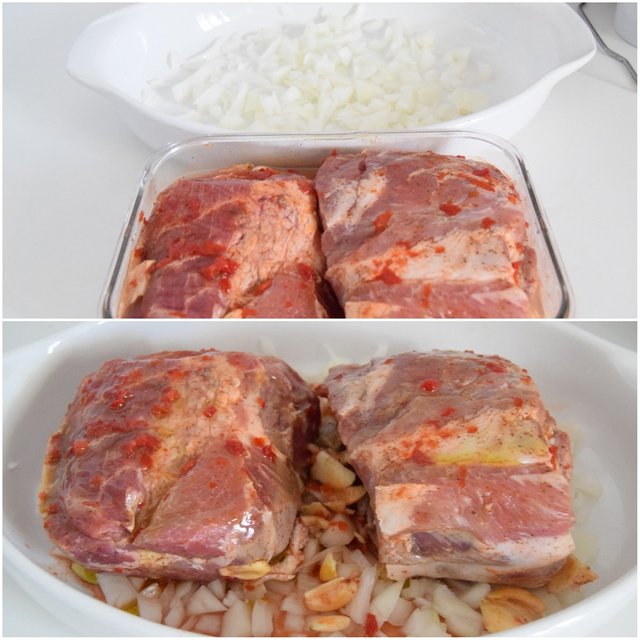 Meanwhile, prepare the vegetables: unpeel, wash and cut! Must be careful with the sweet potatoes, because they tend to get rust. So after unpeeling, I cover it with water.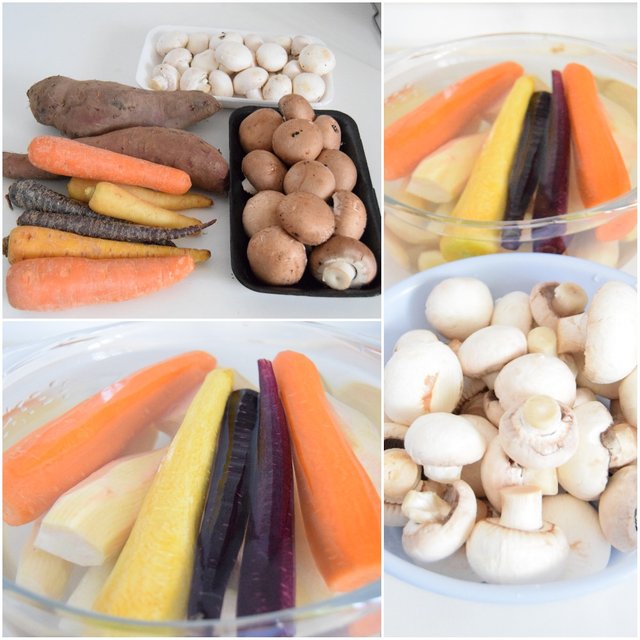 Add the vegetables to the roaster tray and put in the oven for more 1h30-2h. Squeeze the lemon over the meat.
(At this point I add rosemary to the meat and sprinkle the vegetables with salt and thyme..but also had to divide the meat and vegetables in 2 roaster tray)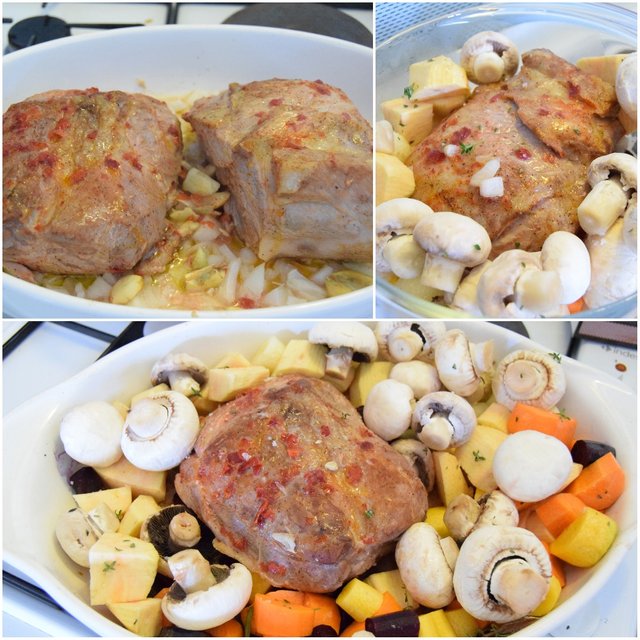 I like to watch the roasting process, to make sure all the vegetables and meat are cooking properly.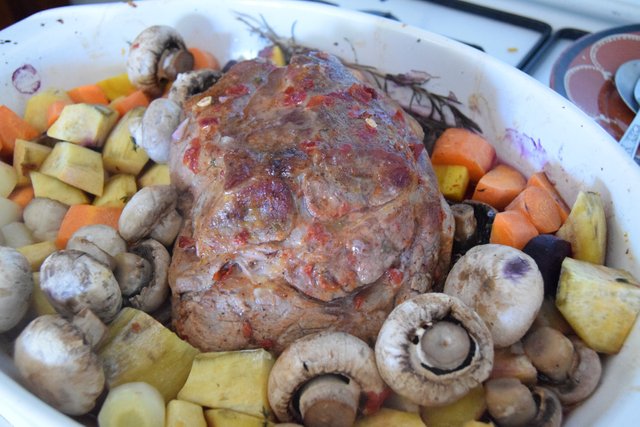 Put it in the oven till cooked!
It's time to serve!
(or not...) I had to wait for super, and it was very good. But I can't stop thinking how it would taste if I had it in lunch. Guess I'll have to cook this again!!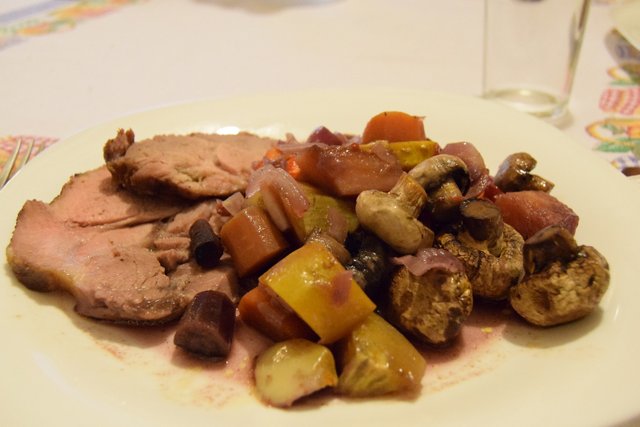 P.S.1 - This recipe is totally original...and I used these color carrots for the first time in my life. Now I know purple carrots can color the meat and vegetables...it isn't pretty, but I can deal with that!!
P.S.2 - A glass of red wine goes just fine with this meal, but I wasn't on the last night!!
I will come back with another Sunday cook delicious :D Stay tuned!!
---
What is Sunday Cook?!
On Sundays, I like to prepare more elaborate and delicious food. Usually, I cook some traditional Portuguese food, or at least with Portuguese inspiration :) I try to do it in a healthier way, using the minimum fat as possible, and normally I pick some recipe and transform it. I like to make it practical and leave the minimum dishes to wash...as I don't have a dishwasher machine!
During the week I don't like to spend much time cooking (no time at all), that's why I get totally motivated to cook on Sundays!!