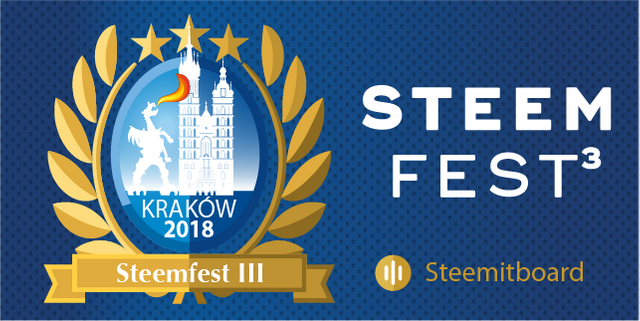 SteemFest … SteemFest … Kraków … Kraków… the words start to be on every lips and we all are really excited by the forthcoming event.
Attend SteemFest 2018 in Kraków and get your commemorative award!
The commemorative award for Kraków is ready and waiting to appear on your board.

How to get it?
That's really easy! When you will register at SteemFest in Kraków, you will automatically receive your award a few minutes later. Et voilà ...
The award will be displayed in your personal tab on your board.
Are you a SteemFest lover?
Did you attend SteemFest in Amsterdam OR in Lisboa? Excellent!
SteemFest in Kraków will be your second experience! You deserve a special award:

Your SteemFest 2018 award will pop-up with 2 stars, clearly indicating how many events you attended.
Are you addicted to SteemFest?
Did you attend SteemFest in Amsterdam AND in Lisboa? Even better!
You are a SteemFest's Veteran and even deserve a very specific award

Your SteemFest 2018 award will pop-up with 3 stars so you can proudly show it to all your friends. Congratulation and be prepared for the 4 stars award next year!
Do no forget the Travel Reimbursement Fund
The Travel Reimbursement Fund (@t-r-f) is is still open for funding. Support your fellow Steem users attending SteemFest to make it to Kraków and to lower their travel expenses
@steemitboard support this initiative and released the award for Travel Reimbursement Fund Donators. Read the announcement post .
The @t-r-f already collected 3024 STEEM and 208 SBD thanks to 57 generous contributors who received the dedicated T-R-F badge:

There are a few days left to break the record of the previous year.
On behalf of all SteemFest attendees, thank you for your support!
See you in Krakow!
---
Useful links:
SteemFest 2018 Travel Reimbursement Fund announcement
How the Travel Reimbursement Fund works
SteemFest³ - announcement
SteemFest³ - Last update
---
Support SteemitBoard project: vote for its witness!
---
Steemitboard is a project created by @arcange