Hello!! Ready for another delicious recipe!?

Well, this Sunday I feel like fish again and remember a recipe, that despite not being fully traditional, it uses typical​ ingredients. At my place it is already a tradition from time to time, we love it!!

Olá!! prontos para outra receita fantástica!?

Pois bem, este Domingo apeteceu-me novamente peixe e lembrei-me de uma receita que apesar de não ser muito tradicional, usa ingredientes super típicos. E na minha casa já é tradição de tempos a tempos, adoramos!!
For this SundayCook I prepared | Para este SundayCook preparei:
Hake with Portuguese corn bread | Pescada com broa de milho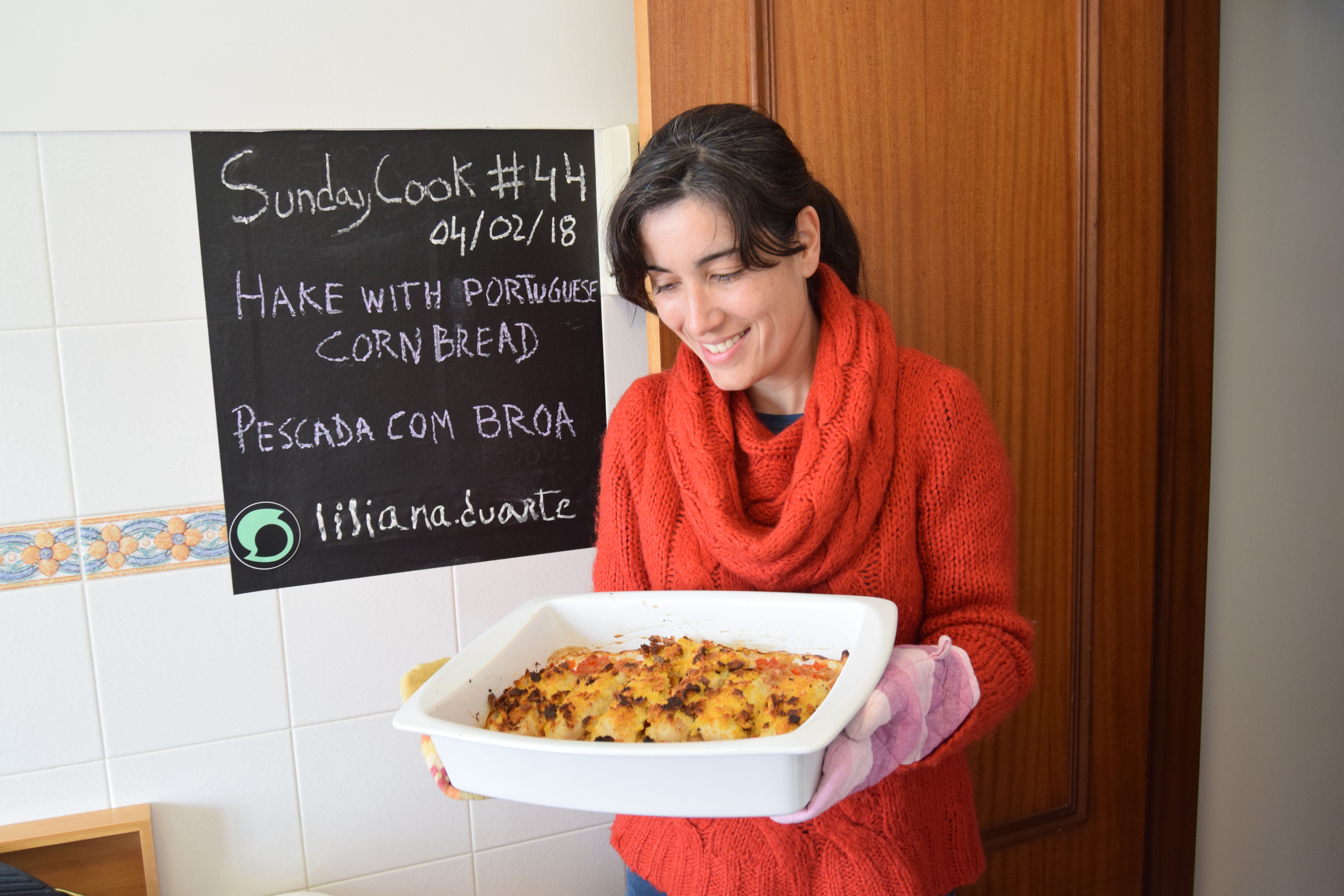 Once again, it's super easy and delicious!! | Uma vez mais é super fácil e delicioso!!
A perfect recipe for a family or friend lunch! | Uma receita perfeita para um almoço de família ou com amigos!
| | |
| --- | --- |
| Today I realized that Native Americans used ground corn, for cornbread (but not only), before European explorers arrived. Maybe that's the reason why we have Portuguese cornbread (broa) today. | Percebi hoje que os Americanos Nativos já usavam milho, para pão de milho (mas não só), antes dos exploradores europeus chegarem. Provavelmente é esse o motivo de hoje termos broa (pão de milho português). |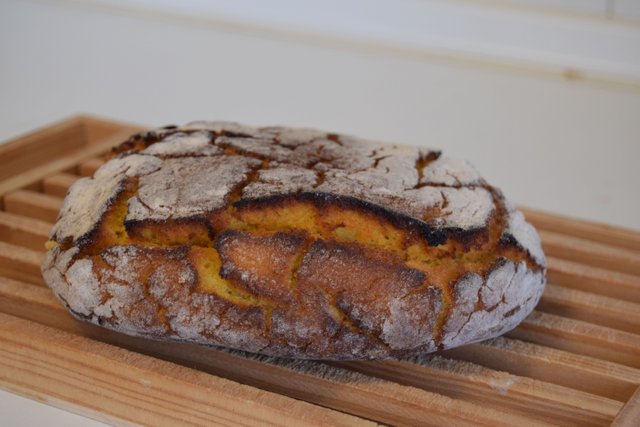 I don't know how American​ cornbread tastes like, but I know Portuguese cornbread is denser​ than our ordinary bread but, and when freshly baked...oh my, it's so tasty!!

Slightly sweet and moist with a crunchy crust. Can you imagine it!?

Não sei a que sabe o pão de milho Americano, mas sei que a broa é mais densa que o nosso pão normal, e quando está fresca...nossa, é tão boa!

Ligeiramente doce e húmida, com uma crosta crocante. Conseguem imaginar!?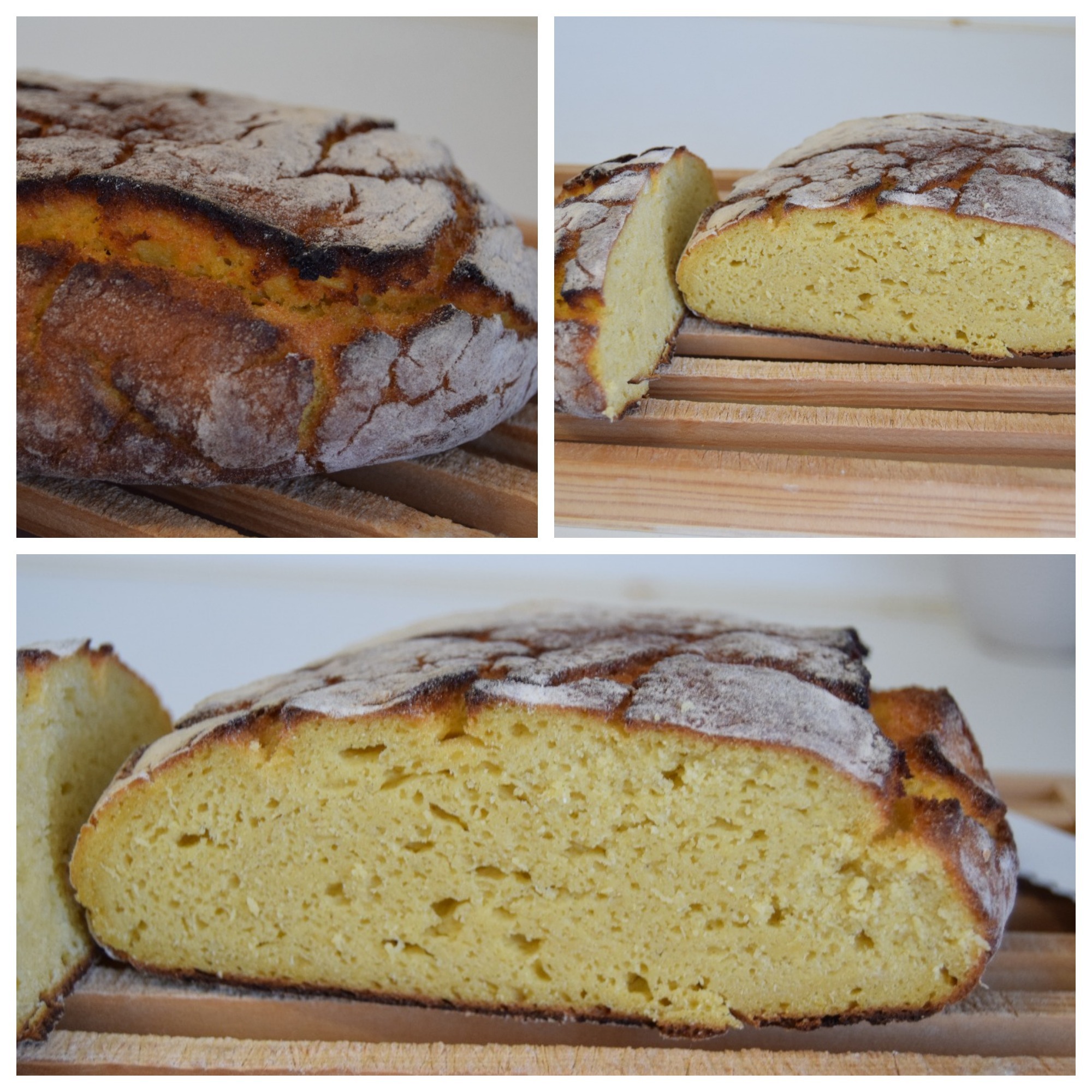 | | |
| --- | --- |
| Enough of talk, let's go to the recipe!! | Já chega de paleio, vamos à receita!! |
Ingredients | Ingredientes:
8 hake steaks (hake medallions or loins)| - 8 pedaços de pescada (medalhões ou lombos)
200 grams Portuguese cornbread | 200 g de broa
1 large onion | - 1 cebola grande
1 red pepper | - 1 pimento vermelho
1 clove of garlic | - 1 dente de alho
1 lemon (zest and juice) | - 1 limão (sumo e raspa)
150 ml olive oil | - 150 ml azeite
black pepper (to taste) | - pimenta preta (a gosto)
salt (to taste) | - sal (a gosto)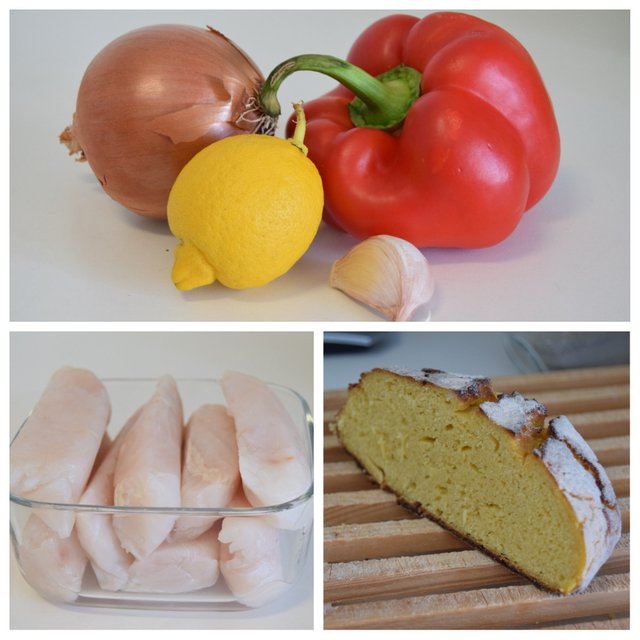 | | |
| --- | --- |
| 1 - Season the fish with garlic (finely ​cut​), salt, black pepper and lemon zest and juice. Set aside. | 1 - Temperar a pescada com alho (cortado finamente), sal, pimenta preta, raspa e sumo de limão. Reservar. |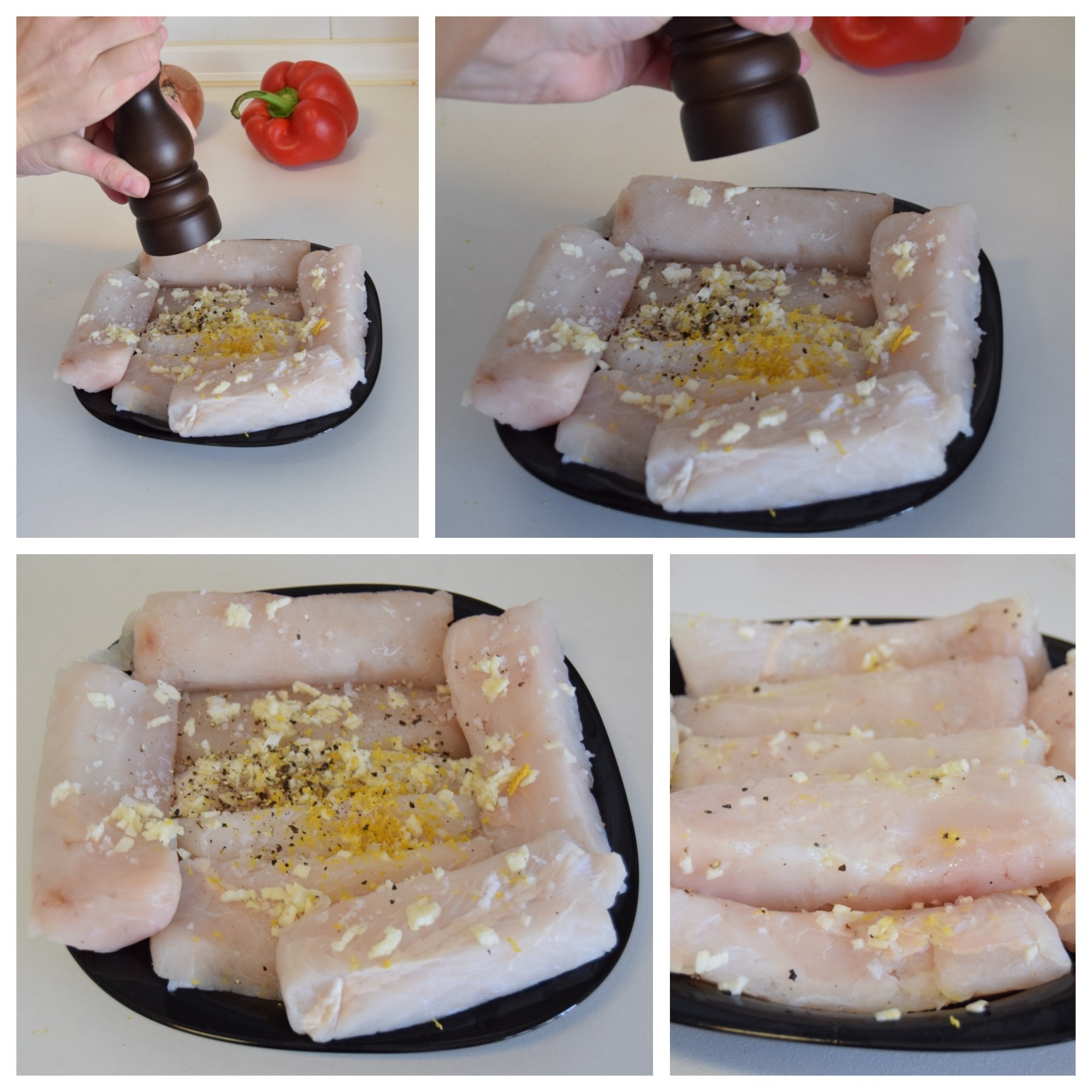 | | |
| --- | --- |
| 2 - Cut the onion and red pepper into small cubes and place it in the baking dish. | 2 - Cortar a cebola e o pimento vermelho em cubos pequenos, e colocá-los num tabuleiro de ir ao forno. |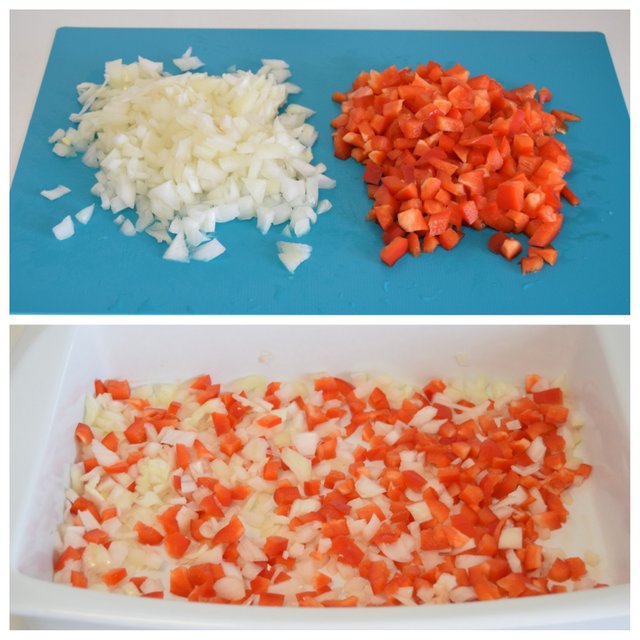 3 - Cut the Portuguese cornbread into small pieces, and make coarse bread crumbs by hand.
4 - Wrap the fish in this coarse bread mixture.

3 - Cortar a broa em pedaços pequenos e desfazer com as mãos para obter migalhas grossas.
4 - Envolver a pescada na broa.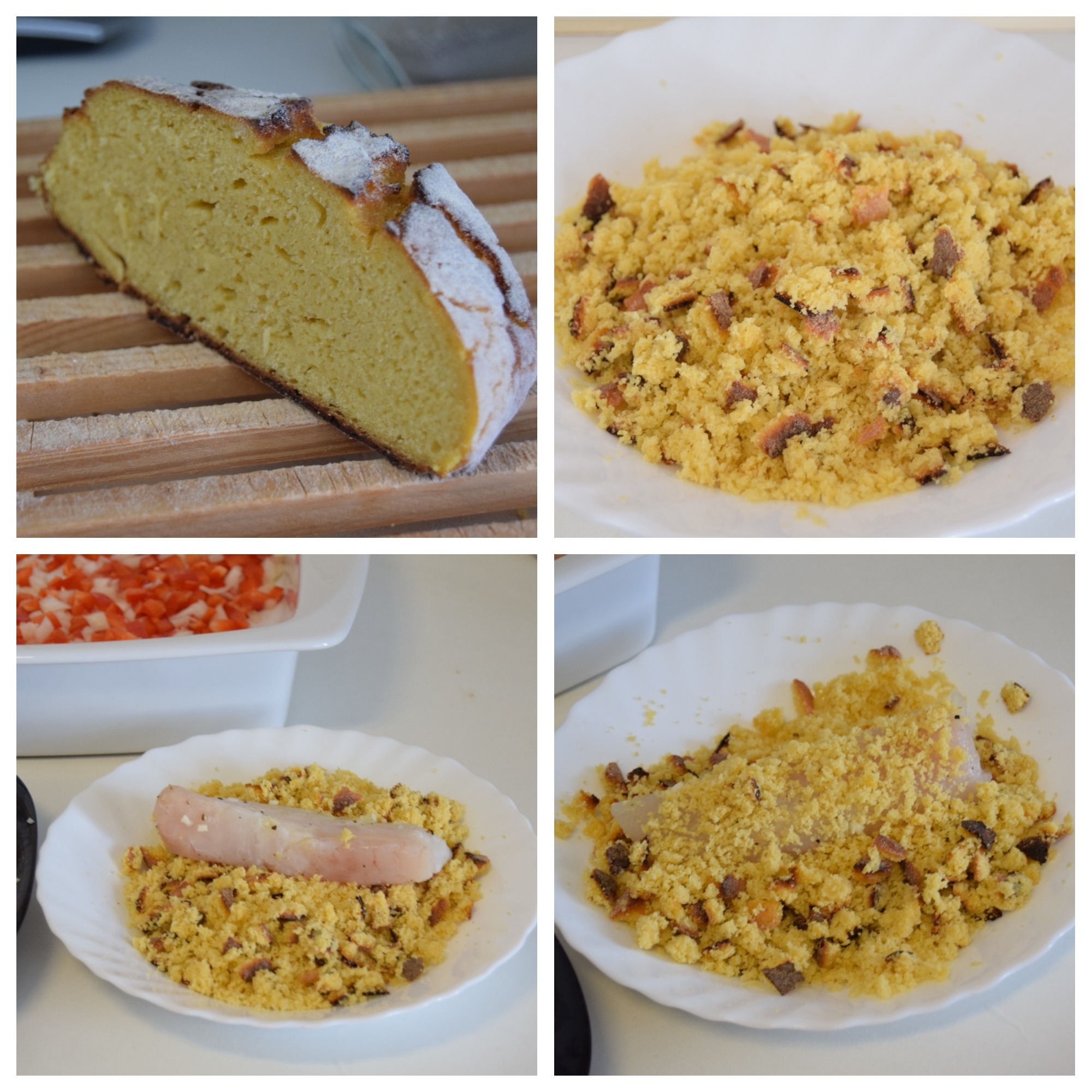 | | |
| --- | --- |
| 5 - Place the fish in​ the baking dish. | 5 - Colocar o peixe no tabuleiro. |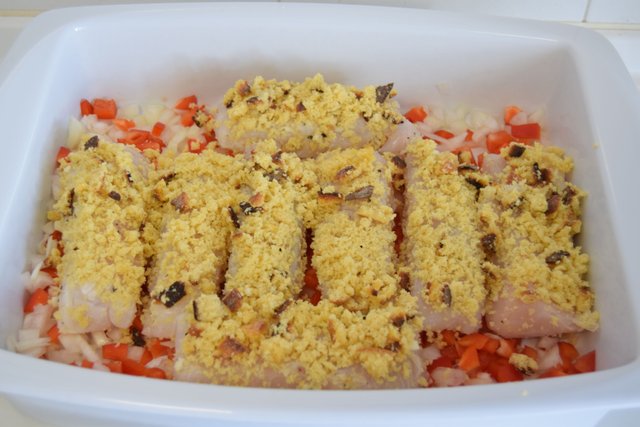 | | |
| --- | --- |
| 6 - Add the olive oil to the marinade, whisk it and pour this mixture over the fish. Drizzle everything with more olive oil | 6 - Juntar o azeite à marinada, mexer e regar o peixe com esta mistura. Regar tudo com um pouco mais de azeite. |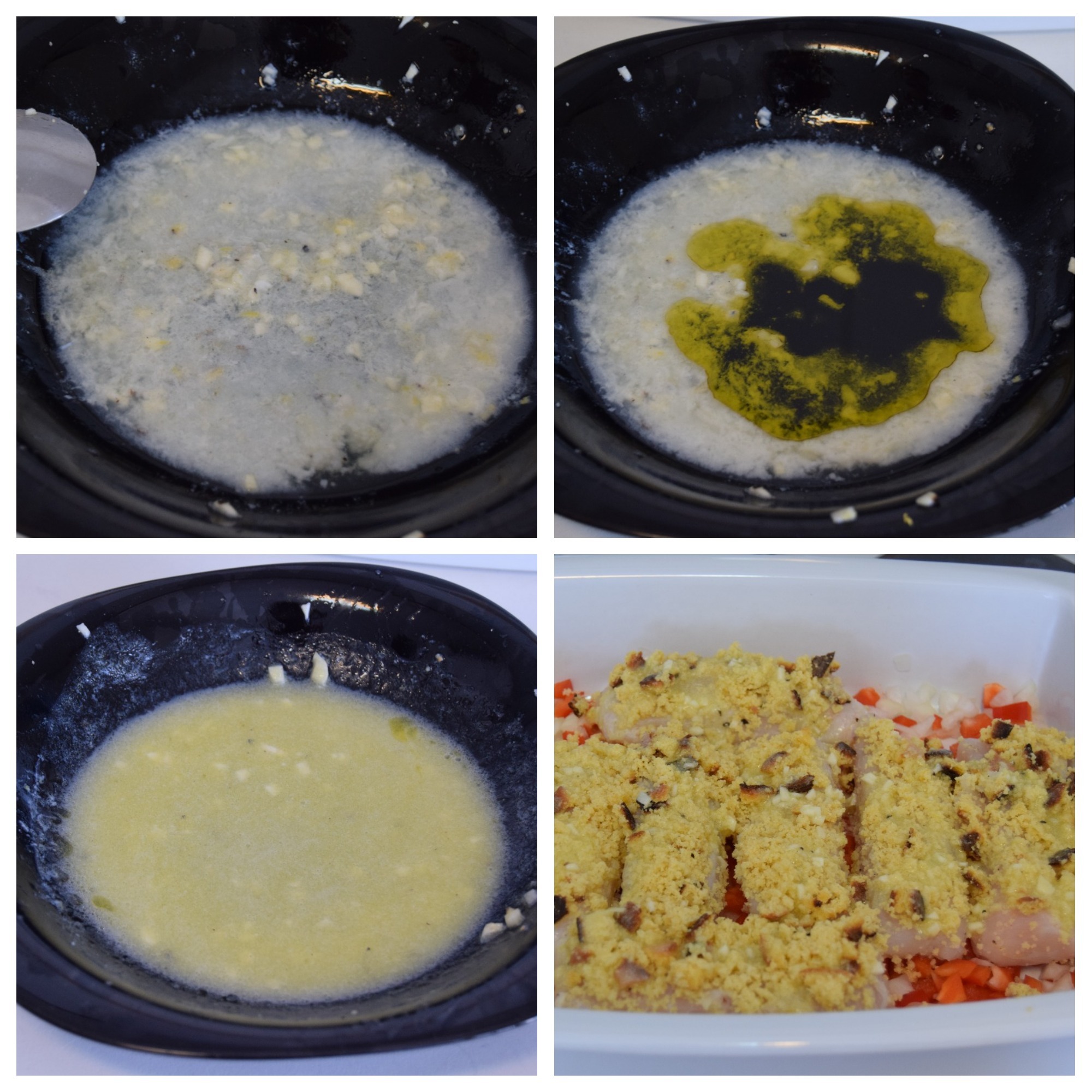 | | |
| --- | --- |
| 7 - Bake about 35 to 40 minutes in preheated oven (180ºC). | 7 - Levar ao forno pré-aquecido (180ºC) por cerca de 35 a 40 minutes. |
It's ready to serve!! | Está pronto a ser servido!!
See how easy it was (again)!? | Vêem como foi fácil (outra vez)!?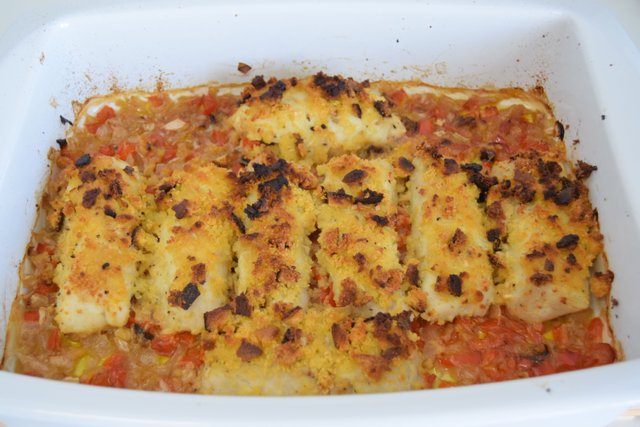 I usually serve this dish only with rice, but you know, today was Sunday and I wanted something more elaborate!!
Normalmente sirvo este prato apenas com arroz, mas vocês sabem, hoje é Domingo e quis algo mais elaborado!!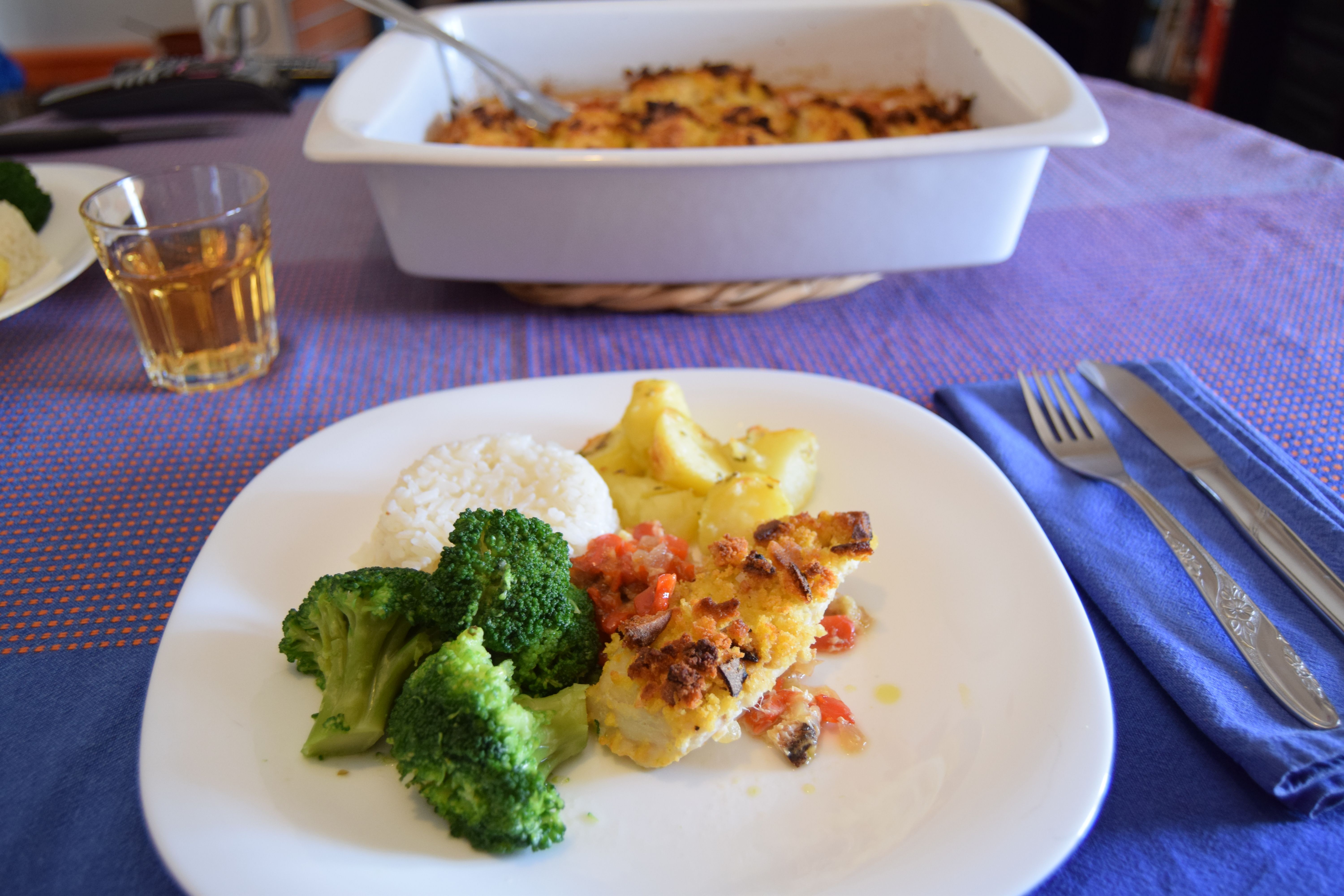 I served it with rice, broccoli and roasted potatoes!! | Servi com arroz, bróculos e batatas assadas no forno!!

I'm so proud of​ having this SundayCook series running. It means I have a different and delicious meal every Sunday!!
Estou tão orgulhosa de ter esta série de SundayCooks. Significa que tenho garantida uma refeição diferente e deliciosa todos os Domingos!!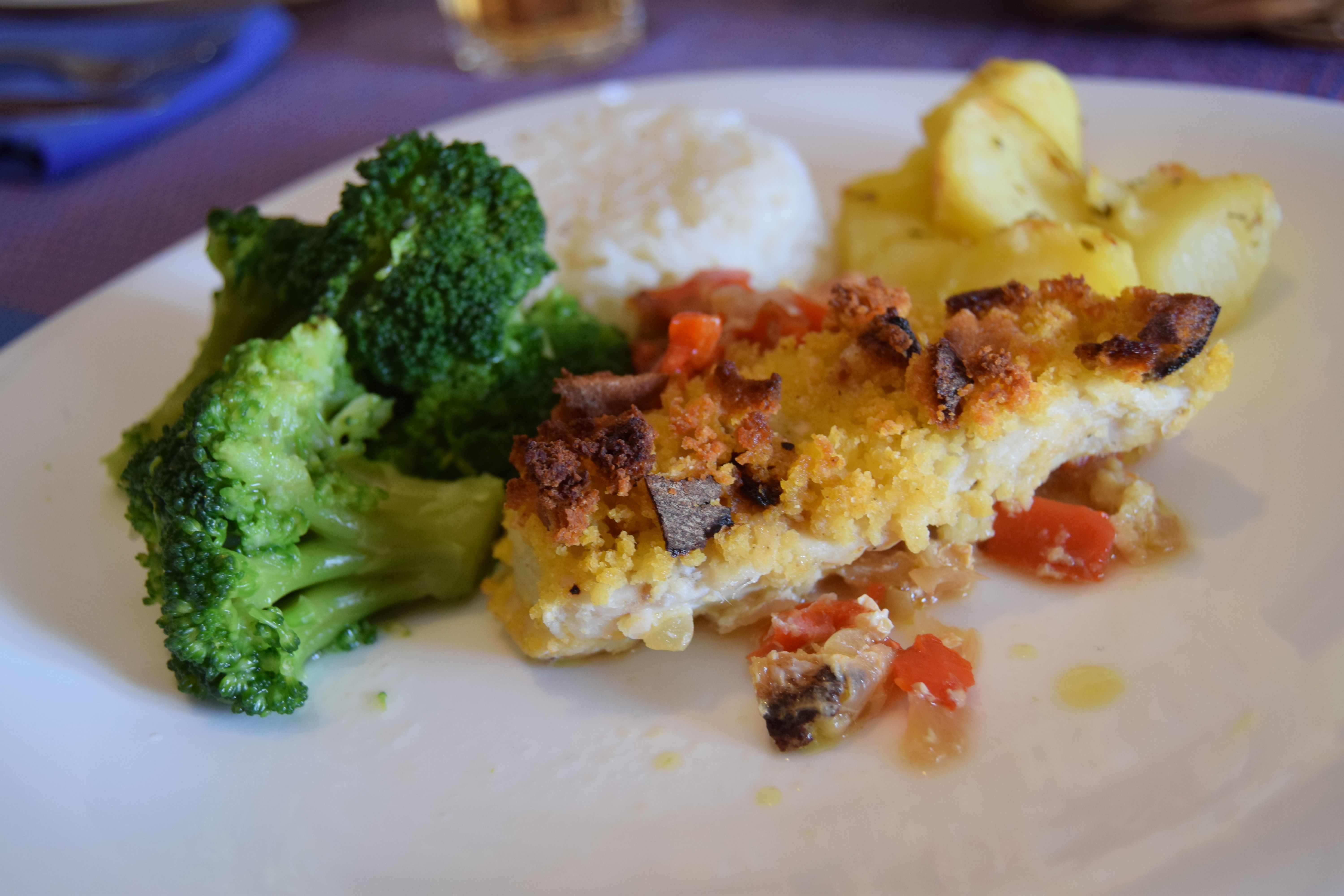 ** The coarnbread over the fish gets really crunchy, DELICIOUS! | A broa sobre o peixe fica mesmo crocante, DELICIOSO!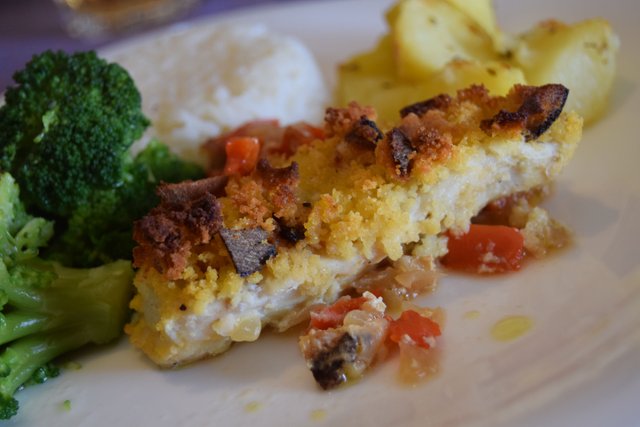 ---
I will come back with another delicious Sunday cook!!
Stay tuned!!
What is Sunday Cook?!
This Sunday Cook project began with a strong will to contribute to Steemit with my personal view of Portuguese cuisine. I really believe we have plenty of good food. Despite I'm not a professional or nothing similar, I can assure that I'm doing my best, and hopefully, I'm improving my skills too!
On Sundays (cold Sundays), I like to prepare more elaborate and delicious food. It requires time and patience. Usually, I cook some traditional Portuguese food, or at least with Portuguese inspiration :) I try to do it in a healthier way, using the minimum fat as possible, and normally I pick some recipe and transform it. During the week I don't like to spend much time cooking (no time at all), that's why I get totally motivated to cook on Sundays!!
---
PORTUGUÊS
---
Eu voltarei com outro SundayCook delicioso!!
Fiquem atentos!!
O que é o Sunday Cook?!
Este projeto iniciou-se com uma grande vontade de contribuir para o Steemit com a minha visão pessoal da cozinha Portuguesa. Eu considero que temos excelentes pratos. Apesar de não ser profissional nem nada que o valha, garanto que tenho feito o meu melhor, e espero estar a melhorar os meus dotes culinários!
Nos Domingos (quando está frio), gosto de preparar comida mais elaborada. Requer tempo e paciência. Normalmente, cozinho pratos da cozinha tradicional Portuguesa, ou pelo menos inspirados na mesma. Tento cozinhá-los de uma forma saudável, usando o mínimo de gordura possível e normalmente pego numa receita e adapto ao meu gosto. Durante a semana não gosto de perder tempo a cozinhar (nada mesmo), e é por isso que me sinto motivada a cozinhar nos Domingos!!
---
Links for previous posts | Lista de links para posts anteriores: