Hello everyone!!

How many of you like to eat octopus? I've cooked it twice on SundayCooks but I guess it doesn't reach the heart of many.

I'm a big big fan!!

For this Sunday I decided to prepare another Portuguese typical dish with octopus (regularly found in restaurants).

Olá a todos!!

Quantos de vós gostam de comer polvo? Eu já fiz dois SundayCooks com polvo e fiquei com a sensação que não agradou a muitos.

Já eu sou uma grande fã!!

Este Domingo decidi preparar outro prato típico Português com polvo (frequente em restaurantes).
For this SundayCook I prepared | Para este SundayCook preparei:
Octopus rice (6 persons) | Arroz de polvo (6 pessoas)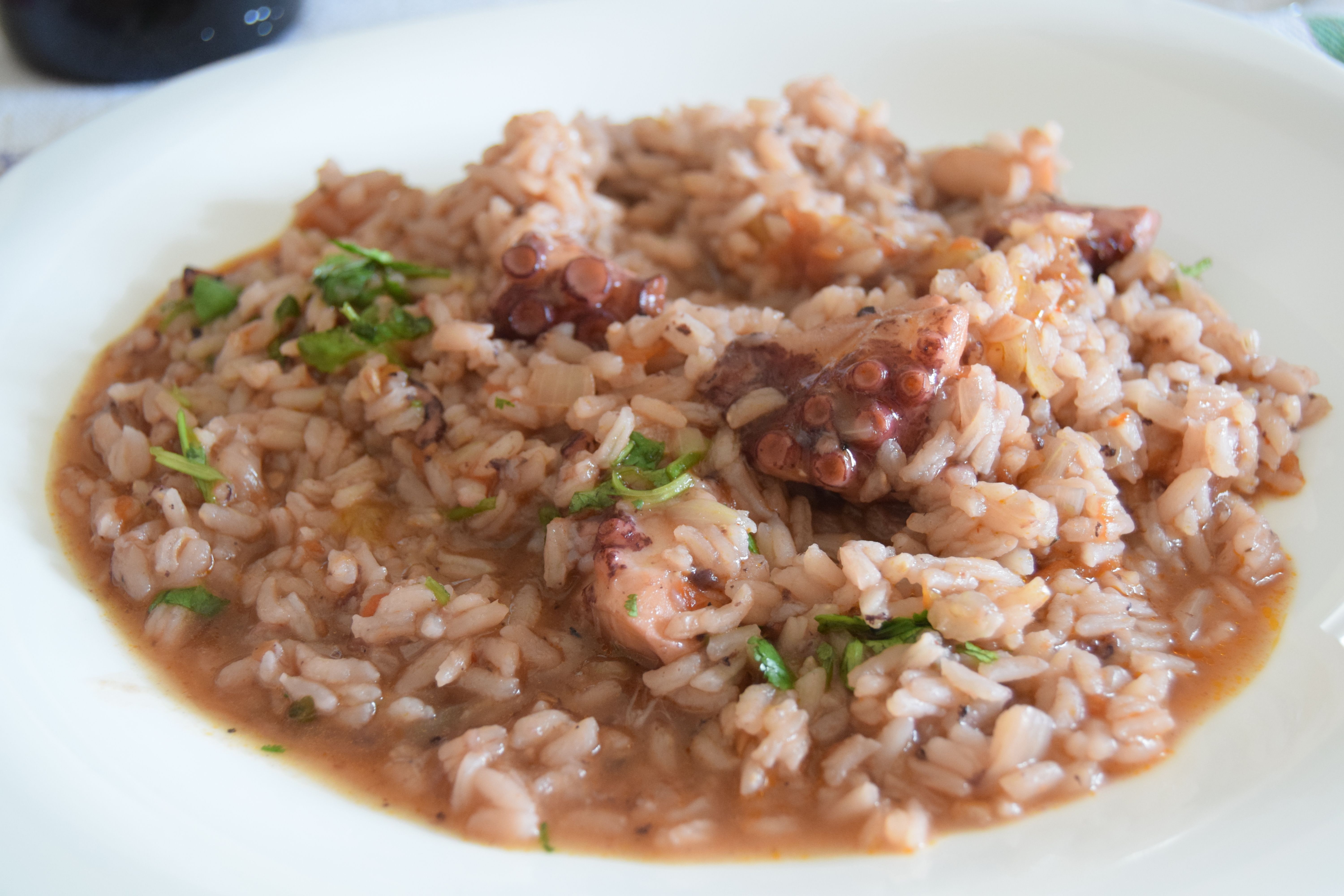 This is a traditional recipe, super tasty and perfect for these cold Winter days!!|
Esta é uma receita típica, super deliciosa e perfeita para estes dias frios de Inverno!!
Ingredients | Ingredientes:
1,7 kg octopus | - 1,7 kg polvo
3 small onion | - 3 cebolas pequenas
5 cloves of garlic | - 5 dentes de alho
420 g rice | - 420 g de arroz
olive oil (to taste) |- azeite (a gosto)
1 bay leaf | - 1 folha de louro
1 bunch of parsley | -1 raminho de salsa
black pepper (to taste) | - Pimenta preta (a gosto)
3 tomatoes | - 3 tomates
red wine (to taste) | - vinho tinto (a gosto)
coriander (to taste)| - coentros (a gosto)
salt (to taste)| - sal (a gosto)
1 - Clean and wash the octopus (I used frozen octopus).
2 - In a large saucepan with boiling water seasoned with salt add a small unpeeled onion, a bay leaf and parsley. Put the octopus to boil in this saucepan for about one hour.

1 - Limpar e lavar o polvo (uso polvo congelado).
2 - Numa panela larga com água a ferver temperada com sal juntar uma cebola pequena descascada, uma folha de louro e salsa. Colocar o polvo na panela para cozer cerca de uma hora.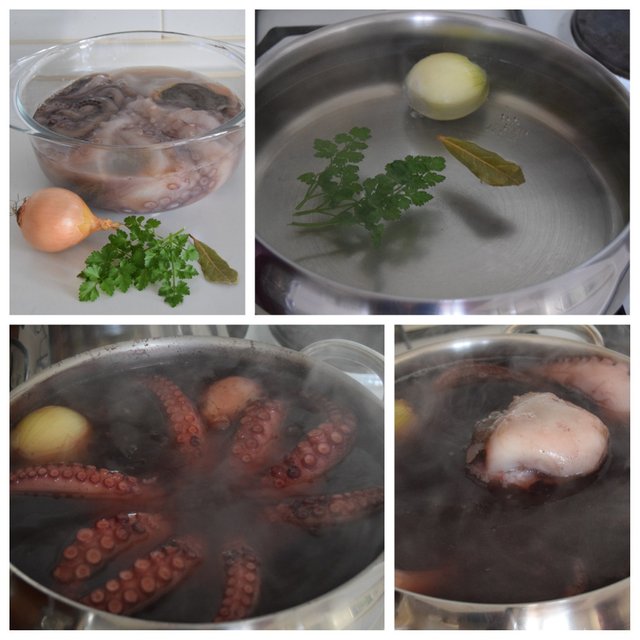 | | |
| --- | --- |
| 3 - The octopus is cooked when the onion gets soft. Drain it, let it cool a bit and cut into pieces. Reserve the cooking water. | 3 - O polvo esta cozido quando a cebola ficar mole. Escoar o polvo, deixar arrefecer um pouco e cortar aos pedaços. Reservar a água de cozer o polvo. |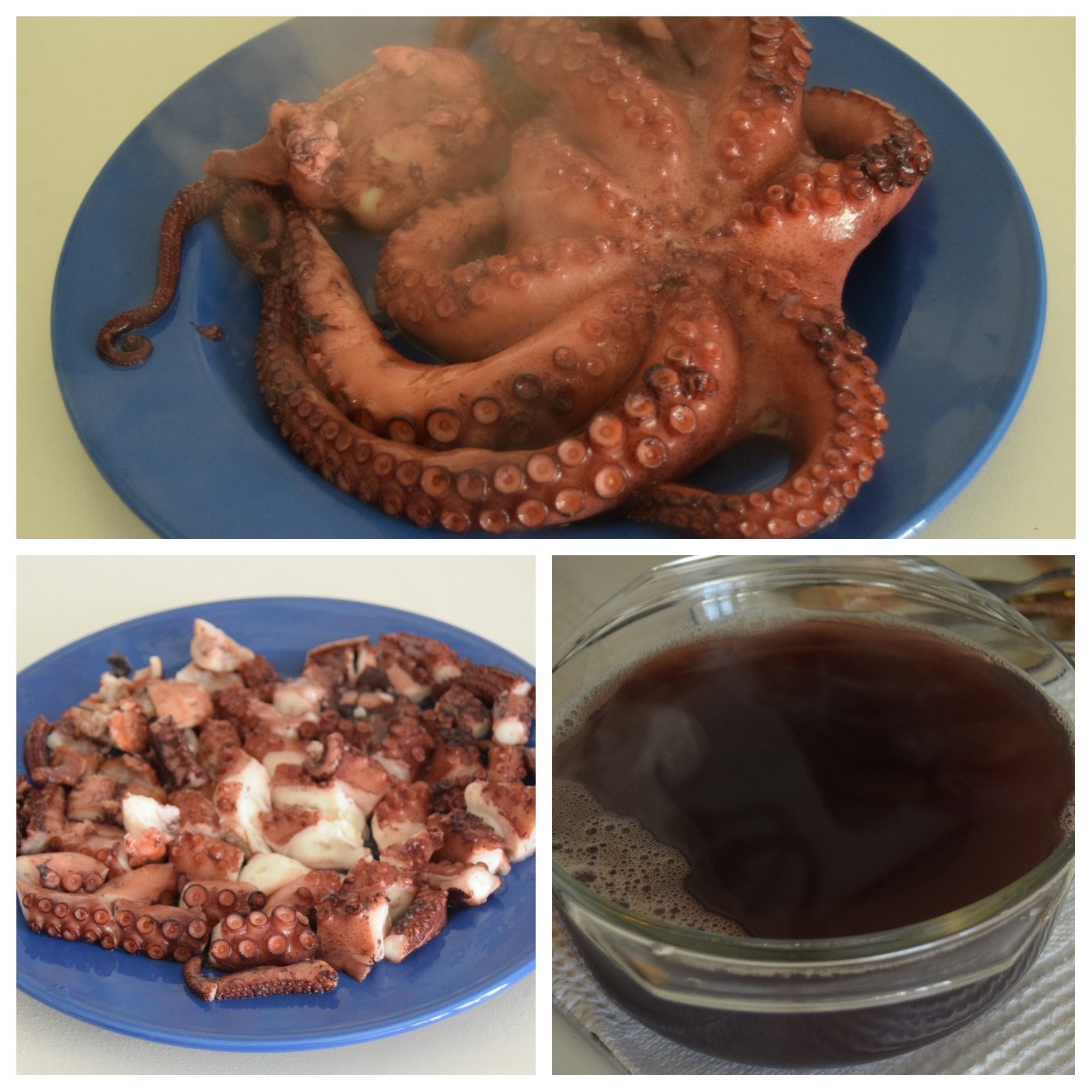 | | |
| --- | --- |
| 4 - Unpeel two onions, the garlic cloves, and tomatoes. Cut into pieces. | 4 - Descascar duas cebolas, o alho e o tomate. Cortar em pedaços. |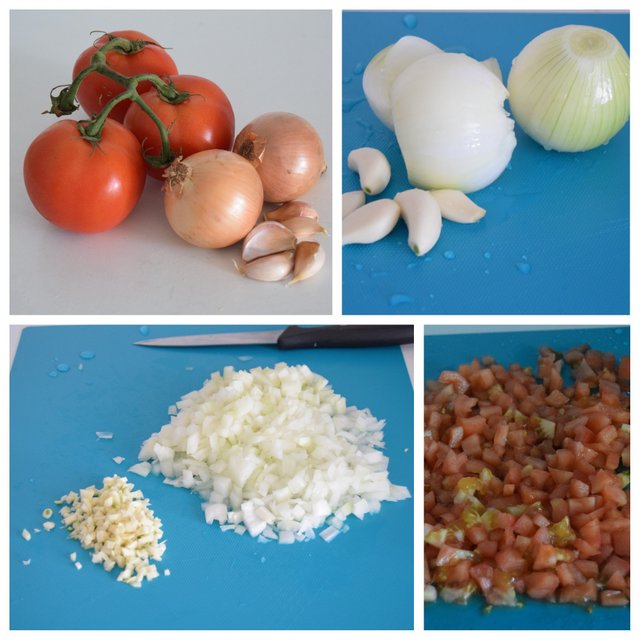 | | |
| --- | --- |
| 5 - In a saucepan place the chopped onion and garlic with olive oil and let it fry for 3-5 minutes. Add the tomato, red wine and let it simmer over low heat until the tomato starts to break down. | 5 - Numa panela colocar a cebola e alhos picados com azeite e deixar fritar por 3-5 minutos. Juntar o tomate, o vinho tinto e deixar refogar em lume baixo até que o tomate se desfaça. |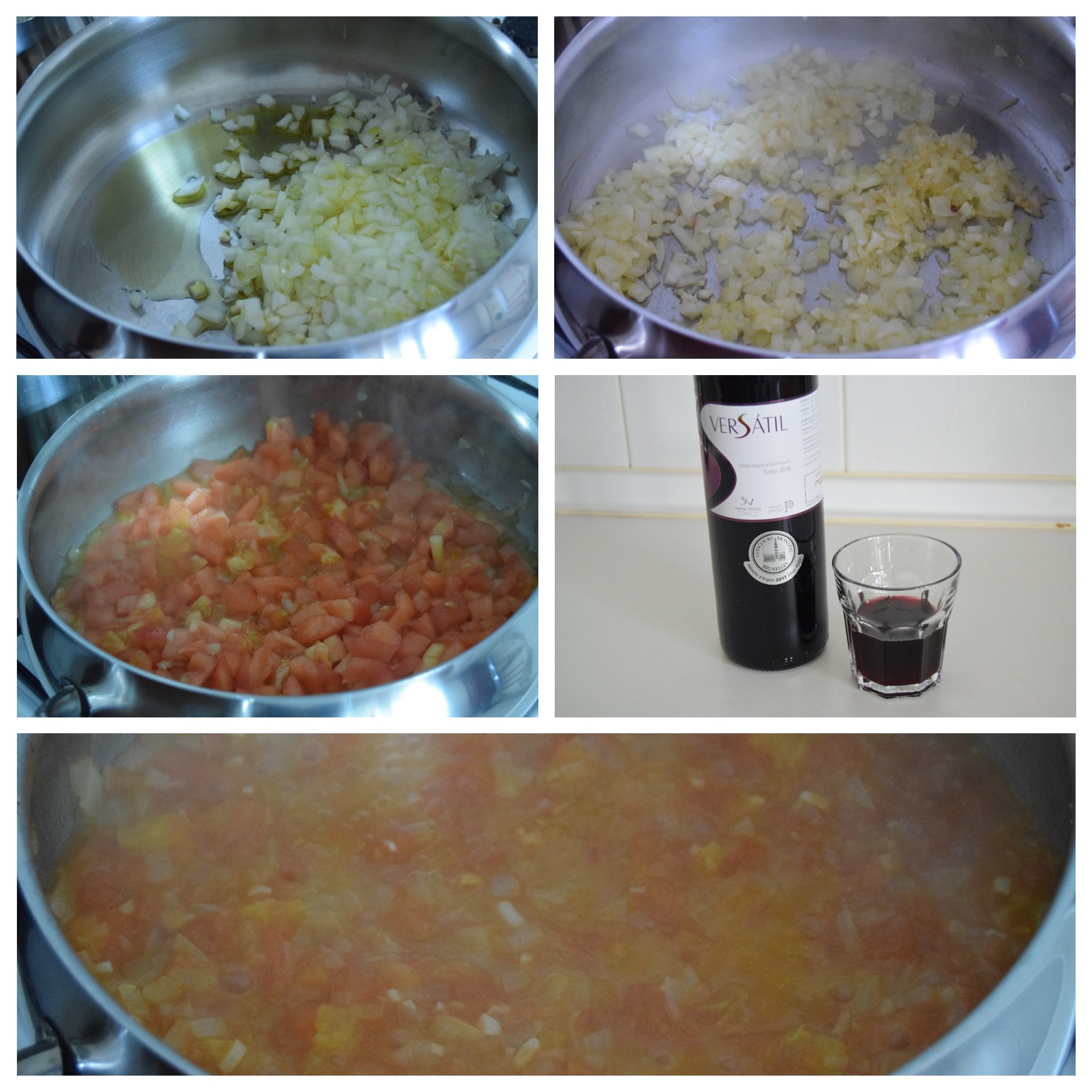 | | |
| --- | --- |
| 6 - Add the octopus, season with black pepper and add the octopus cooking water (3 cups of water for 1 of rice). Let it boil and add the rice. When it starts boiling again, reduce to low heat and cook about 10-12 minutes. | 6 - Juntar o polvo, temperar com pimenta preta e adicionar a água de cozer o polvo (3 canecas de água para 1 de arroz). Deixar ferver e juntar o arroz. Quando começar a ferver novamente, reduzir para lume baixo e deixar cozer 10-12 minutos. |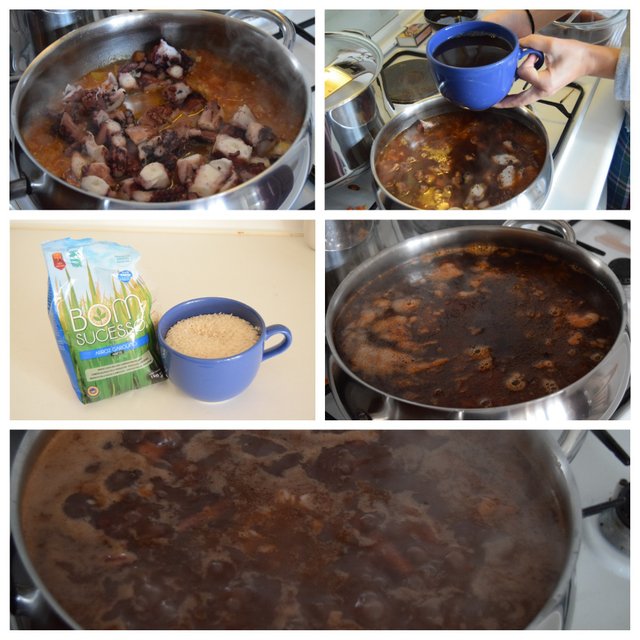 | | |
| --- | --- |
| 7 - Turn off the heat, let stand about 3-5 minutes and sprinkle with chopped coriander. | 7 - Desligar o lume, deixar estar por cerca de 3-5 minutos, e polvilhar com coentros picados. |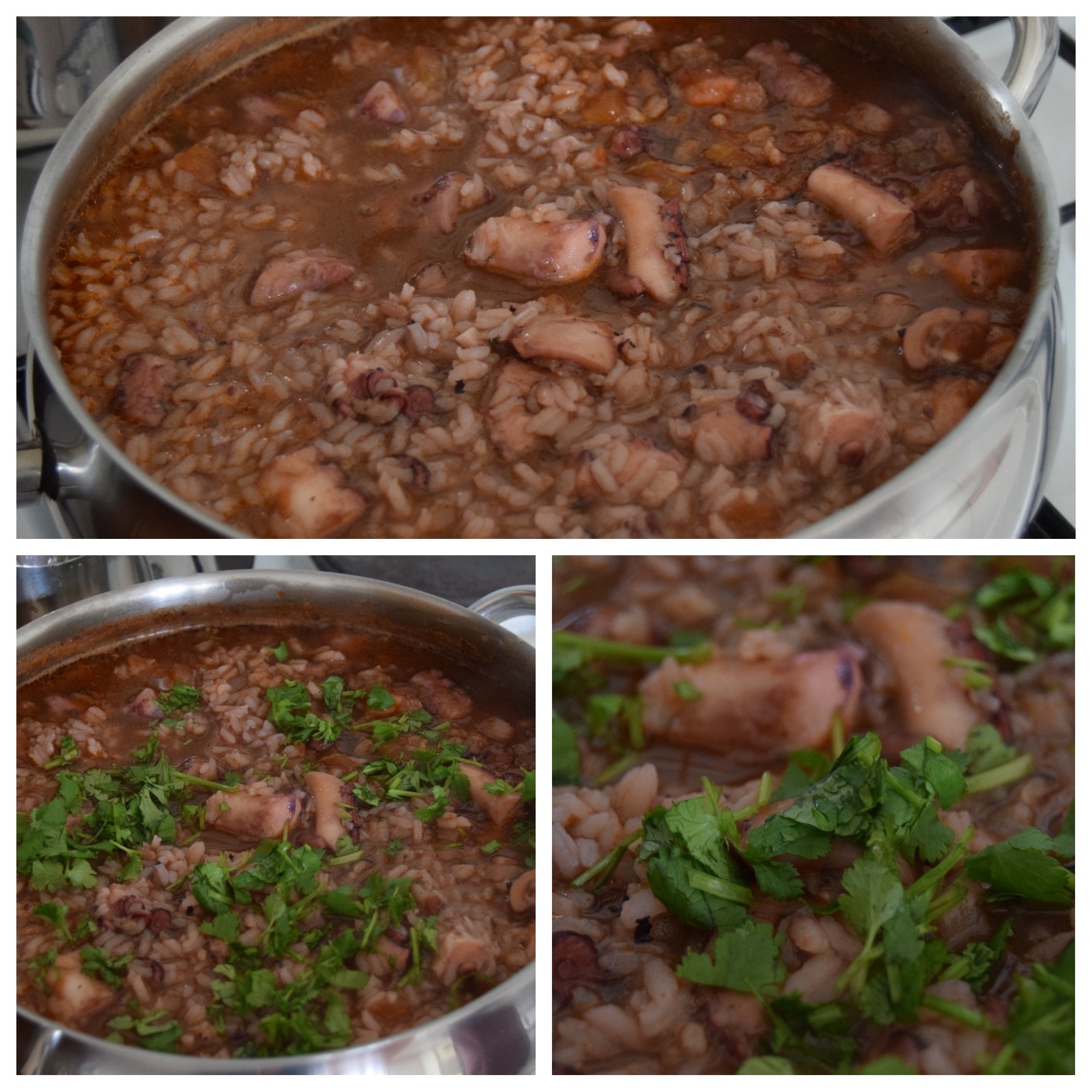 It's ready to serve!! | Está pronto a ser servido!!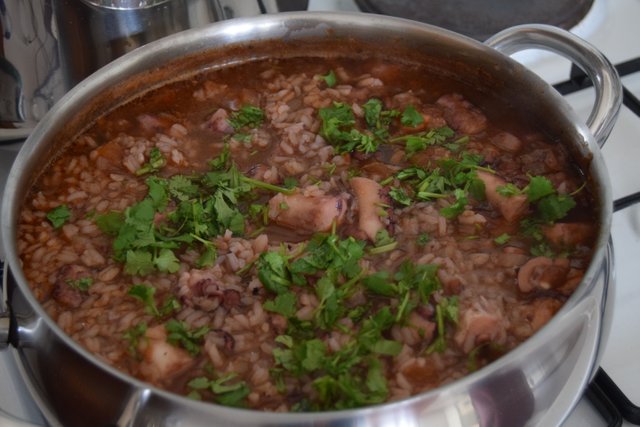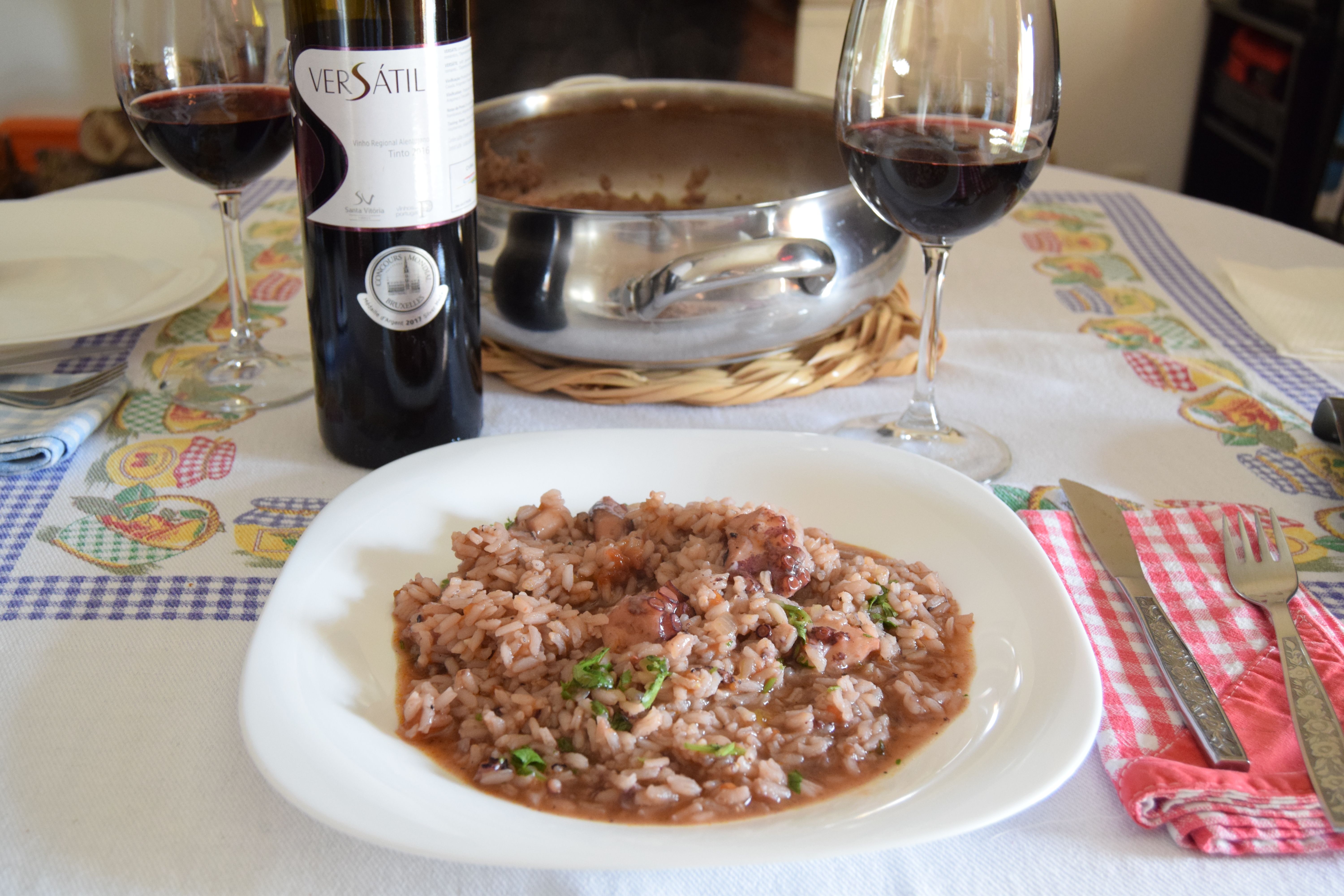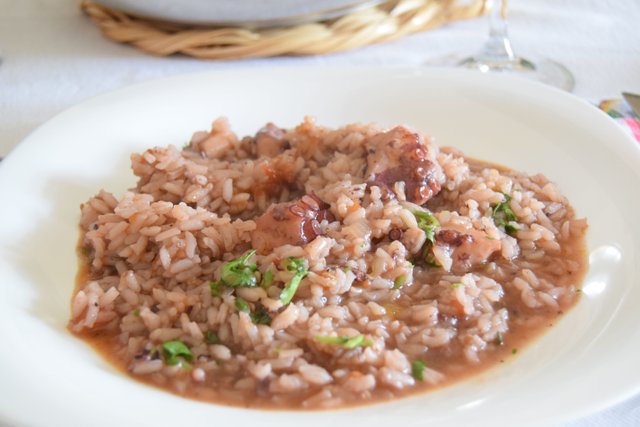 Looking closely | Vendo de perto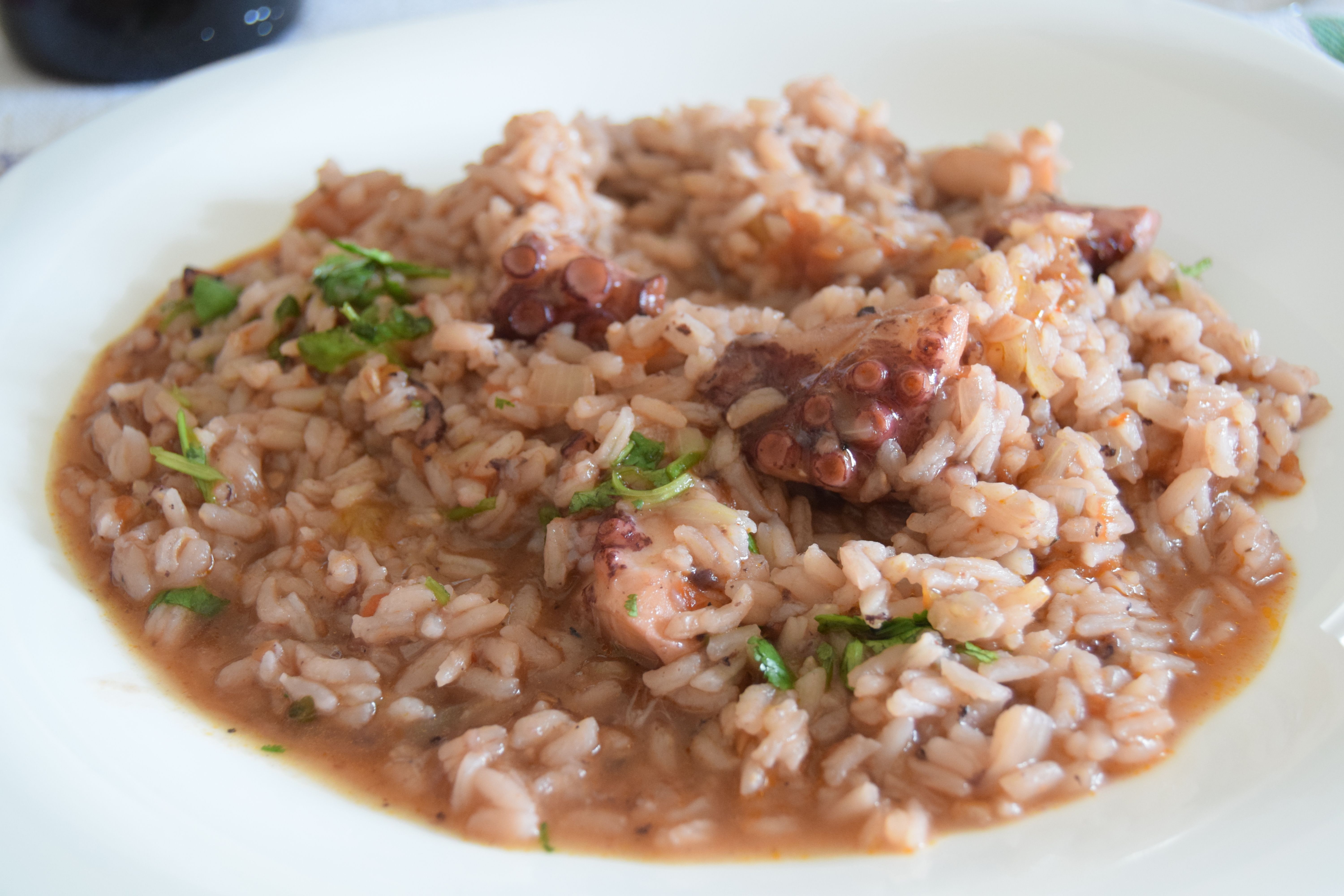 Even closer | Ainda mais perto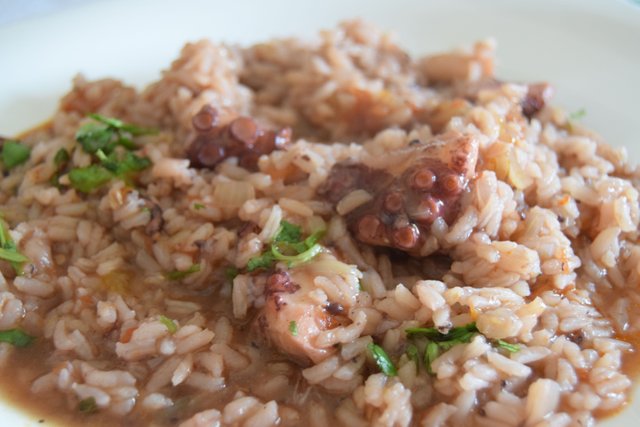 Another great Sunday meal!! | Outra delícia de Domingo!!
It's one of my favorite recipes! | É uma das minhas receitas favoritas!
If you noticed this recipe​ preparation used Versátil red wine which was also drinked in our meal...PERFECT!! |
Se repararam nesta receita usei vinho tinto Versátil que também foi o vinho eleito para a nossa refeição...PERFEITO!!
---
I will come back with another delicious Sunday cook!!
Stay tuned!!
What is Sunday Cook?!
This Sunday Cook project began with a strong will to contribute to Steemit with my personal view of Portuguese cuisine. I really believe we have plenty of good food. Despite I'm not a professional or nothing similar, I can assure that I'm doing my best, and hopefully, I'm improving my skills too!
On Sundays (cold Sundays), I like to prepare more elaborate and delicious food. It requires time and patience. Usually, I cook some traditional Portuguese food, or at least with Portuguese inspiration :) I try to do it in a healthier way, using the minimum fat as possible, and normally I pick some recipe and transform it. During the week I don't like to spend much time cooking (no time at all), that's why I get totally motivated to cook on Sundays!!
---
PORTUGUÊS
---
Eu voltarei com outro SundayCook delicioso!!
Fiquem atentos!!
O que é o Sunday Cook?!
Este projeto iniciou-se com uma grande vontade de contribuir para o Steemit com a minha visão pessoal da cozinha Portuguesa. Eu considero que temos excelentes pratos. Apesar de não ser profissional nem nada que o valha, garanto que tenho feito o meu melhor, e espero estar a melhorar os meus dotes culinários!
Nos Domingos (quando está frio), gosto de preparar comida mais elaborada. Requer tempo e paciência. Normalmente, cozinho pratos da cozinha tradicional Portuguesa, ou pelo menos inspirados na mesma. Tento cozinhá-los de uma forma saudável, usando o mínimo de gordura possível e normalmente pego numa receita e adapto ao meu gosto. Durante a semana não gosto de perder tempo a cozinhar (nada mesmo), e é por isso que me sinto motivada a cozinhar nos Domingos!!
---
Links for previous posts | Lista de links para posts anteriores: