Have you ever experienced your body asking for some kind of food? That happens to me frequently and after a week without eating any kind of fish or similar...I was desperate to cook some nice comfort food! It has a plus, it's healthy too!
This Sunday I cooked ...
Octopus stew with sweet potato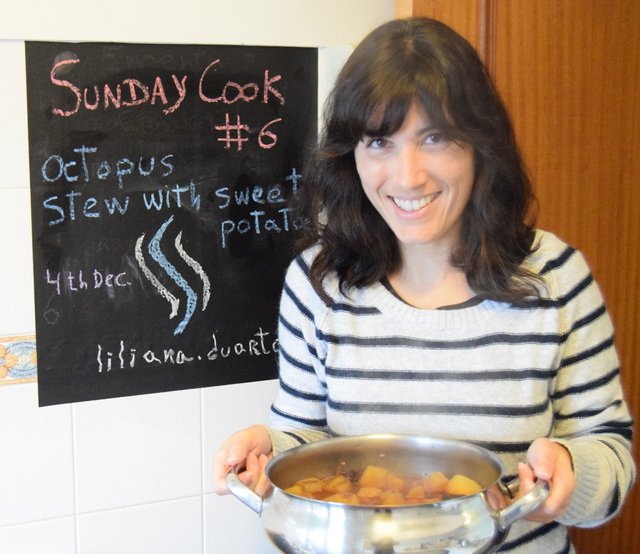 Octopus is a delicacy in many cultures (Mediterranean and Asian cuisines, mostly), well known for its delicious tender texture! It's also a very nutritious food, lean protein source and low in calories. The only fat used in this recipe is olive oil, and I like to use the minimum indispensable, to keep it a healthy low-fat cooking (like my Sunday Cooks must be!).
Sweet potatoes are readily available, inexpensive, delicious, nutritious, high in fiber, and very filling. Most commonly orange, they are also found in other colors, such as white, red, pink, violet, yellow and purple. (I found some nice info about sweet potato, as it has been chosen for "Food of the week" by The World's Healthiest Foods.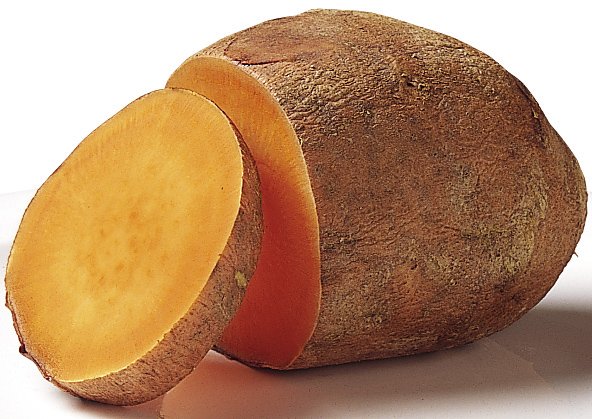 Source: Wikimedia Commons
This recipe is a combination of two other recipes, one that I've learned a few years ago on a trip to São Miguel island, and the other from Aljezur.
Sweet potato is the "ex-líbris" from Aljezur, a municipality of Algarve, with a reddish brown root and yellow pulp, and having the high season in November. Local farmers say that the sweet potato from Aljezur is the best sweet potato in the world because of the sea air which gives it its special flavour (I'm not sure, but I can say it's pretty good). It's also a biological product as no pesticides are used during its growth.
Ingredients
octopus (800 g)
3 medium sweet potatoes (800g)
6 garlic cloves
red wine (to taste)
sea salt (to taste)
olive oil
1 medium onion
cinnamon
1 tablespoon of Azorean hot chili pepper sauce
Preparation
I bought frozen and prepared octopus (free of inedible parts such as eyes, beak, tentacles, intestines and ink sac) saving me a lot of time.
Thoroughly wash octopus to remove any sand particles

Put the octopus on a tray. Add the unpeeled and chopped garlic cloves and the red wine. Set aside for 3-4 hours.


Unpeel the onions, wash and cut into 8 wedges

Put the onion wedges in a pan and add the olive oil. Let it fry for 5 minutes.

Add the octopus, let it cook for a while, but always stirring.

Add the marinade (red wine and garlic) and the Azorean pepper sauce. Season with a small quantity of cinnamon. Cover the pan, and let it cook for about 40 minutes.


Unpeel the sweet potatoes, wash it and cut into big cubes.


Add it to the pan, cover with water and let it boil. Season with salt.


Cook for 10 minutes, and it's ready to serve!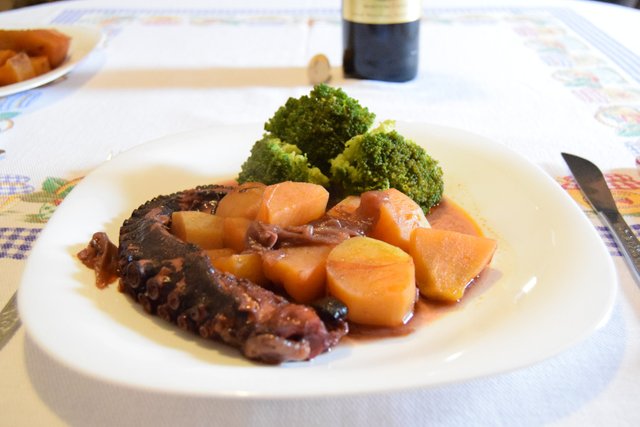 This time I served the octopus with broccoli, but you can add any other green vegetable of your on taste. A glass of red wine makes a good complement to the flavors of this meal!
Hope you liked it :)
I will come back with another Sunday cook delicious :D Stay tuned!!
---
What is Sunday Cook?!
On Sundays, I like to prepare more elaborate and delicious food. Usually, I cook some traditional Portuguese food, or at least with Portuguese inspiration :) I try to do it in a healthier way, using the minimum fat as possible, and normally I pick some recipe and transform it. I like to make it practical and leave the minimum dishes to wash...as I don't have a dishwasher machine!
During the week I don't like to spend much time cooking (no time at all), that's why I get totally motivated to cook on Sundays!!