| | |
| --- | --- |
| For the last SundayCook I decided to share another Portuguese typical and delicious recipe. | Para o último SundayCook decidi partilhar outra receita super deliciosa e muito típica. |
For this SundayCook I prepared | Para este SundayCook preparei:
Portuguese Pork [EN] | Carne de Porco à Portuguesa [PT]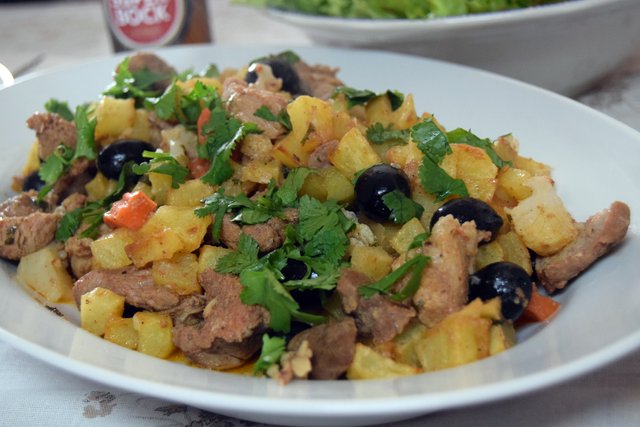 When I launched this SundayCook series I wanted to share 52 different recipes, one for each Sunday, and that goal is achieved today. In the beginning, I made an extra effort to share a different recipe on a weekly basis, but my life changed and I don't have time or disposal to cook elaborate food every week (not to mention the time it takes to compile the photos and prepare the post).

I still love good food, but I love more my mental health and rest time. Although I still have some recipes I would like to share under the #SundayCook tag.

Quando iniciei esta série do SundayCook quis partilhar 52 receitas, uma para cada Domingo, e esse objetivo é hoje alcançado. No início fiz um esforço extra para partilhar uma receita distinta todas as semanas, mas a minha vida mudou e deixei de ter tempo e disposição para fazer comida elaborada todas as semanas (já para não falar do tempo que preciso para compilar as fotos e receita no post)

Contínuo a adorar boa comida, mas prezo mais a minha saúde mental e tempo de descanso. Contudo, ainda tenho algumas receitas que gostaria de partilhar sob a tag #SundayCook.
So the SundayCook will return whenever I have a new recipe to share with you all.

Now the recipe...easy and delicious as usual ;)

Portanto o SundayCook irá regressar sempre que tenha uma nova receita para partilhar com todos vós.

Agora a receita...simples e deliciosa como habitual;)
Ingredients | Ingredientes:
1 kg pork cut into cubes | - 1 kg carne de porco cortada em cubos
8 a 10 cloves of garlic | - 8 a 10 dentes de alho
4 tablespoons red pepper sauce | - 4 colheres de sopa de massa de pimentão
250 ml white wine | - 250 ml de vinho branco
2 bay leaves | - 2 folhas de louro
1 lemon | - 1 limão
pickles (to taste | a gosto)
salt and pepper (to taste) | - sal e pimenta (a gosto)
olive oil (to taste) | - azeite (a gosto)
coriander (to taste) | - coentros (a gosto)
1 kg potatoes | - 1 kg de batatas
vegetable oil for frying | - óleo vegetal para fritar
Preparation | Preparação
| | |
| --- | --- |
| 1 - Season the meat with red pepper sauce, garlic finely chopped, bay leaf, salt, pepper, lemon juice and white wine. Mix everything and let marinate at least for 12 hours (season the night before and reserve on the fridge). | 1 - Temperar a carne com a massa de pimentão, alho picado, sal, pimenta, sumo do limão e vinho branco. Misturar tudo e deixar marinar pelo menos durante 12 horas (temperar na noite anterior e guardar no frigorifico). |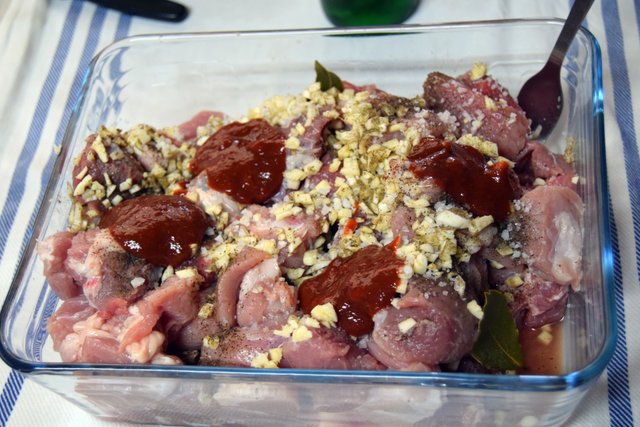 | | |
| --- | --- |
| 2 - This is how the meat looks on the day after. | 2 - Este é o aspeto da carne no dia seguinte. |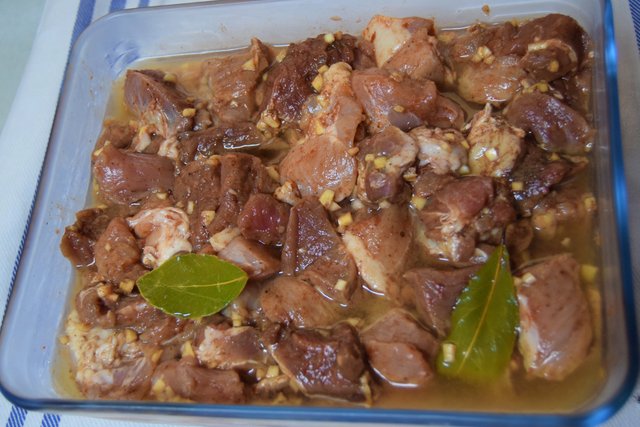 | | |
| --- | --- |
| 3 - In a large saucepan, heat the olive oil. Add the meat without the marinade (reserve the marinade) and fry over medium-low heat until the meat starts to turn slightly golden, stirring occasionally. | 3 - Aquecer o azeite num tacho largo. Juntar a carne sem a marinada (que deve ser reservada) e deixar fritar em lume médio-baixo, mexendo ocasionalmente até que a carne fique ligeiramente dourada. |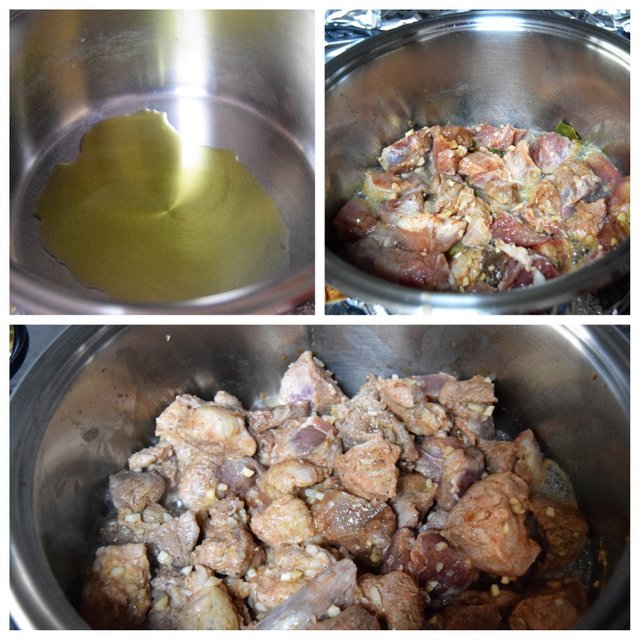 | | |
| --- | --- |
| 4 - Add the marinade to the meat and boil for about two minutes. | 4 - Juntar a marinada ao preparado e deixar ferver durante 2 minutos |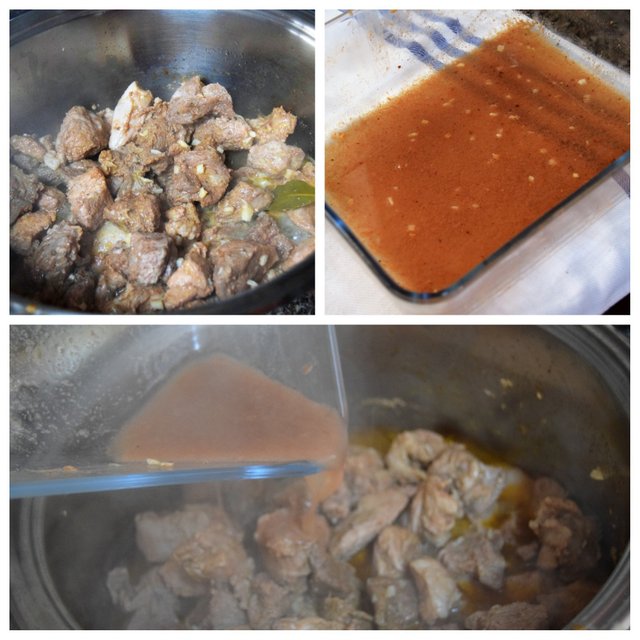 5 - Add about half of the chopped coriander, and stir. Cover with a lid and let cook for 20-30 minutes.

5 - Juntar cerca de metade dos coentros picados, e mexer. Cobrir com uma tampa e deixar cozinhar por 20-30
minutos.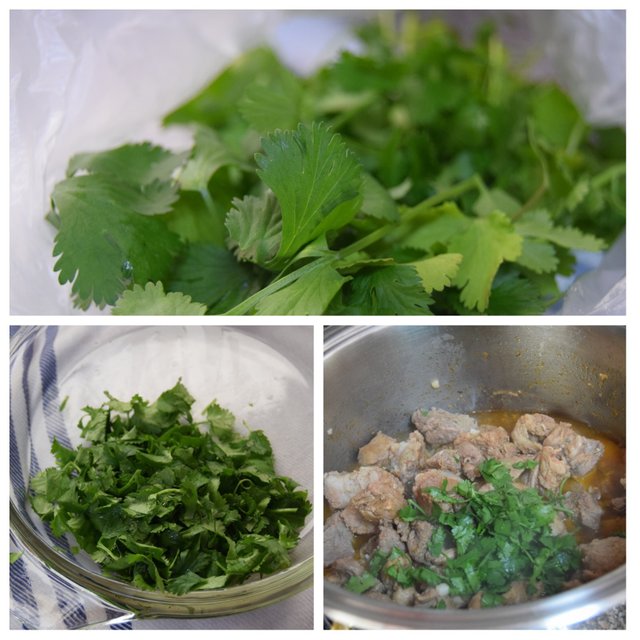 | | |
| --- | --- |
| 6 - Meanwhile, peel, wash and cut the potatoes into cubes. Fry them in hot oil, and place them on a platter with absorbent paper; set aside. | 6 - Entretanto, descascar, lavar e cortar as batatas em cubos. Fritar as batatas em óleo quente e no fim colocá-las num prato com papel absorvente e guardar. |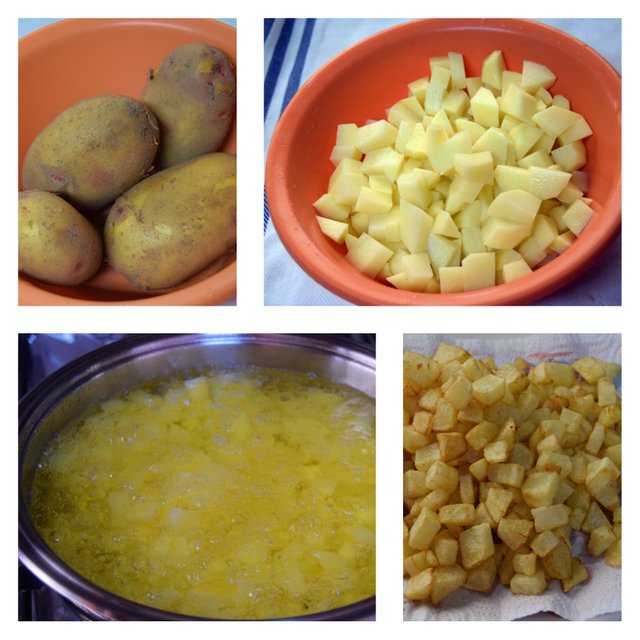 7 - While the meat is cooked one can prepare the plate with pickles, olives, and the coriander. Add it to the pork and after the fried potatoes.
(I took some of the pork out to a box of food, so I could use it in other meals accompanied with rice or a salad...)

7 - Enquanto a carne acaba de cozinhar, preparar um pires com azeitonas, pickles e coentros. Juntar à carne e depois adicionar as batatas fritas.
(Tirei parte da carne para uma caixa para que a pudesse usar noutras refeições acompanhando com arroz ou salada...)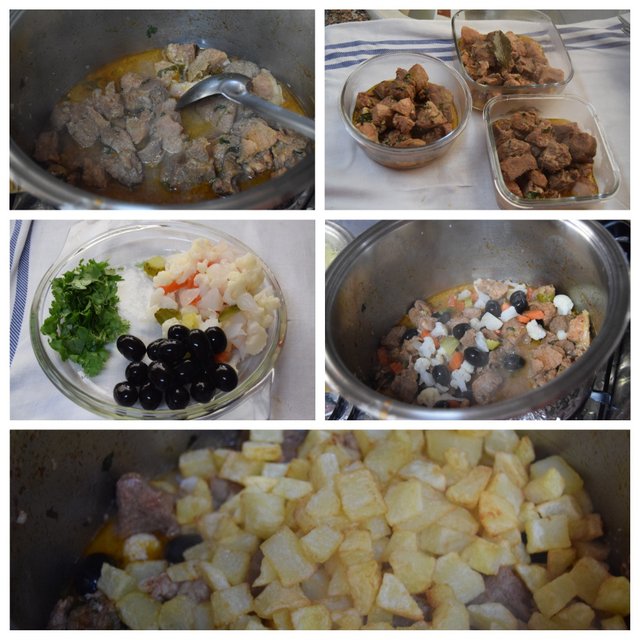 It's time to serve!! | Está na altura de servir!!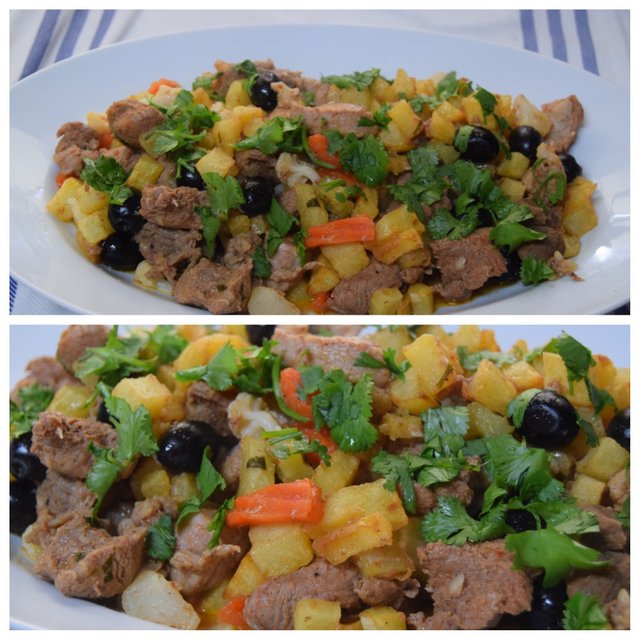 I served it with a lettuce and tomato salad and a cold portuguese beer | Servi com uma salada de alface e tomate e uma cerveja bem gelada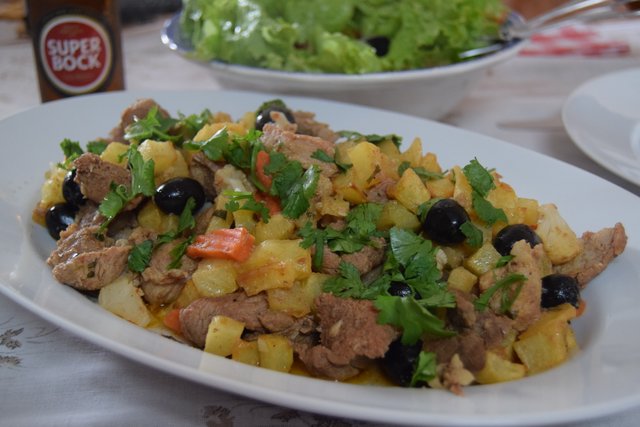 I know you'll love this dish | Tenho a certeza que vão adorar este prato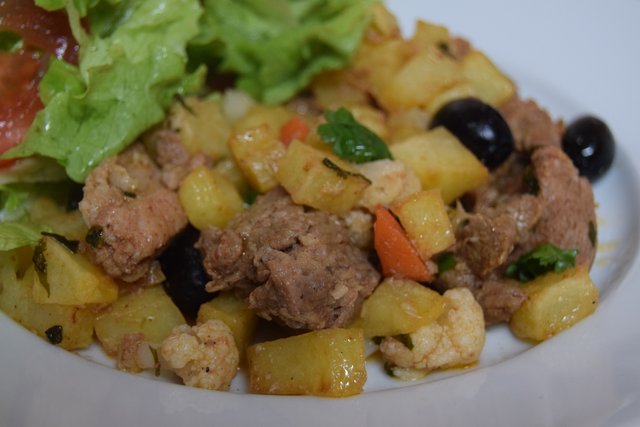 At least I never ate a Portuguese Pork Meat in restaurants as good as my recipe|! | Pelo menos nunca comi Carne de Porco à Portuguesa em restaurantes tão boa como a minha receita!!
---
I will come back with another delicious Sunday cook!!
Stay tuned!!
What is Sunday Cook?!
This Sunday Cook project began with a strong will to contribute to Steemit with my personal view of Portuguese cuisine. I really believe we have plenty of good food. Despite I'm not a professional or nothing similar, I can assure that I'm doing my best, and hopefully, I'm improving my skills too!

On Sundays (cold Sundays), I like to prepare more elaborate and delicious food. It requires time and patience. Usually, I cook some traditional Portuguese food, or at least with Portuguese inspiration :) I try to do it in a healthier way, using the minimum fat as possible, and normally I pick some recipe and transform it. During the week I don't like to spend much time cooking (no time at all), that's why I get totally motivated to cook on Sundays!!
---
PORTUGUÊS
---
Eu voltarei com outro SundayCook delicioso!!
Fiquem atentos!!
O que é o Sunday Cook?!
Este projeto iniciou-se com uma grande vontade de contribuir para o Steemit com a minha visão pessoal da cozinha Portuguesa. Eu considero que temos excelentes pratos. Apesar de não ser profissional nem nada que o valha, garanto que tenho feito o meu melhor, e espero estar a melhorar os meus dotes culinários!

Nos Domingos (quando está frio), gosto de preparar comida mais elaborada. Requer tempo e paciência. Normalmente, cozinho pratos da cozinha tradicional Portuguesa, ou pelo menos inspirados na mesma. Tento cozinhá-los de uma forma saudável, usando o mínimo de gordura possível e normalmente pego numa receita e adapto ao meu gosto. Durante a semana não gosto de perder tempo a cozinhar (nada mesmo), e é por isso que me sinto motivada a cozinhar nos Domingos!!
---
Links for previous posts | Lista de links para posts anteriores: