Hello hello!!

Did you know when I prepare this SundayCooks I'm also challenging myself!?
Well, it's true!!

The biggest challenge is to prepare a typical Portuguese dish, that wasn't shared in another SundayCook before. Many times (really many, to not say most​ of the​ times) I prepare a dish for the very first time, and the quantities of the ingredients aren't adjusted...

That happened this Sunday!!

Olá olá!!

Sabiam que quando preparo estes SundayCooks que estou a desafiar-me a mim própria!?
Pois bem, é verdade!!

O maior desafio é fazer algo típico português e que não seja repetido com outra receita. O que acaba por acontecer é que muitas vezes (muitas mesmo para não dizer a maioria) acabo por preparar pratos pela primeira vez, e as quantidades podem não ser as mais adequadas....

Isso aconteceu este Domingo!!
For this SundayCook I prepared | Para este SundayCook preparei:
Cod 'à lagareiro' with baked potatoes [EN] | Bacalhau à lagareiro com batatas a murro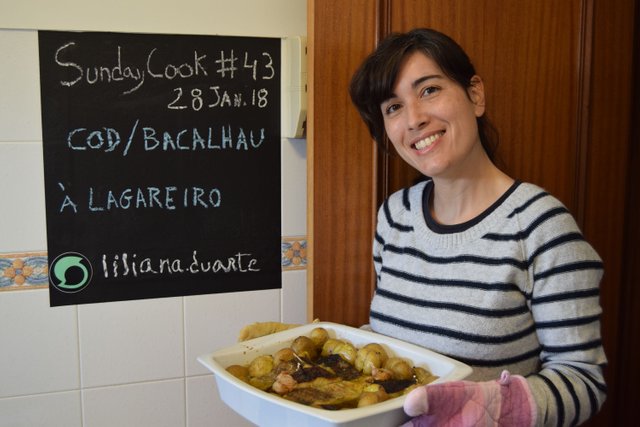 It's super easy and delicious!! | É super fácil e delicioso!!
Another perfect recipe for a family lunch! | Outra receita perfeita para um almoço de família!
Ingredients | Ingredientes:
6 desalted cod loins (about 1,6 kg ) | - 6 lombos de bacalhau (cerca de 1,6 kg)
1,5 kg small potatoes | - 1,5 kg de batatas pequenas
10 cloves of garlic | - 10 dentes de alho
1 medium onion | - 1 cebola média
4 Bay leaf | - 4 folhas de louro
250 ml olive oil | - 250 ml azeite
black pepper (to taste)| - pimenta preta (a gosto)
salt (to taste) | - sal (a gosto)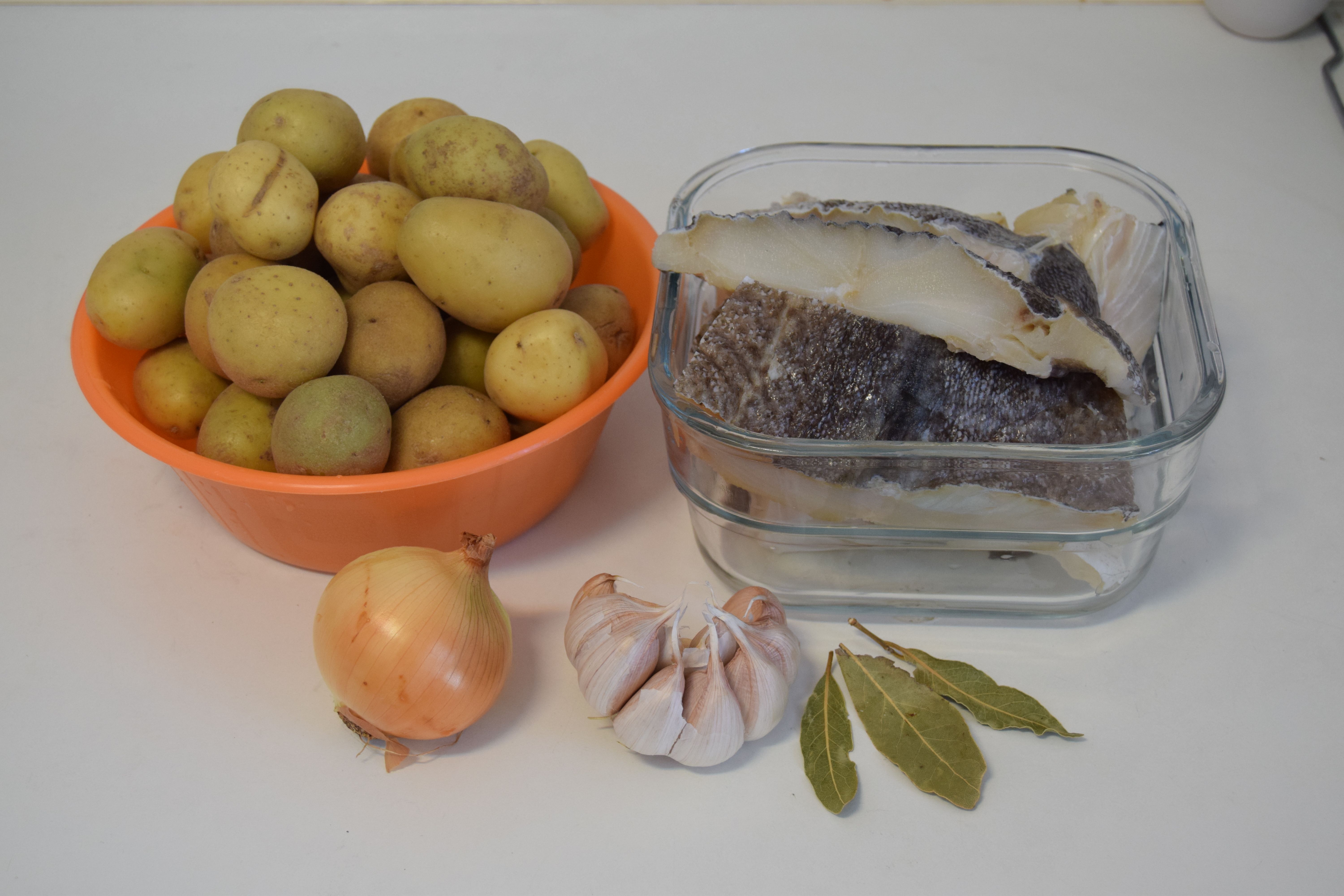 1 - Preheat the oven to 180º- 200ºC.
2 - Peel and wash the onion and 5 garlic cloves. Cut them into​ thin slices and place the onion in the bottom of a baking dish.

1 - Pré-aquecer o forno a 180-200ºC.
2 - Descascar e lavar a cebola e 5 dentes de alho. Cortar em lâminas finas e colocar a cebola no fundo de um tabuleiro de ir ao forno.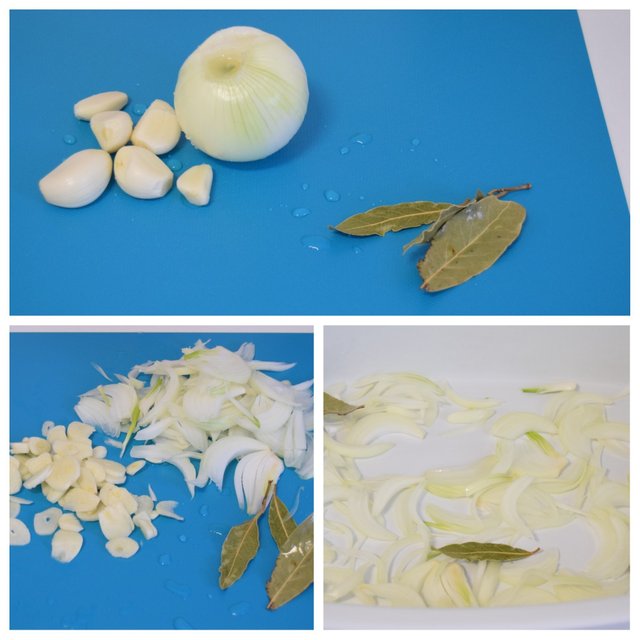 | | |
| --- | --- |
| 3 - Place the cod and the garlic slices on top, drizzle with a generous amount of olive oil and put the baking dish in​ the oven. Bake about 50 minutes. | 3 - Colocar o bacalhau e as lâminas de alho por cima, regar com uma quantidade generosa de azeite e levar o tabuleiro ao forno. Deixar assar por 50 minutos. |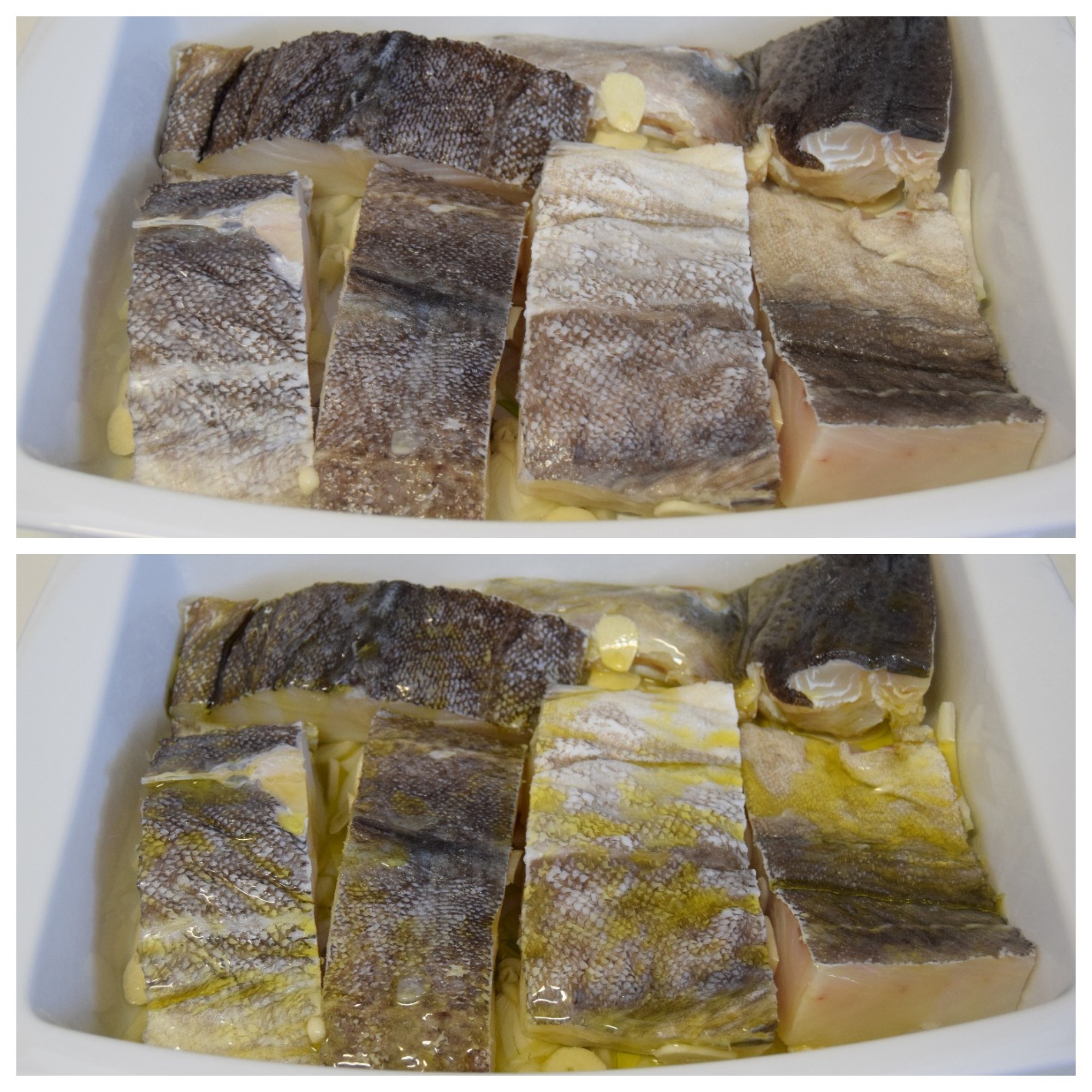 4 - Wash the potatoes and place it in a saucepan with boiling water, seasoned with salt. Let them cook about 10 minutes.
5 - Drain the water and set aside.

4 - Lavar as batatas e colocar numa panela com água a ferver, temperada com sal. Deixá-las cozer por 10 minutos.
5 - Escorrer a água e reservar.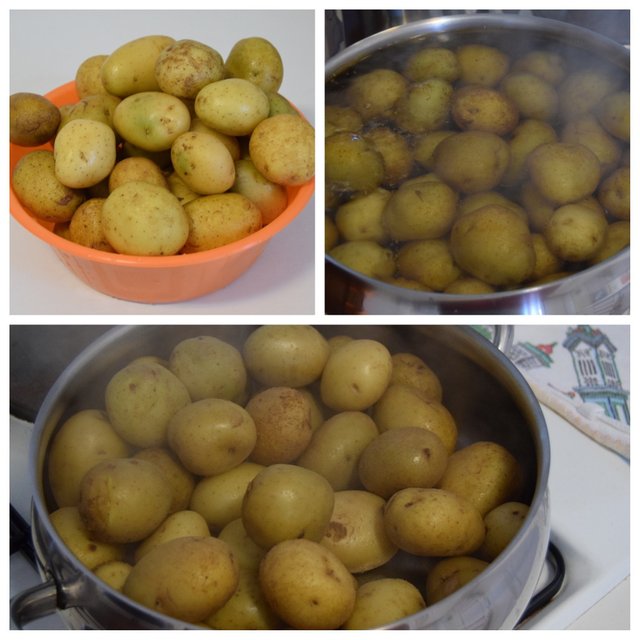 | | |
| --- | --- |
| 6 - During the cod baking, drizzle it with the olive oil in the baking dish. | 6 - A meio do tempo, regar o bacalhau com o azeite do tabuleiro. |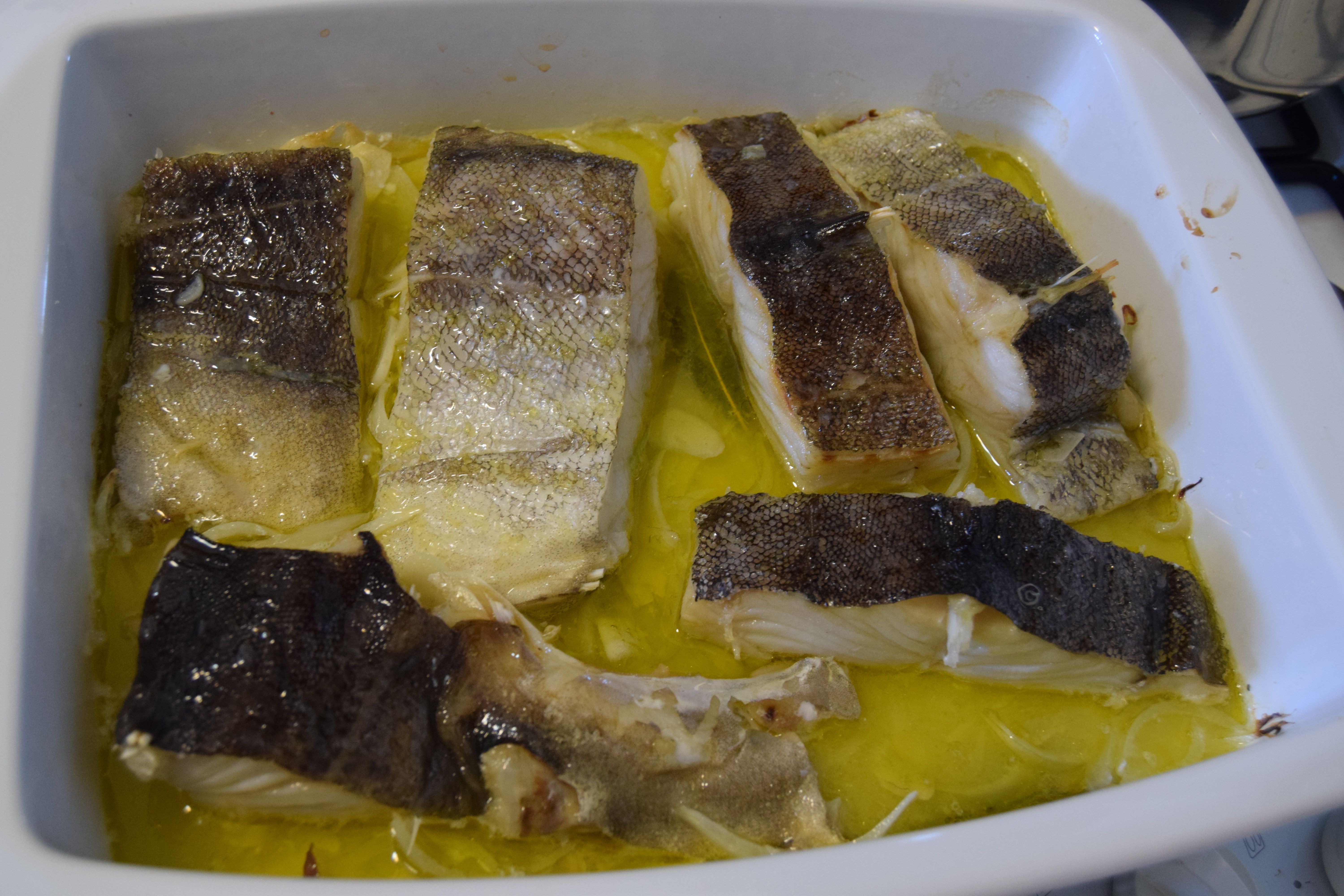 | | |
| --- | --- |
| 7 - Meanwhile, crush the other 5 garlic cloves, place it in a small saucepan and cover with​ olive oil. Add a bay leaf and season with black pepper. Boil over medium-low. | 7 - Entretanto, esmague os outros 5 dentes de alho, colocar num recipiente pequeno e cobrir com azeite. Juntar uma folha de louro e temperar com pimenta preta. Ferver em lume médio-baixo. |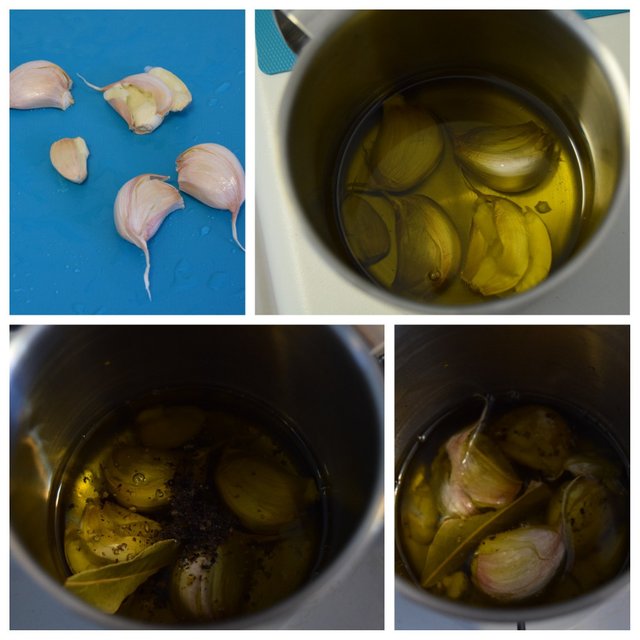 | | |
| --- | --- |
| 8 - Pick the potatoes and punch each of them. | 8 - Dar um murro em cada uma das batatas. |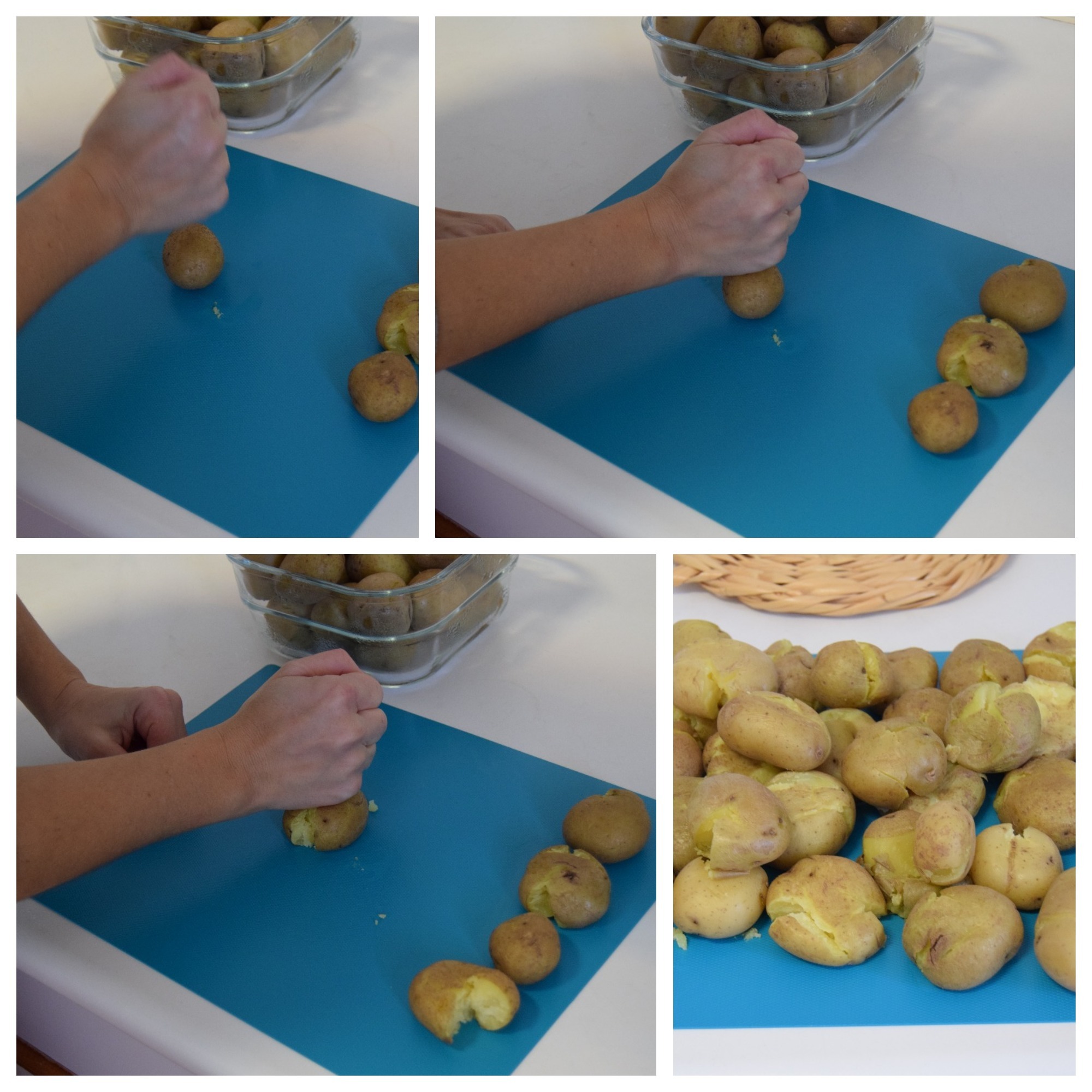 9 - Place the potatoes in the cod baking dish, and drizzle it with the olive oil mixture (with pepper).
(this was when I realized it were too many potatoes (1,5kg), and I place it in another baking dish for an improvised recipe.)

10 - Place it in the oven for about 15-20 minutes, until the potatoes turn golden.

9 - Dispôr as batatas no tabuleiro do bacalhau e regar com a mistura de azeite (com pimenta).
(esta foi a parte em que percebi que tinha batatas a mais (1,5 kg), por isso coloquei-as num segundo tabuleiro para uma receita improvisada. )

10 - Colocar no forno por mais 15-20 minutos, até as batatas ficarem douradas.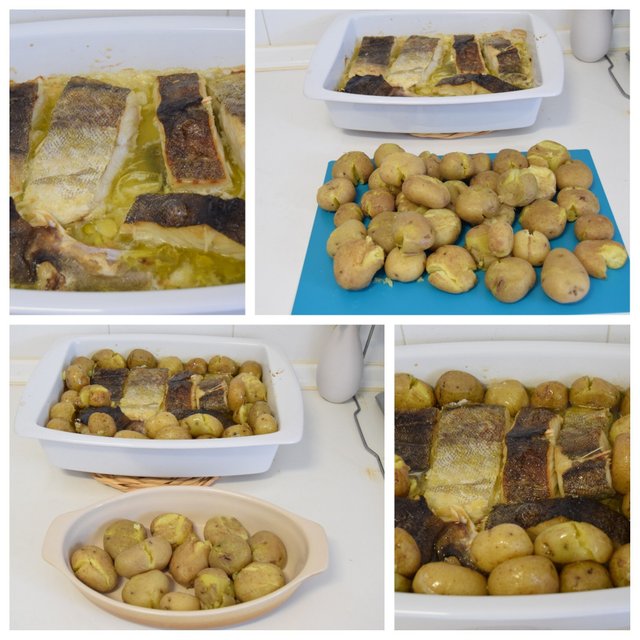 It's ready to serve!! | Está pronto a ser servido!!
See how easy it was!? | Vêem como foi fácil!?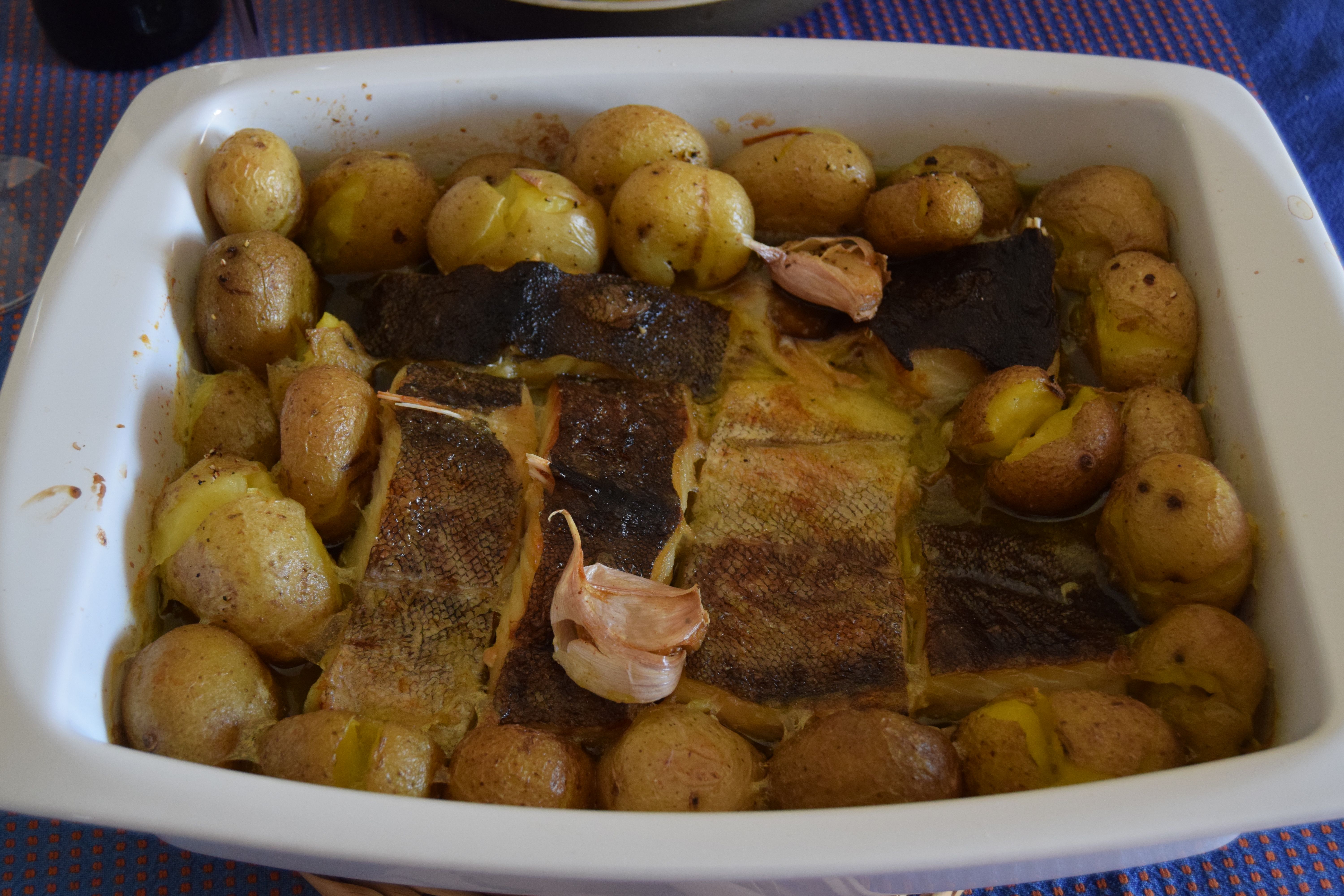 Of course we had this amazing meal with a glass of wine, we like to do it in special meals | Claro que bebemos um copo de vinho com esta refeição, gostamos de o fazer em refeições especiais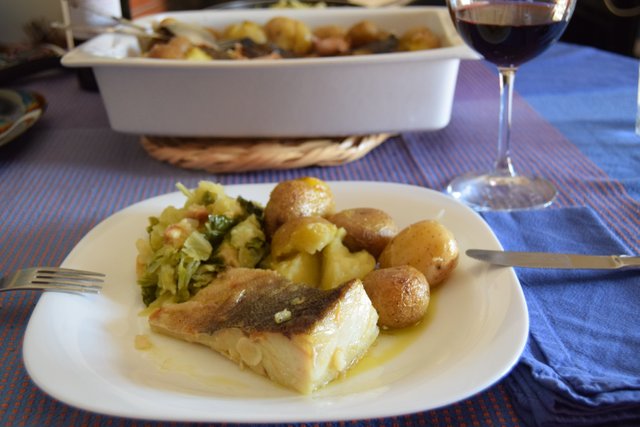 I served this dish with migas de couve (sautéed cabbage mixed with maize bread) | Servi este prato com migas de couve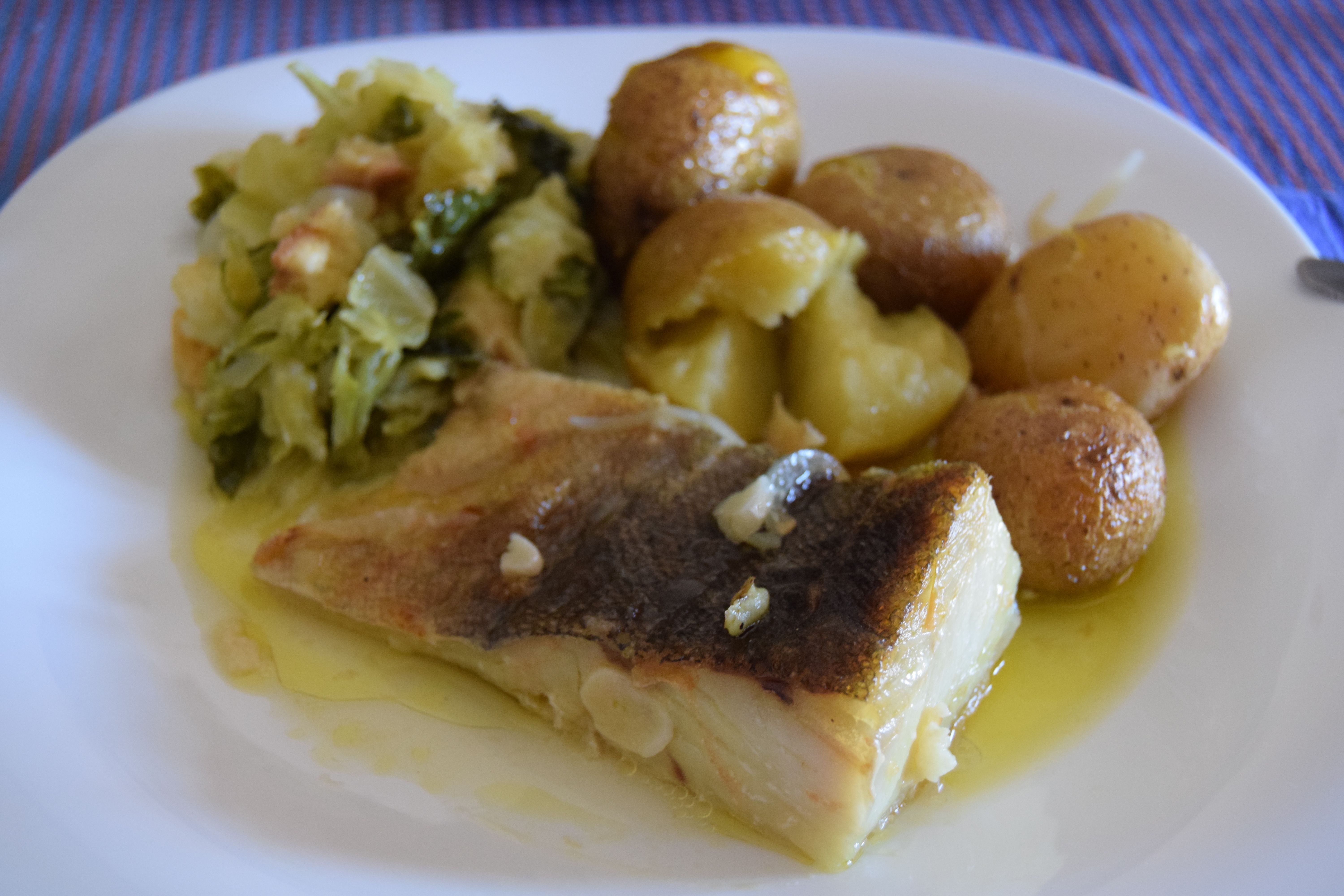 YUM!! If you could smell it... | Ai se vocês conseguissem cheirar...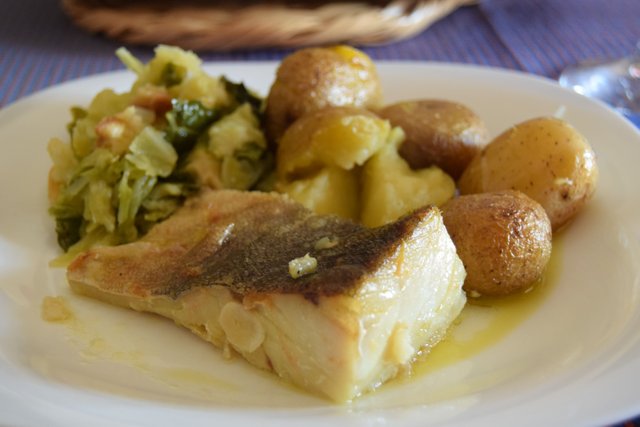 In other recipes potatoes aren't boiled previously, but I did it to be sure they were very soft | Noutras receitas, por norma as batatas não são cozidas previamente, mas eu fi-lo para ter certeza que estas ficavam bem macias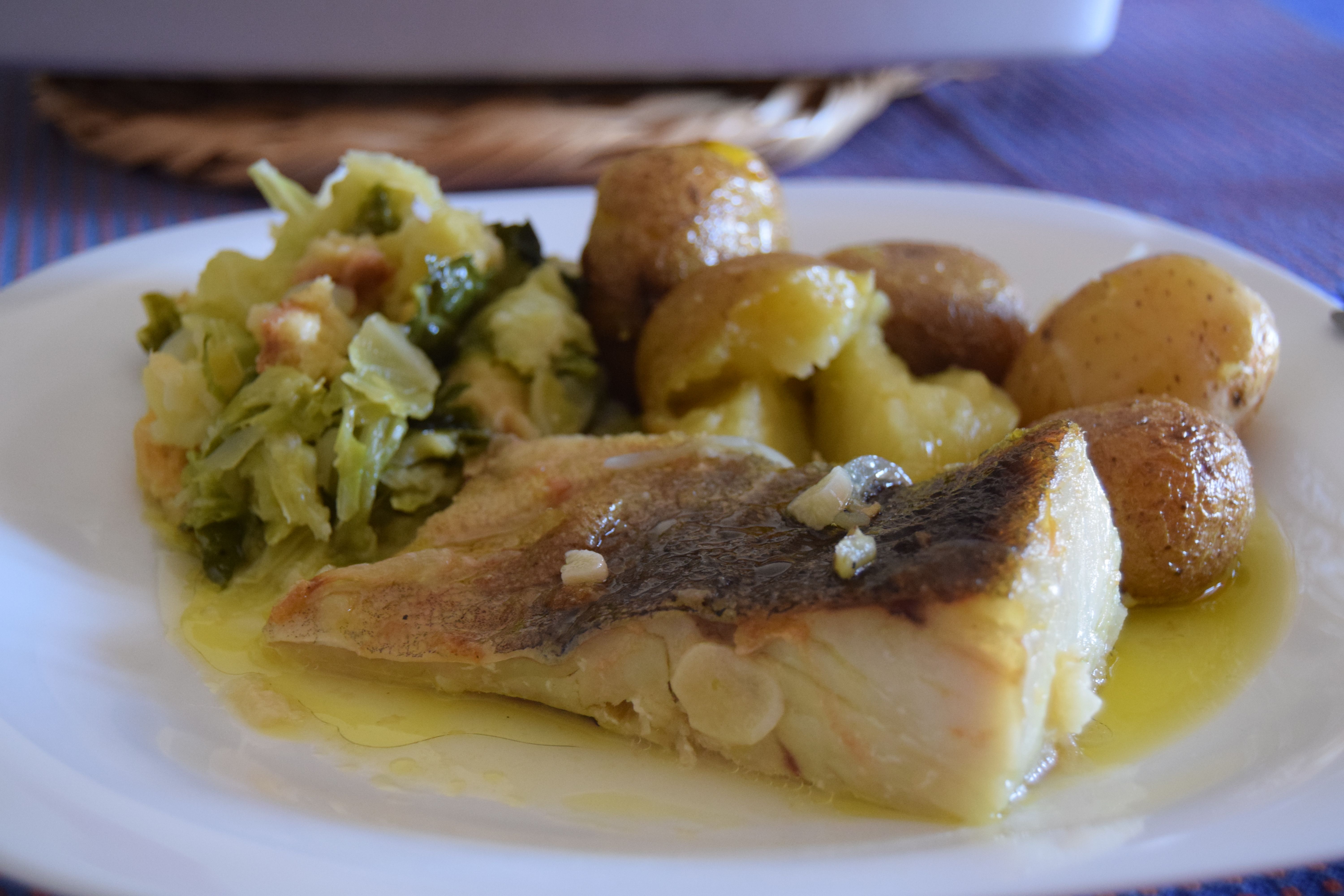 As a portuguese I had to have this meal with a nice slice of bread!!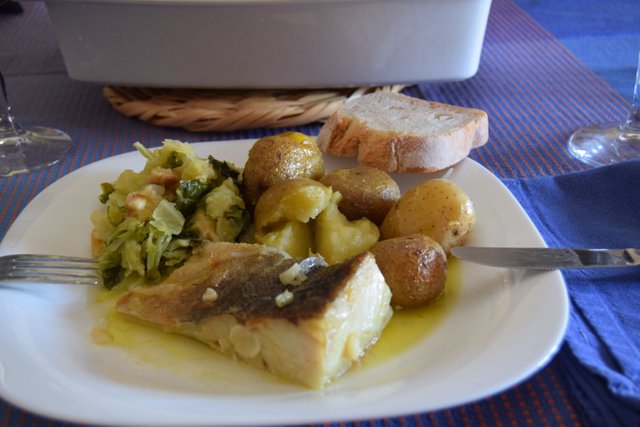 ---
I will come back with another delicious Sunday cook!!
Stay tuned!!
What is Sunday Cook?!
This Sunday Cook project began with a strong will to contribute to Steemit with my personal view of Portuguese cuisine. I really believe we have plenty of good food. Despite I'm not a professional or nothing similar, I can assure that I'm doing my best, and hopefully, I'm improving my skills too!
On Sundays (cold Sundays), I like to prepare more elaborate and delicious food. It requires time and patience. Usually, I cook some traditional Portuguese food, or at least with Portuguese inspiration :) I try to do it in a healthier way, using the minimum fat as possible, and normally I pick some recipe and transform it. During the week I don't like to spend much time cooking (no time at all), that's why I get totally motivated to cook on Sundays!!
---
PORTUGUÊS
---
Eu voltarei com outro SundayCook delicioso!!
Fiquem atentos!!
O que é o Sunday Cook?!
Este projeto iniciou-se com uma grande vontade de contribuir para o Steemit com a minha visão pessoal da cozinha Portuguesa. Eu considero que temos excelentes pratos. Apesar de não ser profissional nem nada que o valha, garanto que tenho feito o meu melhor, e espero estar a melhorar os meus dotes culinários!
Nos Domingos (quando está frio), gosto de preparar comida mais elaborada. Requer tempo e paciência. Normalmente, cozinho pratos da cozinha tradicional Portuguesa, ou pelo menos inspirados na mesma. Tento cozinhá-los de uma forma saudável, usando o mínimo de gordura possível e normalmente pego numa receita e adapto ao meu gosto. Durante a semana não gosto de perder tempo a cozinhar (nada mesmo), e é por isso que me sinto motivada a cozinhar nos Domingos!!
---
Links for previous posts | Lista de links para posts anteriores: