Hi everyone!!

After the hard-working recipe of the last SundayCook #47 - Francesinha, today I bring a very easy (and delicious) recipe!!

Olá a todos!!

Depois da receita trabalhosa da semana passada no SundayCook#47 - Francesinha, hoje trago uma receita muito fácil (e deliciosa)!!
For this last SundayCook I prepared | Para este último SundayCook preparei:
Roasted fish | Peixe assado no forno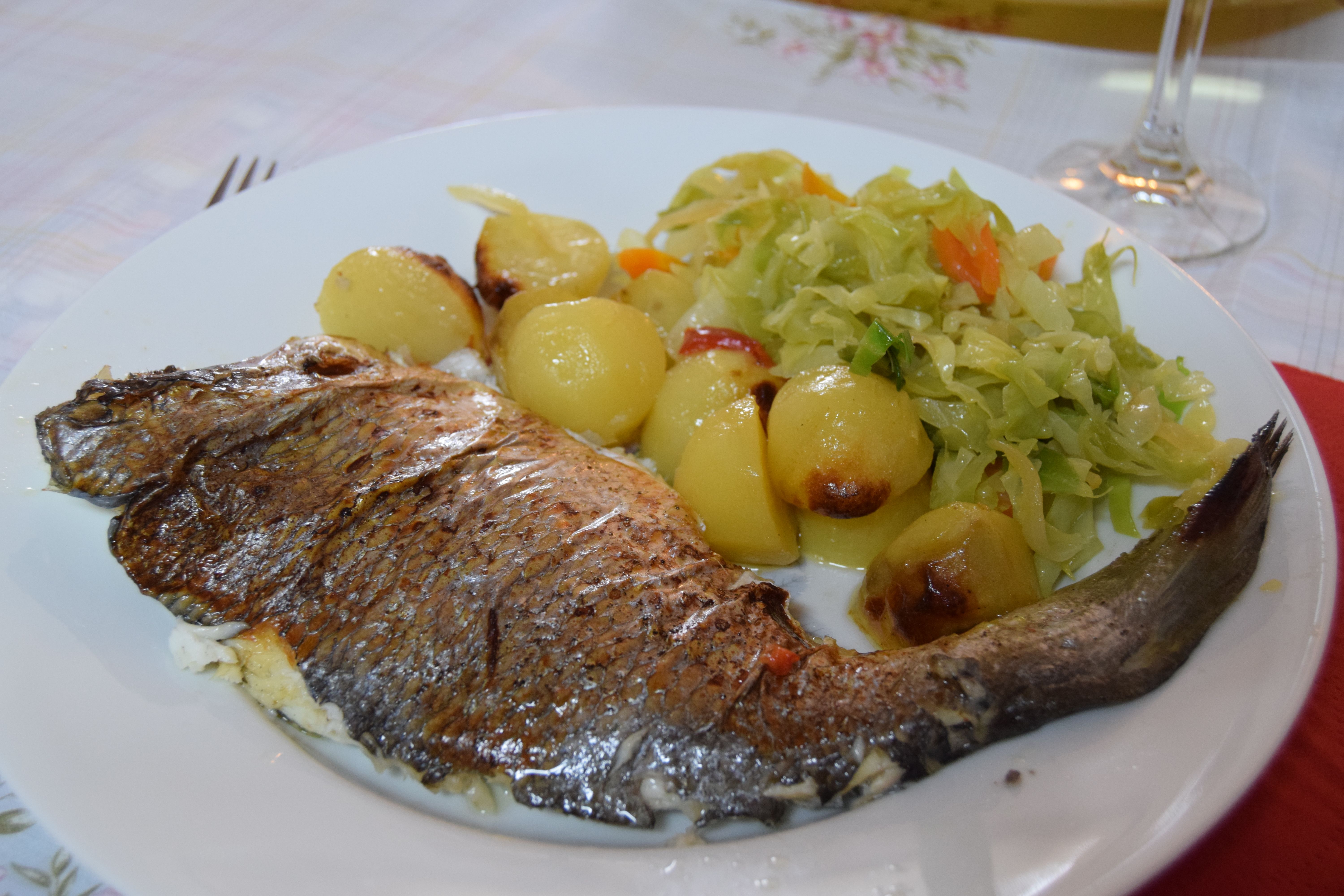 | | |
| --- | --- |
| This recipe is incredibly easy to prepare (it could even be cooked during the week when time is scarce) and is particularly delicious!! Who wants to try!? | Esta receita é incrivelmente fácil de preparar (até podia ser feita durante a semana quando o tempo é escasso) e é particularmente deliciosa!! Quem quer experimentar!? |
Ingredients | Ingredientes:
1,5 kg gilt head bream (or another fish) | - 1,5kg de dourada (ou outro peixe)
2 medium onions | - 2 cebolas médias
4 cloves of garlic | - 4 dentes de alho
1 red pepper | - 1 pimento vermelho
1 bay leaf | - 1 folha de louro
small potatoes (to taste) | - batatas pequenas (a gosto)
black pepper (to taste) | - pimenta preta (a gosto)
olive oil (to taste) | - azeite (a gosto)
white wine | - vinho branco (a gosto)
salt (to taste) | sal (a gosto)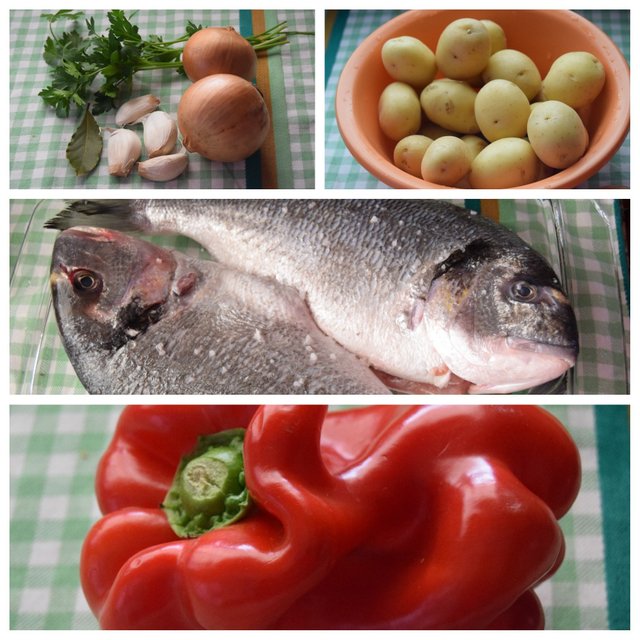 Sauce preparation | Preparação do molho
1 - Preheat the oven to 180ºC.
2 - Place the onion cut​ into​ thin slices in the bottom of a baking dish. Add the smashed garlic cloves, bay leaf and
parsley​. Drizzle with some olive oil.
3 - Cut the red pepper into slices and place it too in the baking dish.

1 - Pré-aqueça o forno a 180ºC.
2 - Colocar a cebola cortada em fatias finas no fundo de um tabuleiro de ir ao forno. Juntar o alho esmagado, a folha de louro e a salsa. Regar com azeite.
3 - Cortar o pimento vermelho em fatiase colocá-lo também no tabuleiro.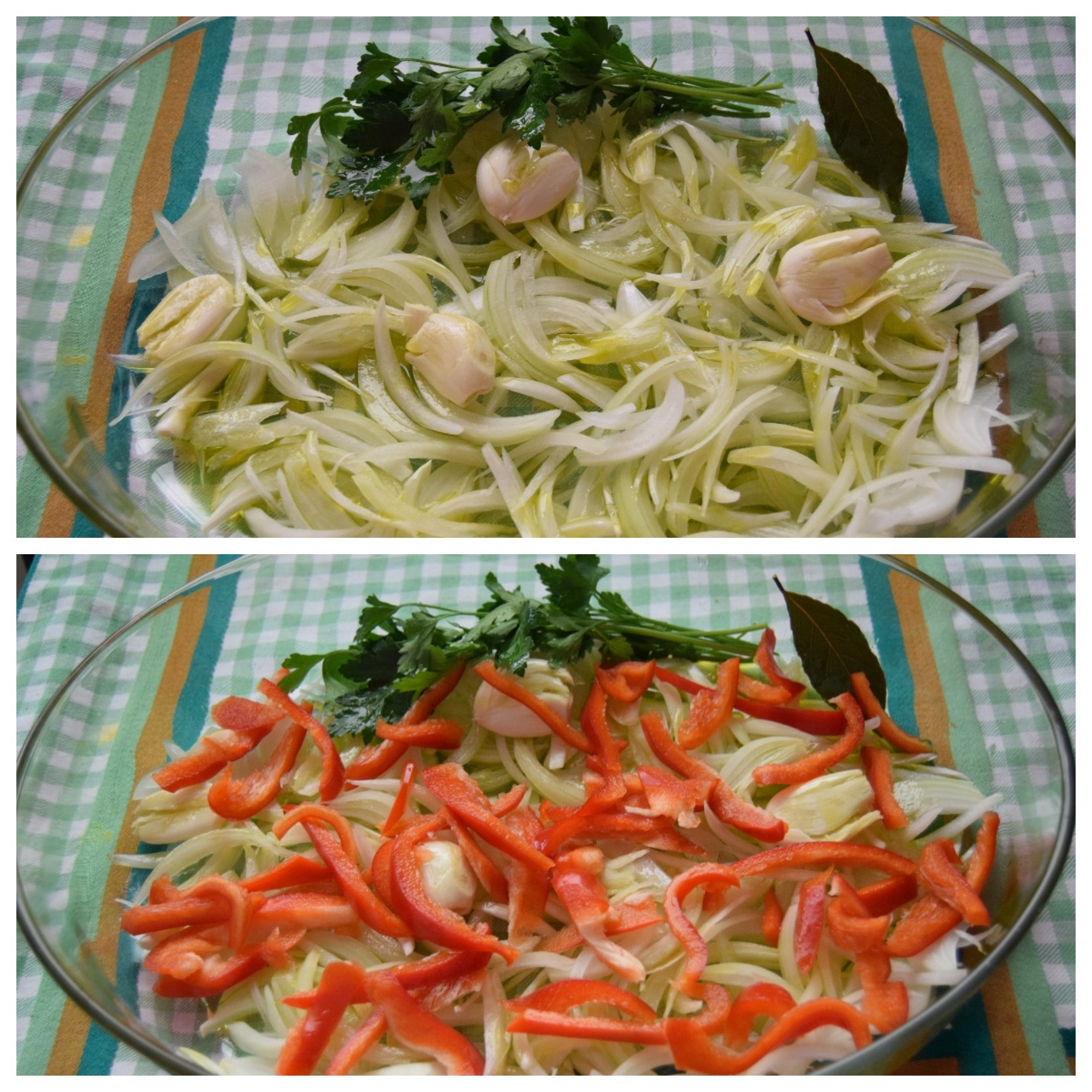 | | |
| --- | --- |
| 4 - Place the gilt head bream and the potatoes in the baking dish. Use some more red pepper slices as decoration. | 4 - Colocar a dourada e as batatas descascadas no tabuleiro. Decorar com mais algumas fatias de pimento vermelho. |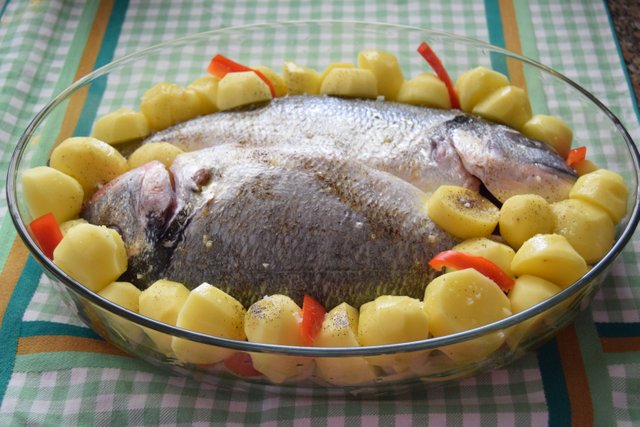 | | |
| --- | --- |
| 5 - Drizzle with white wine and olive oil. | 5 - Regar com vinho branco e azeite. |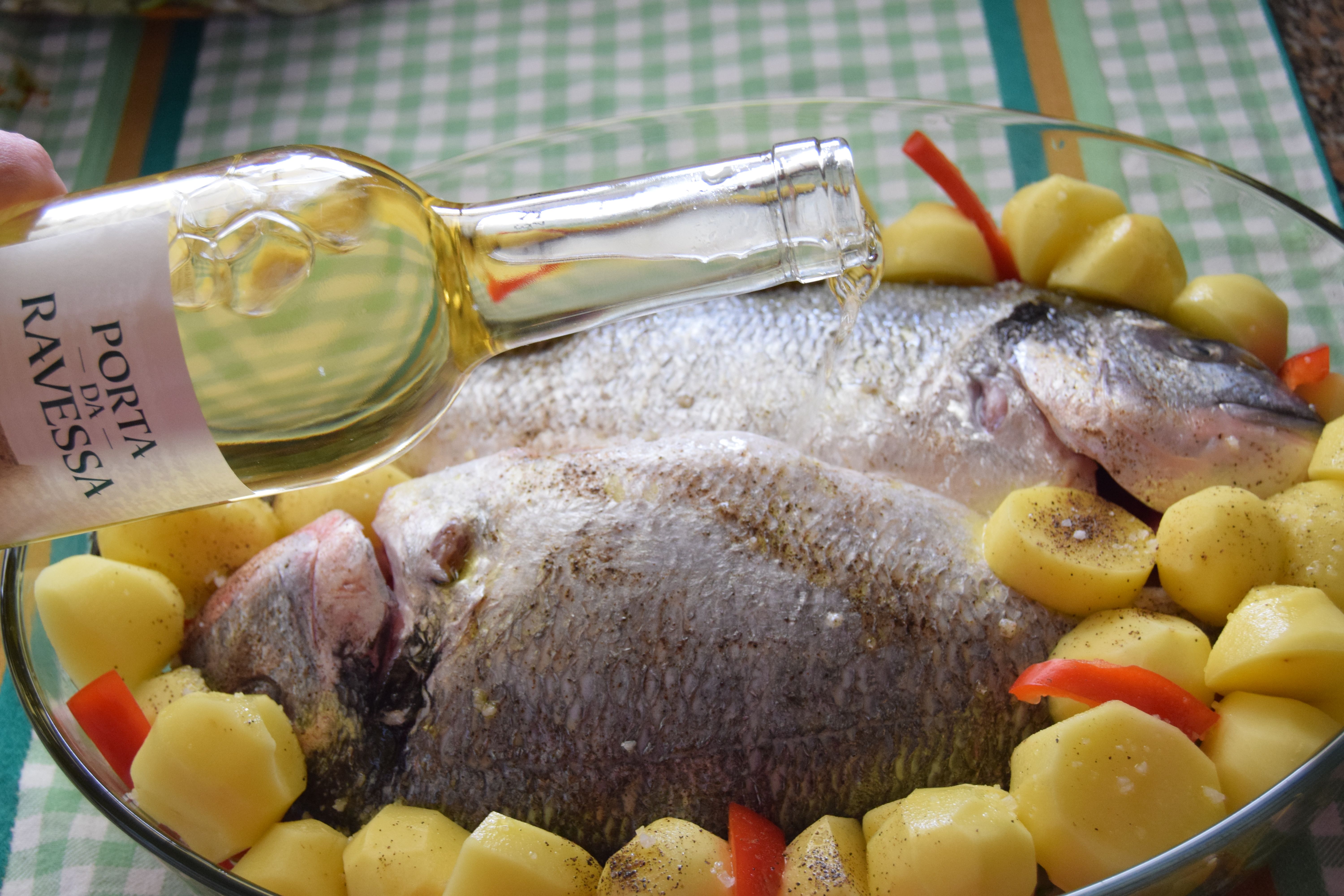 | | |
| --- | --- |
| 6 - Place the baking dish in the oven for 1-1h30m until the fish and the potatoes start to turn golden brown. | 6 - Colocar o tabuleiro no forno durante 1-1h30 até que que o peixe e as batatas comecem a ficar com cor dourada. A meio do tempo pode verificar-se como está a correr a cozedura e regar com o molho. |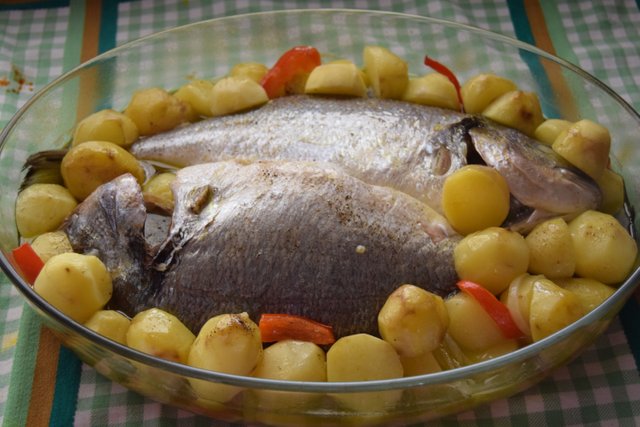 It's ready to serve!! | Está pronto a ser servido!!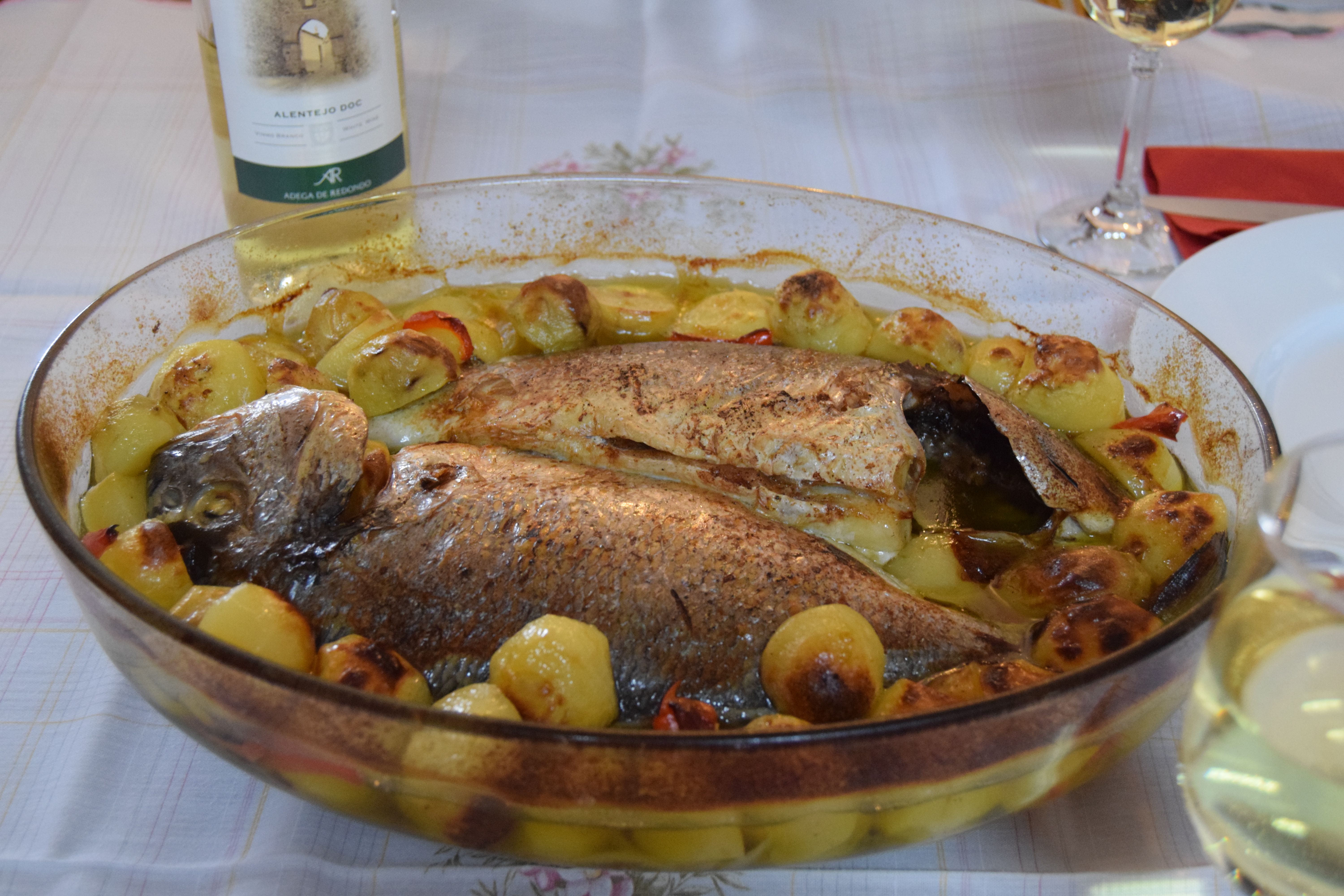 We had white wine with the fish | Bebemos vinho branco para acompanhar o peixe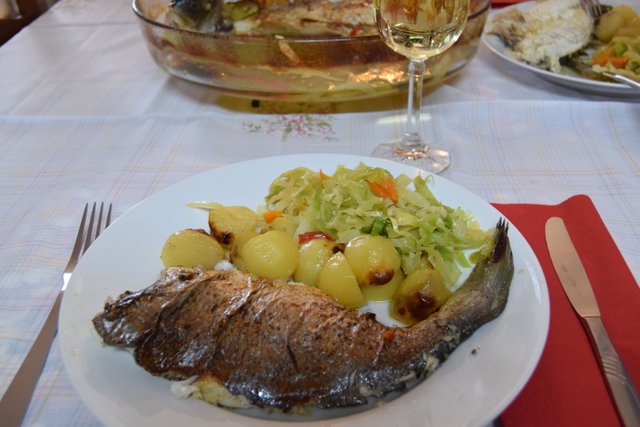 I served it with sautéed cabbage and carrots, you know I need vegetables on my dish!! | Acompanhei o peixe com couve e cenoura salteados, pois eu preciso de vegetais no prato!!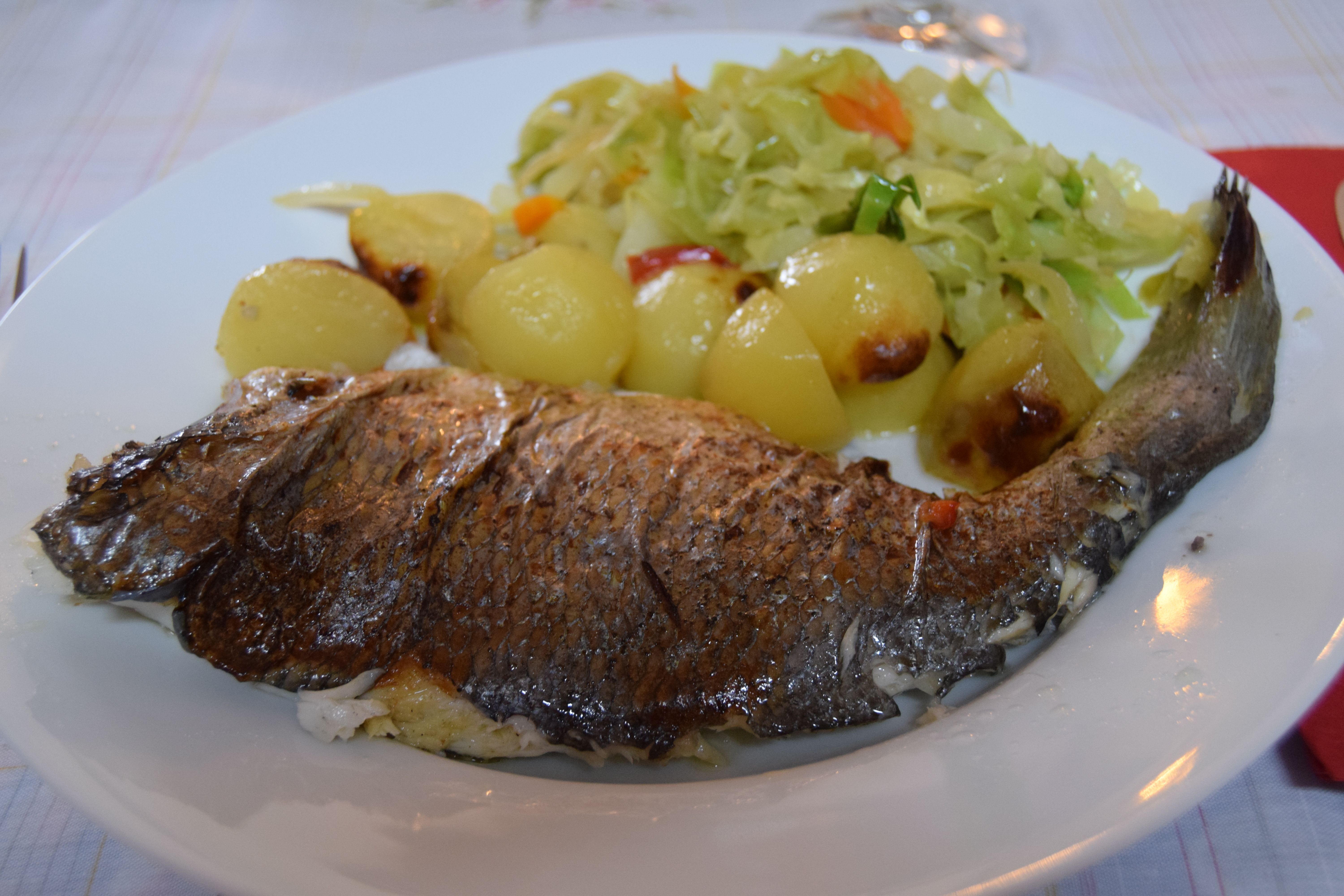 ---
I will come back with another delicious Sunday cook!!
Stay tuned!!
What is Sunday Cook?!
This Sunday Cook project began with a strong will to contribute to Steemit with my personal view of Portuguese cuisine. I really believe we have plenty of good food. Despite I'm not a professional or nothing similar, I can assure that I'm doing my best, and hopefully, I'm improving my skills too!
On Sundays (cold Sundays), I like to prepare more elaborate and delicious food. It requires time and patience. Usually, I cook some traditional Portuguese food, or at least with Portuguese inspiration :) I try to do it in a healthier way, using the minimum fat as possible, and normally I pick some recipe and transform it. During the week I don't like to spend much time cooking (no time at all), that's why I get totally motivated to cook on Sundays!!
---
PORTUGUÊS
---
Eu voltarei com outro SundayCook delicioso!!
Fiquem atentos!!
O que é o Sunday Cook?!
Este projeto iniciou-se com uma grande vontade de contribuir para o Steemit com a minha visão pessoal da cozinha Portuguesa. Eu considero que temos excelentes pratos. Apesar de não ser profissional nem nada que o valha, garanto que tenho feito o meu melhor, e espero estar a melhorar os meus dotes culinários!
Nos Domingos (quando está frio), gosto de preparar comida mais elaborada. Requer tempo e paciência. Normalmente, cozinho pratos da cozinha tradicional Portuguesa, ou pelo menos inspirados na mesma. Tento cozinhá-los de uma forma saudável, usando o mínimo de gordura possível e normalmente pego numa receita e adapto ao meu gosto. Durante a semana não gosto de perder tempo a cozinhar (nada mesmo), e é por isso que me sinto motivada a cozinhar nos Domingos!!
---
Links for previous posts | Lista de links para posts anteriores: