Hello, Steemian fellows!
This last Sunday Cook is another very special one for me.
When I was a child I live next to my grandparents and I spend a lot of time at their place. Sometimes I stay to eat with them:) I really loved when they invited me to dinner, preferably when their meal included some grilled meat, codfish or chips!!;)
One of my vivid memory from those times was the chicken stew that my grandmother used to cook. She raised her own chickens (much better than those from poultry farming). I remember she loved to add parsley and bay leaf to her stew, and this combination offers up delicious aromas that make the whole house smell amazing!
Unfortunately, she passed away in 2003 and I don't have the pleasure of eating one of her cooking for a long time! Last Sunday I decided to cook her recipe with the ingredients I remember. For that purpose I bought a chicken raise in free range system. It's more expensive but much better!!
This Sunday I cooked
Stewed chicken with spaghetti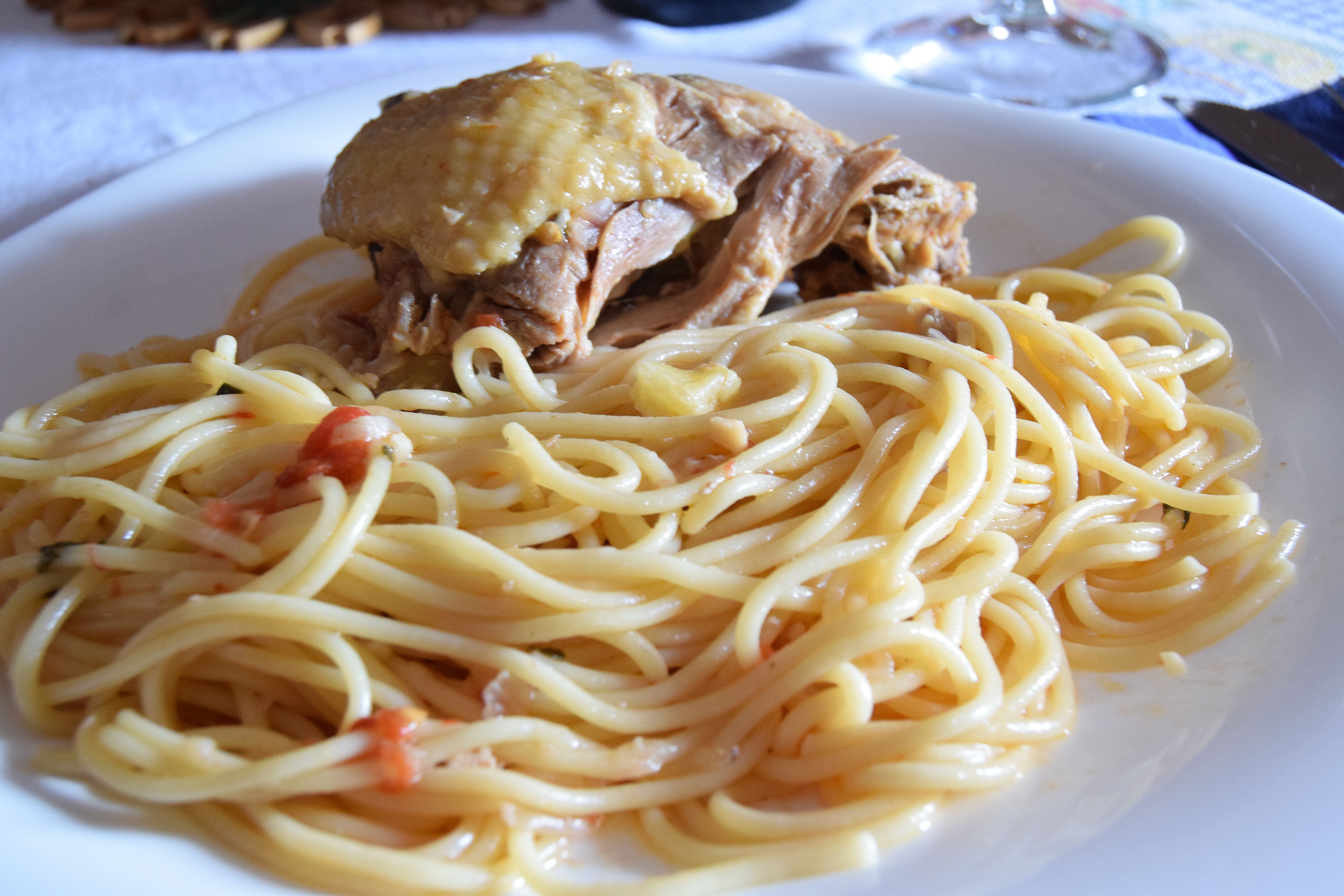 Ingredients
2,5 kg / (5 1/2 pounds) free range chicken (yes, one chicken)
125 grams / (4,4 ounces) spaghetti
400 g of unpeeled tomato (1 can)
15 ml of beer (1/2 fl ounces)
3 medium onions
5 garlic cloves
1 bay leaf
parsley
olive oil (to taste)
black pepper and salt (to taste)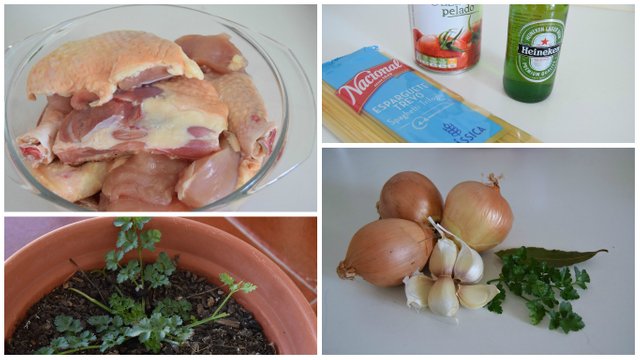 Fortunately, I'm able to pick some parsley from my balcony :)
Preparation
Unpeel and chop the onion and garlic cloves. Put them in a pan with olive oil, parsley and the bay leaf. Let it fry for about 5 minutes. Add the chicken pieces (I had already seasoned it with salt on Saturday night). Let it fry until the meat gets well browned.Add the beer and let it cook for about 3 minutes. Then add peeled tomatoes cut into​ small pieces, season with pepper and stir. When boiling, cover with the pan lid, bring to low heat and let it cook about 1h30 minutes.

Stir and turn the chicken pieces every 30 minutes, to cook evenly.

When cooked, take the amount of chicken you will need for one meal to a smaller pan. Cover it with water and season with salt and black pepper. Add the spaghetti and let it cook about 7-8 minutes.

Turn off the heat, let stand with the pan covered about five minutes.

It's ready!! Let's serve it!!
Wish you could feel the aromas in my place when I was serving this!:)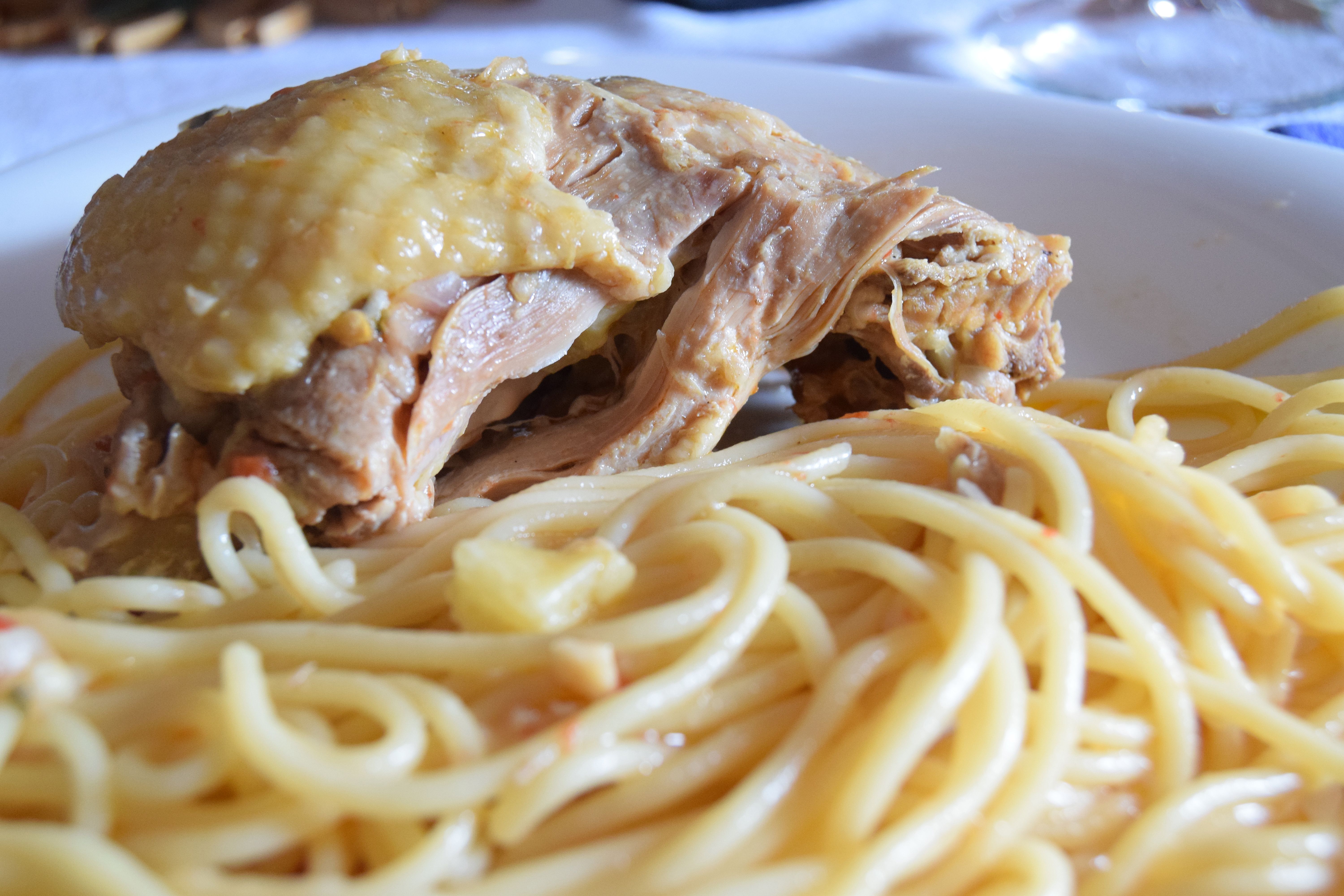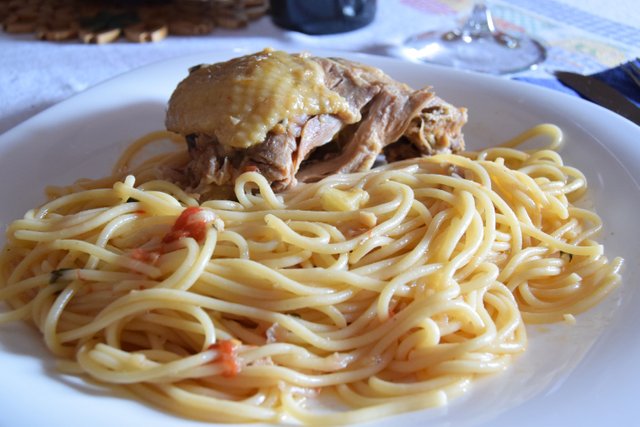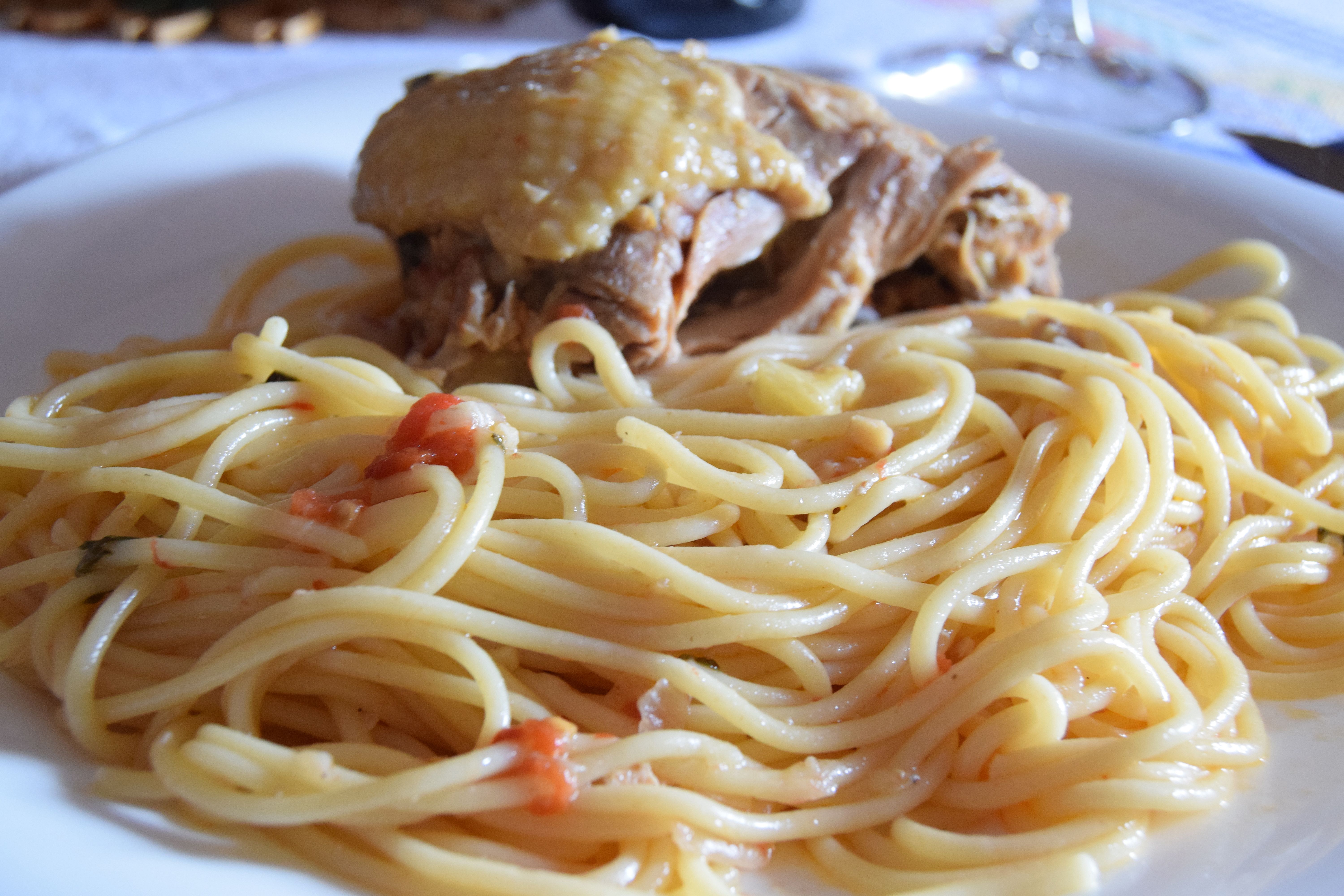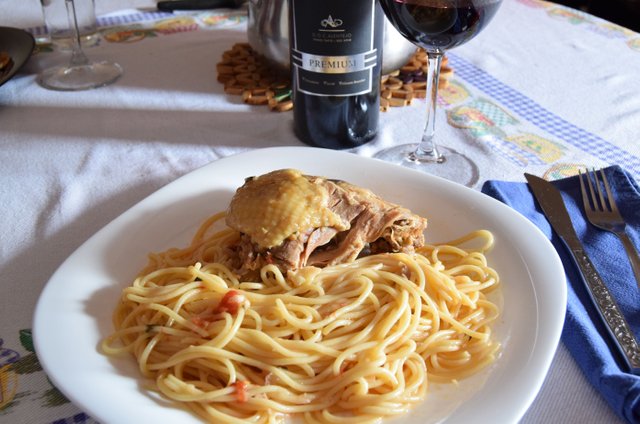 As every stew, this one also gets better in the day after, and is very versatile. We can cook the chicken with spaghetti, rice or even fried potatoes!! The other big plus of this recipe is the meat quality. Much better than regular chicken.
I served this stew with a glass of red wine, it couldn't get better, believe me!
I will come back with another Sunday cook delicious :D Stay tuned!!
---
What is Sunday Cook?!
These Sunday Cook project began with a strong will to contribute to Steemit with my personal view of Portuguese cuisine. I really believe we have plenty of good food. I'm not a professional or nothing similar, but I can assure that I'll do my best! On Sundays, I like to prepare more elaborate and delicious food. It requires time and patient. Usually, I cook some traditional Portuguese food, or at least with Portuguese inspiration :) I try to do it in a healthier way, using the minimum fat as possible, and normally I pick some recipe and transform it. During the week I don't like to spend much time cooking (no time at all), that's why I get totally motivated to cook on Sundays!!
---

BADGES Courtesy of @elyaque