Hi, Uloggers!
We've got some 90 plus new Uloggers in 4 days. Wow! Let's help welcome everyone onboard. Thank you for sharing the word about #ulog. We have only just began and this is looking good and the momentum is there. We cannot see this slowing down any moment, so please help keep the tag clean, educate people when to use #ulog and #ulogs. Help curate Ulogs that inspire and even those Ulogs that are attempts to show someone's shine.
Go ahead have your own set of featured Ulogs. Help make traction to show Uloggers that you think are worthy of recognition. Go be a true fan in the comment section. Uplift, inspire, empower. Discover new celebrities, be friends with them, who knows what gem you might find.
We would like to thank all Uloggers who educate about Ulogs in the comments. Those that share @surpassinggoogle's video on Ulogging, you guys are awesome. Making sure #ulog and #ulogs are clean tags is one of the best ways you can help this movement. Let's keep it clean, it must be all about YOU. All about HUMAN and their shine. No need to copy anyone's work. Please keep this from having plagiarized stories or pictures. We want the real YOU without the unnecessary stuff.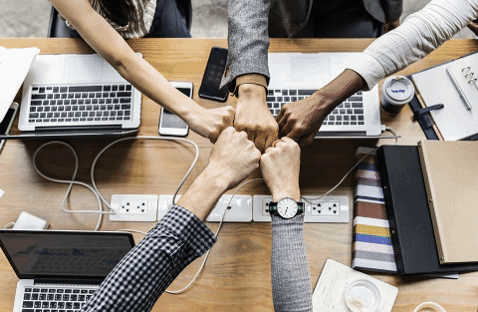 Made with Giphy
STEEMGIGS DISCORD SERVER HERE.
Surpassinggoogle's Youtube Channel
A FEW TIPS AND PROMPTS FOR YOUR #ULOG: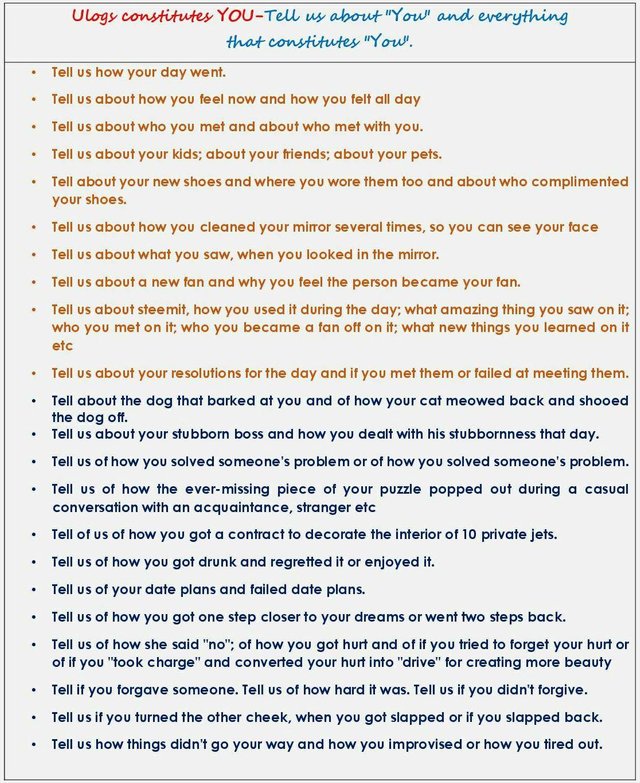 HOW TO MAKE A #ULOG POST: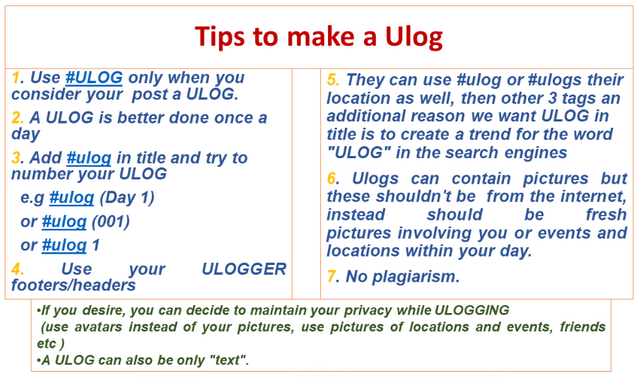 ULOGGERS NEWBIE PARADE!
@loryana's Ulog #1 life on village
@rotchel's #ULOG #dAy1 Great mOrning tO stArt a New Day with LOVED!!
@eveningart's SQUEE! Hello Lovely Steemians - Time To #Introduceyourself!
@herryazmi11's #ulog 01 - Mencari dan Menemukan makna dari kehidupan
@cplvictoria's Starting in ulog: Presentation
@herlingarcia's My first Ulog: Learning a little cooking.
@josegc's #Ulog 1: In contact with mother nature. [Esp. En contacto con la madre naturaleza.]
@onyima's The Newest Ulogger (Ulog One)
@lollybell's ULOG 001: MY FIRST ULOG POST AND INTRODUCING MY SELF TO OTHER ULOGGERS.
@maliciarh's My first Ulog: Sharing with the family!
@tigeeboi's #Ulog - Father's Day Special - What is Ulog / surpassinggoogle ????!!!
@ikemsamuel's #Ulog #1 | took my cousin shout at the park
@bosun's My first ULOG #1 The midnight sun.
@cynthyel24's Flowers are everywhere #ulog 1
@ikemsamuel's #Ulog #1 my first #ulog post, wish my friend Happy Birthday
@aaronkp's Ulog 01: ang aming munting ulam sa wikang tagalOg
@amiel-0315's It's Ulog time!
@aburashed's ULOG: ULOG: 1: If the path cannot end.
@queengift's ULOG DAY 1: MY INTRODUCTORY POST
@dklef's ULOG #1: My First Ulog Starts Here, I'm a Celebrity.
@yusdiana's Ulog = intoduction steemgigs
@steempapa's Do me a favour..UPVOTE ME
@tundedrake's Ulogs #001: On the maize farm to apply fertilizer to the soil. Thanks @surpassinggoogle for giving us @ulog
@steemgoodnes' #ulog001: My first post joining the @uloggers with @surpassinggoogle
@alexander-bobs's #Ulog 01 : Enjoy the natural beauty of a hill..!!
@freitzie123's #Ulog 01- (Voice Problem)
@karlkyann's #ULOG no.1 Summer days!
@mariatavera's ULOGs 1: COMPARTIENDO CON MI HERMANA
@aquinotyron3's Ulog 1: Perfect Match- Arroz ala Cubana and Grilled Banana
@msphoenix's #UlOG(001): My Day Today!
@detela's MY INTRODUCTION
@user-steem21's #ULOG 1 : Travel - 10 TIPS & GUIDELINES OF THE FIRST HOLIDAY HOLIDAY TO THAILAND
@bobbyrari's Introducing my dauntless self.
@jbmolano's #ULOG 1 : On The Job Training at PLDT (Philippine Long Distance Company)
@shahabshah's #ulog1:me with my brother and cousins bonding to picnic in seasides
@gwenflorida's #Ulog 001. My 13th June experience. Joy comes in the morning.
@ladylei's Ulog #1: It's Been Awhile...
@rigor's ULOG #1 : My First Attempt to be A #Ulogger
@corrielaine's Ulog #1- my first Ulog!
@carlosjrg's ULOG #01: My introduceyourself.
@meldewsanchez's ULOG #1 A Great Lesson from my Exotic Visitor every Night
@victordaniels' Ulog01-In pursuit of speed
@josefpius' ULOG: my first ULOG post
@rebeguz's #Ulog Nº1 A Dessert Day!
@kainos-success' #ULOG DAY 1 : IT'S GOOD TO BE BACK
@roselynpage's INTRODUCTION TO MY ULOG DIARY #Day-1... Industrial Training In Progress!
@tundedrake's Ulogs #1: GOING OUT WITH MY BIG BROTHERS THAT JUST GOT HOME FROM DUBIA. thanks @surpassinggoogle for giving us @ulogs.
@oladayoamusan's #ULOG - I THANK GOD FOR A PRODUCTIVE WEDNESDAY
@thinkingmind's ULOG #01: Daddy Duties
@dvibe's My Ulog Entry #1 | ROAD TO REALISM #1 (PENCIL ART)
@scaezar-art's ULOG 01: I DELIVERED THE PORTRAIT TODAY
@kennethjames's Ulog 01: Crypto on the Brink of Extinction?
@josefmusic's My first day in steemit | presentation
@marianvirginia's My First ULOG: How do I makeup me
@okprovictor's INTRODUCING MYSELF VICTOR THE PET DOCTOR NEW ON STEEMIT.
@chineyes' Ulog #1: Off to the Eye Doctor's Clinic We Went
@missteriously87's #ULOG01: Day1 Making my DIY-Christmas Tree
@vine09's #Ulog: Day001 Amazing Design of Burj Khalifa, Dubai
@trafalgarlaw's #Ulog 1: Everyday is a New Day
@iamstan's What Are The Cycles of Life - My Pondering Ulog 1
@mergie's My ulog # 1: One morning in the company of my friend
@oluwabukola's My first Ulog - Diary of a Lagos Intern
@igweyakubu's My Start Of Something Great- Genesis of my steemit Journey
@caroabiel's MY ULOG # 1:My baby shower
@olusegun's Ulogs # 1: Early morning football that took place in my hostel today due to holiday break @surpassinggoogle for giving us @ulogs
@euguma's ULOG #1 MY WEEKEND: Three events, One Man, One weekend (life of a fashion designer)
@maryelis' My first (1) #Ulog: One day on the radio with my son
@aschatria's My first #ulog Good morning, let's have a breakfast
@spreadyourword's #ULOG 001: "For the love for Cooking & for the love for my Family"
@straykat's Ulog #1: Mama's Birthday!
@epearson's ULOG #1 - Out of place
@ninoskaledezma's POST ULOG # 001| Easy craft ideas
@rilwanola's Ulog1 A day out with the three wise men.
@adrnhpyo's FIRST ULOG ENTRY: Surfing our way to Midway Beach Resort | Travel Blog
@emmahakpan's #Ulog Day 1 : Sharing the News of #Ulog
@hamzasmith398's My First ULOG Post: HAPPY 18th BIRTHDAY TO ME
@jhoevhee's ULOG DAY 1 : NOTE TO SELF | FREEDOM
@normalguy's ULOG 1 | I Get my Graduation Gift
@jasonicoy's Ulog # 1: Editorial,About Me😂
@jerylmaeada's Ulog 001: Happy Birthday and Independence Day
@davinsh's #ULOG - 01: My Hesitation and Discovery with #ULOG
@kyrie1234's ReIntroducing Myself —- @kyrie1234 is Now Signing In
@albertvhons' Ulog 001: My Day with Motorcycle Vulcanization
@naijamall's Hello world! I heard you've been looking for me
@femcy200's #ULOG (DAY 1)- FIRST TIME
@jasonicoy's Ulog # 1: First Time!
@gabbynhice's #ulog Be real......
@fernandoculibra's #ulog Day 01 :Tuna Steak Korean dish...
@sandrapatricia's My First Ulog: The birthdays
@andersonh's ULOG #01.. A fun day in bowling
@bahaphotography's My first ulog - A rich man who is brash
@ckarin's My ulog # 1: Celebrating today that my daughter Isabella Carolina is one month old
@rockyy's Ulog #1 steemit, kebersamaan para #steemit
@amikable's ULOG #1: Monday Is The Ideal Day for a FRESH START!!!
@jasonnation's MY FIRST ULOG POST! #Firstpicturetogether
@nieker's ULOG #1 POST GET TO KNOW ME !

Ulogs are many other "beautiful things":
The "U" in "Ulogs" represents "YOU".
With ULOGS, "YOU", is what's pertinent and media formats e.g no-Vlogs, no-cameras, shyness etc should pose no barrier to you extending "YOU" to us and to the world, ever-constantly; "tirelessly".
With ULOGS, "you are celebrity and we your fans".
With Ulogs, you now have at least one steemit post idea daily, that constitutes YOU. "No longer, should there be a day, that the world is starved of your beauty".
With ULOGS, "no longer should a day emptily slip by, without "your shine" in it.
With ULOGS, want you to shine. We want you to lit the steem blockchain and shake it with your beauty.
With your ULOGS, we will create a fresh trend for #ulog/#ulogs on the entire web-space, filling it with the indispensable awesomeness called; "human"; steemhuman; "steemians".
ULOGS: Each day and "YOU" in it; carries it's own freshness. So, not a day aren't we capable of re-shaping the entire internet with a piece of freshness.
By means of our Ulogs, we will be creating historical history by reshaping the internet; surpassing Google in the process.
With ULOGS: "No longer should there be a day, when we can't add value to the steem blockchain". No more will there be a day on the steem blockchain, when you can say, "i don't have a steemit post idea.
With ULOGS; "we will keep us ever-present on the web-space; opening us ever-incessantly to opportunities; "even breakthrough opportunities".
By means of our ULOGS; "our kids and generations yet unborn will read of us and know that we were here each day, evolving in our substance, so that we can leave them legacies behind.
By means of our ULOGS, we will have fun; fly; shine.
The world and its toughness can deaden and relegate "our shine" into remoteness and forgotten-ness; by means of the steem blockchain (OUR ULOGS), we want to use each day, to recover some of "our shine" back.
And if we have lost our shine completely, we will gradually restore it using each ULOG and begin to shine again, like the "true celebrities" that we are: "light in the tunnel".
ULOGS: Learning; especially learning about yourself; is the ultimate earning.
The essence of the #ULOGS movement is to remove "barriers to entry", when it comes to "mining the human", using each content-blog that we create.
You can be Ulogger and "all that's needed is "YOU" and each day and this we will celebrate".
ULOGS: There is nothing as fresh (in terms of content) as "pieces of us". It is dynamic, fresh, unique, rare. And no "two days" are exactly the same, especially with "You" in it, for we accrue experiences, new moments, new adventures etc.
We aspire new resolutions each day and fail and succeed and "succeed overall", by virtue of "the gift of life" and this we will document all these celebratorily on the steem blockchain using our ULOGS.
Helpful links to understand #ulogs more:
@surpassinggoogle's #ulog: Become A ULOGGER Today! Reshaping The Entire Internet With Steemit
@ulogs' The Birth Of Ulogs. "You Are A Celebrity, So Why Not Just Ulog?" No Video Camera; No Problemo.
@ulogs' "The World Needs To Hear From You. Even Steemit Is Calling!" Now, You Can Answer. "Create A ULOG Today". (The "U" in "Ulogs" represents "YOU".)
@ulogs' @ulogs Featured Posts, Curation And The Fundamentals Of Making #ulogs
@ulogs' Daily #Ulog Featured Posts, Curation And A Call For Help To #Uloggers
@ulogs' Daily #Ulog Featured Posts, Curation And The Emphasis On Removing Barriers To Entry
@ulog's Daily #Ulog Featured Posts, Curation And Connecting With Fellow #Uloggers
Dig and understand the essence and principles of this movement.
#ulogs is just one of the many Steemit Projects by @surpassinggoogle in celebrating the Human.
Read about Un(dis)talented here.
Read about Steemgigs.org here.
Read about Teardrops here.
Read about Steemsecrets here.
Join the movement and start making #ulogs and be a #ulogger.
Let millions of Uloggers bloom!
Join the Steemgigs Community in Discord here.

If you want to support an extra witness and you support "steemgigs", it will be really helpful.
To vote for Steemgigs as witness, simply visit https://steemit.com/~witnesses and type in "steemgigs" into the first search box for witnesses or simply click Here to do it on one click!
If you want @surpassinggoogle to make witness voting decisions on your behalf, simply visit https://steemit.com/~witnesses and type in "surpassinggoogle" in the second box for proxy.