Steemit's Untalented Is In Beta! Participate Freely Because Every Participant In This Contest Will Win Something. No Losers!
I am not a writer! I simply place pictures from my mind's eye into capsules called "words", for words still rule the world:
Let there be light and there was light!
The truth is, i like innovation and from an early age, i started out in that path. I lived in a place filled with cruelty but i managed to sift the good from the bad; so my innovation ideas didn't involve any beefs or jealously etc. 
Most of my innovation ideas, stemmed from wanting to add "the awesomeest version of me" into the state of Mama Earth. 
I preferred the high road! 
Indeed, i had had to notice the state of Mama Earth and much heart's involved. Love and forgiveness too!
Too, i wasn't going to keep on as a consoler! I was a fixer!
Really, where i am from, you could feed on "consolation" till its grave-time. "Don't worry, tomorrow will be good"; was an anthem, till there was no more need for fights. Battles over before, they even begin. "Tomorrow never comes"
From a young age, i wanted to go to "tomorrow".
The value of the human in these places; even "non-existent". Tis something to cry about. 
"Your money or your life" and just when you ask how much money; we are talking some 5 dollars!
People in these places have been pummeled by avoidable suffering and given quotes from great men to feed on, as consolation prizes!
This is chaos and i wanted to adjust that!
Then, i would say to boys when we go eating out; "here is a round-table and some chairs, and its all we need. Let's relegate rice once or twice and use our minds to innovate ways to give our lives spice. 
Then many a "nonsense" came to life but it was a start! 
Nonsense is harder to conceive of than sense because nonsense isn't what we are taught.
But when you look more closely, what isn't nonsense? "X + Y = z/CO2" is very much nonsense!
Over the years
I have had a ton of innovation ideas over the years and you can easily call some silly but again; "saying you will find "gravity" from a fallen mountain", must have been very silly stuff at the onset!
Overall, when it comes to conceiving of innovation ideas, i adopt limitlessness. "Dream-like!"
Then after an innovation idea is accomplished, i applied improvisation after improvisation, to at least make these ideas look accomplishable and less of a dream. 
An enabling environment was usually missing!
Improvisation comes into place, to curb setbacks, while setbacks existed. 
This was, using improvisation to positive use e.g when i can't bring dreams to fruition, i keep dreams alive in dream-bits! Hahaha, there is also the "rehearsal style" improvisation, where i rehearse dreams till they happen.
Steemit happened and things got better, for steemit easily became "means to an enabling environment".
Innovation continued
Many of my innovation ideas have been influenced by the need for world adjustment. 
World-change may take forever. World-adjustment can happen now. 
So my steemit journey very much involved, continuing what i was already doing before steemit: "surpassing google".
How do i surpassing Google?
By doing something, very positive yet unpopular by world standard! This very much involved "brothers".
@Steemgigs in reality, is was away to bring all of my innovation ideas under one umbrella! 
#steemgigs is bigger things, than an interface to disrupt Fiverr! 
One of the core aims of #steemgigs though is:
Make a brother an active fan of another brother's met dreams.
Be part of potential remarkable history by helping a brother build his dreams, while building your own dreams. "Dreams being constant!"
Other key words are; "brother" and "remarkable history".
But there is more......
To remove barriers: "Everyone must have something to offer!"
So add; "we are genius" to the equation, then "human or brother" becomes a bit more invincible in a positive sense.
How?
Abolishing the conditioning attached to IQ tests e.g smart, dull, bum and you suddenly give every human a chance to shine!
So if Bill Gate did Microsoft and i can do Macro-hard, aren't we both genius? Oh, we both are!
And if i am not genius, "who" is determining Bill Gates to be genius and me not? Another human?
Well, i am human too; so here is what i have got to say: 
If i got the worst results ever, in a Bill Gate's Microsoft coding exam, before you seal your definition of "genius"; let Bill Gates come write my own Macro-hard Jargon exam.
Now if we both fail woefully; then perhaps, my own principle holds sway:
 "we are genius!"
Hahaha, i am just doing comedy but what i am saying is very very simple....e.g
Who says you can't draw? You & your friends!; but is it true that you can't draw? Oh, you can! 
Worst case scenario: you can't draw well.
And can't you sing? Hahaha, i tell you; "you can sing like crazy, if "off-key" was involved"!
Now, i am not saying standards or human standards are wrong. All i am saying is: "you can do it, so don't let these existing standards prevent you from starting out-of-the-boxness altogether".
Finding out, who you truly are or attaining the awesomemest version of yourself, is essential to greatness and is a gift to humanity, every time!
Steem Untalented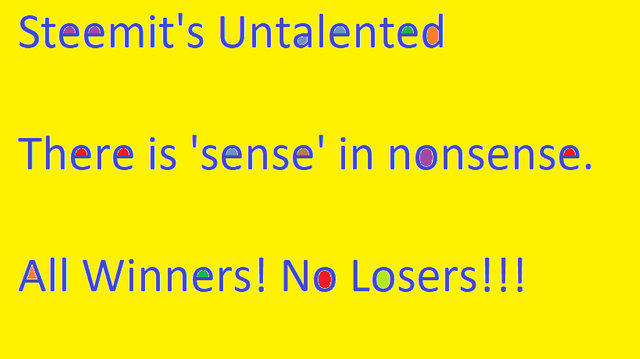 This idea is a playful fun idea that started very long ago. I wrote about it a bit here!
I want "steem untalented" to become the most valuable contest or initiative in the world, when it comes to creating the best version of human and altogether "winners!". I want it to be the first contest to say YES to every human, in a world of many NO(s)!
A branch of @steemgigs that plays a pertinent role in adjusting the world as it adds "freedom" into the curriculum of finding ourselves. 
With this freedom, you are bound to find yourself, in newer ways. 
There is sense in nonsense. 
"Dirt is good"; ask Mr/Mrs Soap.
"If going to the moon happened"; then our tiny innovation or dream-like ideas, can sure happen. Conceive of them; bear them forth limitlessly!
Let's go!
We will start this extremely contest slowly and we will use it as a fun means to tap into ourselves a bit more. Let's find out new sides to us. 
Ultimately, let's find out one more time, that Bill Gates & co and all the great minds out there, don't have two heads. 
In reality, they don't think of themselves as having two heads and we shouldn't give them two heads in our imaginations and ourselves one; for we all have one massive head!
Steem Untalented will make everyone winners, every time! Breathe and participate in all freedom, for you can't lose!
Eventually, it will turn into a real world innovation (likely a TV reality show that will host billions worldwide, for it gives everyone a chance); fine tuning even the so-called worst-at-everything, into the very-best-at-everything. 
Yes, a "so you think you can't dance" reality TV show, will make more money, than "so you think you can dance", everytime. Same applies to a Music TV competition for off-key singers!
Steem Untalented First Contest Proper
Theme for this writing and drawing contest where every participant wins is: "Who You Are!"
Do a post, telling us who you are!
Please think and tap into yourself a bit more, when you write. You can talk of dreams too, bucket-lists, wishes, sadness, happiness, the YOU inside you etc.  All flaws allowed! Relegate reservations! Exercise all freedom!
The steemit post should also contain an image of a drawing/painting/sketch/font design etc of your steemit username! This image will be yours for keeps and would exist to be treasured by you, to remind you of what steemit represents to you; what YOU represent; your steemit journey etc
All flaws allowed! Relegate reservations! Exercise all freedom!
Note
You don't have to be an artist; you don't need to have colored crayons. Your drawing can be bizarre as "Chipmunk-drawn Monalisa". Bizzarer could be better!
You don't need to be a writer either. 
Just think about "Who You Are"; then write and draw! If you need a song, use this:
video source/credit to Jessie J/youtube
Then please submit one such entry in the comments below. 
Don't worry about prizes, for every entry will win something and you can be sure. So participate to this contest once and freely!
Note: You will have to submit the URL to your post entry underneath this post. 
 Your Boy Terry
My community effort is part of what i do as a steemit witness, thus, the use of the hashtag (witness category).
If you would want to vote for my witness, click here, then type in"steemgigs" in the first search box! You don't need voting power to vote for a witness! 

OR
Consider choosing @surpassinggoogle as your proxy, to help you with choosing your witness votes. To do this, visit https://steemit.com/~witnesses then type in "surpassinggoogle" in the proxy search box as seen below!   

      Join us on Steemgigs community on discord to contact me directly: https://discord.gg/wWrnSXK  
Everyone has something to offer!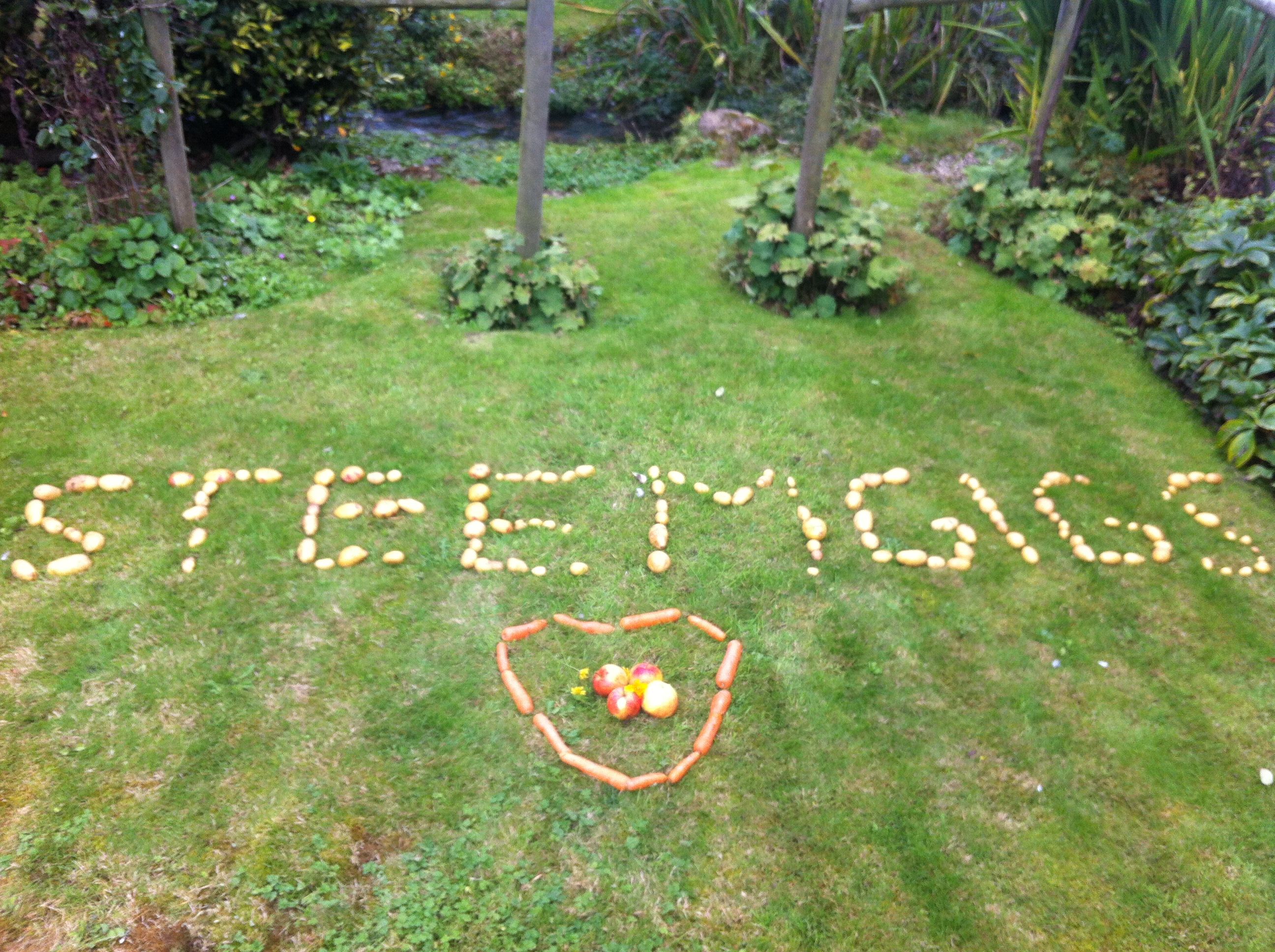 @sunnylife potatotized me & you with some love!