The Grand Picture: The Detailed FAQ(s) For https://steemgigs.org & All The Answers. (Please Bookmark This!)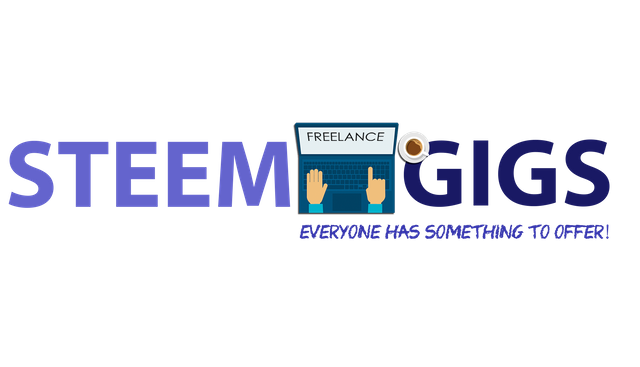 It is simply a website built on the steem protocol, that allows you to offer your talents, craft, skill, expertise etc as "a service" in exchange for steem, SBD, Steem Power etc 
Down the road, we will also looking to creating avenues to exchange "service for service" e.g I will do your logo design in exchange for a portrait.
Being a marketplace for SteemGiggers, it is possible to find services that are free!
Now, "where there are talents; dreams happen". Thus, people who seek to build their dreams, vision, enterprise, organization, online presence etc can visit https://steemgigs.org, to search our database of reputable talents.
e.g if all you have ever wanted was your own chat-bot: 
Define a budget
Visit https://steemgigs.org 
Check out the categories to view a catalog of gigs to select from
If found, contact SteemGigger involved
Else, do a refined search
If still not found, do a custom request.
Note: https://steemgigs.org is way beyond just a freelancing marketplace. It is a community of reputable great minds upon which, "everyone has something to offer".
2. Who Is A SteemGigger?
Anyone who offers a service on SteemGigs is called a SteemGigger.
Each SteemGigger is likely to be a steemit account holder, thus, a SteemGigger is also a reputable steemian.
Everyone can be a SteemGigger because on SteemGigs; "everyone has something to offer".
3. What Are Gigs?
Gigs simple refers to the variety of services offered on https://steemgigs.org
4. What Do We Do At SteemGigs?
We are an open-source internet organization, passionate about helping each human bring their dreams or innovation ideas into reality, thus, we create an online community that enables that.
e.g if you want to get your brand name before the eyes of thousands of people, simply visit https://steemgigs.org to find social influencers or do a custom request and create an offer for interested SteemGiggers etc
We believe that since "going to the moon" happened; any dream is attainable. 
Thus, we take keen interest in each SteemGigger; we get to know them, incentivize them to offer valuable service on your behalf; then, we maintain a database of the most reputable SteemGiggers in every niche, field or industry, so that we can recommend them to others seeking assistance.
Do the "dreaming"; leave the "building" to us.
We look to become the home of the world's most-reputable talents. We want every noble dream, met!
5. Why You Should Choose SteemGigs?
SteemGigs is built with an integration of the steem blockchain, giving it very powerful advantage over conventional "freelance" marketplaces.
The steem blockchain is open-source and decentralized. It has an in-built currency called "steem" and other forms of currency, like SBD and vested Steem (Steem Power). It can handle millions of transactions daily, has zero fees and is backed by a reputable community.
Using this decentralized steem protocol, allows SteemGigs to run conveniently, "peer-to-peer", without the need for third-parties e.g banks, PayPal etc
Here are some of the prominent advantages of SteemGigs:
Fees: SteemGigs "payment" transactions are free.
Censorship: When you have successfully published a Gig, it can't not be erased.
Traffic: Every Gig appears internally on https://steemgigs.org as well as on Steemit & Busy.org. Too, each of these posts rank in the search engines e.g google, yahoo, bing etc 
Trust: SteemGigs is a social community of reputable talents! It uses the steem blockchain, leaving all transactions public. Every user of https://steemgigs.org has a public reputation, which is pulled directly from the steem blockchain.
Charge-backs: Using the steem blockchain eliminates the possibility for charge-backs.
Ease of payment: To pay for a Gig, simply go to your steem wallet and complete a transfer. It takes only 3 seconds!
Financial loss: Steem technology is behind every payment transaction and steem is decentralized. All financial transactions are permanent and hosted on encrypted servers round the world.
Privacy: You can pay for Gigs without having to reveal personal information as no credit-cards or third party merchants required.  
6. Any Perks For Steemians Who Use SteemGigs?
You can sell a service and get paid in steem/SBD/Steem-Power etc
You can offer a service for free while honing your craft, skill or expertise.
You can play a testimonial role in historical history, by helping others build their dreams
You can build your own dream, by posting custom requests or searching our database for reputable talents who can help
You can seek out mentorship e.g steem tutors etc
You can find out what each steemian has to offer.
You can build new relationships (with steemians) by offering valuable services
You can build strong connections with minnows, dolphins, whales alike.
You can improve your reputation even on steemit e.g imagine whales etc writing SteemGigs testimonials about you and the amazing service you rendered
You can use the untalented editor to create curation-worthy steemit posts.
You can stay busy in the steem ecosystem, even when you take a break from blogging.
Even if you aren't a blogger, you can now offer something.
You can accomplish tasks in other nations, without traveling e.g i can do a "custom request" offering 5 SP to someone who will help me taste a local beer in the Philippines
You can flex your creative muscles and evolve into your awesomest version.
7. How Does SteemGigs Support Steem/Steemit Growth?
Enhancing the steem economy e.g providing more use-case for steem/SBD/SP
Improving steemit growth.
Tightening the bond of our existing steemit community.
Unveil more of the "human behind the steemian". 
Unraveling the wealth and depth of our existing steemit community.
Implore steemians to practice their profession & hone their expertise.
Instill in the steemit community, the culture/art of "giving and receiving".
To create a more fun atmosphere even in the face of overwhelming events.
Enable the un-enabling environments
Add an organic reputation system (SteemGigs Success Testimonials) to our reputation score system.
Expanding the vision of steemians, with regards to the capability/capability of the steem blockchain, 
Sparking more creativity thus, more solutions to real world problems.
Beautify steemit/steem in the search engines.
Connecting steemians in need to steemians indeed.
Keeping inactive steemians in the steem economy by means of live SteemGigs.
Providing non-blogger steemians with incessant ways to earn steem/SBD
Burn SBD
Gift humanity with at least one breakthrough product/solution courtesy of steemian talent
Attracting the freelance industry, recruiting agencies and powerful organizations to the steem economy.
etc
This is really easy! 
Simply remember that SteemGigs is a steem-based website, thus, you will require your steemit credentials to sign in. 
Visit https://steemgigs.org
Click on "LOG IN".
You will be redirected to SteemConnect V2, a portal that enables the authentication of your account.
Then, you will be required to input your steemit password or steemit private active key. 
It is advisable to use your keys during sign-up as your steemit master password is best kept offline. 
Overall, we do not save any of this login information.
Read more about your keys here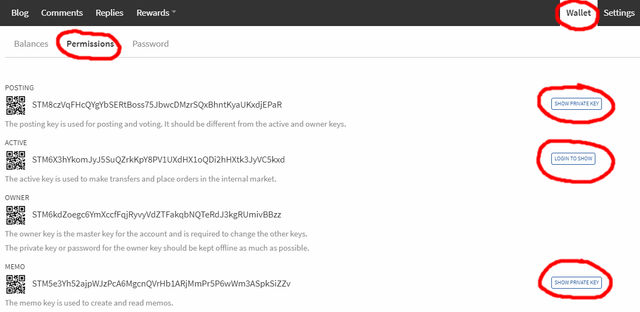 image is the property of https://steemian.info/keys
9. How Do I Sign Up To SteemGigs, If I Don't Have A Steemit Account?
For now, you will need to get a steemit account.
10. How Do I Create My SteemGigs Custom Profile?
Even if you aren't ready to offer a service on SteemGigs just yet, note that every steemit account holder already has a default profile on https://steemgigs.org
To see your profile, simple append your steemit username after https://steemgigs.org/  i.e  
https://steemgigs.org/@username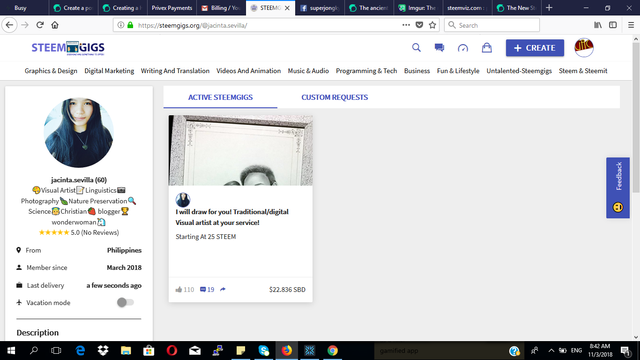 SteemGigs pulls a portion of your steemit profile by default e.g your steemit profile picture and your Steemit reputation score as these are essential aspects of a SteemGigger but you are able to customize other aspects of your SteemGigs profile right there on our website, once you are logged in. 
e.g you can add a summarized résumé , contact medium, social links etc. 
To customized your SteemGigs profile; simple login, click on your profile on the top most right-side of the homepage upon log-in (containing a circular thumbnail of your profile picture) and you will be met with a screen like the one below, upon which you can customize your SteemGigs profile: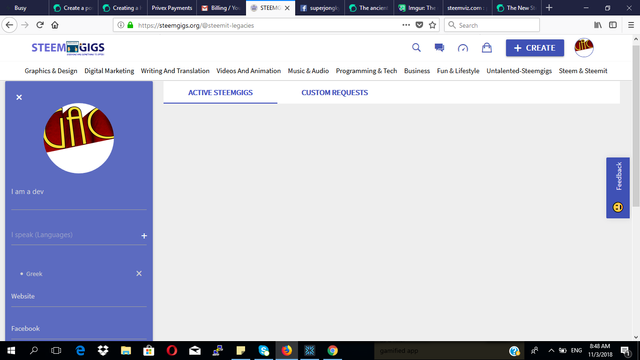 If you decide that you want to update your profile picture as well, you will not be able to do so from https://steemgigs.org as you can only edit your profile picture from the "settings" of your Steemit profile.
Your SteemGigs profile shows up by default on the right side of every post that you create on SteemGigs, serving as further promotion of what you constitute. 
See sample screenshot: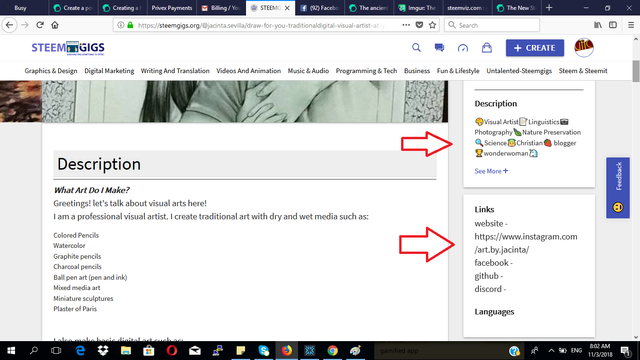 All customizable portion of your SteemGigs profile is stored internally on our database
11. How Do I Post My First Steem Gig?
See this video tutorial
OR look at the screenshots below: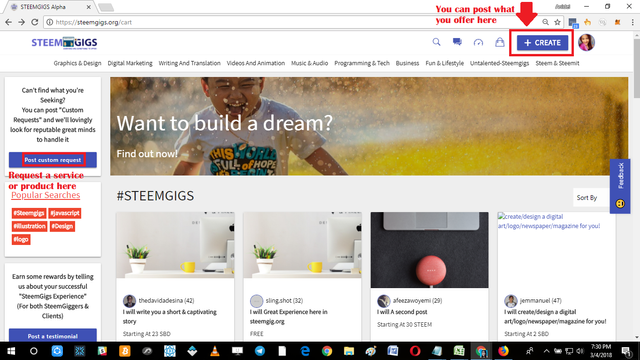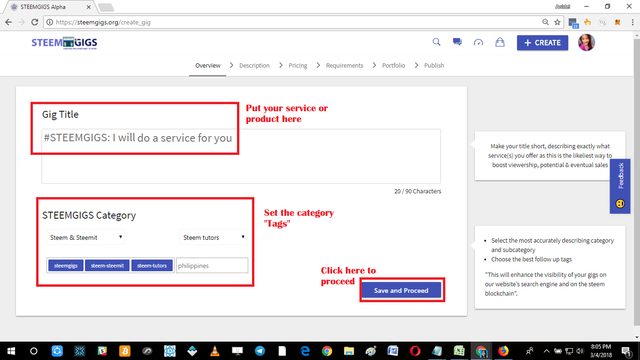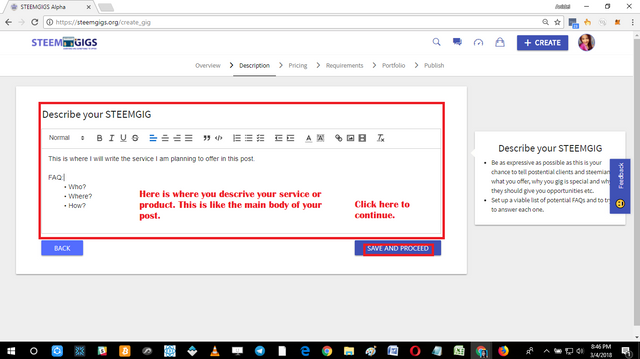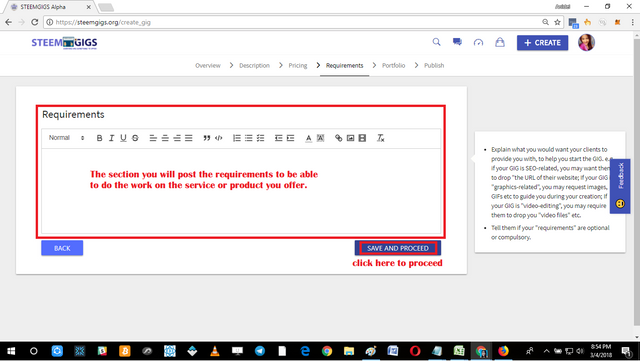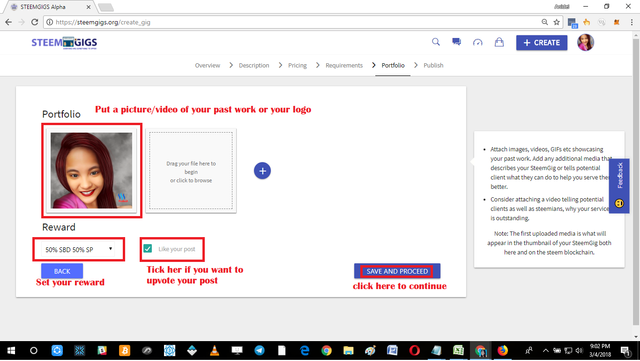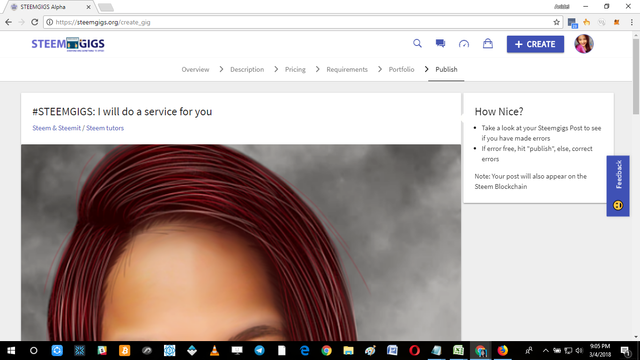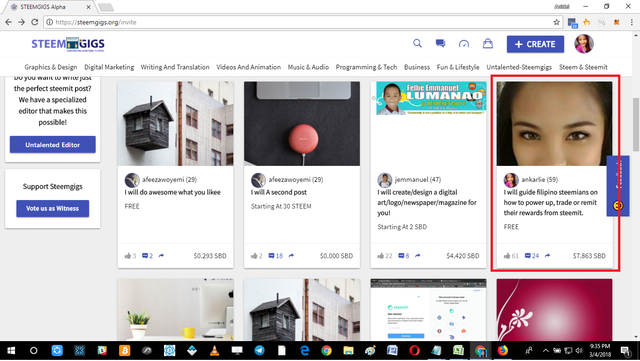 To really standout with your GIG posts, consider embedding a video (you can easily do so on the editor), telling potential clients what you offer and why they should avail of your Gigs. This also enhances your overall reputation as a SteemGigger and appeals better to people, opening your to more opportunities.
12. Do I Get Rewards From Publishing A Gig, Independent Of Client Payments?
Any content created from https://steemgigs.org, also appears on Steemit & busy.org, opening it up to curation (rewards), independent of what clients pay you for availing of your gigs
Curation is an incentivized activity on Steemit, where people are rewarded in steem-based currency, for unveiling valuable content and bringing it to visibility e.g by a simple "like" action called an "upvote".
Your gig posts can easily constitute valuable content and can be rewarded on Steemit as such.
See sample screenshot of gig posts that have rewarded by curators on Steemit, solely for constituting valuable content: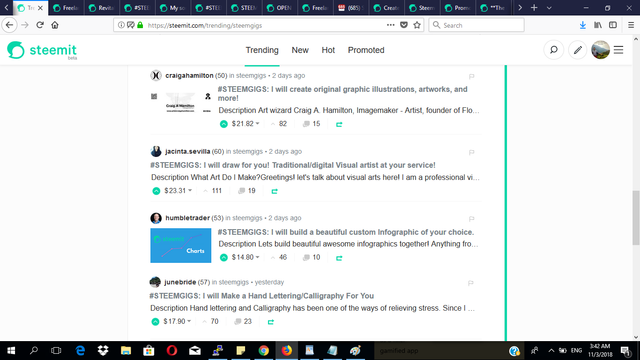 Furthermore:
We look to reward "proof of deed". Thus, we will look to reward exceptional Gigs (posts) via curation.
In due time, we will work with moderators, curators and curation guilds on steemit, to enhance content discovery and reward both clients and SteemGiggers 
Overall, we want to turn each dream into reality, hence, we will look for ways to incentives "dreamers" (Clients) and "dream-builders" (SteemGiggers).
13. Can You Comment And Curate Gig Posts Directly On https://steemgigs.org?
Yes, you can! 
You can even vote with slider, though you have below 500 steem power.
See the screenshot below: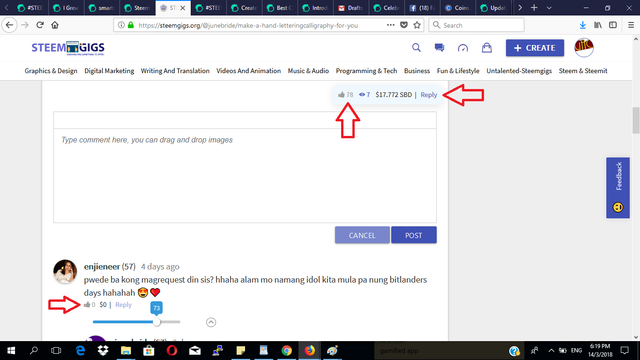 14. Is It True That On SteemGigs, "Everyone Can Offer Something"?
So yes!
At your leisure, read this post to get creative ideas.
In the meantime, here are some creative ideas to give you a glimpse into the spanlessness of the words, "everyone has something to offer".
 Look at some fun examples that i created:   
Look at more   #steemgigs samples that i created, to incite your creativity: 
Fun & Random
I will make a video each day, for 3 days, breaking 1 stick of cigarette in half, to remind to stop smoking, for 5SBD.
I will write "will you marry me" and the name of your fiance on the sands of a Jamaican beach, for 6SBD.
I will have kids write your brand name all over their classroom board for 2SBD.
I will act and say anything you want as a Pirate, for 0.5SP 
Relationships
I will pretend to be your girl friend for a day, for 5 steem. 
I will tell you what he or she is thinking about You, for 0.32SBD.
I will chat with you for 7 days and make each day fun-filled for you, for 5SP.
I will give you a PDF collection of 3,000,000 unique dating messages, for 3.000000 SBD.  
I will make your crush go CRAZY about you, for 3SBD.
I will re-write your online dating profile, for 6 steem.
Marketing & Promotion
I will pop a balloon with your message written on it, for 2 steem.
I will paint your message e.g "steemit.com" on my body and dance in the jungle for 8SBD.
I will sing you a Steemit Milestone Song in a Thong as a Typical British Man for 3.4SBD.
I will speed color your logo for 9.5steem.
I will create a custom promotional animated video with voice over, for 5.5SBD.
I will act and say anything you want as a Pirate, for free. 
HowTo & Tutorials
I will give you a 30 min TED-like coaching, on how to make a career out of podcasts, for 30steem.
@son-of-satire can very easily say; i will create magical GIFs for the footer of your steemit posts, for 5SBD. 
@kevinwong can go: i will write you 5 killer posts on any popular niche, for 16 SBD. 
@kingscrown: i will give you 5 proven crypto-investment tips, for 5 SBD.
 
Advertisements
@sirlunchthehost  can say: i will keep your post or project displayed at the footer of my  regularly-trending steemit posts for an entire day, for 25 SBD. 
I will delegate you 50k steem power for 3 days, for 30 steem as long as you don't downvote. 
I will share any steemit url of your choice to my 50k social media followers, for 6 SBD. 
TRUMP
I will a 2-minute video of Trump saying whatever you want, for 6.7 SBD. 
I will record your voicemail or any audio as Donald Trump, for 7 and a half SP.   
Business
I will teach you how to trade steem on the steemit internal market, for 5S BD. 
I will get Ned Scott to hold a poster of your steemit username or brand name for, 16.2 SBD 
I will give you targeted leads to golfers, for 2.3SBD. 
Graphics
@mynameisbrian can easily say; I will make a comic of you making a comic, for 3.82 SBD 
I will make whiteboard explainer videos from any of your steemit posts, for 0.05 SBD 
I will do SEO for your wordpress and put your blog on the first page of google, for 18 SBD 
Travels
@heiditravels can easily say: I will write a travel guide or article for your travel destination, for 5SBD. 
@sweetsssj can easily say: i will teach you how to access steemit, if you stopped-over in Dubai, where many websites are blocked, for 1.78SBD 
Basically, you can create an entirely new/unheardof/weird/random service, for steem, SP or SBD. (Everyone has something to offer, so flex your creative muscles!) 
Note that it is essential for you to be able to render any service you claim that you can offer as there is "reputation" involved.  
It will not be nice if there is steemgigs testimonial that dents your reputation
So if you say, "i will write your brand name on my bare belly and walk around with it" for 5 SBD and a steemian avails of your service, be ready to do it. 
If you say, "i will give out 5 old educational books to kids in my community for 5 SBD" and i avail of your service, be ready to do it. 
If you say, "i will sing a cover of any artist of your choosing for 5 Steem Power", be ready to do so! 
For every Gig you offer, it is nice to add a  portfolio of your past work. It also helps your reputation, if you add video of yourself telling steemians what you offer and why they should  avail of your Gig
15. How Do I Search A Gig?
We have a working search engine and an internal database. It is not all refined yet but it already works.  
Currently, it provides results for general keywords as well as usernames. So, if all you have ever dreamt of, is to have your own chatbot, simple do a simple search, using words like "bots", "chatbots", "automation" etc and you will be provided with a list of SteemGiggers who can help! 
See screenshot below: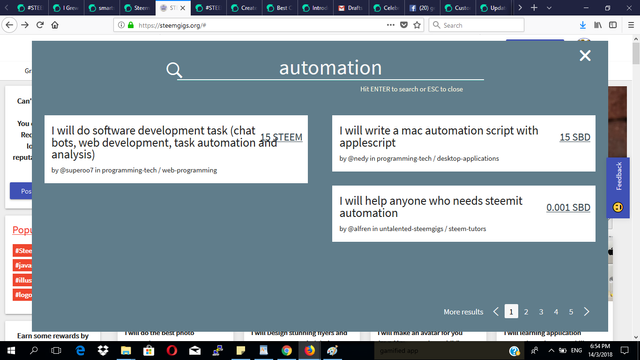 Our website is not filled yet, hence, results may be scanty but imagine when every steemian begins to offer a service on SteemGigs
Don't be shocked to find free services too!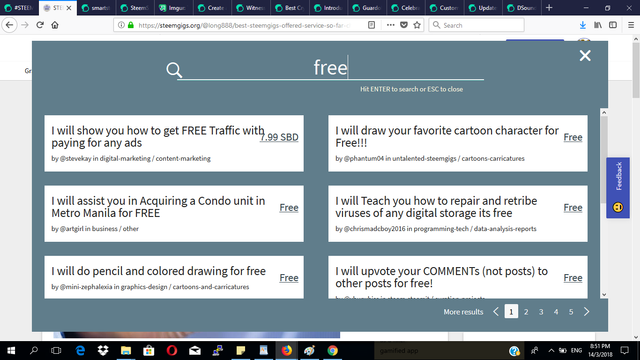 Note: We are working rapidly on implementing "Refined Search"
16. How Do I Order My First Gig?
If you find a gig that fits your needs and budget, it is advisable to also check the reputation score of the SteemGigger involved before deciding to make an order.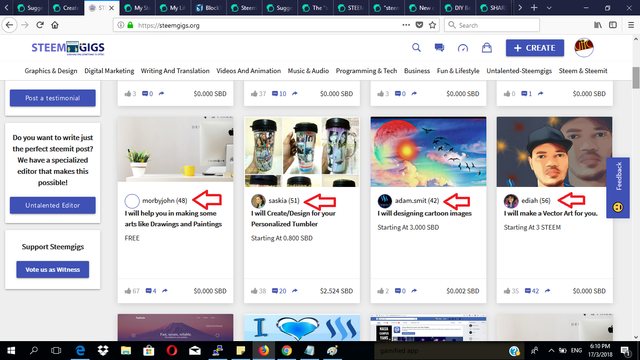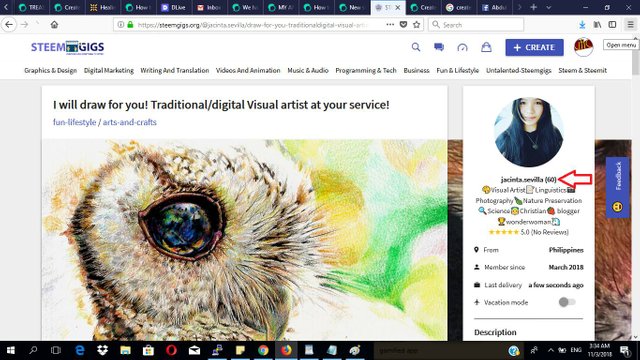 Their reputation score is same as on the steem blockchain. Profiles with higher reputation score have been established by the steem community, to be of higher reputation but this isn't always necessarily the case as it is very possible that profiles with low reputation score are reputable as well. 
Thus, it is essential to also take a closer look at other details, along with their reputation score e.g their résumé, portfolio, steemit activity, past blogposts, testimonials if any etc 
Every steemit account starts at a reputation score of 25, which increases as the steemit community starts to acknowledge positively, "the steem activity of these accounts". 
Please take extra caution, with profiles that have a negative reputation score e.g (-1) or reputation scores below 25.
After ascertaining that you want to avail of the gig, attempt to contact the SteemGigger. 
Responsible SteemGiggers are very likely to have customized profiles, to indicate their résumé. In many cases, you will be able to find their contact on their profile. In some others cases, SteemGiggers may leave their contact within their gig post.
Note: We are working on internal messaging.
For the sake of transparency, it is recommended that you start out conversations (related to Gig-Ordering) in the comment section of the gig post, so that the steem blockchain can record some evidence of ensuing interaction.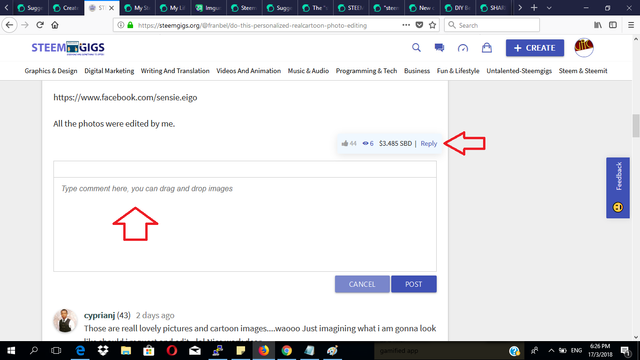 Further discussion where necessary, can then happen via private channels.
After successful or unsuccessful experiences, consider doing Steemgigs Testimonials.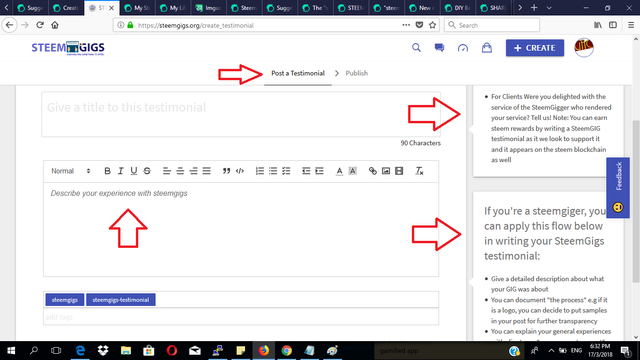 Among other things, testimonial posts also gives you opportunities to earn. Imagining being able to recover the money you have spent purchasing your gig, after doing a testimonial post that ends up adding value to the steem ecosystem, even as content. 
See how much this SteemGigs testimonial post earned!
Also imagine, how many more relationships or connections can be forged, when both parties paint each other in good light, using a testimonial.
Look at an instance of forged relationships resulting from a SteemGigs testimonial post: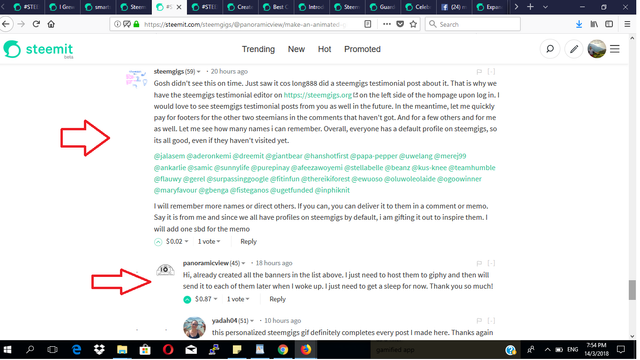 SteemGigs testimonials can also be used by SteemGiggers who want to document their process and progress, to aid transparency, reputation and earning potential.
e.g a logo designer may want to create a number of posts, showing the process and progress of the logo he is designing for his client.
Note: There is no limit on the number of SteemGigs testimonial posts, you can do over the course of a gig transaction. 
If you had a bad experience e.g a dispute, you can use a SteemGigs testimonial to document your experience, so that others can be wary about disreputable SteemGiggers and we can be proactive about settling matters.
17. How To Pay For A Gig?
After you have established a payment agreement and you want to make a payment, you will need to do so directly from your steem wallet. Every steemit account holder has a steem wallet. 
https://steemit.com/@yoursteemitusername/transfers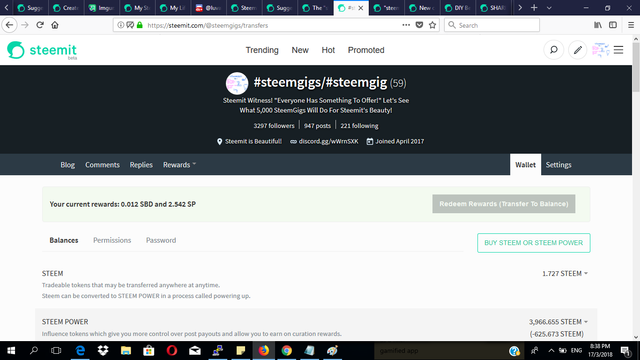 The various currency-type currently allowed on SteemGigs are:
Steem
Steem Backed dollars
Steem Power (Vested Steem)
Paying in steem or SBD is pretty straight-forward. Simply visit your steem wallet and execute a transfer! It takes 3 seconds.
See the screenshots below, if you are going to pay in Steem Power (Vested Steem):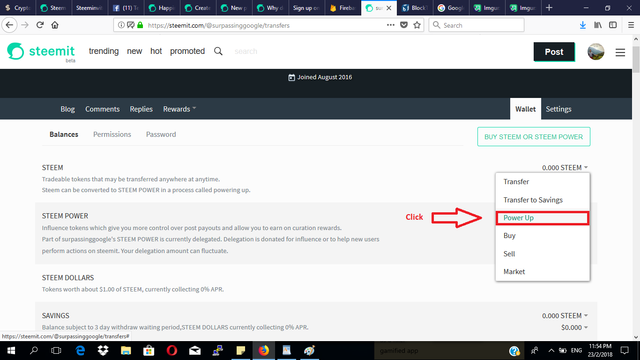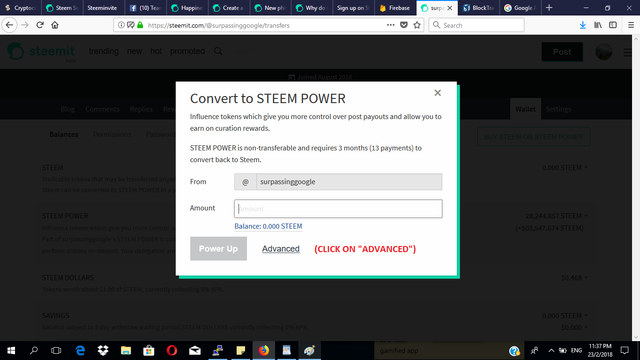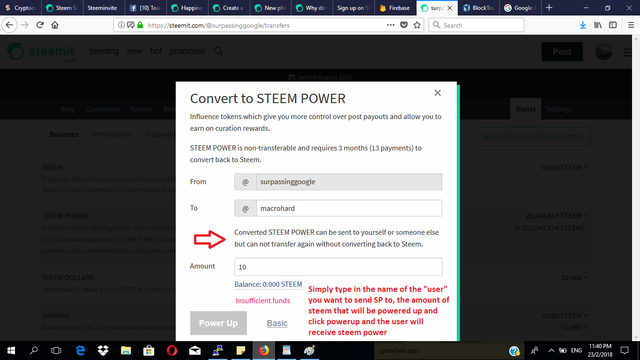 Note: You must have sufficient liquid steem 
e.g if your payment is 10 SP, you must have 10 Steem or above in your steem wallet.
You can find it towards the top left side of your homepage upon login as seen in the screenshot below: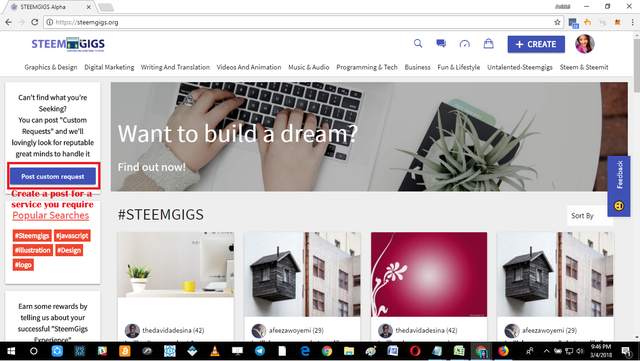 If you cannot find the service or product you seek in the search engine of https://steemgigs.org, you may create a a type of post called, a "custom request" using this editor, that details the exact kind of service that you seek and your budget.
Sample Use-Case: 
I am look for someone to teach me how to ride a space shuttle. (Maximum Budget 1000 Steem)
I need someone to help me write my brand name on the sands of a Jamaican seashore. (Maximum Budget 20 SBD)
I need someone to help me deliver 5 old Chemistry books, to 5 young students in Manila. (Maximum Budget 10 Steem Power)
19. How Do I Create A Custom Request?
The "custom requests" editor is very straightforward to use. Consider reading the style guide as seen on the right side of every editor on https://steemgigs.org
See screenshots below: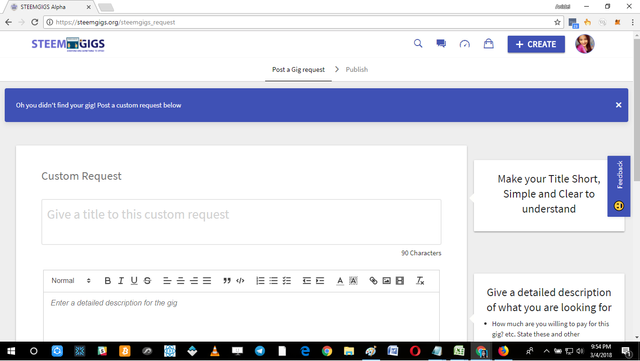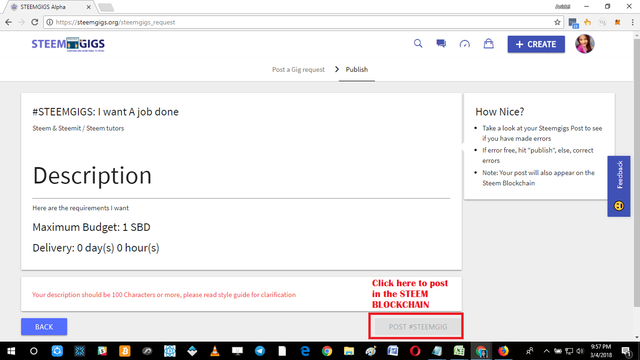 All custom requests are displayed on a special segment or row on the homepage of https://steemgigs.org upon login
See screenshot below: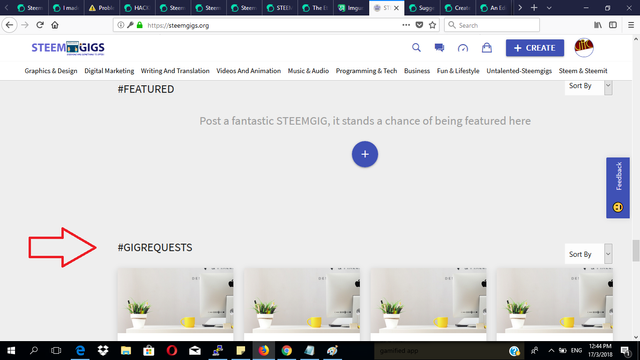 20. What Are Featured SteemGigs?
There is a segment of https://steemgigs.org (on the login homepage), reserved for showcasing outstanding gigs. 
See this screenshot: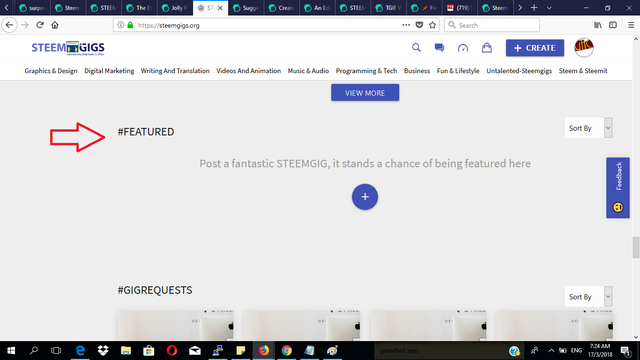 The Gigs (posts) featured in this segment, are those that have been published by the main @steemgigs account. These are featured Steem Gigs!
Being that Gigs (posts) also appear on steemit, we will consider publishing certain gigs using the @steemgigs main account and promoting these entries to more visibility, both on SteemGigs & Steemit.
e.g 
You may want your gigs to appear before more eyes and contact us to have your gigs published from our main account.
We may establish certain Gigs as outstanding and look to feature these gigs.
etc 
Overall, SteemGigs looks also to incentivize "good reputation", effort, content etc, by looking to reward both parties (SteemGiggers & Clients)
21. What Are Steemgigs Testimonials?
These are simply blog posts created and published by means of the "steemgigs testimonial" editor.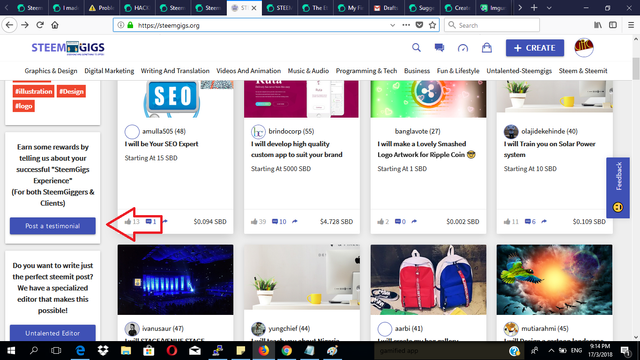 We expect SteemGiggers and clients to be reputable over the course of transactions, thus, we want to allow both entities, the luxury of being rewarded for documenting their experience on the un-eraseable, permanent steem blockchain. This aids transparency as well as enhances the general reputation model of the steem ecosystem.
SteemGigs testimonials also constitute valuable content and can rank in the search engines, promoting steem also as a community of reputable great minds and as a place where "everyone has something to offer".
Till we are able to implement an optional "escrow service", we will rely on SteemGigs testimonials as a way to keep reputation in check and pay rapt notice to these posts, so that we can be proactive about curbing potential disputes.
22. Why Are Testimonials Full-Blown Posts, Instead Of Simple Comment-Type Reviews?
Our motto is; "everyone has something to offer". 
Thus, apart from just creating gigs, we want to keep SteemGigs evergreen, by creating more use-cases for our website. 
We believe in organic growth and the search engines is a major way of accomplishing that, thus, we also want to pride ourselves in creating thousands of blogs daily to serve the search engines, promoting steem in a ton of beautiful ways. Hence, the need to keep "SteemGIGS testimonials", full-blown readable and enjoyable posts. 
We also want each one to do the "dreaming", leaving the "building" to us! 
SteemGigs testimonials allows both SteemGiggers and clients, to write more expressively, their entire experience. 
We believe this does way more in inspiring as many as want to, to dare to dream, with well-rooted conviction drawn from these testimonies, that they can come to SteemGigs and have dreams, enterprises, innovation ideas etc all built.
We want SteemGigs to preserve reputation
Knowledge that a positive SteemGigs testimonial can forge further relationships, stir connections and enhance résumé, will incentivizes both parties to keep their end of the bargain.
23. Why is SteemGigs important?
To build a dream is hardly ever easy. There may be odds! 
These odds may be lack of mentorship, lack of direction, lack of expertise, lack of capital, lack of connections etc
Whatever is lacking, we want to passionately offer it. 
But, what if you no longer dream? Many times, that is what is actually starting to lack. Yes, because of the incessant thought that every other thing is lacking, we halt dreaming altogether or no longer dream limitlessly.
SteemGigs: Is an ecosystem where "everyone has something to offer", thus, making each dream closer to "attainable". 
We passionately look to prove this and more.... 
We aim to incentivize the process of "mining the human". 
We aim to reward even "attempts at out-of-the-boxness". 
We aim to reward even the art of "sifting sense from non-sense". (Just perhaps, we will be re-sparked into dreaming again). 
Then, we will aim to reward reputable SteemGiggers, who put their expertise into testimonial good use, in helping you build your dreams.
To remove all barriers, we also added an untalented paradigm to SteemGigs, aiming to prove one thing: that, if we eliminate bum, average, smart; "we are genius".
Everyone has something to offer!
24. Are Any Other Revolutionary Facets of SteemGigs?
As we want to make sure that "everyone as something to offer", we will seamlessly make SteemGigs into a complete hub of knowledge-base. 
Many times, for dreams, innovation ideas etc to attain fruition, INTEL has been the only thing missing!
Not only will you be able to offer gigs and request gigs; you will also be able to seek knowledge, hone your expertise, attain directions etc. 
You will eventually be able to surmount hurdles, tend to your own tasks or build your dreams, yourself! Then, you will graduate into being able to offer your expertise as a service towards others. 
Unlike mainstream freelancing marketplaces, we want SteemGigs to constitute a solid means to positive world-adjustment, thus we will look to continuously add features, making the use of SteemGigs evergreen; "a curriculum!"
We want SteemGigs to amplify the beauty of blockchain; "the steem blockchain".
On mainstream marketplaces like Fiverr, Upwork, Freelancer etc endeavors are mostly built around "business". 
There isn't a real community, thus, it can very easily turn into a large database of  résumé(s), where people just visit to seek out talents > go into private conversations > complete orders > say good bye till the next need arises. 
SteemGigs is built around the steem blockchain and backed by an actual "solid community of great reputable minds" who have real interest in one another. 
We don't want to just build a database of talents and résumé(s). 
We want to build a hive, where each one is a celebrity, moreso, because he relishes having testimonial impact on history by helping the next person build their dream. A hive where each one knows the other, down to what each one can offer, for in hands of the noble, this is ginormously powerful INTEL.
So yes; we will gradually add dimensions to SteemGigs, that will keep users in incessant excitement about the art of "mining the human into its awesomest version".
We don't want a situation where you simple publish, say 5 gigs > customize your profile > leave >> to return whenever you get a notification of your next client. 
We want you to hangout on SteemGigs.
We want you to stay ever-active, enjoying the use of SteemGigs and this is where our very edge lies. 
Thus, one other paradigm we have added, just to show a glimpse into the future dynamism of SteemGigs is the untalented paradigm. 
In the nearest future, we will also integrate a main segment on the homepage dedicated to "creative contests"  as well as knowledge-based and empowerment-related categories involving e.g "how-to", DIYs, tutorials, TIL (Today I Learned) etc all with specialized editors and full steem interaction capability i.e upvotes, replies, messaging etc right there on https://steemgigs.org 
25. What is the "untalented editor"?
You can find the untalented editor on the left side of the SteemGigs homepage, upon login. 
See screenshot below: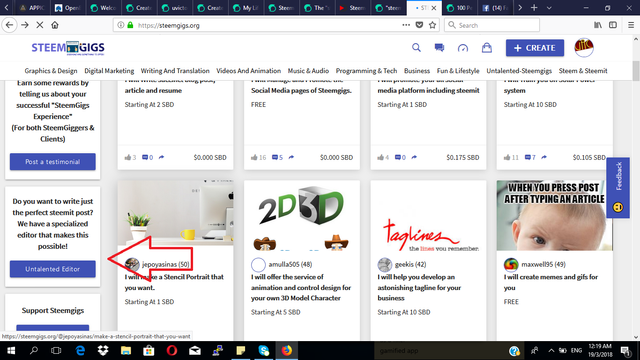 It is simply a specialized editor that you can use to create enviable steemit posts. In a bid to fix content curation & discovery challenges related to steem (in the nearest future), we are experimenting with specialized editors. 
On SteemGigs, we have added the untalented editor, to enhance the ability of steemians in creating very valuable, curate-able steemit posts. 
We have simplified the editor, so that it is very easy to stylize and format your steemit posts.
You can use this editor to create steemit posts under any tag or niche. This is among the best editors for newer steemians especially as it makes it easy for you to create posts, without worrying much about HTML or post-formatting.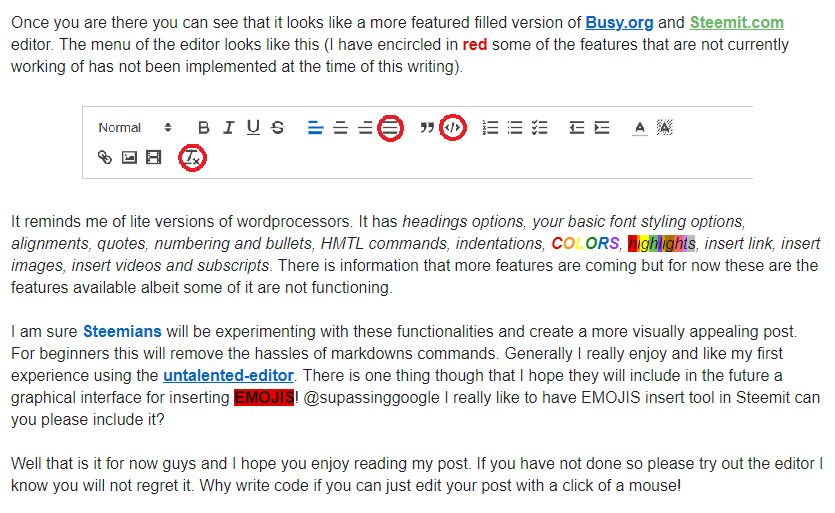 For now, posts created using this editor only appears on https://steemit.com & https://busy.org. Being that colors aren't yet appear-able on these interfaces, we considering emoji capabilities to the untalented editor in the coming days or weeks
It has a style guide for newbies as well, to help them create the perfect introductory post.
26. What Is Untalented-Steemgigs?
This one of the main categories on SteemGigs, that allows you to offer a service, even when you don't consider yourself an expert yet.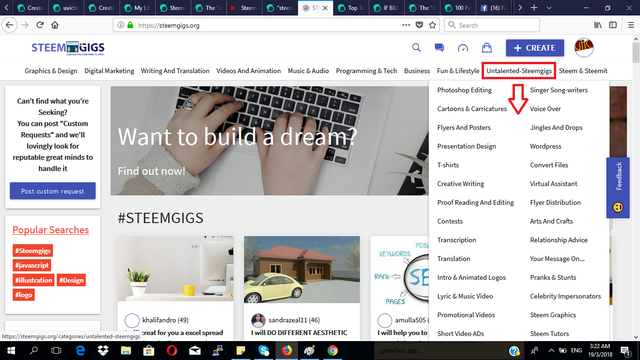 We don't want any level of talent or potential talent to go amiss and we strongly believe that there is a lot of talent in "the attempt" i.e "in attempts at out-of-the-boxness" 
e.g if you are constantly told that your drawing (art) is child's play and you keep attempting it your drawing (art) regardless, there is untold "talent" in "the attempt". 
Hence, we want to have room as well, for many who want to try out their hands at offering a service but who haven't developed enough confidence or expertise to proclaim themselves experts. 
This is all you need to know whenever you decide to choose Untalented-Steemgigs as your main category, during the course of creating your gig post:
Want to offer a Gig but feel that you are not an expert yet? The Untalented-Steemgigs category is for you! It allows you to still offer a service, while honing your skills into perfection. Clients may want to try your service out, even with the knowledge that you aren't an expert, thus, consider providing affordable rates to stir further relationships. Stay reputable and sincere and use opportunities as an avenue to evolve into an expert.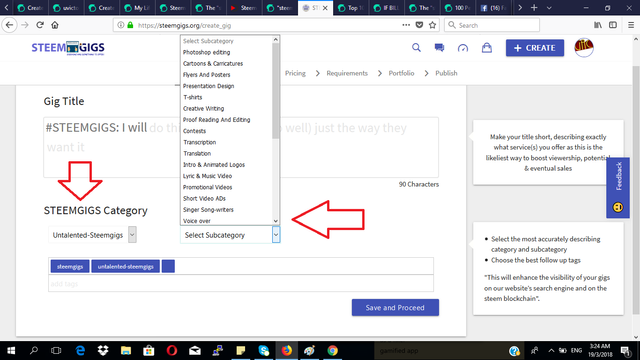 Bottomline? On SteemGigs, "everyone has something to offer".
Note: Untalented-SteemGigs mostly contains a list of sub-categories that aren't too critical-mode tasks and can afford a measure of flaws e.g Photo-Edits, Fun & Lifestyle, Relationship Advice etc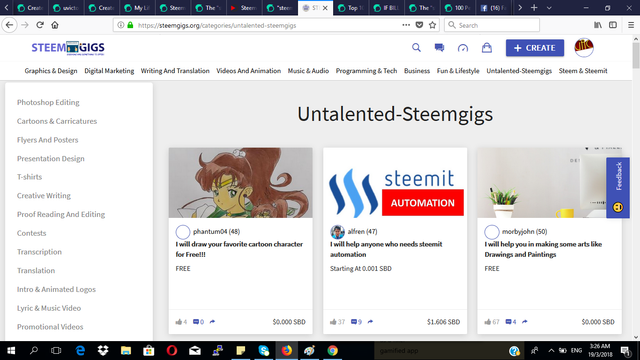 Gig posts that fill up this categories will be tagged Untalented-SteemGigs, so that potential clients can know first-hand that the steemians offering these services aren't yet experts.
27. Do My Gig Posts Appear In The Search Engine?
Yes, every genre of post published from https://steemgigs.org are indexed by the search engines (Google, Bing, Yahoo etc) and will show organically in search results.
28. What Can I Do If I Experience Some Difficulties Using SteemGigs?
SteemGigs is an open source project, thus, love it like your own!
Exercise patience and join us in perfecting it. 
You can easily leave us feedback on the website's feedback widget or join in with the SteemGigs community on discord, so that together, we can build the most loveable SteemGigs.
We are growing our support team! Thus,:
29. What If I Encounter A Dispute?
First course of action is to stay reputable. 
Disputes can occur in a community and SteemGigs is a community but disputes are manageable and can be resolved even by using measures as simple as patient, tactful conversations etc 
For now, SteemGigs is solely peer-to-peer, relying mostly on the transparency & "reputation paradigm" of the steem blockchain, when it comes to resolving disputes.
Down the road, we may consider implementing an "escrow service" but even that will be on an OPT-IN basis.
Thus, you can always speak about your SteemGigs experience in full-blown posts called "SteemGigs Testimonials". These testimonials will be recorded on the steem blockchain and unerase-able. 
Testimonials are in existence primarily to forge further connections, up-build relationships, improve general reputation etc but can also be used as media to warn others in the community of disreputable SteemGiggers or Clients, so that others can be wary about disreputable SteemGiggers and we can be proactive about settling matters.
Thus, whenever you decide to use a SteemGigs testimonial to relate a not-so-nice experience with a client or SteemGigger, your primary aim shouldn't be to tear another down but to make others wary of these disreputable individuals and ultimately to educate and stir positive change.
Please consider consulting with me (@surpassinggoogle) in cases where you need help with resolving disputes. 
If i am not reachable, reach out to any of the moderators on the discord server and they will reach out to me where needed.
30. Does SteemGigs Have A Flourishing Community?
Yes, we have a community of close to 4,000 SteemGiggers on discord alone, who have stuck together over the course of 10 months to bring https://steemgigs to life. 
We have many renown and veteran steemians as well, who have loved SteemGigs from its conception. 
Gratitude goes everyone e.g @stellabelle @kus-knee @virtualgrowth @oluwoleolaide @ehiboss @gbenga @destinysaid @tojukaka @ewuoso @fisteganos @ogoowinner @aderonkemi @thereikiforest @artaddict @samic @ankarlie @purepinay @sunnylife @immarojas @teamhumble @drpuffnstuff @valued-customer @steemitqa @thatsweeneyguy @inphiknit @cloh76 @papa-pepper @benjojo @blocktrades @jaki01 @teamsteem @tamim @andrarchy @lovejoy @giantbear @donkeypong @hanshotfirst @acidyo @jrcornel @merej99 @sykochica @beanz @thejohalfiles @fabien @elear @ekitcho @uwelang @anotherjoe @benjojo...............(a really long list of many who have inspire this grand event).
31. How Can I Contribute To The Development Of SteemGigs?
If you are a user of our website, you can always leave us a quick feedback or suggestion. We have a feedback widget across SteemGigs, that allows that.
See screenshot: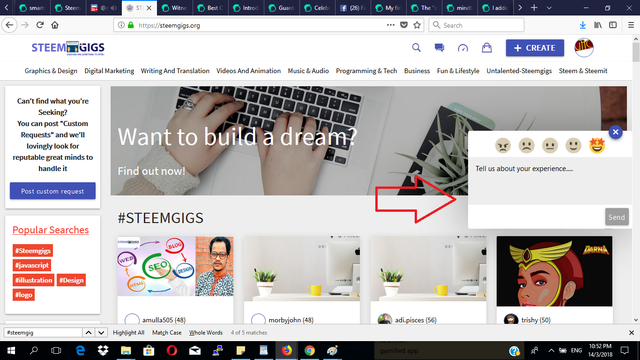 Overall, we make use of analytical tools to help us measure user experience and improve SteemGigs seamlessly. 
Remember too, that SteemGigs is open-source, both front-end & back-end and synced with Utopian, the only steem-based community that rewards open-source contributions. So exercise freedom in visiting Utopian to do well detailed contributions e.g suggestions, feature requests etc, so we can use this feedback to improve our website. 
Add your UI contributions to steemgigs/steemgigs on utopian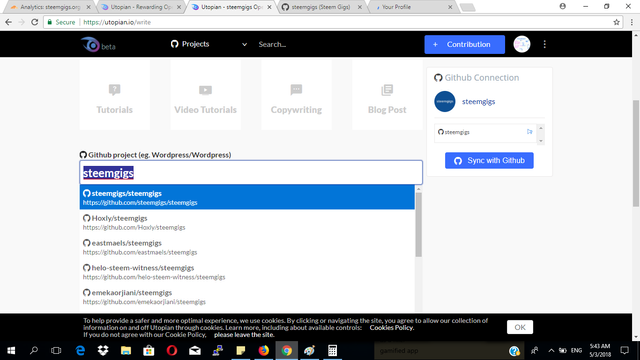 Finally you can give us direct feedback on our discord help center here. Feel free to ping either @jalasem @afeezawoyemi @eastmael on there. 
If you are developer or coder and you want to contribute code, consider looking at our project on Github and any open issues. 
SteemGigs is an organization on Github, allowing developers to set up teams for more enhanced contributions.
We recommend coders/developers to also consider using Utopian for your contributions as you can get rewarded in steem-based currency for doing so. 
32. How Can I Support SteemGigs Using Steemit?

Do well to talk about SteemGigs using your steemit posts.
Kindly support the "steemgigs" witness by voting on it here.
If you spot any level of talent or potential talent during your daily curation effort, kindly leave them an encouraging comment and politely direct them to https://steemgigs.org or get them a SteemGigs personalized GIF footer and gift it to them. 
etc
33. What Next?
Let us go push and displace Mount Kilimanjaro by 33km at 33km/hr with our awesomeness.
Let us make more use of the steem blockchain, to reshape the very internet.
Visit https://steemgigs.org today. Let's hangout on there together, forever!
Your Boy Terry
@surpassinggoogle @steemgigs SG
To vote my witness, simply visit https://steemit.com/~witnesses and type in "steemgigs" into the first search box for witnesses or simply click Here to do it on one click!
If you want me to make witness voting decisions on your behalf, simply visit https://steemit.com/~witnesses and type in "surpassinggoogle" in the second box for proxy.