Graduation Showcase of Newcomers Achievement Program : Batch July 2021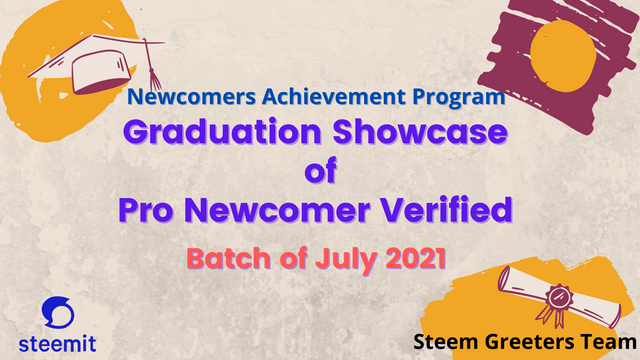 In this post, we would like to showcase a list of newcomers that have completed all their achievements tasks and received Pro Newcomer Verified title at the Newcomers Community.
We also announce 5 Pro Newcomers that will receive 1 month of 1000SP delegation for their activities and engagements on Steemit.
A total of 253 Newcomers have completed their Newcomers Achievement Program.
The previous batch graduation post is here Graduation Showcase of Newcomers Achievement Program : Batch June 2021
Batch of July-August 2021 (Total of 179 Users)
The Steem Greeters Team Project has received a support/sponsorship of 10,000SP delegation from @steem.history one of the Steem Blockchain Top 20 witnesses. We are able to reward our Pro Newcomers who graduated with the delegation because of this generous support from him in addition to the support of The Steemit Team.
How we use this 10,000SP delegation?
We will allocate 5000 SP to selected 5 Pro Newcomers that being helpful in the Newcomers Community and also on Steemit platform as a whole.
Then another 5000SP is for 30 SP Support for Newcomers that have less than 30SP and have completed their Achievement 1 30 SP Delegation for Newcomers Open for Application📢
These users will receive the 1000SP delegation until next month of August
@warrenjemkis
@sisol
@y0gi
@cherub27
@dharamps
We hope more of you will be completing your achievements tasks, being active, and being helpful in the Newcomers' Community for a chance to receive the 1000SP delegation.
Steem On!
Steem Greeters Team.

p/s: please let us know if we somehow missed your name on this list of Pro Newcomer Verified.