Hi everyone!!

This Sunday I ventured to cook a new recipe!! I love this dish but never prepared it before...only ate it in restaurants.
There's no time for chit-chat, the recipe has some steps to go...curious!? (Portuguese readers already know what it is)

Olá a todos!!

Este Domingo aventurei-me numa nova receita!! Eu adoro este prato mas nunca o fiz em casa...comi sempre em restaurantes.
Não há tempo para paleio, a receita tem bastantes passos...os portugueses sabem bem o que é!!
For this SundayCook I prepared | Para este SundayCook preparei:
Francesinha!!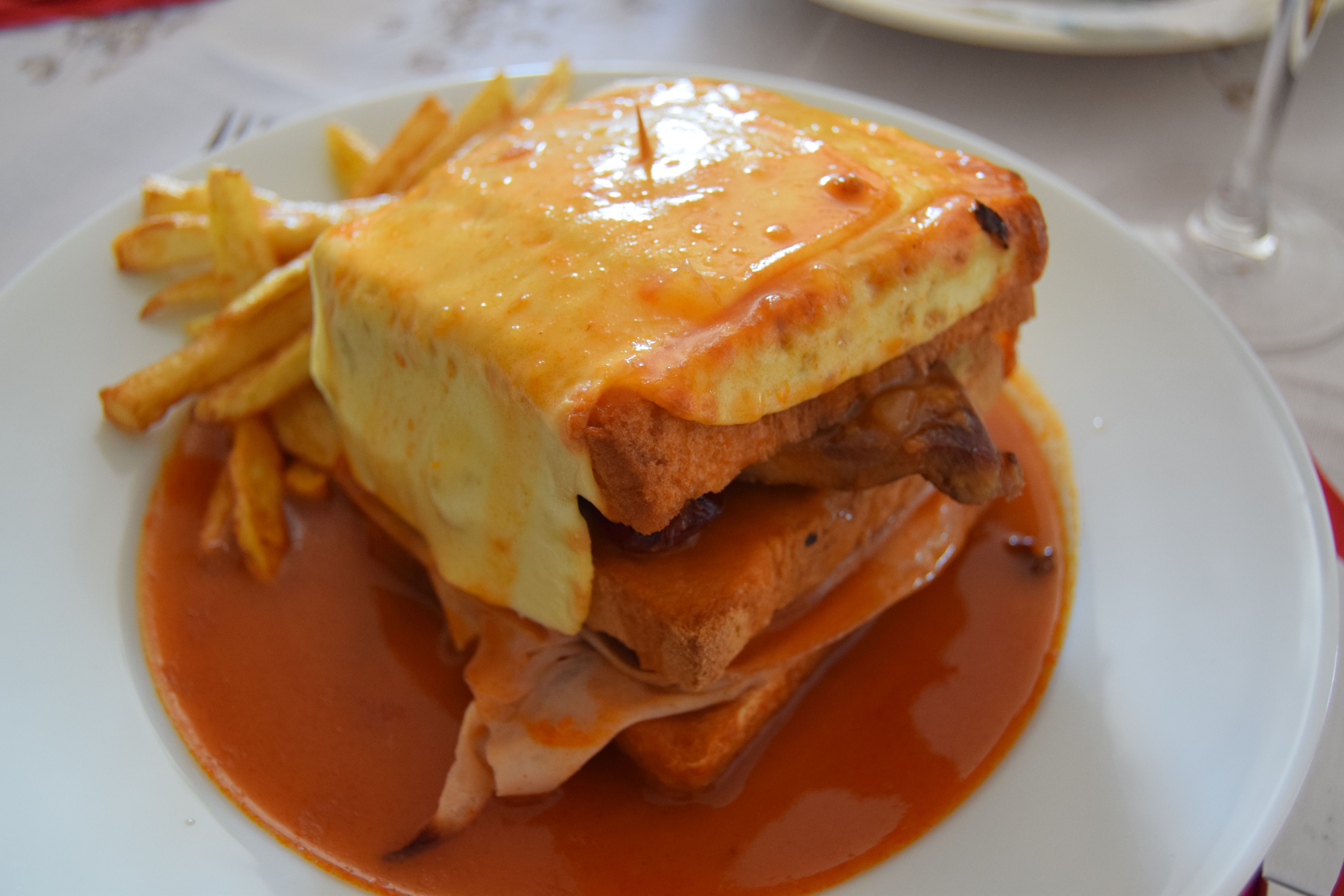 Ingredients | Ingredientes:
Sandwish
12 slices of bread | - 12 fatias de pão de forma
8 slices of ham | - 8 fatias de fiambre
4 sausages | - 4 salsichas
4 spicy chorizos | - 4 linguiças picantes
2 or 3 butt chops | - 2 ou 3 costeletas do cachaço
12 slices of flamenco cheese | - 12 fatias de queijo flamengo
Sauce | Molho
1 onion | - 1 cebola
2 bay leaves | - 2 folhas de louro
3 chilli pepper | - 3 malaguetas
100g chorizo | - 100g chouriço de carne
250g tomato sauce | - 250 g polpa de tomate
1,5 l water | - 1,5 l água
2 tablespoons oxtail soup (packet) | - 2 colheres de sopa de sopa de rabo de boi
20g seafood broth | - 20g caldo de marisco
5 tablespoons of Worcestershire sauce | - 5 colheres de sopa de molho inglês
25ml beer | - 25ml cerveja
1 tablespoon whisky | - 1 colher de sopa de whisky
2 tablespoons maize starch | - 2 colheres de sopa de amido de milho (maizena)
olive oil and salt (to taste) | - azeite e sal (a gosto)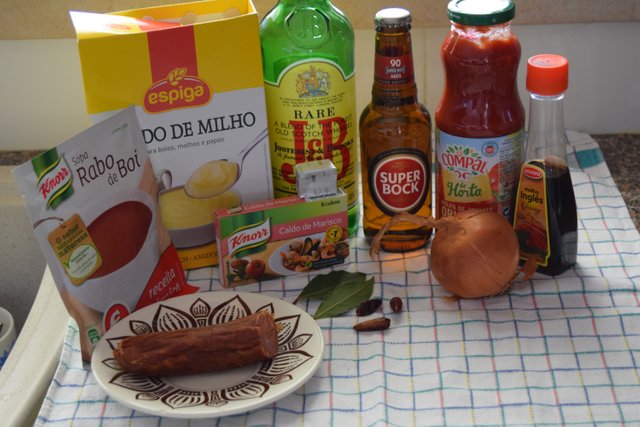 Sauce preparation | Preparação do molho
| | |
| --- | --- |
| 1 - Peel, wash and cut the onion into cubes. Place it in a saucepan with olive oil, the two bay leaves and chilli peppers. Let fry for 3minutes. Add the chorizo, let fry for 5 minutes and finally add the tomato sauce. | 1 - Descascar, lavar e cortar a cebola em cubos. Colocar numa panela com azeite, duas folhas de louro e as malaguetas. Deixar refogar por 3 minutos. Juntar o chouriço, deixar fritar por 5 minutos e por fim juntar a polpa de tomate. |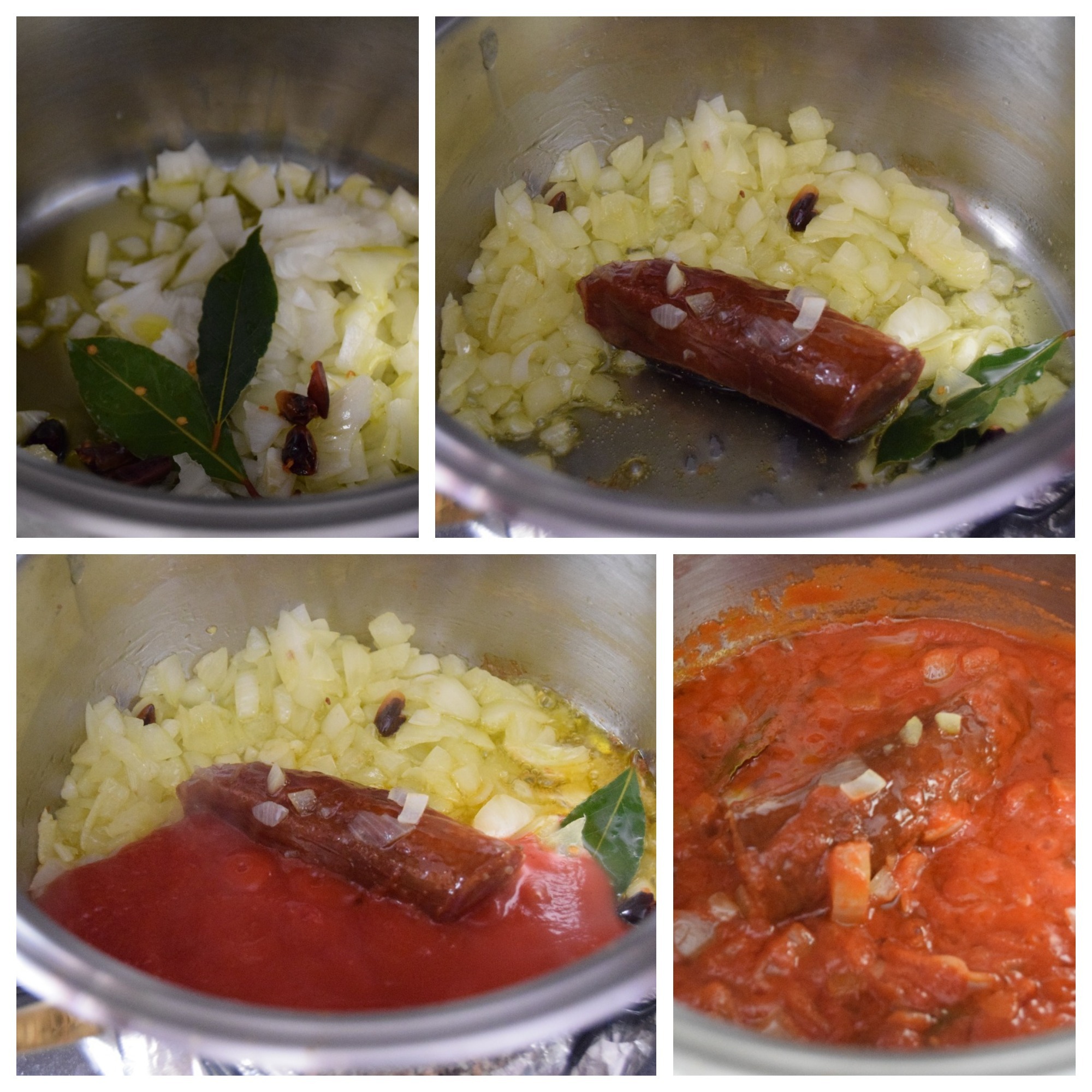 | | |
| --- | --- |
| 2 - Add 0,5l of water, 2 tablespoons​ of oxtail soup and 20g of seafood broth (2 cubes). | 2 - Juntar 0,5l de água, 2 colheres de sopa de sopa de rabo de boi e 20g de caldo de marisco (2 cubos). |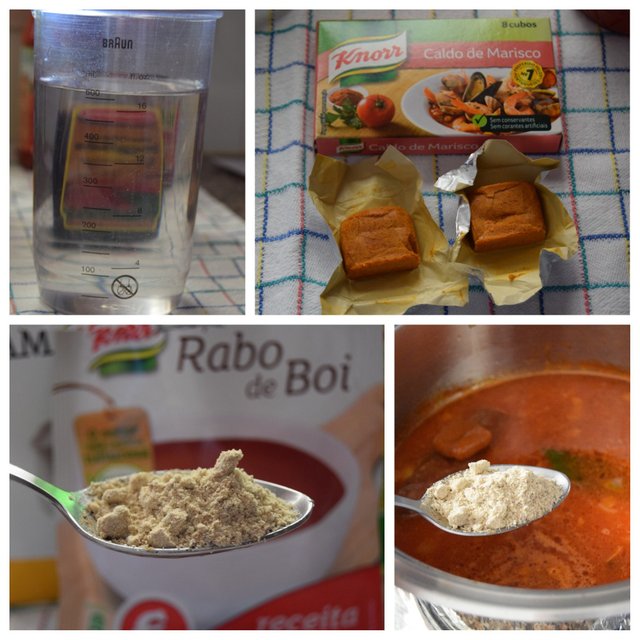 | | |
| --- | --- |
| 3 - Add the Worcestershire sauce, beer, whisky​ and the rest of the water (1l). Let it boil, then reduce to low heat (covered) and cook for about one hour to enrich the flavors. | 3 - Juntar o molho inglês, a cerveja, o whisky e a restante água (1l). Depois de ferver, reduzir o lume e deixar apurar durante cerca de 1 hora. |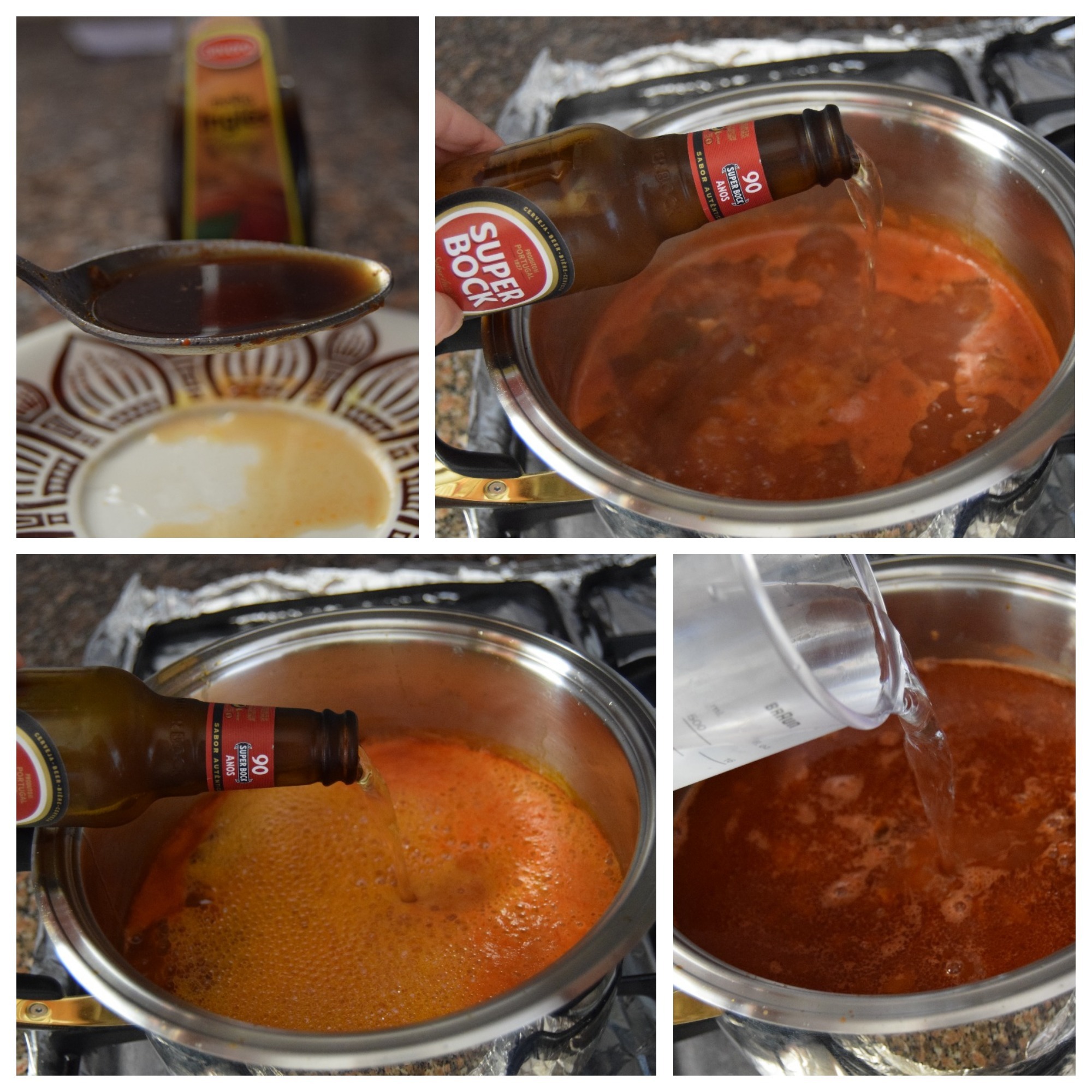 Sandwich preparation | Preparação da sandwich
| | |
| --- | --- |
| 4 - Meanwhile, cut the sausages and spicy chorizos in halves, and grill it. Season the butt chops with salt and pepper, and grill it too. Set aside. | 4 - Entretanto, partir as salsichas e linguiças ao meio e grelhar. Temperar a carne com sal e pimenta e grelhar também. Reservar. |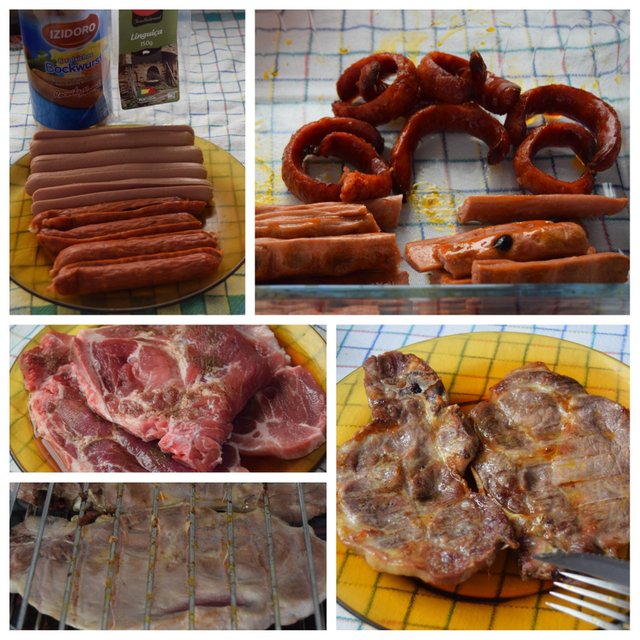 | | |
| --- | --- |
| 5 - Cut the bread into slices (1 - 1,5cm) and toast it. | 5 - Cortar o pão de forma em fatias (1-1,5cm) e torrá-lo. |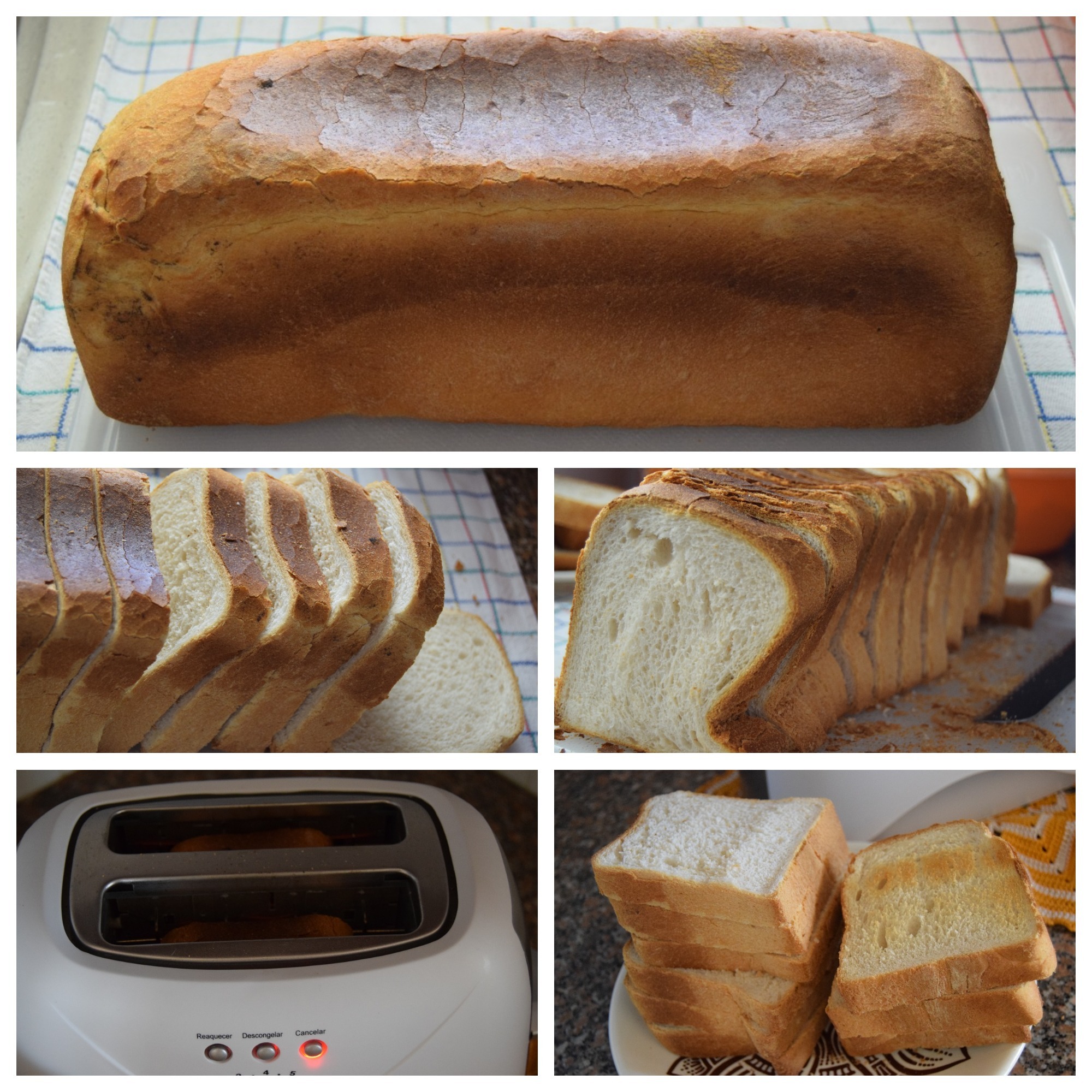 6 - It's time to finish the sauce. Remove the chorizo, bay leaves and chilli pepper. Grind the sauce with a hand blender.
7 - Dissolve the maize starch in cold water and add it to the sauce, so it can get tick. Stir while boiling. Turn off the heat.

6 - Está na altura de finalizar o molho. Retirar o chouriço, as folhas de louro e as malaguetas. Triturar o molho com uma trituradora.
7 - Dissolver o amido de milho em água fria e juntar ao molho para ajudar a espessar. Mexer enquanto ferve por uns minutos. Desligar o lume.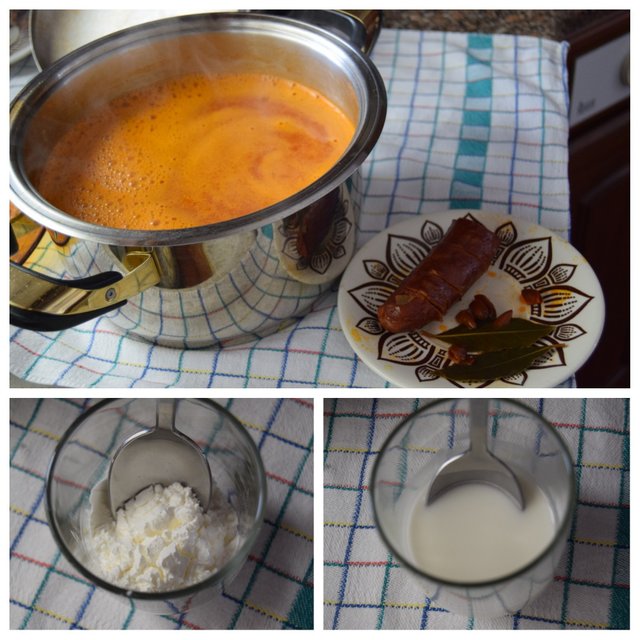 | | |
| --- | --- |
| 8 - Gather the different ingredients: toasted bread, meat, sausages and chorizo, ham and cheese. It's time to create the assembly line! | 8 - Reunir os diferentes ingredientes: pão torrado, carne, salsichas, linguiça, fiambre e queijo. Está na hora de abrir a linha de montagem! |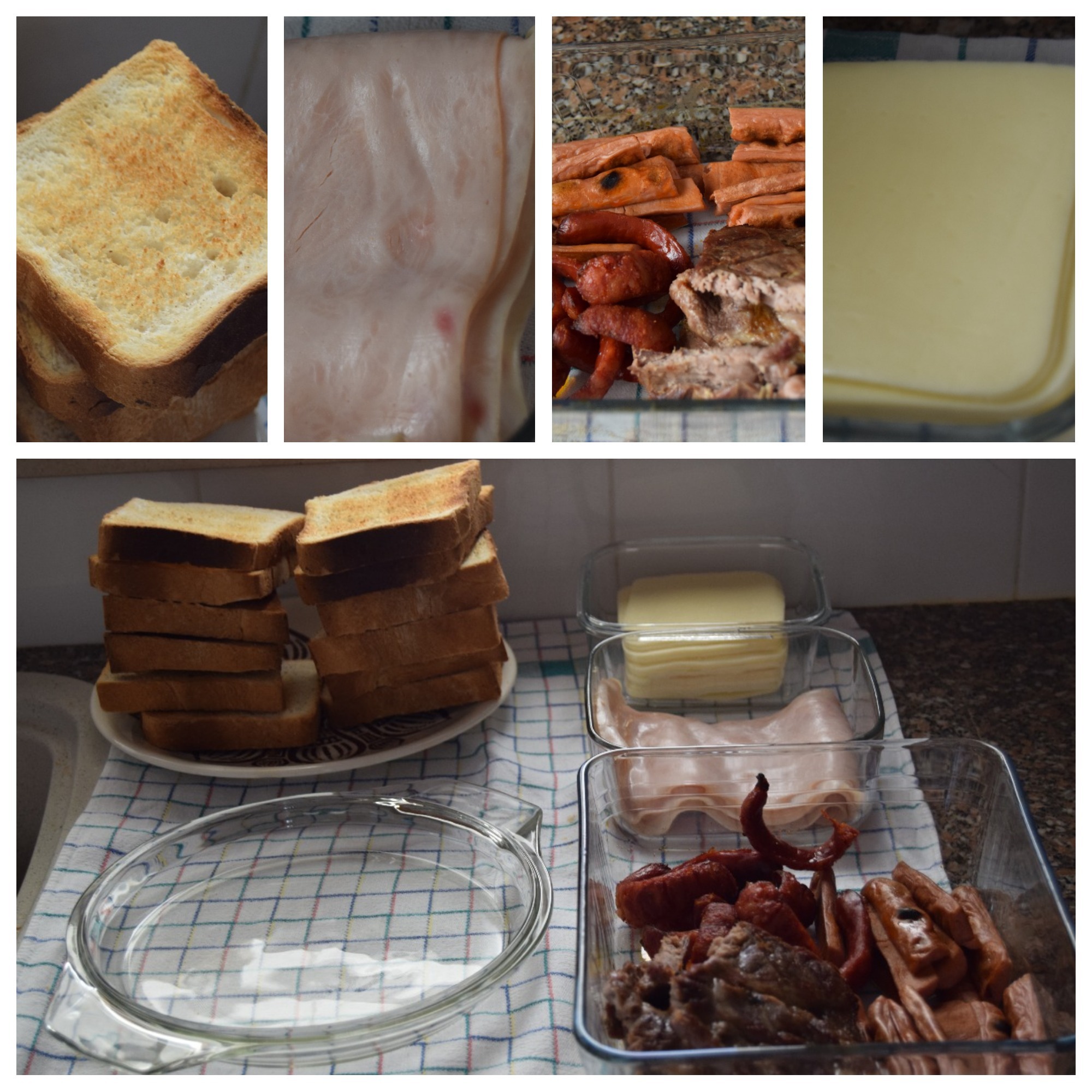 | | |
| --- | --- |
| 9 - First, place a slice of bread on the bottom of a dish/ baking tray. Then, place two slices of ham, one sausage cutted​ in 4, and another slice of bread. | 9 - Primeiro, colocar uma fatia de pão no fundo de um prato/ travessa de ir ao forno. De seguida colocar duas fatias de fiambre, uma salsicha cortada em 4, e outra fatia de pão. |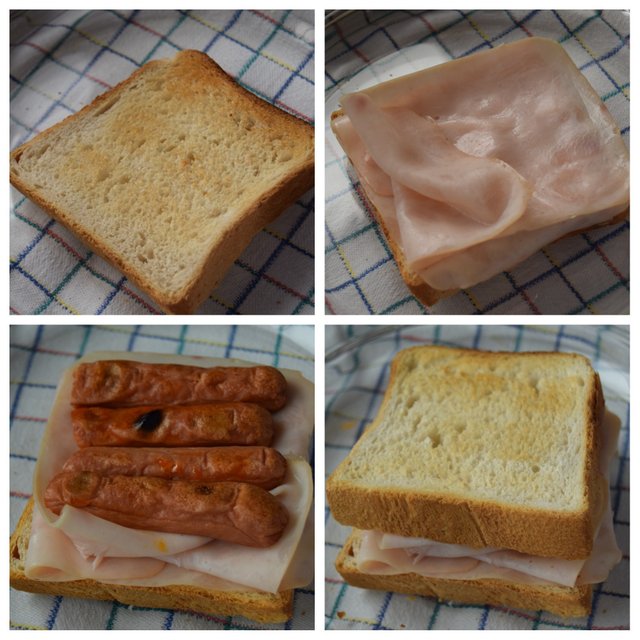 | | |
| --- | --- |
| 10 - Place the spicy chorizo, the meat and the last slice of bread. Finalize with 3 slices of cheese. Hold it with a toothstick or something similar that help to keep the sandwich in place. | 10 - Colocar a linguiça, a carne e outra fatia de pão por cima. Finalizar com 3 fatias de queijo. Segurar com um palito, ou algo semelhante que ajude a manter a sandwich montada. |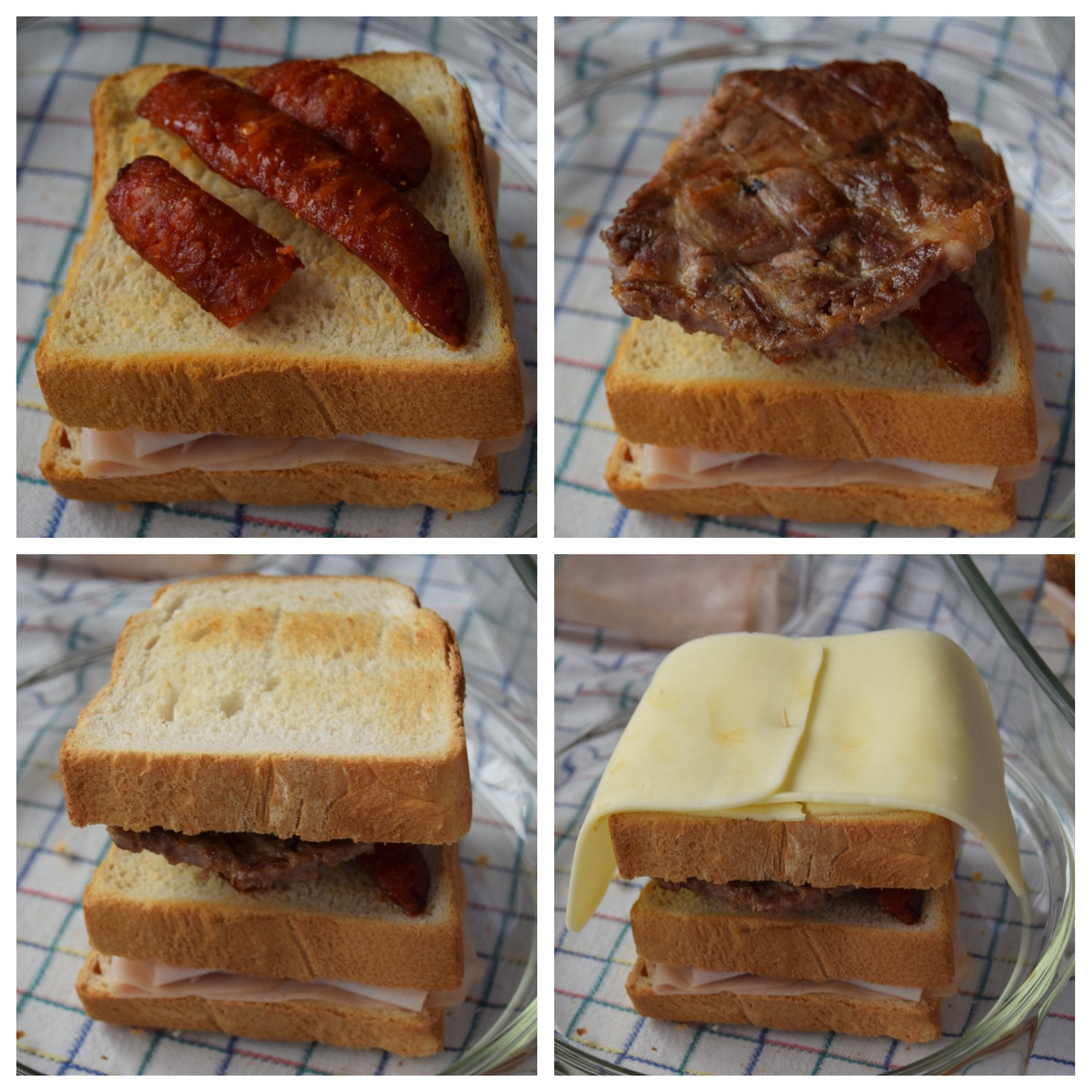 | | |
| --- | --- |
| 11 - Cover the sandwich with the prepared sauce and place the dish in a 180ºC preheated​ oven until the cheese gets melted. Keep some sauce warm in case you need to add more to the sandwich (I love it with tons of sauce!) | 11 - Cobrir a sandwich com o molho e colocar no forno pré-aquecido a 180ºC até que o queijo derreta. Manter algum molho quente caso seja preciso adicionar mais à sandwich (eu adoro com imenso molho!) |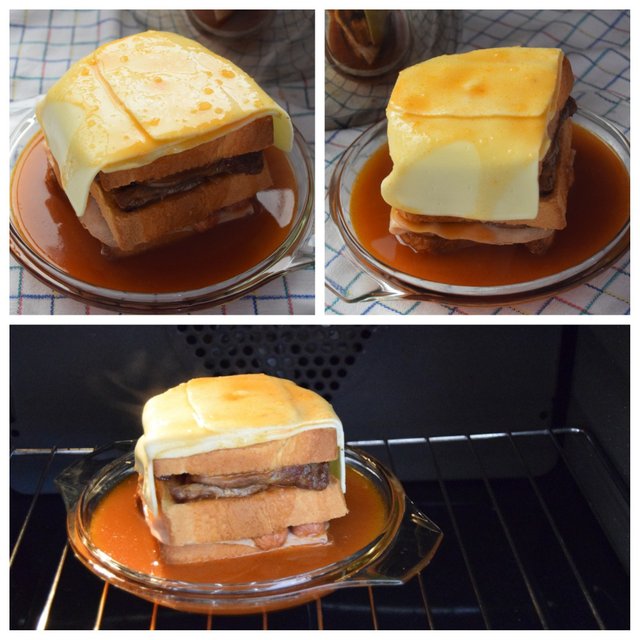 | | |
| --- | --- |
| 12 - I fried some potatoes as a side dish​ to Francesinha, but it's optional. | 12 - Eu fritei batatas para servir de acompanhamento à Francesinha, mas é opcional. |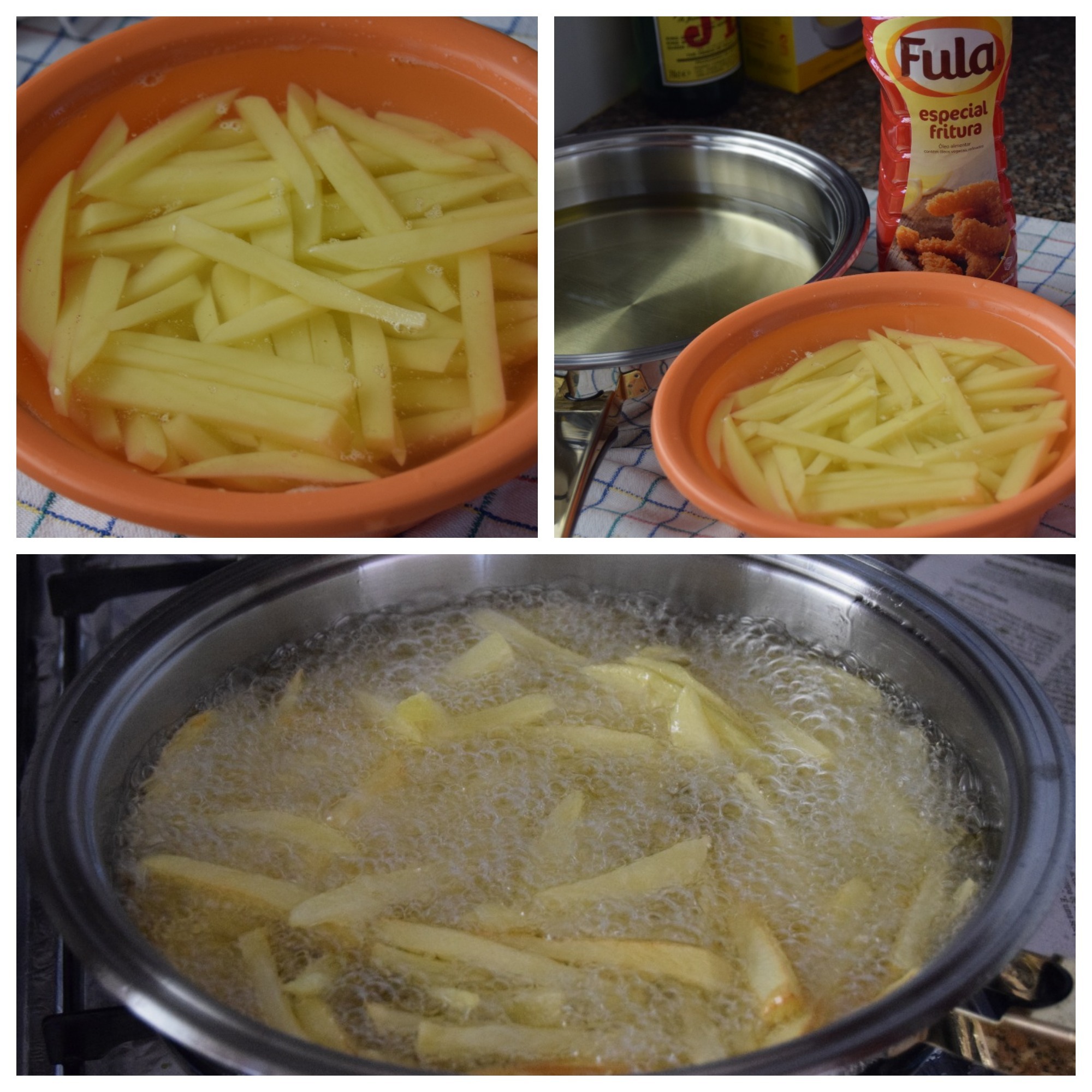 It's ready to serve!! | Está pronto a ser servido!!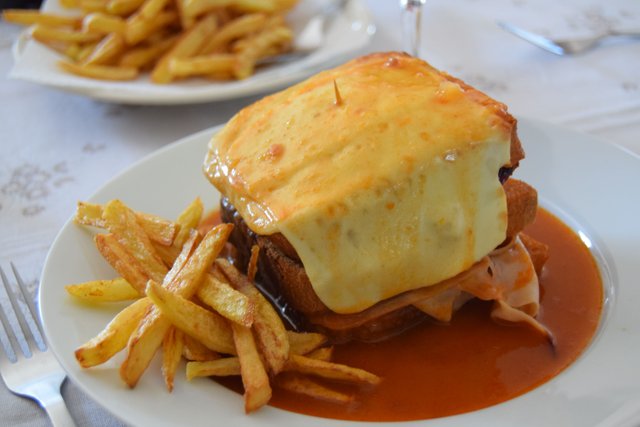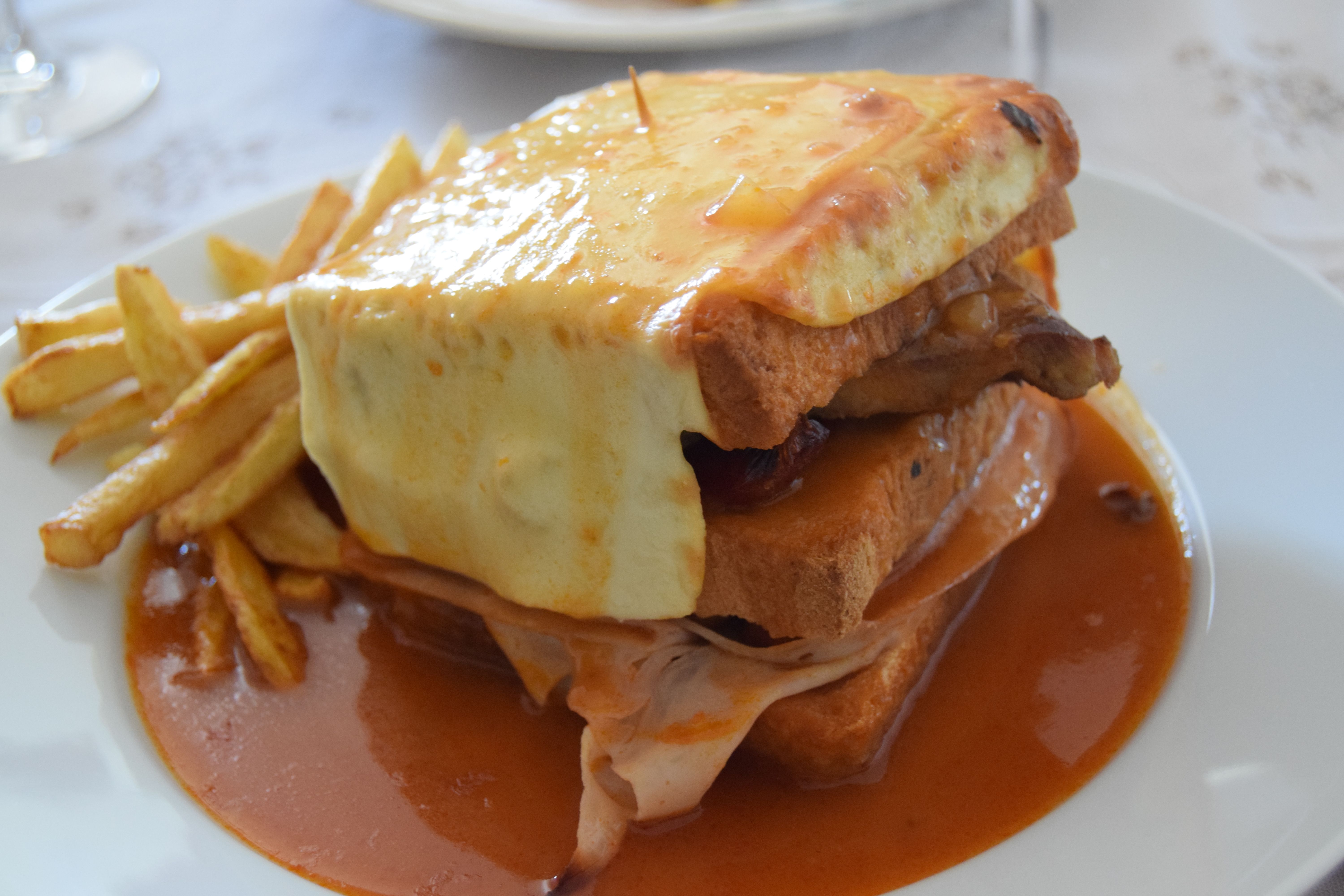 This time I had the Francesinha with a coke... | Desta vez acompanhei a Francesinha com coca cola...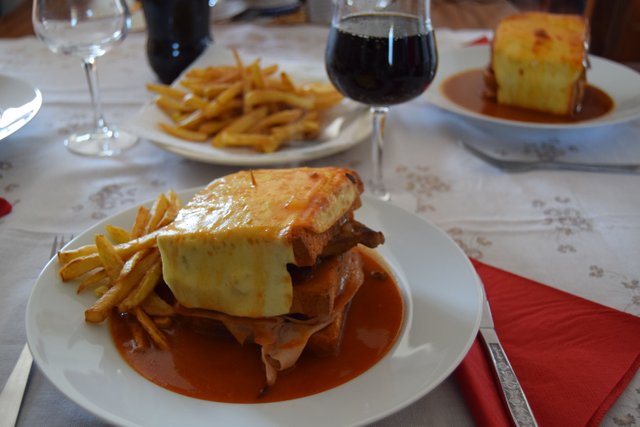 ...but it's great with a cold beer! | ... mas é igualmente boa com uma cerveja bem fresca!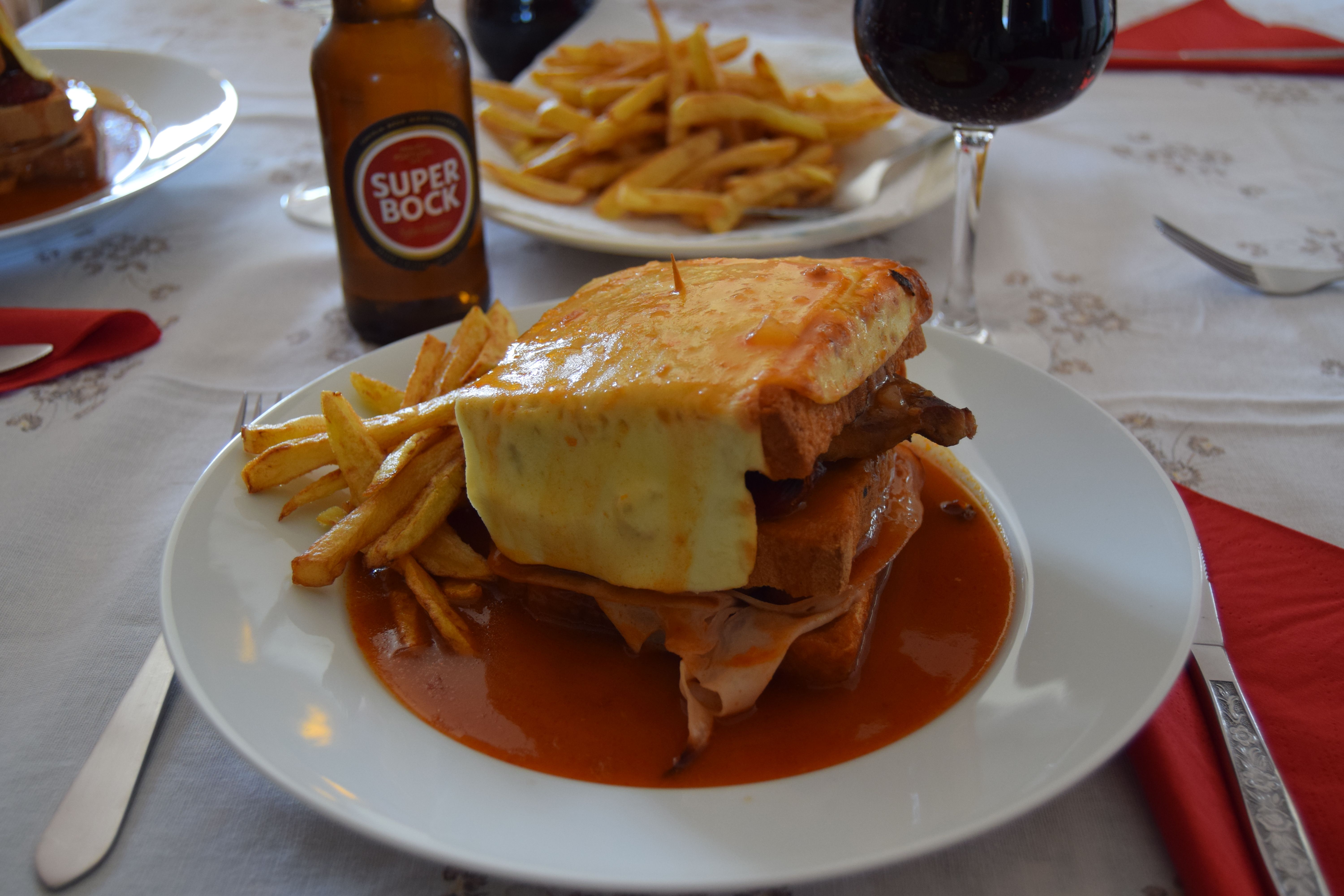 I can't say what I like the most, the melted cheese, the sauce, the fries...it's the mixture!! Não consigo dizer do que gosto mais, se do queijo derretido, do molho, das batatas fritas...é a mistura!!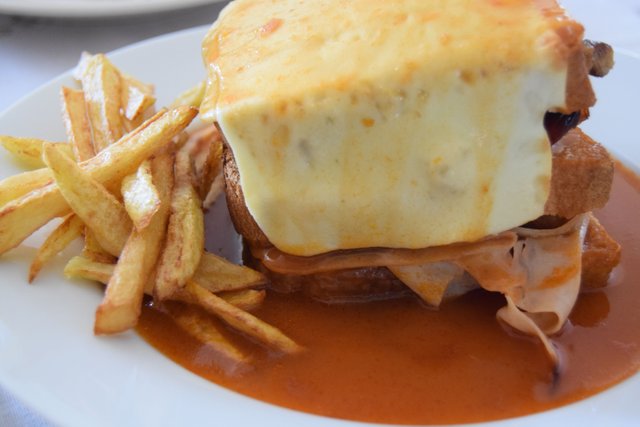 This is the kind of dish we can't eat all the time, but when we do...you'll get it by my face! | Este é um prato que não podemos comer muitas vezes, mas quando o comemos...dá para perceber pela minha cara!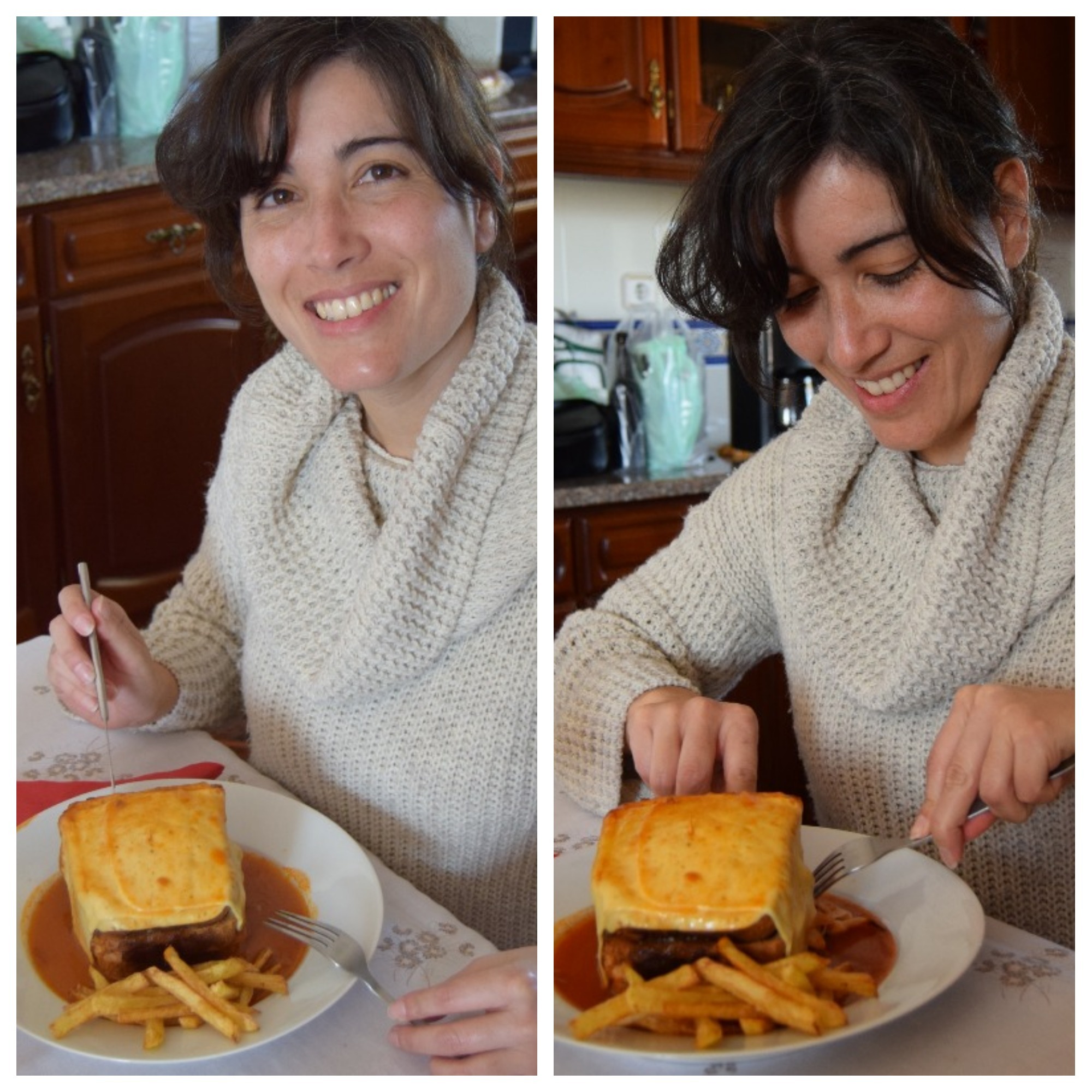 | | |
| --- | --- |
| We finished this meal with an amazing dessert​: Ló de Óbidos, a sweet sponge cake with pure cocoa and Ginja de Óbidos. A must try!! | Terminámos esta refeição com uma sobremesa fantástica: Ló de Óbidos, um pão de ló de cacau puro com Ginja de Óbidos. Recomendo!! |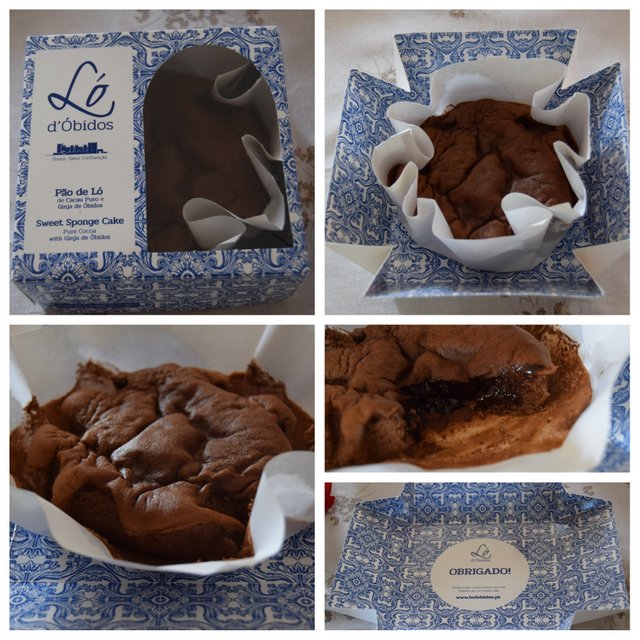 ---
I will come back with another delicious Sunday cook!!
Stay tuned!!
What is Sunday Cook?!
This Sunday Cook project began with a strong will to contribute to Steemit with my personal view of Portuguese cuisine. I really believe we have plenty of good food. Despite I'm not a professional or nothing similar, I can assure that I'm doing my best, and hopefully, I'm improving my skills too!
On Sundays (cold Sundays), I like to prepare more elaborate and delicious food. It requires time and patience. Usually, I cook some traditional Portuguese food, or at least with Portuguese inspiration :) I try to do it in a healthier way, using the minimum fat as possible, and normally I pick some recipe and transform it. During the week I don't like to spend much time cooking (no time at all), that's why I get totally motivated to cook on Sundays!!
---
PORTUGUÊS
---
Eu voltarei com outro SundayCook delicioso!!
Fiquem atentos!!
O que é o Sunday Cook?!
Este projeto iniciou-se com uma grande vontade de contribuir para o Steemit com a minha visão pessoal da cozinha Portuguesa. Eu considero que temos excelentes pratos. Apesar de não ser profissional nem nada que o valha, garanto que tenho feito o meu melhor, e espero estar a melhorar os meus dotes culinários!
Nos Domingos (quando está frio), gosto de preparar comida mais elaborada. Requer tempo e paciência. Normalmente, cozinho pratos da cozinha tradicional Portuguesa, ou pelo menos inspirados na mesma. Tento cozinhá-los de uma forma saudável, usando o mínimo de gordura possível e normalmente pego numa receita e adapto ao meu gosto. Durante a semana não gosto de perder tempo a cozinhar (nada mesmo), e é por isso que me sinto motivada a cozinhar nos Domingos!!
---
Links for previous posts | Lista de links para posts anteriores: