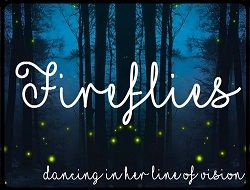 If you missed the first book - Fireflies - you might want to start there. It's here in its completion, written for Steemit. If you enjoy it, feel free to ask to be added to the subscriber list for the sequel, where new chapters are being released daily.
FIREFLIES (book 1) Chapters
1
2
3
4
5
6
7
8
9
10
11
12
13
14
15
16
17
18
19
20
21
22
23
24
25
26
27
28
29
30
31
32
Epilogue

FIREFLIES: Pupa
(book 2)
Entry 33
She began pressing, questioning his reality. "Aria, Derek?" She saw the beginning of his confusion and spoke again before he could reinforce the constructs of the world that he had created from necessity.
"Close your eyes." She stated it quietly, as if it was a suggestion. When his eyes remained open and questioning, she repeated herself again.
"Close. Your. Eyes." Her voice was just as quiet but held such authority, he didn't dare to challenge it.
Lowering his lashes, he waited with expectation for some unknown revelation. Unlike Caleb, he was more curious and hungry, as if he had been anticipating some mysterious clue to a hidden mystery. He leaned forward slightly, yet his mind presented a tentative invitation for her to expose more.
"Didn't Aria have blonde hair?" Talia could see his eyes flickering back and forth behind his eyelids, as if he was trying to peer beyond some illusion, veiling his sight.
"Blonde, long hair and laughter like bells. Wasn't she beautiful?" Bringing up images of her mother, she recalled memories of her laughter, conversations, flashes of her mischievous glances and began projecting them against his open, yet slightly guarded mind. A varied assortment of all-things-Aria began assaulting the delicate armor built around Derek's reality.
He made a slight groan as if he was lifting a heavy chain, draped in coils around his brain.
She felt around this protective shield, looking for a place of vulnerability. Circling her essence in an unrelenting cyclone around him, she pressed until she felt the tiniest opening, and slipped inside. Touching the back of his wrist, she trickled droplets of her essence into him. Leaking her power slowly, measured, calculated - careful to sense any awakening that tugged of its own will. She heard the sharp intake of his breath and knew he was seeing her projections.
The movement behind his eyes became rapid as he soaked in the images of the real Aria. Without realizing it, his brain subliminally adjusted. Assimiliating this new information, his mind confirmed. Of course. This was Aria - the blonde woman holding out her hand, eyes filled with trust. He remembered her vaguely as if he had dreamed of her before. He hadn't known this was hiding, or had he? If this wasn't Aria - then...?
Mentally, he struggled to flip between the pages of the present and the past and deeper memories still. His mind shifted again. He considered flexing against her, but she was stronger, and holding him here. Instantly he was transported to a different time altogether, to the only one he could remember having this much strength.
Years and years of this, he thought angrily. Old, buried memories collided with reality, blurring the edges of perception.
She's always teaching and testing, making me beg for... something. What? She's always holding so many answers, and promising to reveal, but never enough. Making me crave more, but always withholding.
With his eyes still closed, unwilling to break the connection, he pleaded with her.
"Teach me, Irina. Show me more."



There are a lot of posts on Steemit, thanks for making this be on your list!

A few friends that asked to be notified of the next chapter
If you'd like to be added, I'd be honored.
These are the subscribers/readers that had either asked to be added to the subscribe list for the first book or joined in after it was published. I've only added you onto this list - just to make you aware that the sequel is coming out. Simply let me know in DM or as a comment that you'd like to be removed, and I'll do it immediately.
@enginewitty
@andysantics48
@monchhichi23
@scuzzy
@happysmileyman
@freedomtowrite
@kiwideb
@countrygirl
@creatr
@creed221
@quirky.countess
@coachjj
@notconvinced
@bethalea
@saffisara
@zen-art
@youngboss
@silversaver888
@cecicastor
@penderis
@tamala
@swolesome
@hazem91
@kchitrah
@arthur.grafo
@bluefinstudios
@snook
@yidneth
@joelithic33
@ydraz
@ancapbarbie
@eaglespirit
@eveningart
@dreemit
@misslasvegas
@chireerocks
@chinyerevivian
@kaerpediem
@dkkarolien
@jamerussell
@priyanarc
@dutybound
Thank you to @penderis for making my beautiful dreemgirl divider :)
Font used in this post