Fireflies - chapter 1
Deep breath.
Deeper.
She could hear the rhythm of her pulse start to beat an increasingly regular pattern deep within her ear.  She imagined a tiny sprite inside her head - beating on the drum.  She smirked and rolled over onto her back.  Slowly opening her eyes, she became accustomed to the "fireflies" dancing in her line of vision.  It didn't matter how much she would rub her eyes, they would fade in their own time.  It was always like that after a trip.   After her daydreems.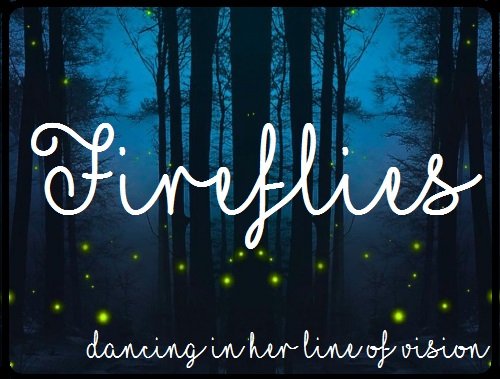 Daydreams?  They're just the run-of-the-mill, normal, spaced-out fantasies that everyone has had at one time or another.
But daydreems - they seemed to be exclusive to Talia.  They were slightly more complex.
Forcing one last lung-bursting inhalation, she swung her legs quickly to the side of the bed, held her breath until she could feel her brain begin to beg for oxygen, and finally rushed the pent-up, oxygen-deprived air from its prison.  She didn't know why she did that.   Maybe to just remind her that this was the real.  This was the place beyond her unique control. 
Her mom knew what she could do.  The first time Talia spoke about her daydreeming, her mother didn't even question the validity of the impossible journey.
For any onlooker, it looked as if Talia had just shaken herself out of a daze.  Rubbing her eyes, she inhaled sharply, drawing her mother's attention.   Aria craned her neck, looking back at her daughter while drying the last of the dishes in the kitchen sink.  Smiling at her daughter's sleepy baby face, she wondered what deep thoughts could possibly have drawn that little mind into such a trance.
"Where were you, baby girl?" 
Talia opened her eyes, crossing them for a moment as her pupils fixated on the fairies teasing her just beyond her gaze.  Blinking hard, she focused her vision on her mother and responded with a yawn.  "Mmmmmmm, at grandma's house," Talia stated matter-of-factly.
"Ha!  Oh really?  Well I'm sure she loved your visit."
"Oh.  She didn't know I was there.  She doesn't always know when I'm there."
Her laughter dying away only slightly, Aria turned around fully and leaned back against the sink.  "I'm pretty sure Grams would know exactly when you were visiting at her house, silly.  She would see me.  She would hear our car pull in the driveway."  Aria pushed away from the sink with her hip, her long legs loping over to the table where her daughter sat.  She sat in front of her, reaching out to casually ruffle her girl's straight dark hair.  She winked and continued, "She would hear the unmistakable sounds of Talia the Tiger."
Talia's steel grey eyes looked deep into her mother's honey amber stare. "Well, she wouldn't see me if I didn't want her to.  And you didn't drive me in the car.  I took myself there. I was watching her play with that new kitten."
Aria's heart stopped for a moment.  The new pet was purchased as a surprise for Talia's 5th birthday - three days from now.  No one had spoken of the cat - she was sure of it. She didn't know why, but she was a little bit frightened to continue this conversation.  Her curiosity and penchant for the unexplainable won out.
"What did the cat look like?"
"Oh, grey.  Fluffy.  With a little black nose and a white sock."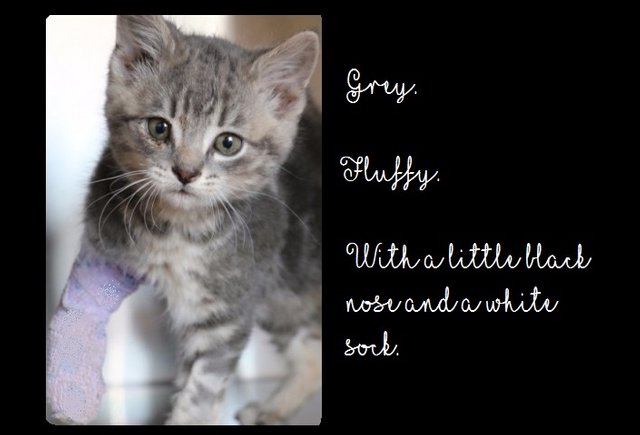 Aria's mother had called earlier that day to tell her that the kitten had cut her paw on a small tack that had fallen to the floor.  To staunch the bleeding, Grams had needed to wrap the tiny paw in some gauze.  To a 4, almost 5 year old - it would look like a sock. Talia scooted to the edge of the chair and hopped off, intending to busy herself with a good cuddle in her father's lap while he read the paper.
Before she was out of reach, Aria quickly grabbed Talia's hand.  She pulled her child back to her, close enough to feel the heat radiating from her soft skin.  Aria gently placed both palms around the soft, pudgy cheeks of her curious daughter.  Searching her face for any trace of mischief, she could find none.  Quietly, Aria spoke three words softly to her daughter.  
"Be careful, baby."
Talia's sweet smile finally broke through the too-serious expression of the baby face.
"Oh don't worry, Momma."  She gave a quick squeeze around her mother's middle before walking with purpose to her father's easy chair.   As she left the kitchen, she reassured her mother, "I can't get hurt there.   Only here."
And just like that.  Her mother was a believer. Her father?  Not.  He was too straight-laced.  Too black and white. The rules of nature were clear and precise to him. Talia never even bothered to try to convince him.  What was the point?  She knew it happened.  That's all that mattered. Plus, how do you prove something, when the doubter doesn't really want to believe?  Aria tried, and tried often - until she stopped trying.
That incident had been 12 years ago.
So much had changed since then. Talia looked around the room.  The comfort of the Saturday morning sun filtered through the sheer curtains of her bedroom windows.  She could hear the sounds of her mother making breakfast downstairs.  Her mother was exactly her opposite.  Tall. Glamorous.  Ethereal, really - in every way.  Her laughter sounded like bells.  Her voice, like a soothing brook.  Her eyes - when she looked at you - you felt like you were the only thing in the world that mattered.  And she could do that to everyone. To describe her - she was emotion, she was passion, she was light and life.
If Aria was a floating white feather, Talia was polished metal.  Not bad - just opposite.  If there was anyone that should be able to journey with their mind -it should have been Aria.
And yet - it was Talia.
The creak of the steps as she descended the stairs announced her arrival to her mother.  Her mother turned away from the frying eggs to greet Talia with a smile that radiated the light of the sun.  Talia couldn't help but return the smile, even though she knew her smile would never capture the love in her heart in the same way her mother's did.
Talia blinked her eyes quickly in a failed attempt to rid herself of the last few "fireflies" in her vision, and gave away immediately that she had just returned.
"Ahhhh, early morning travels, I see.  Where this time?"  Aria questioned, never tiring of hearing about her daughter's mysterious treks.
"Nowhere special, really."
"Every place is special!  I want to hear all about it!" said her mother as she plated the last of the breakfast and moved to the table to dine with her daughter.
Talia laughed a short bitter laugh, unintentionally. "Ok.  Ask away."
"I just don't know how you can do it!  I mean - how are you not exhausted when you get back?  It all feels real, right?"
"Sometimes I'm more exhausted than other times.  And yes, it's real. It doesn't just feel real.  It IS real.  But then when I get back - this is just.... realer."
Aria picked up a piece of toast and crunched it between two rows of perfect, white teeth, while staring out the window for a few moments.  She shook her head, golden curls moving gracefully and perfectly and continued, "I just don't think I would ever come back here at all.  I think I would waste away in the real world, while living the high life in your dreems."
Talia laughed again, this time less bitter.  "Everyone would think that they'd stay there.  But they really wouldn't.  It's hard to explain.  Some things are real, but some things aren't.  Some things I'm visiting.  Some things I'm creating.  I don't always immediately know which is which, but with the created things - there's just an 'aftertaste'."
"I get it."  Aria responded thoughtfully.
"Do you?"
Talia's mother looked up with mischief.  "Not at all."
Their laughter broke the frustrated mood and brought lightness back to the conversation.
Talia tried to explain further, "It's just... how often can you eat pizza before you get sick of it?"
Aria smiled and bantered, "Well you can eat anything you want there - so switch it up!"
"No you're missing the point.  It's everything.  It's not just food.  It's being there.  It's having control of anything and everything and it's all scripted.  I'm writing the story.  There's not really much to surprise me.  When you're here - you wait in line for the rollercoaster.  You have that 90 minute wait for a 3-minute thrill ride.  You don't want the wait!  But the wait makes the ride that much better.  The wait is part of life.  But what if you didn't have to wait?  What if you could restart it, immediately?  How many times could you ride the rollercoaster before the 3 minute thrill ride isn't so exciting anymore?  How many times can you do.... whatever you want to do  - before you ask yourself what's the point?"

Aria nodded, chewing thoughtfully.  "So then if here is more real, and there isn't an 'aftertaste'  - and you'd rather not have the control, why go back at all?"
And just like that, the lightness was sucked out of the conversation into an immediate vortex of pain and dark and numb.  Talia's gaze grew laser sharp, staring only at her plate, refusing to meet her mother's eyes that were bound to fill with tears as quickly as her own. She spoke softly, barely above a whisper.
"Because he's there."