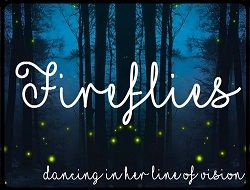 If you missed the first book - Fireflies - you might want to start there. It's here in its completion, written for Steemit. If you enjoy it, feel free to ask to be added to the subscriber list for the sequel, where new chapters are being released daily.
FIREFLIES (book 1) Chapters
1
2
3
4
5
6
7
8
9
10
11
12
13
14
15
16
17
18
19
20
21
22
23
24
25
26
27
28
29
30
31
32
Epilogue

FIREFLIES: Pupa
(book 2)
Entry 32
Weeks had passed, and she had poked and prodded Derek with little suggestions. At times, she would alter things in the environment, opening a distinct rift between her two worlds. If he was seeing anything unusual, he was a master at disguising it.
At one point she brought a gift - a potted plant for his home, as an expression of neighborly friendship. The pot had been from this world, but the plants and soil had been from the other. She wondered if the living presence of the flowers would begin subtly influencing him. Again, nothing appeared to change in his essence. He was simply the same as he had been when she met him after the explosion - pleasant, unremarkable, and human.
Last week, he had even developed a little cold, which was unheard of with their abilities. Not only were they capable of re-routing bacteria, viruses, and any other such invaders - they were constantly able to renew their cells from the natural onslaught of time and decay. She could feel that he had not done any such thing recently, as his essence told the tale of winding down, like every other human from this world.
It was time. If there was going to be any movement at all - forward or backward, she would have to start pressing against the foundations of his beliefs.
"Derek?"
"Hm?" He was busy making pasta for their dinner tonight. Slipping the noodles into the water, he gave a gentle stir.
Talia couldn't stop being amazed at how human he seemed. It was like watching a bird hop along the ground instead of taking flight. She sniffed out a small laugh, and took a deep breath, focusing her will. She needed all of his attention. Calling his name again, she lowered her voice slightly.
"Derek."
He turned to face her, feeling a distinct change in her mood.
"Yes?"
Sensing that she needed to talk about something more serious, he closed the distance between them and sat at the table with her.
"What is it, Aria?"
"Aria?" Has he really forgotten? She stared into his eyes, deducing. That's where she would begin.



There are a lot of posts on Steemit, thanks for making this be on your list!

A few friends that asked to be notified of the next chapter
If you'd like to be added, I'd be honored.
These are the subscribers/readers that had either asked to be added to the subscribe list for the first book or joined in after it was published. I've only added you onto this list - just to make you aware that the sequel is coming out. Simply let me know in DM or as a comment that you'd like to be removed, and I'll do it immediately.
@enginewitty
@andysantics48
@monchhichi23
@scuzzy
@happysmileyman
@freedomtowrite
@kiwideb
@countrygirl
@creatr
@creed221
@quirky.countess
@coachjj
@notconvinced
@bethalea
@saffisara
@zen-art
@youngboss
@silversaver888
@cecicastor
@penderis
@tamala
@swolesome
@hazem91
@kchitrah
@arthur.grafo
@bluefinstudios
@snook
@yidneth
@joelithic33
@ydraz
@ancapbarbie
@eaglespirit
@eveningart
@dreemit
@misslasvegas
@chireerocks
@chinyerevivian
@kaerpediem
@dkkarolien
@jamerussell
@priyanarc
@dutybound
Thank you to @penderis for making my beautiful dreemgirl divider :)
Font used in this post