Block Producer Candidate Report #8 - May 2, 2018

EOS BLOCK PRODUCER CANDIDATE REPORT #8, May 2 2018 - (updated May 4th)
---
Due to the increasing volume of BP candidacy announcements we are now helping everyone transition towards the new EOS Go Block Producer Research Site, where the candidates are listed on a large map and can update their own page of information any time. See this section of the site to learn more.
EOS Go will offer two more BPC Reports before launch, every two weeks: #9, posted Wednesday May 16th, and #10, posted Wednesday May 30th.
---

Report #9 will be the first to include the final 2 new Checkmark Criteria EOS Go will review before main-net launch:
"Block Producer Roadmap" and "Stance on Dividends."
Submissions for the (2) additional criteria are due by Tuesday, May 15th 2018 at 23:59 UTC.
---
THIS WEEK'S NEWS and NOTES
- Report #8 includes 32 new block producer candidates.
- This report we have added links for each BP Candidate which go directly to their Block Producer Portal web page at at: https://bp.eosgo.io Please visit the Portal regularly for continually-updated info on BPCs.
** Important ** - Reports 9 & 10 will only contain links to the BP Research Portal. Block Producer Candidates - please create a listing or update information for the community to see in the next two reports.
Check-Mark Criteria Charts
---
The list is ordered by check-mark totals, highest to lowest, with each sub-section randomized within the high-low overall sort. (E.g., all BPCs with total of say, 5 checkmarks, will be randomly-listed within their peer grouping.)
Please contact [email protected] to discuss / amend your listing no more than (72) hours after the publication timestamp of this report; we will offer one edit to this image for missed information.
(List with links to all candidates is below this chart, including new Steem post additions)
Update May 8 5:30pm EST / 2130 UTC: though it is too late to update the check mark image, it should be noted ViaBTC actually has 6 check marks, our own mistake at EOS Go. All 6 check marks will be properly shown in the next report, releasing May 16.


---
Summary Charts
Checkmark Criteria Summary
This chart summarizes how many BPCs out of the current total group size meet each of EOS Go's six community-reviewed "Checkmark Criteria" for basic transparency and informativeness: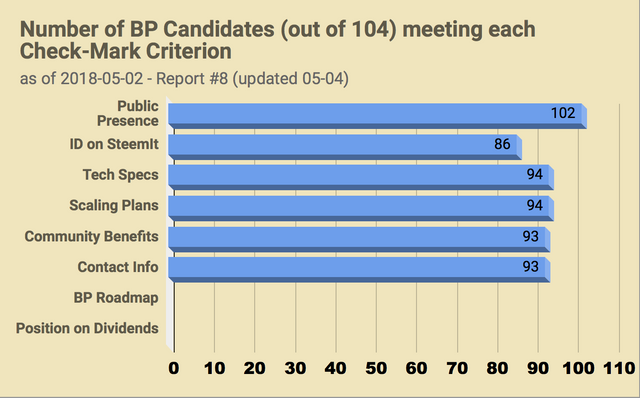 BPCs By Country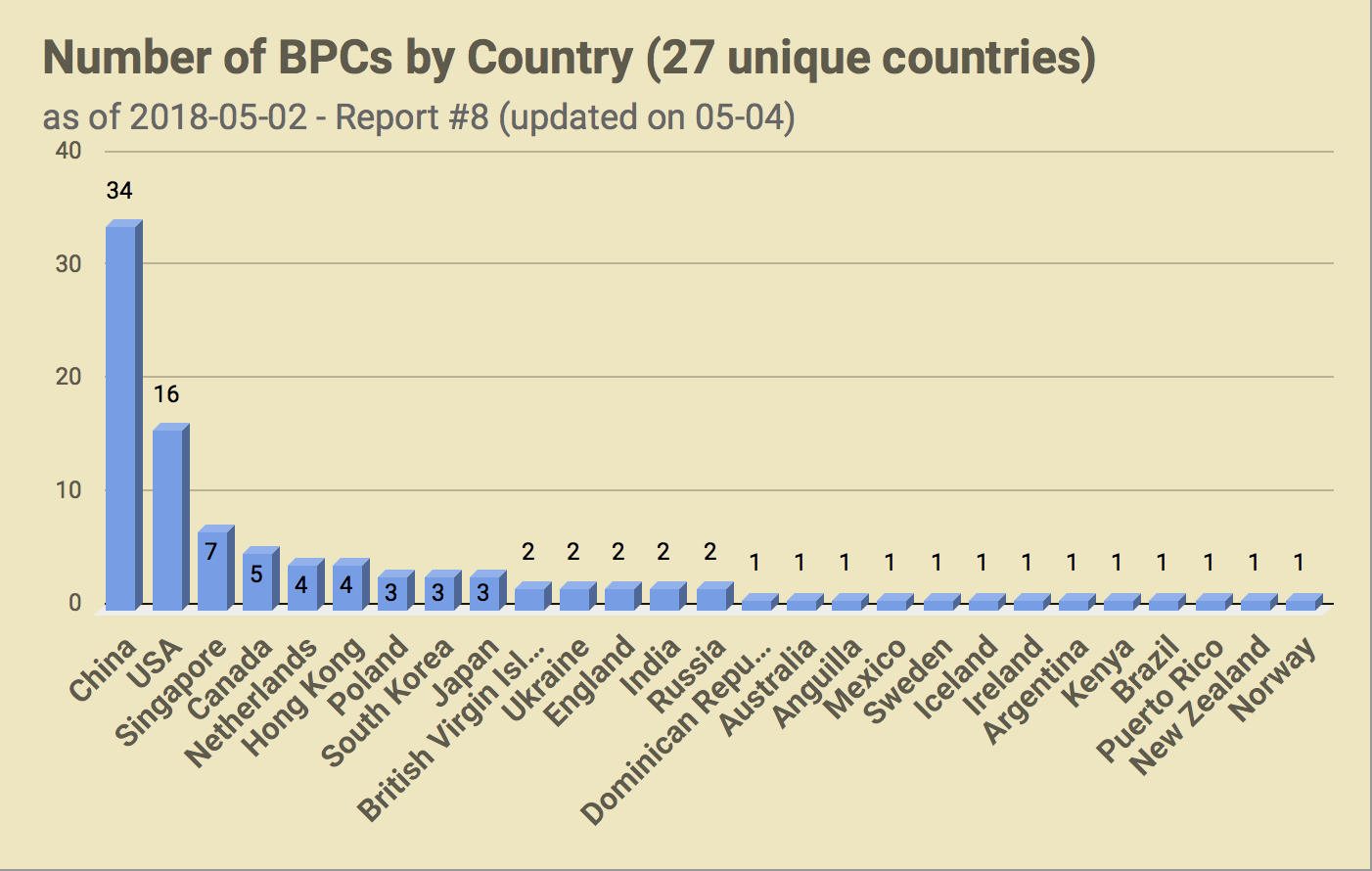 BPCs By Region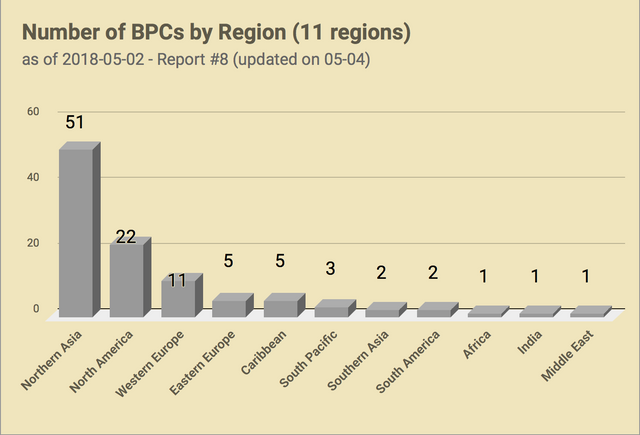 ---
The Six Check Mark Criteria
1) PUBLIC PRESENCE: A public website URL and at least one social media account.
2) ID ON STEEMIT: Links to the following ID information, all posted to the Steem blockchain (either in one post or multiple):
Official block producer candidate name.
Location of company headquarters.
Expected location of servers.
Type of servers (cloud, bare metal, etc).
Current employee list and pictures of at least 67% of staff.
Relevant background qualifications for at least 67% of staff.
3) TECH SPECS: Estimate of technical specifications and total expenditure for resources by June 3, 2018 - posted to Steem blockchain. Check mark given for any estimate, modesty encouraged by permanent Steem record. Quality and accuracy of effort will be judged by the EOS community.
4) SCALING PLAN: Estimated scaling plan for hardware after June 3, 2018 - posted to Steem blockchain. Rough outlines receive a check mark, open review gauges the effort.
5) COMMUNITY BENEFIT: Community benefit project outline, only for projects expected to be public by June 3, 2018 - posted to Steem blockchain.
6) TELEGRAM+TESTNET: Listing of Telegram and Test-net node names for community testnet participation.
---
Below is a list of all candidates with their website and Steem verification posts.
Report Summary Stats
| Summary | |
| --- | --- |
| Report period # | 8 |
| Report timestamp | 2018-05-02, 18:34:24 UTC |
| New BPCs added this period | 34 (updated 05-04, added 2) |
| Total active BPCs | 106 (updated 05-04, added 2) |
| Unlisted BPCs (not included in reports) | 6 |
---
The following list of current Block Producer Candidates (BPCs) is sorted by the same methods as the graphical list above. Information presented here was submitted directly by BPCs and has been minimally checked by EOS Go volunteers but not verified for completeness or accuracy.
Randomized List of Block Producer Candidates with URLs meeting basic minimum standards
---
FOR BP CANDIDATES:
Please provide us with two URLs containing important public information about your candidacy: 1) Your main public web site, 2) your current SteemIt verification posting. To update your URL listing please send an email request to: [email protected]
BPCs without at least 1 URL showing clear evidence of Block Producer candidacy are no longer listed. To have your BP Candidacy re-listed please submit a valid URL or Steemit post with information about your candidacy to: [email protected] OR through the original BP Candidate form.
---
Process Notes
BPC information is accepted on a rolling basis. The current on-line form for submitting data is this GoogleForm. (NOTE, this link may change over time, be sure you are looking at the most-recent version of this Weekly BPC Report to get the correct link.)

BPC list randomization is performed with the Shuffle tool in the AbleBits Power Tools plugin for GoogleSheets.

Why Steem? In the interest of fairness and transparency we request all BPCs to post information on a blockchain-backed platform where content cannot be silently altered or removed. This provides short- and long-term assurance to all parties -- other block producer candidates, EOS token holders, and the interested general public.

EOS Go includes SHA256 checksums for important data-containing image attachments in our SteemIt posts to ensure long-term content integrity and verifiability. (As of this writing SteemIt does not include a native mechanism for ensuring image integrity, read more here if interested.) We add SHA256's shortly after the initial post goes up to avoid process-related mismatches due to images being re-encoded server-side during the posting process.

Additionally, EOS Go archives a local snapshot of the raw BPC form submission data (a .CSV-format spreadsheet) at the close of each weekly period. The .CSV snapshot will be archived for at least 2 years and its SHA256 checksum is posted in the report. In the event of a serious discrepancy or conflict relating to the BPC registration process a trusted 3rd party (such as an arbitrator) could examine one or more weekly data snapshots to verify their chronological integrity.
ORIGINAL
Raw form data .CSV snapshot as of the closing timestamp of Reporting Period #8:
File name: 2018-05-02_18_34_24UTC_Snapshot_Block_Producer_Candidate_Form_Raw_Responses.csv
SHA256 checksum: c97e5929f0366fda852dd5a66392cc31ce3aa37822b0f238461b32626f093ea0
UPDATED
Raw form data .CSV snapshot as of the UPDATE on 2018-05-04 23:21:40 UTC
File name: 2018-05-04_23_21_40UTC_Snapshot_Block_Producer_Candidate_Form_Raw_Responses.csv
SHA256 checksum: 5e1909465e561c82fa5d4412b44fa9b01a41b9c799f6547b94128f1b857b96fe
---
Links to Previous BPC Reports
Block Producer Candidacy Report #7
Block Producer Candidacy Report #6
Block Producer Candidacy Report #5
Block Producer Candidacy Report #4
Block Producer Candidacy Report #3
Block Producer Candidacy Report #2
Block Producer Candidacy Report #1
---
Addenda & Corrections
Any changes after initial publication of this report will be logged here.
2018-05-04: Updated Checkbox List graphic and 3 Summary Chart graphics to reflect 2 new BPCs, additional checkmark updates, and re-classification of some countries and regions. Added additional data snapshot & SHA256 hash to record changes & additions.
2018-05-04: removed SHA256 checksum hash from "Checkmark Box List" graphic (tallest chart) because it is not a reliable indicator of image-file integrity.
---
Contact Information
If you have questions or comments about EOS Go's Weekly Block Producer Candidate Report please reach out to us at:
https://forums.eosgo.io - Forums
http://t.me/EOSProject - Live Chat
[email protected] - Email
Go EOS!