WEEKLY EOS BLOCK PRODUCER CANDIDATE REPORT #1
MARCH 7th 2018
The following is a randomized list of current Block Producer Candidates (BPCs) and public contact URLs. The list will be re-randomized every week. The information presented here was submitted directly by BPCs and has been minimally checked by EOS Go volunteers but not verified for completeness or accuracy.
EOS Go had originally committed to posting multiple links for many different forms of BP Candidate contact info. We miscalculated in thinking we could accommodate and process what is turning out to be hundreds of links. We need to simplify and turn over the link-aggregating process to BP Candidates. Please provide us with a single URL that is a clearinghouse for all important public information about your candidacy. The interested public should be able to visit one web page or site with easy-to-find links to your Twitter handles, Steemit informational posts, Meetup.com pages, Telegram chats, Facebook pages, websites, and more.
We apologize for this necessary change in format and will accommodate by offering to update a BP Candidate's URL listing for up to 5 days after this first report is posted; please send an email request to: admin@eosgo.io
EOS Go thanks Block Producer Candidates and the EOS community for their trust in our neutrality. The evolution of the EOS public blockchain launch is ongoing. We appreciate everyone's patience as we refine and optimize the BPC candidate registration process with community feedback. Towards the end of this post we've included a preview of what future BP Candidate Reports may look like, please be sure to scroll all the way down.
---
Report Summary Stats
| Summary | |
| --- | --- |
| Report period # | 1 |
| Original report timestamp | 2018-03-07, 02:34UTC |
| New BPCs added this period | 48 |
| Grand total of all BP Candidates to-date | 48 |
EDIT 3/9/18 4:24pm EST -
One block producer candidate, Blockgenic, submitted all their information as requested and was accidentally omitted from the original report. Updated below:
Randomized List of Block Producer Candidates
---
Summary Charts
This chart summarizes how many BPCs out of the current total group size meet each of EOS Go's six community-reviewed "Checkmark Criteria" for basic transparency and informativeness: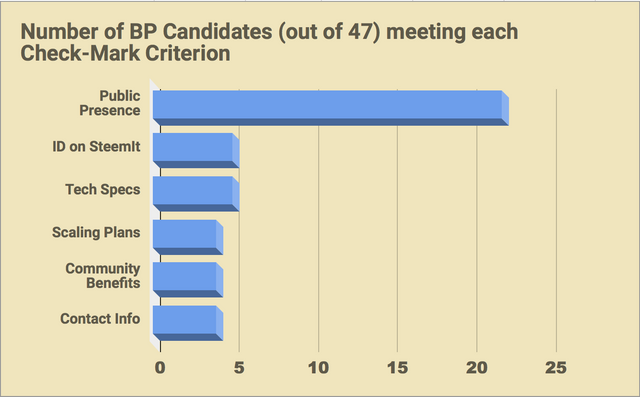 SHA256 checksum: 1361d01b85fe760e3844d2433fddaf669314d874f9582d5e94dcb548fb6f704e
---
The Six Check Mark Criteria
PUBLIC PRESENCE: A public website URL and at least one social media account.
ID ON STEEMIT: Links to the following ID information, all posted to the Steem blockchain (either in one post or multiple):
Official block producer candidate name.
Location of company headquarters.
Expected location of servers.
Type of servers (cloud, bare metal, etc).
Current employee list and pictures of at least 67% of staff.
Relevant background qualifications for at least 67% of staff.
TECH SPECS: Estimate of technical specifications and total expenditure for resources by June 3, 2018 - posted to Steem blockchain. Check mark given for any estimate, modesty encouraged by permanent Steem record. Quality and accuracy of effort will be judged by the EOS community.
SCALING PLAN: Estimated scaling plan for hardware after June 3, 2018 - posted to Steem blockchain. Rough outlines receive a check mark, open review gauges the effort.
COMMUNITY BENEFIT: Community benefit project outline, only for projects expected to be public by June 3, 2018 - posted to Steem blockchain.
CONTACT INFO: Listing of Telegram and node names for community testnet participation.
---
Preview of Future BP Candidate Reports
Here's the format EOS Go plans to use for upcoming BP Candidate Reports starting with Weekly Report #4 on 2018-03-28 (March 28th.) Note that ordering of BPCs remains random and will be re-shuffled every week: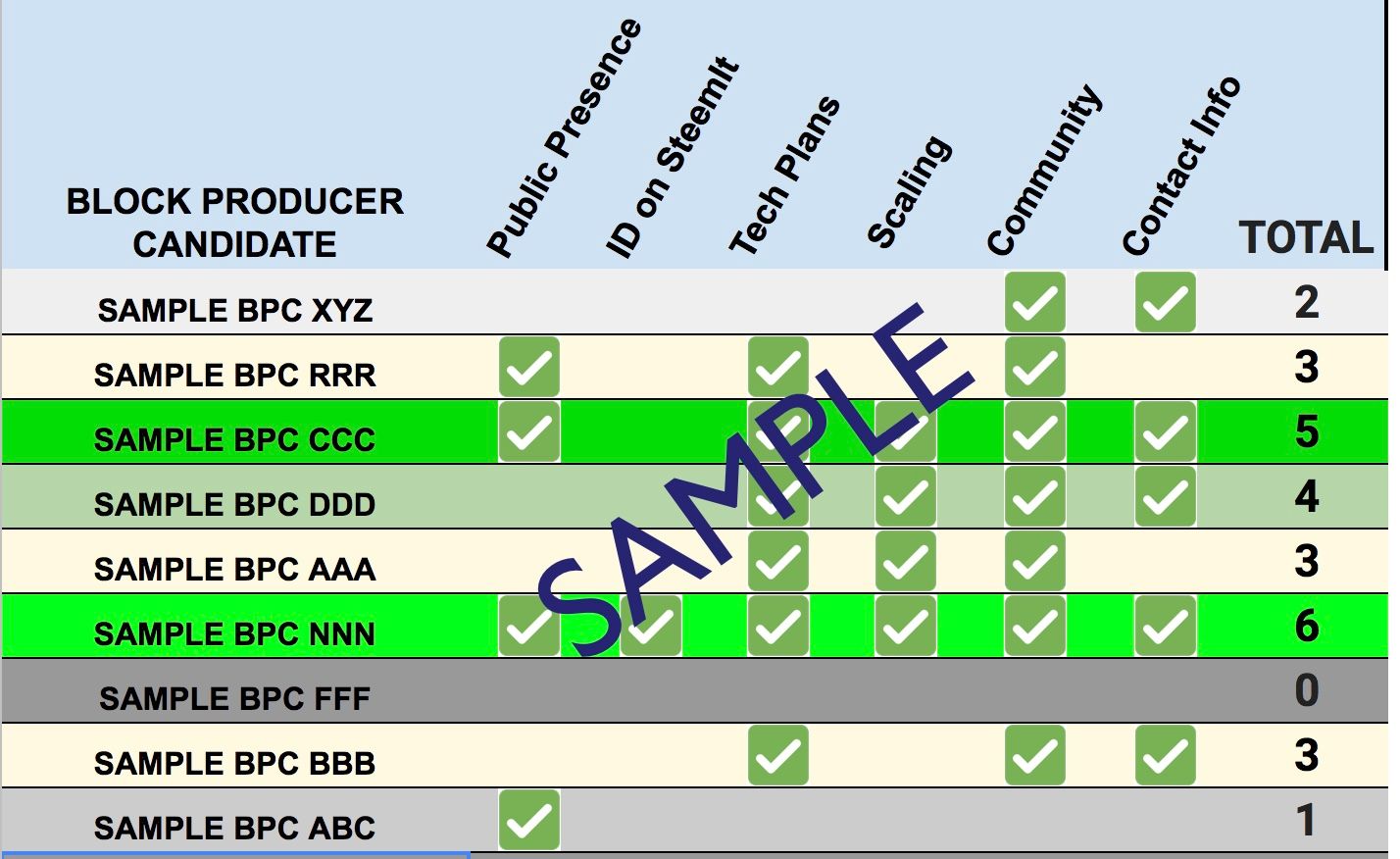 ---
Process Notes
BPC information is accepted on a rolling basis. The current on-line form for submitting data is this GoogleForm. (NOTE, this link may change over time, be sure you are looking at the most-recent version of this Weekly BPC Report to get the correct link.)

BPC list randomization is performed with the Shuffle tool in the AbleBits Power Tools plugin for GoogleSheets.

Why Steem? In the interest of fairness and transparency we request all BPCs to post information on a blockchain-backed platform where content cannot be silently altered or removed. This provides short- and long-term assurance to all parties -- other block producer candidates, EOS token holders, and the interested general public.

EOS Go includes SHA256 checksums for important data-containing image attachments in our SteemIt posts to ensure long-term content integrity and verifiability. (As of this writing SteemIt does not include a native mechanism for ensuring image integrity, read more here if interested.)

Additionally, EOS Go archives a local snapshot of the raw BPC form submission data (a .CSV-format spreadsheet) at the close of each weekly period. The .CSV snapshot will be archived for at least 2 years and its SHA256 checksum is posted in the report. In the event of a serious discrepancy or conflict relating to the BPC registration process a trusted 3rd party (such as an arbitrator) could examine one or more weekly data snapshots to verify their chronological integrity.
Raw form data .CSV snapshot as of the closing timestamp of Reporting Period #1:
File name: 2018-03-07_02_34_00UTC_Snapshot_Block_Producer_Candidate_Form_Raw_Responses.csv
SHA256 checksum: 9835abcf88013f41234a6a4a1859da61c649b9bcce8fa39e9b9917438b1de9a3
---
Contact Information
If you have questions or comments about EOS Go's Weekly Block Producer Candidate Report please reach out to us at:
https://forums.eosgo.io - Forums
http://t.me/EOSProject - Live Chat
admin@eosgo.io - Email