Introducing EOS Canada, a leading Block Producer candidate

We are pleased to officially announce our candidacy to be elected as a Block Producer for the EOS.IO mainnet. Founded by a team of serial tech entrepreneurs, EOS Canada is headquartered in Montreal, Canada and is backed by major Canadian financial institutions. We believe that EOS.IO will fundamentally change our economic and social systems and as such we are deeply committed to contribute to the growth of the ecosystem.
We have been actively involved in running and testing the community testnet and in the creation of the BIOS Boot sequence, as well in building various community tools necessary for the ecosystem to flourish. Our objective is to develop a hub for companies, entrepreneurs and developers who want to build infrastructure and decentralized applications on top of EOS.IO. Due to our deep tech background and connections, we would like to leverage our network to help build value-add products for the EOS.IO network.
Team
We've assembled a team of hard-working, driven and passionate individuals with previous experience in entrepreneurship, blockchain, security, network deployment, law and finance.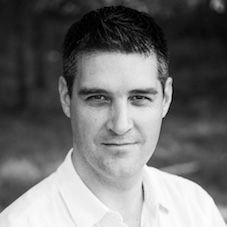 Marc-Antoine is a leader. He has a passion for building teams, and is constantly evaluating those he meets to figure out how they can bring their skills to the multitude of projects that he touches. From there, he figures out what he needs to do to make their talent shine. He is a serial entrepreneur, having started his first company at 21. He has co-founded three successful companies, two of which were acquired by major tech companies. Marc-Antoine is very well known in the Montreal tech community, personally advising several startups and mentoring companies through Founder Institute and FounderFuel. He is also an ambassador for United Way and has raised significant donations from the tech community.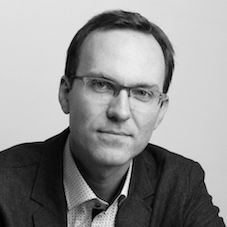 Alexandre lives through technology. He wrote his first botnet at 12, later graduated in classical piano and went on to a prolific career in software engineering, with notable open source contributions. Alexandre co-founded two startups, including Bitcredits (a bitcoin payments processor, FounderFuel 2014 Spring Cohort). He then helped PasswordBox (acquired by Intel) craft their data stack and ended up as a lead Data Scientist in the Intel Security Consumer division. Today, Alexandre is very active in the blockchain space, advising several early stage companies. Alexandre taught programming for many years. He does live-coding presentations like no one else (Confoo, PyCon conferences) and is the lead organizer of Golang Montréal. You'll often find him on Telegram, working through lines of code and bugs with others, doing what he can to help build the EOS community.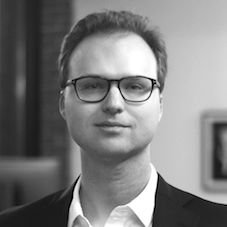 Mathieu knows how to get things done, and get them done right. His background is in investment banking, rising to level of Vice President. His expertise is in both buy- and sell-side M&A transactions, as well as public and private equity issuances across several industries, with a focus on the technology and biotechnology sectors. He has been following the blockchain space for years, drawn in by its ability to transform the financial structures for the better.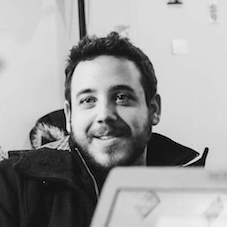 Josh wants to educate those around him. Understanding systems, from the simplest to the most complex, is a passion of his. Since trying to wrap his head around cryptocurrency a couple years back, he's become a missionary -- urging those around him to understand this technology that will underpin tomorrow's world. He's a jack of all trades, having worked on designing home building systems, fine woodworking, and running restaurants. His latest passion is the crypto space, and is looking to to be part of those who lead this change, bringing one of the most complex and far reaching systems that has the ability to touch every industry.
Jurisdiction
Our headquarters are located in Montreal, Canada, one of the most stable countries on a political, economical and social level. Canada has close proximity to the United States, while maintaining its independence. Through our backing from powerful Canada-based global financial institutions, and our network of legal and financial advisors, we are well positioned to defend and protect the interest of EOS token holders.
We will pay taxes in Canada and will be working with our tax and financial advisors to support the ecosystem members that we hope to foster. Our advisors have experience structuring and advising leading cryptoasset miners, ICOs and other blockchain-related ventures, and will be able to help with any jurisdictional or regulatory issues that may arise.
Infrastructure
Our initial infrastructure will be launched on the Google Cloud Platform, which
includes local capabilities in Montreal, where we are based. Our team and our advisors have worked extensively with this platform, and have built great trust in its abilities. Using GCP, we can leverage expertise in scaling large infrastructure that will help us to ensure 100% uptime for all of our nodes and storage facilities. If you'd like to find more information on Google's setup in Montreal, please go
here
.
We plan on adding a geographically distributed data center deployment to our infrastructure for optimized low latency file storage and distribution as needed through the introduction of EOS.IO IPFS integration.
Our high availability infrastructure will be deployed and managed through Kubernetes, which enables us to easily scale up and out on demand with no impact on our uptime.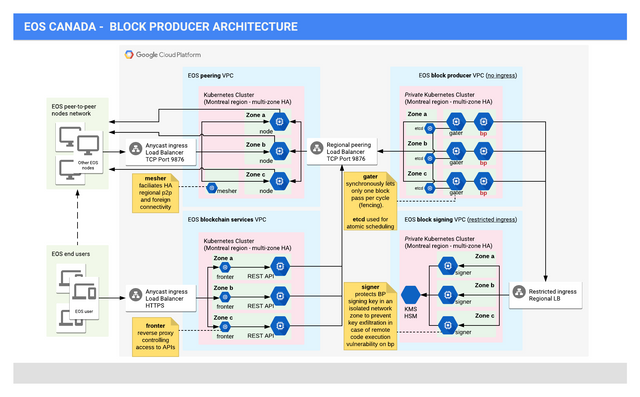 Note: We will be presenting the thought process and security features of our infrastructure in a series of video posts in the near future.
Security
Our team has operated mission critical applications in financial, insurance and health technology, most of it running on the Google Cloud Platform. We have audited the infrastructure and security practices of the GCP platform through third party experts and have found Google's solution to be world-class. We feel that their team of experts will contribute significantly to the security of our servers.
Our application stack has been reviewed by Elliptica Security, an application security consulting firm with whom we have worked on security solutions previously (as part of Intel Security). We intend to run periodic security reviews of our infrastructure, security practices and key management strategies. We will keep the community informed of any changes or looming threats.
We propose keeping both the block signing and block producing nodes inside of isolated VPCs running on private Kubernetes clusters, as you can see in the above diagram of our infrastructure. This enables us to tightly control network access for secure management and increased protection of sensitive key material. We will load balanced all of the traffic to three nodes in each zone, allowing for full uptime, as well as maintenance capabilities as the need for software or hardware upgrade occurs.
In addition to the infrastructure diagram, we have utilized the PASTA (Process for Attack Simulation and Threat Analysis) threat modeling methodology for analyzing and mitigating threats.
Scaling Plan
Beyond the launch of the mainnet, we plan on scaling our infrastructure as required by the needs of the EOS.IO network while always staying one step ahead. Using Google Cloud Platform, we will have access to on-demand scaling. This will allow us to keep up with peak demands, without the delays seen in ordering and racking up new hardware. The Google Cloud Platform servers run in three interconnected locations around Montreal, allowing us the ability to shut down each location's servers separately for upgrades, without disturbing our uptime. As Diagram Ventures is a recognized Google partner, we have access to beta launches of the latest and greatest GCP technology, including the latest machine types.
We want to start with GCP's best-adapted machine, with the lowest cost. Our tooling supports launching a new machine, syncing from a backup (max 24 hours old), and rotating our producing nodes (and both peering and service nodes) in approximately 15 minutes. We believe that supporting a high-quality infrastructure like this is the best use of the EOS BP funds.
Once the IPFS layer of EOS.IO is launched, we plan on adding globally distributed nodes that will service the storage needs of the EOS community. We know that abuse of IPFS services is a real risk, and we plan to have filters to only serve files that are referenced on the EOS.IO blockchain and do not violate any laws, regulations, or the constitution of the EOS.IO network. We will also prepare to manage takedown notices from different regulating bodies, should the need arise.
Governance
We believe that the ability to implement human governance concepts into the software base layer is a strong and distinctive feature of EOS.IO. With its embedded conflict resolution tools, EOS.IO will enable scalable, self-sustaining, and self-governing digital communities that will encompass all national jurisdictions. We are truly inspired by Dan Larimer's mission of finding free market solutions to secure life, liberty and property, and we fully commit to enforce the mainnet constitution once it is adopted. Creating the network within a framework that thinks about governance beforehand, rather than as an afterthought, should help to drive adoption and build the security of the ecosystem.
Transparency and Accountability
We truly believe that the future of community self-governance will stem from a transparent blockchain such as EOS.IO. As such, we plan on setting the example by giving periodic public updates of any corporate changes, development milestones, and any other progress within EOS Canada. We fully understand our role as a custodian of the network and we pledge to never buy votes to be elected. We believe that the solicitation of votes should depend only on our ability to serve the community, and nothing more. We will maintain an active presence on messaging and social media platforms, such as Telegram, Twitter, SteemIt, YouTube, Reddit, etc, so that anyone will have the ability to interact with us. We want to provide users direct access to the people who are helping to code this world.
Community Involvement
We fully understand the strategic importance of the role that a Block Producer will play in the EOS civil infrastructure and community. We believe that we will need to be leaders in the development of open source technology to help the ecosystem flourish and propagate. We have been actively involved in the community across a number of projects. Here is a sample of our contributions to date:
Designed and developed the ignition tool for a distributed launch of the EOS.IO mainnet (Github Repo)
Provided self-serve tools for testnet development (Github Repo)
Participated in community testnet initiatives (http://bios3.eoscanada.com) - First to launch Dawn 3.0 networks
Built the Go set of tools and libraries (Github Repo)
Provided infrastructure to run large scale performance testing
Built an illustrative revenue analysis for all block producer candidates to utilize for their operating forecasts
Presented at a Meetup hosted by EOS Québec (YouTube Videos)
We will continuously be testing and developing new services and features, and supporting the mainnet infrastructure.
We are also fully aware of the broader community who are not yet involved in the cryptoasset space. We would like to take a strong position in educating the general public through outreach programs, such as meetups, relationships with educational institutions, and content creation that will be accessible to those with no knowledge of the space already. EOS Canada also has ties to large global financial institutions based in Canada. This will give us the ability to understand the friction points experienced by large organizations as they begin to adopt EOS.IO, and help them develop solutions that were not possible before the EOS.IO software.
Backers
EOS Canada has been built with help from Diagram Ventures. These VC firms have no previous exposure to EOS.IO, so they have chosen to invest in the knowledge and expertise that will be ascertained in our involvement in the software development and community participation. We believe that EOS.IO will be the platform that will enable companies to fully benefit from blockchain technology and to develop blockchain applications as they expand. We would however like to make clear that our investors have committed to not investing in any other EOS BP candidates. They also have a long investment horizon, so they do not expect any dividends or a liquidity event from this project within the near future. They see the skillset as their return, and want to expand their understanding of how the EOS.IO software will benefit their other endeavours. It is also worth noting that these investors have a minority stake, and the co-founders hold the majority ownership of the company.
Note: the above paragraph has been edited for greater clarity.
Diagram is a launchpad building Canadian-based, global tech champions in insurance, financial, and healthcare technology.
Contact Info:
Twitter: @EOS_Canada
Telegram channel
SteemIt: @EOS-Canada
YouTube
Reddit
Website
Testnet Node
E-mail:
[email protected]