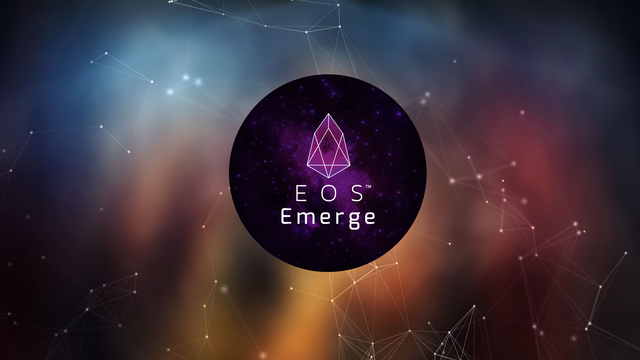 Introduction:
As members of EOS Emerge we are honored to be part of this revolutionary project and to have the opportunity to present ourselves to the EOS community as a founding block producer candidate in the launch of an EOS.io based blockchain.
Official block producer candidate name:
EOS Emerge Poland(legal entity)
Location of company headquarters:
Katowice, Poland
About us:
We are a group of strong IT and blockchain enthusiasts from Poland with background and IT experience in private companies (precious metals - idfmetale.pl, mutual funds, insurance), with a 14-yr history in the financial market and extensive knowledge about most of the financial instruments that appeared in the last decade, indicating our ability to adapt to the changing environments of business.
As such, we are extremely excited and ready to use our financial background, IT knowledge, and innovation skills to serve the EOS project.
In addition to our financial experience, we are highly involved and invested in blockchain technology as we:
are current investors in EOS tokens
have built our own expanded mining facilities for bitcoin using wind power plants
sell mining equipment in order to support the growth of blockchain technology in Poland
educate people about the technology through trainings, lectures and conferences
have experience in developing software and IT solutions that are compliant with financial market regulations
are a proud member of Eos Testnet Block Producers
we are the only official distributor of Ledger Nano S in Poland, listed on Ledger website as our second domain (bitmining.pl)

We are big enthusiasts of the EOS ecosystem and we believe in its core foundations, which makes us want to be active participants in its early adoption phase.
Using our previous experience in IT and finance, we are eager to join your community to contribute in building dApps for EOS, which in our opinion could be a real breakthrough!
Servers Spec:
In order to achieve the best decentralisation we will not use Google or Amazon infrastructure. By cooperating with one of the biggest Polish Data Center operator: 3S (publicly traded company) we can achieve better scalability and control of our job. We will use our own dedicated servers.
Expected location of servers:
Very low latency Tier 3 Data Center in Katowice, Poland
Backup in other cities
About Data Center:
3S Group with its seat in Katowice has been present in the telecommunication sector since the year 2002.
3S has its own fiber-optic network with a length of nearly 3500 km and the Data Center Cluster.
3S was a technological partner of one of the most popular competition of e-sports in the world - Katowice Intel Extreme Masters, which brings over 100,000 spectators to the event center in just 2 days, not mentioning the other millions e-sports fans following the competition online. You can check it in video under this link


Tech Plans and Scaling:
We have been thoroughly evaluating the hardware specs to be needed for our Block Producing infrastructure at launch time of the project. While this is not final and might be subject to change within the following weeks, we plan initially to have:
INTEL XEON E5-2640 V4 10C/20T2.4G Hz 25MB
64 GB RAM
512 GB SSD
Initially we plan to have a Block Producer (BP) and a full node machine, each with a failover server.
As the project will grow, we will be considering INTEL PHI line up of processors as it can offer in our opinion the best performance for the task it will be facing with its 64 core. As for the storage, it will be scaled up as will be necessary with the growth of the EOS project.
We are planning to have multiple location with failover facilities across Poland and Eastern Europe. We are planning to allocate most of the reward toward scaling of our operation until achieving the best performance of our BP.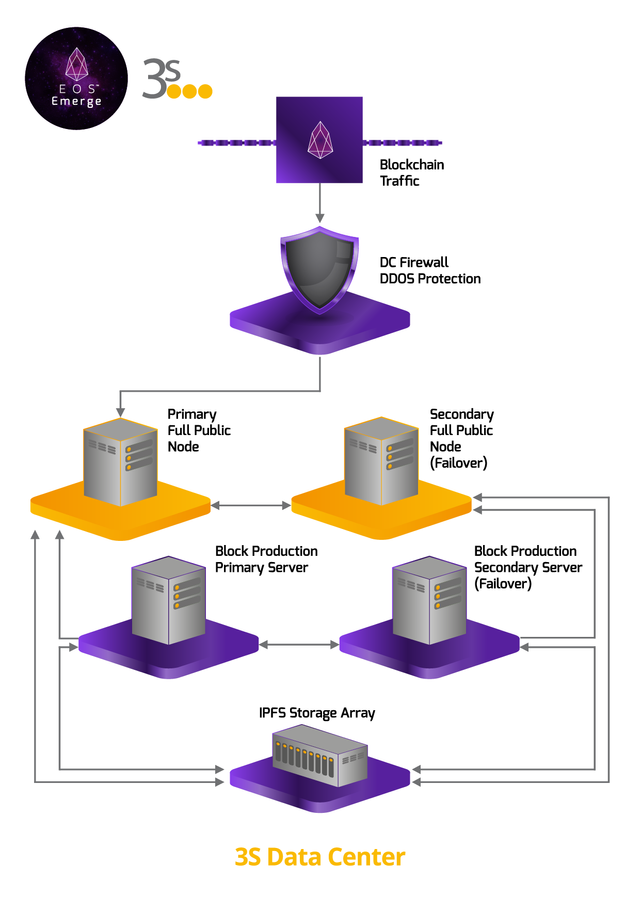 Community Plans:
We are strong believers in the Eos project. Given that at the beginning the most important task will be to smoothly and responsibly run BP node, our beginning efforts and investments will go 100 % to scale up hardware to facilitate a big number of transactions. It would be amazing to see 50k, 100k and more tx running on EOS smoothly and reliably, showing to the world the power of blockchain.
Once we will be able to provide EOS with the best service as a Block Producer, we will concentrate on giving back to the EOS comunity. Amongst our efforts will be to bring awareness into the EOS project to companies.
We will be organizing conferences, online courses, and other trainings to the potential to build apps on a decentralized network. As a future Block Producer, we want to be a link between the EOS blockchain facilities and entities that will be ready to use its potential to create applications. Given the very dynamic developing polish community of interest in blockchain, we are sure that Poland will be the place for many fascinating projects and applications.
From the rewards received we will finance not only the infrastructure but also bounty programs to help us get even better in our job.
Our presence in EOS Community:
We are a member of @cryptolions EOS Jungle Testnet (racoon) ans eosio.sg testnet. We are currently awaiting to proceed to the next testnests, one of which is the Community Testnet and Scholar.
Thanks to our participation in the testnet, we have the ability to monitor the situation on an ongoing basis and adapt to changing conditions and emerging problems.
We are also happy that thanks to the developed community on Telegram groups dedicated to EOS, we have the opportunity to constantly exchange opinions and ideas regarding the future operation of block production procedures.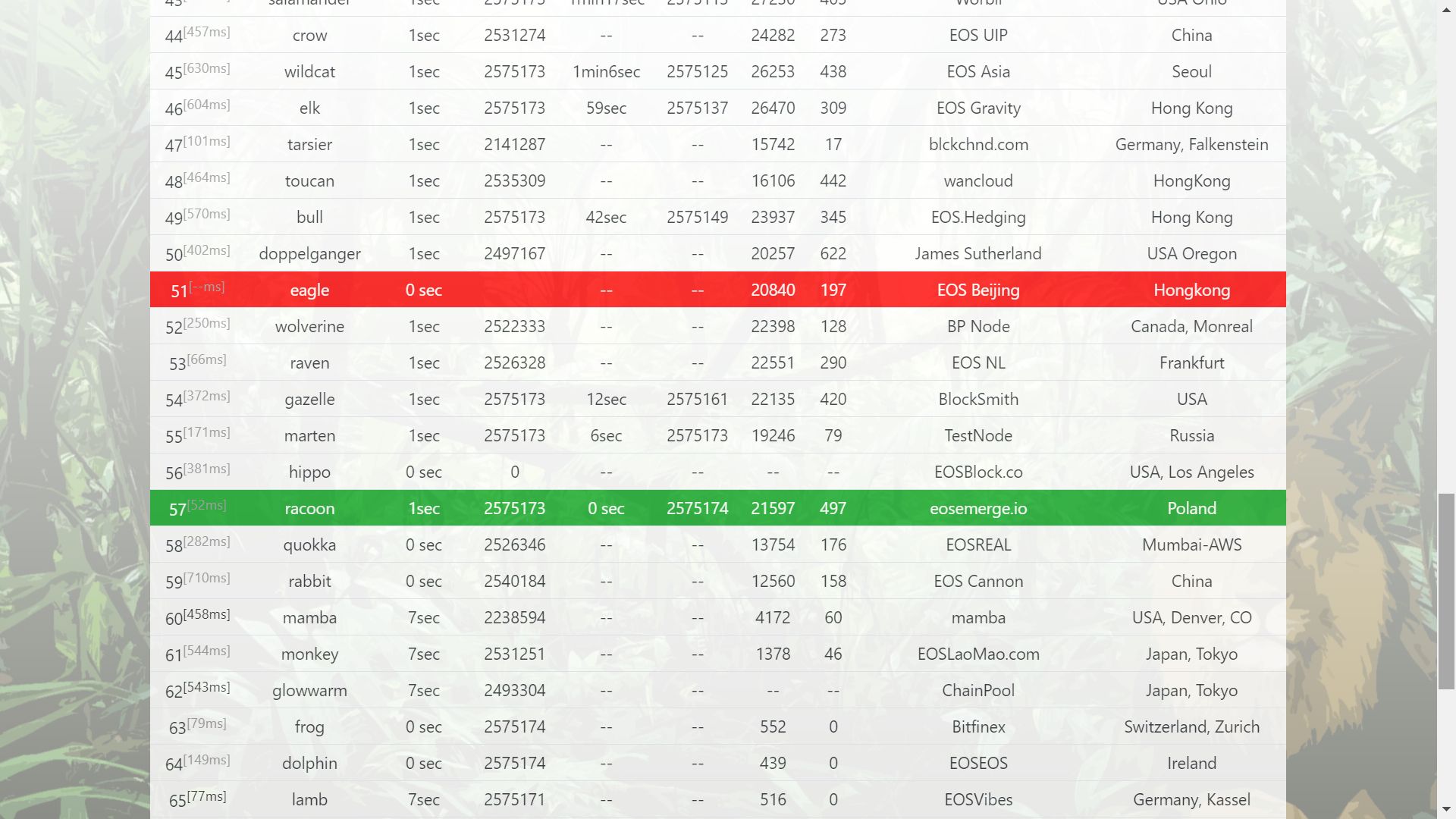 Key Members of EOS Emerge Team: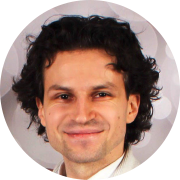 Marek Bacławski - Entrepreneur and investor - Initiator of the EOS Emerge project. In board of companies in the financial sector and more particularly in alternative investments. Big enthusiast of the blockchain technology and the many opportunities that it can offer in the changing environments of business. A fan and a supporter of new technologies and innovative solutions. Responsible for the management and financing of the EOS project. Early adopter and miner of cryptocurrencies.

https://t.me/mbaclawski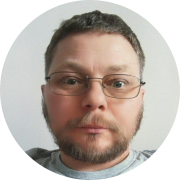 Krzysztof Manijak - Developer / Head of IT - Principal developer of the EOS Emerge and system administrator with a significant experience in IT solutions and development. In IT since 1999 as an administrator and designer of local and wide area networks as well as VPN Networks; administrator and system designer, PHP and Python programmer, implementer and consultant in the field of Linux in business, designer and programmer of M2M interfaces - integration of the Web environment and SCADA systems. His competence and expertise in different IT sectors make him able to create complex solutions based on the blockchain technology and bring his unique skills to the EOS ecosystem.

https://t.me/true_manner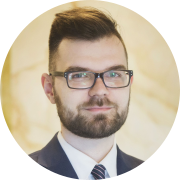 Miłosz Micherda - Project Manager / PR - responsible for managing the tasks involved in the EOS Emerge project as well as communicating with the EOS society. Previously he successfully helped companies introduce new technologies ensuring smooth and safe transitions. Also responsible for making new connections and maintaining good relations with current partners. Strong believer in the future development of the blockchain technology as well as the role it will play in facilitating payments and decentralised applications.

https://t.me/Om4tic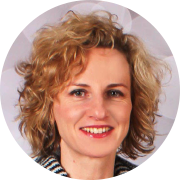 Ines Zouabi - Consultant / PR - Graduate of an MBA program with a broad and diversified experience in banking and relationship building. Passed level I of the Chartered Financial Analyst (CFA) exam. Fluent in English, Arabic, Polish, and French. Motivated individual and known for honesty, integrity and a genuine passion for achieving goals for self and others. Excellent communication skills and ability to work harmoniously with partners. Responsible for managing the tasks involved in the EOS Emerge project as well as communicating with the EOS society. Responsible for making new connections and maintaining good relations with current partners. An enthusiast of the blockchain technology and a strong believer in its positive impact on the changing environments of business.
Contact:
E-mail: support@eosemerge.io
Website: https://eosemerge.io
Steemit: https://steemit.com/@eosemerge
Telegram: https://t.me/eosemerge
Twitter: https://twitter.com/eos_emerge
Thank you for your support! We are very excited to join the EOS community!