EOS Block Producer Candidacy: SaltBlock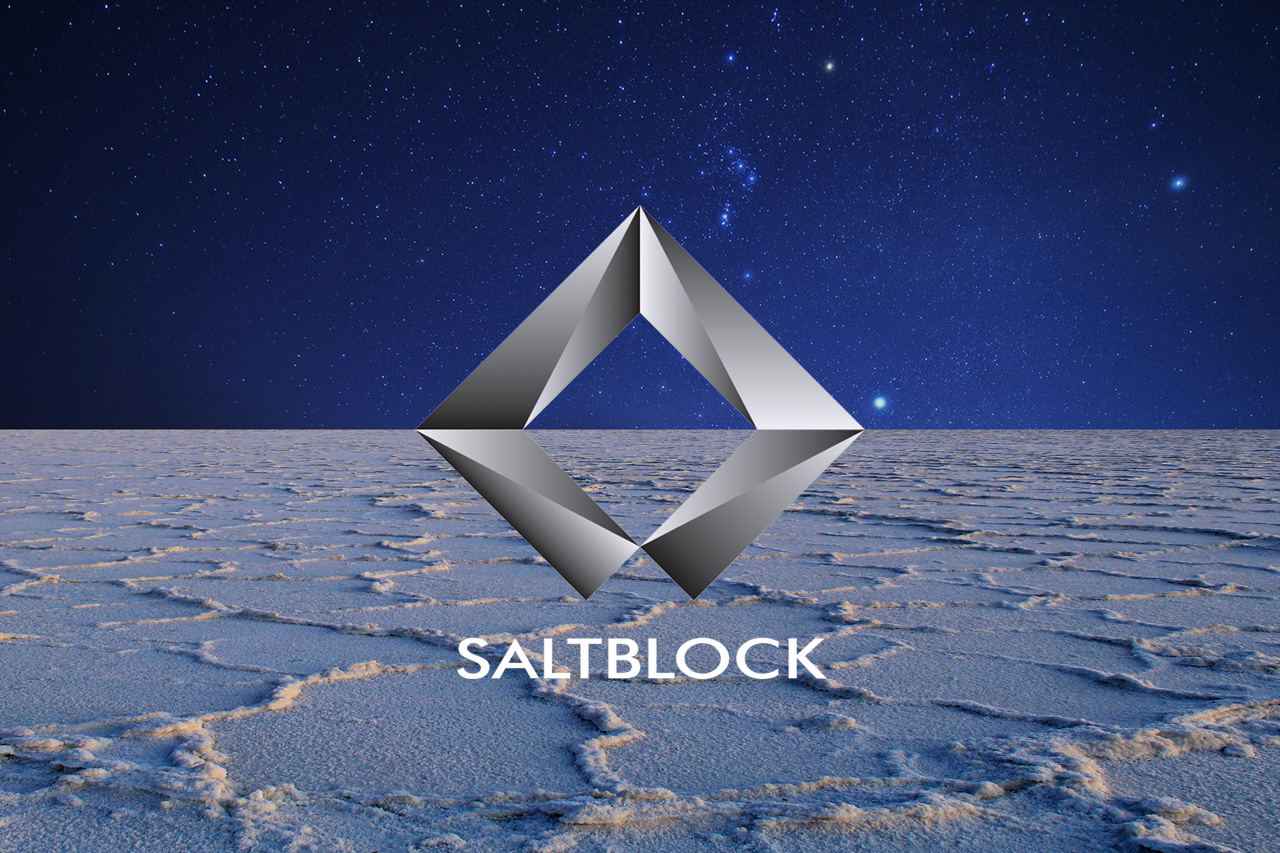 Hi everyone, we're SaltBlock, a block producer candidate based in Salt Lake City, UT, USA. We're so excited about the upcoming EOS launch and we'd like to introduce ourselves and show you what we have planned should we be chosen to be a block producer.
We fully believe EOS will bring blockchain and decentralized technology into the mainstream. Not only because of the EOSIO software being created by Block.One, but also because of the amazing community that we're lucky to be a part of.
Mission
Our mission is to translate our knowledge and skills into a positive and dependable platform while helping the EOS community achieve great things through thoughtful action.
Team
SaltBlock was founded by Marshall Anderson and Adrian Hunter; lifelong friends, business partners, and blockchain enthusiasts.
ADRIAN HUNTER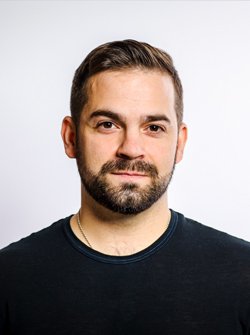 Adrian is currently a Technical Specialist at Google in Paris, France where he focuses on solving technical challenges on demand side platforms and scaling programmatic solutions across Europe. Adrian was introduced to computers and technology at a young age and has made them a part of his life both personally, and professionally. He co-founded Geekbox, a high-end custom gaming PC company and systems integrator, which was acquired in 2013. Through his personal and professional experiences, Adrian brings a unique skillset to the EOS ecosystem. He has proven to be an inclusive community builder, technical collaborator, and overall motivator as he continues his work with EOS contributors.
MARSHALL ANDERSON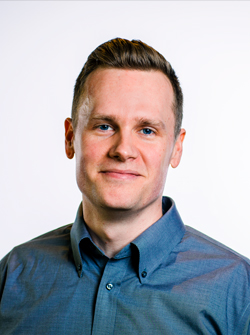 Marshall is the president and owner of Tektonic, an IT infrastructure management company in Salt Lake City, Utah. Through his company, Marshall specializes in maintaining the availability of Tektonic's clients' critical infrastructure. With a long history of successful technology startups, Marshall has honed his skills as a technology leader. Marshall is able to combine his pragmatism, empathy, and patience with technical knowledge to provide solutions and to empower others. He brings his value system, a wealth of technology expertise, leadership, and genuine passion for blockchain technology to the EOS community.
Our Values
Our values help guide us as individuals and as an organization. These core values ground us when we're making decisions and inform us when we have questions. Having strong values allows us to align ourselves with like-minded individuals and organizations.
Always be transparent: Be open about successes as well as failures and mistakes. Through transparency we allow trust and through trust we're able to accomplish more than by other means.
Community first: To build great things you must have a great community. When making decisions affecting the community, the health of the community comes first
Choose stability: When making infrastructure decisions choose stability over any other possibilities. Plan for the worst-case scenario and design accordingly.
Always give back: Give freely all things you have in abundance, whether it's time, money, knowledge, or happiness.
Technology
We believe for the EOS network to achieve its full potential it requires smart design when it comes to the infrastructure it runs on. Below is a network map that is subject to change based on new information that we may receive in the future regarding the EOSIO software.
We'll be hosting our own hardware in a datacenter located in Salt Lake City. This gives us a secure and highly redundant home for our hardware that will reduce the possibility of downtime. The facility features redundant power systems, backup generators, biometric security, fire suppression, redundant cooling systems, and multiple upstream internet providers. The datacenter is also powered using energy that is 100% wind-generated.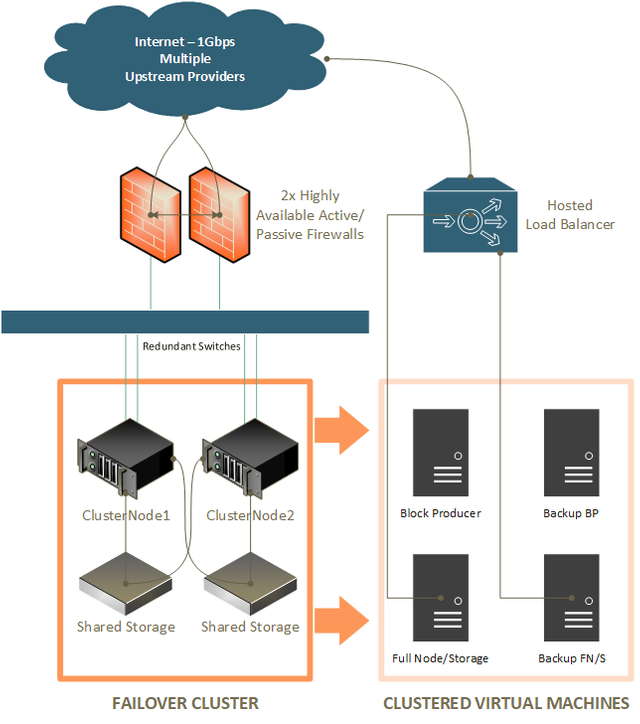 Design Decisions
Redundancy
Along with the datacenter being completely N+1 redundant, we'll be implementing redundant hardware ourselves to give us some resiliency when it comes to issues and failures.
Active/Passive Firewall/Routers
We'll have 2 Firewall/Routers working in an active/passive high availability pair. This means we can lose complete functionality on one of our firewalls and continue to operate. This also gives us the ability to update firmware and change network configurations without taking the network offline.
Failover Cluster
Our servers will be running in a failover cluster configuration using shared storage. We'll be running EOSIO nodes inside of virtual machines hosted on this failover cluster. This means either ClusterNode1 or ClusterNode2 can run any or all of our virtual machines. In the event of a hardware failure on one of our cluster nodes, we can instantly migrate our block producing or full nodes to the other cluster node with no downtime.
Running a failover cluster also allows us to easily move virtual machines off of a particular cluster node when we need to update the underlying operating system. We'll live migrate the virtual machine from one cluster node to the other, update the operating system, and then migrate the virtual machine back to the original cluster node.
Upgrading our hardware is also made easier by using a cluster. When we upgrade our infrastructure, we'll be able to live migrate our EOS nodes to the new hardware with no downtime.
We'll be using 2 direct attached storage arrays to host our virtual machines. This gives us storage redundancy in the event an entire storage enclosure fails. This is easily expandable in the future to include more enclosures and capacity.
Load Balancing
We'll be using a hosted load balancer to handle requests from our full nodes. This will give us the ability to offer a reliable service for anyone wanting to query the blockchain. It will also allow us to continue adding more infrastructure seamlessly down the road as requests increase.
Cloud Hosted Backup Node/Producer
We'll be running a non-block producing node on Microsoft Azure to be used in the unlikely event there's downtime at our primary location. We'll switch from non-producing to a block producing node to make sure there's no significant downtime while we bring our primary site back online. We chose to use Azure as it seems to be less popular than Amazon amongst block producer candidates. This will give the network some resiliency in case there's any Amazon specific downtime.
Monitoring
We're monitoring our hardware and software using PRTG. PRTG uses SNMP to query our infrastructure and alerts us via email to any warnings or failures.
Current Hardware Specs for Testnet
Cluster Nodes - 2x Intel [email protected] 192GB RAM
Shared Storage – 12TB of SAS storage for each device (upgradable to 120TB each)
Firewalls – 7.4Gbps throughput
Scaling Plans
We plan to scale our hardware as needed. The community is still in the process of figuring out benchmarks and what specifications may be required. Should we need to upgrade hardware before launch, we're prepared to do so. Our design decisions give us the ability to either upgrade current infrastructure or install new hardware with little or no downtime.
We anticipate upgrading our Cluster Nodes to servers with larger amounts of installed RAM and larger RAM capacity (1TB+) We'll be able to install new servers into our failover cluster and decommission old hardware.
We're currently running on a WAN port provisioned at 1Gbps. Should/when we need to scale to 10Gbps we can do so easily on the WAN side. We'd then replace our firewalls with higher throughput models to achieve 10Gbps+.
Scaling our storage means adding more drives to our shared storage hardware. Currently we're using SAS drives. Should we need SSD storage, we'll be installing new DAS/SAN enclosures.
Community Involvement
Community EOS Test Network:
We've been involved in the Community Testnet spearheaded by Eric (@xebb / http://www.eosio.se) Along with other great block producer candidates and individuals, we've been running a block producing node since the beginning of the testnet.
SaltBlock producer name on Community Testnet: Spiderman


EOS Portal:
The aim of EOS Portal is to become a tool to be used by the sprawling ecosystem. Developed as an open source project by the community, for the community. The Portal will allow participants to both identify and advocate for likeminded voters, proxies and BPs among the global community of interested contributors.
This is a community driven project, with participation from:
Eric @ eosio.se
Michael Yeates @ eosdac.io
Adrian/Marshall @ saltblock.io
Zara @ EOS Brazil
marcin @ EOS Green
David P @ EOS42
Conclusion
We are genuinely excited to continue working alongside so many likeminded individuals whom are both passionate about blockchain technology, and EOS. We value the importance of the role block producers play and look to become custodians of the blockchain if elected. We are here to use our super powers for good and look forward to working towards our common goals together with the community.
Contact us:
Website: https://www.saltblock.io
Telegram: EOS BlockPros Channel - https://t.me/EOSPros
We are very open to collaborating and working on new projects. If you have ideas, and would like to collaborate with us, or have any questions for us, please don't hesitate to reach out to us.