Introducing steem.guide!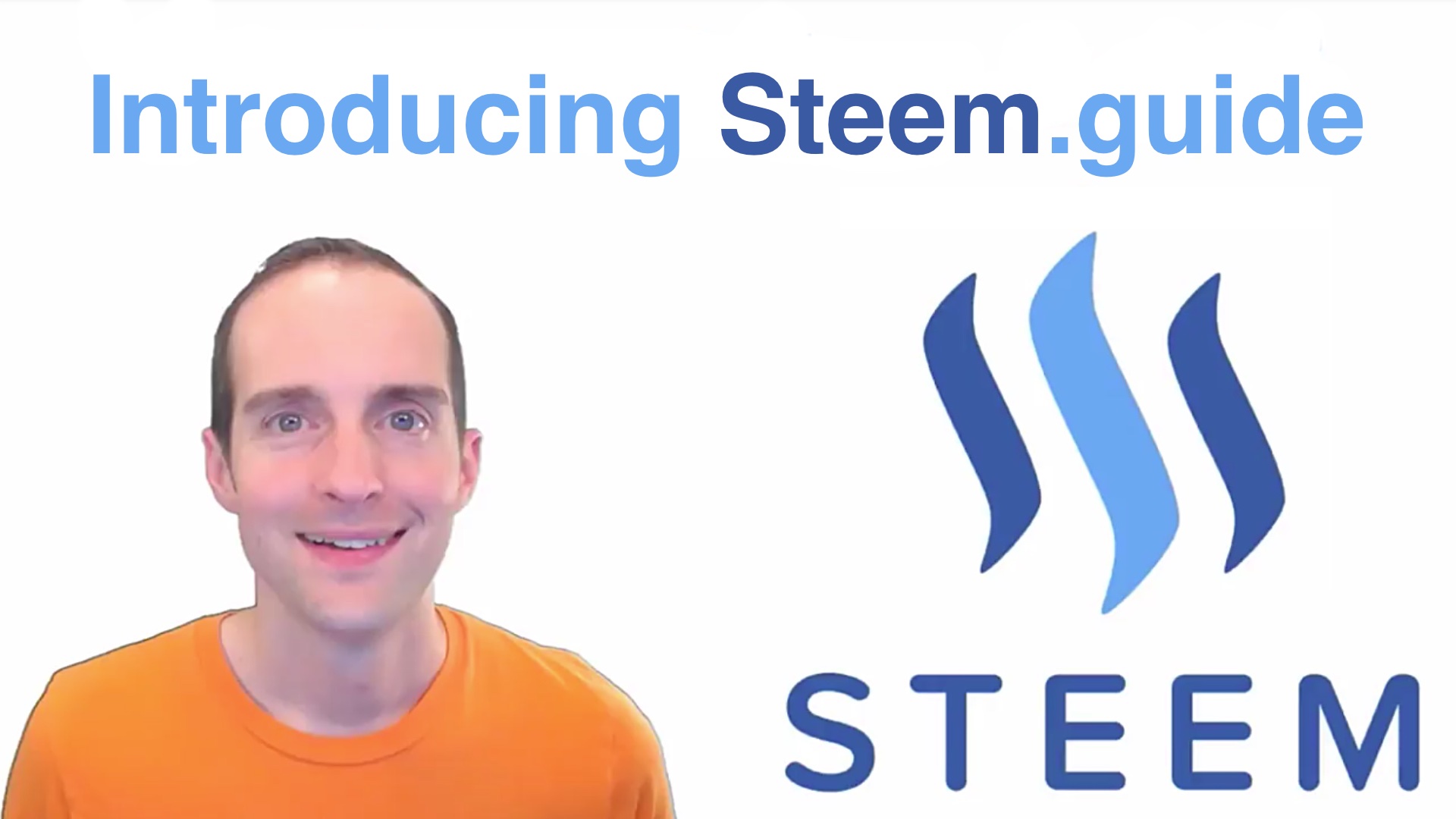 Question? How do we succeed on Steem? Answer: go to steem.guide, read the updated list of tutorials for Steem, and start applying what we learn there to our contributions on Steem!
Introducing Steem.guide

steem.guide forwards to a new post each month on steemit.com featuring the most helpful Steem tutorials we have read and created. Will you help make this better by sharing links to the best guides you have found on Steem because we will include these in the next post?
Alternatively, access the Steem guides with the spreadsheet on Airtable at:
https://airtable.com/shrF00NW4Z99WZX50/tblxbDgjhjN2Lu1jZ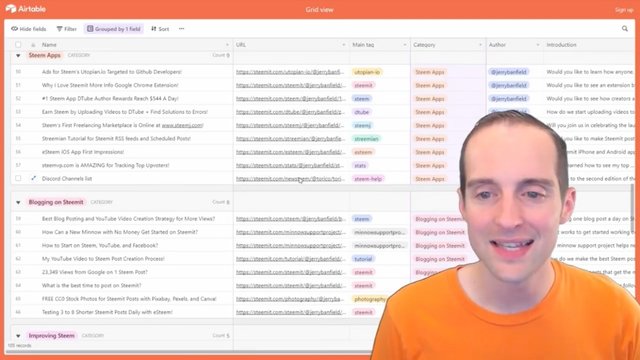 I have tried to organize this in the order I think will be most helpful to read. At currently about 6,000 words and a 30 minute read, I trust each of us to take what we need and leave the rest! With this being the first edition and already very long, I hope to include more guides by more authors in future updates with your help in the comments! Each section begins with a one sentence summary.
Steem Account Security

Executive summary: Keep the Steem password safe both from being lost and stolen while using the private posting and active keys to sign in.
Introducing 28 Days of Steem Basic Training! What Next After Account Approval? #1 As soon as we get our Steem account, we get a link to "steemit.com/start" with some custom characters for each of us. This will allow us to set up our password on Steemit. We will receive a password or have the ability to generate a password that is the master key to our account. From day one, the most important thing to do is build or use an existing system to keep the password safe and to start immediately the private posting key and active key to sign in instead of the password.
The Steemit Account Security Tutorial June 2017! Will you see the best ways to keep our Steemit accounts safe because until today I was not practicing these myself? After researching the best practices for keeping my account secure, I started logging in a new way to Steemit today because I realize how easy it would be to lose access to my account and found an easy way to avoid this.
I Found $63,278 of Private Keys on Steemit.com in 10 Minutes! Will exchanges like Bittrex and Poloniex help warn users against sending a private key in a memo because Steem users are accidentally sharing the posting, active, and even master passwords out in the open almost every day with transfers from exchanges with no ability to undo the mistake outside of changing the master password?


Blogging on Steemit

Executive summary: Post original content once a day that is automatically shared on Facebook and Twitter with a focus on considering what readers will be searching for in Google while forgetting about the earnings on individual posts.
23,349 Views from Google on 1 Steem Post? How do we write posts that get the most views on Steemit? Will we see how 1 post got 23,349 views in 2 months because we can repeat the formula to automatically get new readers, gain new followers, and increase the value of Steem?
Steemit Authors Earn 37% More Steem with 50/50 Payout! When we choose the 50/50 payout option on our Steemit posts, we earn 37% more than with the 100% Steem Power payout because Steem Dollars or SBD are actually worth today $1.69 on the market! Would you continue reading to see why and how to quickly change SBD into Steem and/or any other cryptocurrency?
Best Blog Posting and YouTube Video Creation Strategy for More Views? Publishing one blog post a day on Steem and one video daily on YouTube appears to be ideal for giving the most to viewers and maintaining a healthy balance as a writer and video producer.
How to Start on Steem, YouTube, and Facebook? The minnow support project helps new Steem users earn more from posts and was kind enough to do an interview with me! This is part 1 of the interview which I hope is helpful in answering the questions: "What can I do to contribute the most today on Steemit? How may I help the minnows (users with very little Steem Power) increase earnings and make a valuable contribution here?"
How Can a New Minnow with No Money Get Started on Steemit? What works to get started working online and reach the next level, especially on Steemit? This is part 2 of the interview with @followbtcnews where I answer questions about Steemit.
My YouTube Video to Steem Post Creation Process! How do we make the best Steem posts in the shortest amount of time and share automatically on Facebook and Twitter? See the workflow I use to turn my videos uploaded on YouTube and Facebook into posts on Steemit which are automatically shared on Twitter and on Facebook.
What is the best time to post on Steemit? How do we find what times our followers are online to sync our posts with follower activity? Which time of the day has the highest amount of active users? Will you read this post or watch the original video from YouTube to see me use a new tool shared by a follower that is helping me optimize my posting strategy?
Steemit Updates Summarized From Launch to 19.0! Ready for Steemit to be easier to understand? View all the major Steem changes from release in 2016 to through 19.0 in June 2017 in this one list! Reading the whitepaper when I first signed up for Steemit in May 2017 combined with hundreds of Steemit posts from many months ago left me really confused!
The HF19 Maximum Curation Rewards Strategy! How do we earn the most curation rewards? Why do some Steem authors get upvotes so fast? The answer is using automatic upvoters especially on popular authors that guarantee huge curation rewards.
When is the Best Time to Upvote on Steemit? New users to Steemit may not know that there is a certain period of time where it is not to their advantage to upvote someone's post or comment, if they want the maximum curation rewards. I myself was not aware of this until I read the FAQs.
FREE CC0 Stock Photos for Steemit Posts with Pixabay, Pexels, and Canva! How do many authors on Steemit get photos for blog posts? Pixabay, Pexels and Canva are what I use for free stock photo images in posts on Steemit.

Promoting Steem Posts

Executive summary: Post 2,000 to 10,000 word comprehensive guides and share them on Facebook and Twitter because Google will then provide hundreds of readers every day for free indefinitely.
Best Search Engine Optimization (SEO) Strategies for 2017: Get Steemit Readers and Followers Automatically with Google Organic Search Traffic! How do we get the most readers to find our posts on Steemit? Optimizing for Google organic search traffic gives each of us the very highest chance to get found exactly when we are needed, which is thousands more times powerful that brute force advertising and spamming
Faithful Following and Finding Followers on Steemit? What is the best way to get new followers on Steemit and to give the most to our following? Will you read this post because you might learn from my experience in making nearly every kind of mistake possible when it comes to following and getting followers on Facebook, Twitter, YouTube, Twitch, and Linkedin?
Publish Steemit Blog Posts Automatically to Facebook and Twitter with Zapier or IFTTT and Streemian! How much time will we save by setting up automatic sharing of our steemit.com posts on social media? Assuming it takes most of us an average of an extra one minute to share on both Facebook and Twitter after we post to our Steemit blog and that we make on average one post per day, setting up automatic posting will save 6 HOURS a year!
How to Get More Followers on Steemit? Sharing with our friends on Facebook, followers on Twitter, and viewers on YouTube is the most effective method to get new followers on Steem to begin! As we continue to write, Google search and social sharing can also greatly assist us in building followers automatically!
Earn Steem for Finding an Undervalued Steemit Post and Submitting to Curie! What is the very best way on Steemit to earn hundreds of dollars from getting an undervalued post upvoted? This is the "Curie" guild on Streemian.com.
Boost Posts on Steem with Upvote Bots! How do we get more upvotes on a post on Steem? Using the new Steem Upvote Bot Tracker by @yabapmatt we can see a list of upvoting bots running the Dr. Otto vote bidding bot by @inertia along with other custom post voting bots like @minnowbooster, which will give us upvotes in exchange for SBD.

Buying and Selling Steem on Exchanges

Executive summary: For the best price and most simple transaction, buy and exchange BTC, ETH, or LTC to Steem with Changelly.
Exchange Steem Fast with Changelly! How do we use Changelly to buy or sell Steem with other cryptocurrencies at a 0.5% fee? Would you read this post for the complete tutorial or watch the original video from YouTube because seeing how we use Changelly might save you a lot of money in fees?
Fast Steem + SBD Exchanges with Bitcoin, Ethereum, and Litecoin on @BlockTrades! BlockTrades is the fastest way I know of to change Steem and Steem Dollars to BTC, ETH, or LTC which then are easy to buy and sell with USD. How do I use BlockTrades.us to make these nearly instant exchanges of different online cryptocurrencies, especially for withdrawing SBD fast?
Buy Bitcoin with a Credit Card on Bitstamp and Exchange to Steem with @BlockTrades! What is the fastest way to buy into Bitcoin, Steem, or any cryptocurrency? With a credit card, Bitstamp, BlockTrades, Changelly, and/or Bittrex, we can buy as much as $5,000 in Bitcoin just a few minutes and exchange that BTC into Steem or any other cryptocurrency!
Bittrex.com Cryptocurrency Exchange Trading Tutorial with Bitcoin + Steem + 179 Altcoins! Where to buy Steem to power up and trade altcoins? Buying 15+ BTC of Steem on Bittrex.com was simple from making the Bitcoin, Ethereum, and Litecoin deposits from USD on Coinbase to depositing altcoins from Poloniex and Bitfinex to executing the trades from BTC to Steem to making the withdrawals almost instantly to Steemit and powering up!


Steem Basic Training

Executive summary: Commit to learning about Steem one day at a time for best results!
Introducing 28 Days of Steem Basic Training! What Next After Account Approval? #1 New to Steem? Would you join us for day one of this 28-day Steem basic training program because inside is the best of what I've learned about how to be successful on Steemit including when do we earn money, how to keep our accounts safe, where do we go for help, and how do we make lasting deep relationships with people on Earth?
Making The Introduceyourself Post for Day #2 of Steem Basic Training! Would you join me in learning how to make an "introduceyourself" post today on Steem because this first post is very helpful for getting new followers, for getting that initial excitement on Steem, and for setting in motion everything else that happens?
Respond to Comments on Steem to Convert Readers to Followers! #3 Would you read through this post today on Steem if you are new because we will see that the critical thing to do is to respond to comments on Steem starting with those on our first post?
The Best Blog Posting Frequency? #4 Would you join me in learning about making a blog posting schedule on Steem during day 4 of our basic training here because this can be extremely helpful in guiding our creativity in a measured and consistent way?
Get Help Fast with Steem on steemit.chat and Discord! #5 Welcome to day five of Basic Training on Steem! Would you join us today in learning about how to use the chat channels on Steemit.chat and Discord because these are extremely helpful for getting real-time help? Thank you to @riverhead for maintaining steemit.chat!


Investing in Steem

Executive summary: Decide to become an investor in Steem today for the maximum potential?
Top 10 Reasons to Buy and Hold Steem! How do we share the value of Steem with an investor? These 10 bullet points make it easy using a question and answer format! Thank you to @barrysamways for asking me about this recently, which I hope will be useful for any of us with a serious investor friend to explain the value of Steem!
10 Reasons for $10 Steem Price in 10 Months! How will we feel when the Steem price reaches $10 in 10 months? This price is possible for our community because of these 10 factors!
Best $25,000,000 Investment for 2018? When we have 25+ million dollars in 2018 we want to invest with the goals of doing the most good and getting the highest return, where is the best opportunity to make that kind of investment? Are we looking to do some good, to make a contribution in the world, to leave a legacy? Are we looking ideally to get some influence out of our investment?
#1 Data Point Proving The Value of Steem! What one number shows the value of Steem the most? 630,993 transactions with Steem PER DAY, which is more than Bitcoin and Ethereum and Litecoin COMBINED!
Facebook + Bitcoin = Steem! The easy answer to the question "What is Steem?" is "Imagine if Facebook and Bitcoin had a baby" which suggests combining the most innovative powerful parts of what they introduced into something new.
Steemit Tax Calculation and Payment System What is the easiest way to calculate and pay taxes on our Steemit earnings? Will you read this post to see the system I am using based on my research into cryptocurrency taxation to pay my taxes on the Steem, SteemDollars, and Steem Power I earn through rewards and interest on Steemit?
Valuing Steem Rewards As Taxable Income Is A Vast Overstatement Of Tax Liability - Part 1 @lexiconical shares a system for only paying taxes on rewards cashed out through Steem which is what I use now after originally using the system above. Cashing out at the time of sale has a lot of benefits if the price drops and for receiving many small rewards payments.
Valuing Steem Rewards As Taxable Income Is A Vast Overstatement Of Tax Liability - Part 4 - Weaseling Out Of As Many "Standard Income Qualifications" As Possible @lexiconical concludes his series here on paying taxes on Steem rewards!
#1 Lesson I Learned Investing in Cryptocurrencies like Steem, Bitcoin, Ethereum, and Dash. What is the number one tip I have for investing in cryptocurrencies? The number one tip I have is to just bet the market over time. Buy different currencies and just hold onto them. The opposite of doing this is trading. That involves timing the market.


Steem Apps

Executive summary: These Steem apps show the true power of our blockchain!
3 Alternatives to Browse Steem When Steemit.com is Offline! ChainBB by @jesta, Busy.org by the @busy.org team, and eSteem While steemit.com appears to be under a DDOS attack today preventing most of us from browsing or using it, fortunately the Steem blockchain as a whole is decentralized and is functioning well! Once we are aware of alternatives to using steemit.com to interact with the Steem blockchain, we can easily switch when steemit.com is having problems or if we prefer the interface on any of the three other options! Thank you to @jesta for ChainBB, the @busy.org team for busy.org which I am using to post this, and @good-karma for eSteem.
Ads for Steem's Utopian.io Targeted to Github Developers! Would you like to learn how anyone, especially developers, can easily monetize contributions to open source projects hosted on websites like Github by using Utopian.io because up until today it has been very difficult to actually earn any money off of an open source project without having built-in monetization? Thank you to @elear for launching utopian.io!
Why I Love Steemit More Info Google Chrome Extension! Would you like to see an extension by @armandocat that makes browsing Steemit much easier? This extension can show you how much voting power each our followers has, how much our vote is actually contributing on a post, and get more detailed stats right away.
#1 Steem App DTube Author Rewards Reach $544 A Day! Would you like to see how creators are earning $544 a day collectively in the first four weeks of a new decentralized video hosting website running on the Steem blockchain named d.tube? Thank you to @heimindanger for launching DTube!
Earn Steem by Uploading Videos to D.Tube + Find Solutions to Errors! How do we start uploading videos to DTube? What works to fix the errors we get when trying to upload and submit to the blockchain? Where can we find a complete video tutorial showing a basic user guide for getting starting with DTube and fixing the errors we receive?
Streemian Tutorial for Steemit RSS feeds and Scheduled Posts! Would you like to make Steemit posts ahead of time and find a guild to help curate, get you some upvotes, and to have the ability to automatically post Steemit posts directly on another RSS feed?
eSteem iOS App First Impressions! Easy Steemit iPhone and Android app? How was my first experience with eSteem? Would you read this post if you would like to see if eSteem on iOS or Android is worth using because I will show you the features I care most about here? If you want to start using eSteem, would you use this as a tutorial to start fast because you might have an easier time using it to begin with than I did!
steemvp.com is AMAZING for Tracking Top Upvoters! Today I learned how to see my top upvoters with steemvp.com! Thank you @roelandp for making this incredibly helpful Steemit tool which I will demonstrate here because I think it is essential each of us be able to see who is voting us up the most!
@torico's Magickal List of Steemit Discord Servers v.2 Welcome to the second edition of the Magickal Discord Server List. I find myself republishing this already because I have quite a few more servers that should be included and other links and articles that need updating.

Steem Secrets

Executive summary: Go from beginner to advanced with these Steem secrets!
Steem Secret #1: Focus on Headlines and First Sentence! Half of upvoters only read the headline and the first sentence! Easiest way to get more upvotes? Spend extra time focusing on the title, and then the very first few characters which will appear in the home feed and anywhere else the post shows.
Steem Secret #2: Add a Consistent Image in Thumbnails! Putting our face or artwork on the first image helps readers in the home feed see us! Using stock images without any consistency makes it easy to be ignored in the home feed where we often just look at pictures, titles, and the first sentence to decide what to read!
Steem Secret #3: Power Up Posts When Steem Dollars Trade Below $1! Choosing the 50/50 post payout is best if SBD are trading for $1+ but Power Up 100% pays more if not! See the SBD value any time at http://www.steemdollar.com/sd_index.php which is created and maintained by @mauricemikkers.
Steem Secret #4: Bring Our Own Followers! Each of us has at least 100 potential followers in our lives from family, Facebook friends, Twitter followers, neighbors, business associates, and the contact lists in our phones! Signing up for a new Steem account and expecting people to discover us for the first time naturally while browsing is insane because most readers already have enough authors to follow.
Steem Secret #5: The Cost of Watching The Price! We have the choice to be excited when the Steem price goes up OR down! Finding peace in being here for the long term means seeing that unless we are interested in buying or selling, the price today is irrelevant.
Steem Secret #6: Witnesses Votes Give The Most! Votes on posts pay once. Votes for witness pay indefinitely up to 0.18 Steem every 63 seconds equal to over $300 A DAY in Steem Power for the top 20 witnesses! View the list of witnesses at https://steemd.com/witnesses and adjust witness votes at https://steemit.com/~witnesses.
Steem Secret #7: Appropriate Methods to Ask for Votes! How do we get more votes and followers on Steem? Asking for an upvote, a follow, a resteem, or a witness vote in an appropriate context helps a lot because often the difference in getting a vote versus not getting a vote is asking.
Earn 24% Renting Steem Power with MinnowBooster! #8 Discover the easiest method investors can use to get a returns at 24% APR by leasing Steem Power via delegation at https://www.minnowbooster.net/market. This is a GREAT ALTERNATIVE to POWERING DOWN for getting liquid Steem without having to touch the principle!
Steem Desktop Wallet = Vessel! #9 Discover a desktop wallet for our Steem blockchain named Vessel created by witness @jesta which helps a lot with Steem Power delegation, storing private keys and making transactions all without the need to use steemit.com!
Get Retweeted By the @Steemit Twitter Account! #10 Learn how to earn a retweet on Twitter by the @steemit account. With over 33,000 followers on Twitter landing a retweet by Steemit is a huge opportunity to greatly expand the reach and upvotes on a post! This quick post first shows examples followed by a quick tutorial explaining what steps to take to be in position to get retweeted!
Most Steem Post Views Come After Payout! #11 We ask when publishing online how many views come within 24 hours versus how many come later and what impact this has on our posting strategy? Over 80% of my views on YouTube and on my blog posts on Steemit come after 24 hours with the majority happening after 7 days!
Bring Readers to Steemit from Google Image Search! #12 How do we get discovered by users searching images in Google? What simple steps do we take to make sure our pictures have a chance to rank high in Google image search? When users find our pictures while searching for images, how easy is it to get a reader on our blog?
Backup Steem Posts in Airtable! #13 When we invest hours writing posts for Steem, does it seem wise to take a minute to keep a copy of our work in case it is lost? Definitely! What is the easiest way to do that? Using Airtable to save each post into an entry on a spreadsheet is the fastest and most accessible way I know of to keep a copy of all my posts here!


Steem Witness Training

Executive summary: Witnesses produce the blockchain for Steem with Ubuntu Linux servers earning up to 260 Steem power a day which makes our most important votes for witnesses at https://steemit.com/~witnesses.
A Steem Witness Voting System! Are witness votes the most important we make for Steem? How do we find new witnesses to vote for at https://steemit.com/~witnesses where our vote will help the most? Where can new witnesses openly ask for votes in a way anyone can easily find them? What can we do to set up our votes and forget about this?
12 Steps to Secure a New Ubuntu Linux Server! Will you read this Ubuntu Linux security tutorial to see how to setup a new Ubuntu Linux server because these simple steps can block most basic hacking attempts? If you are hoping to setup a witness server for Steem, I hope this guide will help show what to do immediately after getting access to the witness server.
Steps 13 to 19 to Prepare an Ubuntu Linux Server to be a Witness for Steem! How do we prepare to launch our Steem witness on Ubuntu Linux inside a secure server? I hope this tutorial when combined with the others I have written will show the exact steps needed to block most hackers from gaining access to any Ubuntu Linux server and make starting a Steem witness easier.
Set a Proxy to Make Witness Voting Easy! The most important votes we make on Steem are for witnesses because every witness vote lasts indefinitely and witnesses are essentially the trusted servants and leaders of our community! The best solution I know of for witness voting is to find one user we trust to make all our votes for us, and then set that user as a proxy at https://steemit.com/~witnesses.
Meet Steem's Top 30 Witnesses! Will you join us in getting to know @klye, @aggroed, @thecryptodrive, @smooth, @cervantes, @lukestokes, @abit and @fyrstikken a little better because each has empowered us to be here together today and continues to support the growth of Steem every day as one of the top 30 witnesses?
Meet Steem's Top 20 Witnesses! Who are our top 20 witnesses? How has each helped build our community here on Steem? Our top 20 witnesses are producing 95% of our Steem blockchain every 63 seconds! We choose with our witness votes who gets to produce each block at https://steemit.com/~witnesses.
Our Top 20 Witnesses Earn 250 Steem Power A Day! Votes for witnesses are the most important we make on Steem because our votes decide who earns ~ $295 a day for doing the work of creating our blockchain, which is usually what we call mining in blockchains like Bitcoin and Ethereum. Witnesses also decide whether to accept changes made by Steemit, what the price of Steem is worth relative to the SBD, which updates should be made in the future, and generally do Steem full time in the top 20.
Meet Steem's Top 10 Witnesses! Witnesses create the Steem blockchain and our witness votes decide who gets to produce each block at https://steemit.com/~witnesses. Every 3 seconds, we are trusting a witness to produce the next block with all the transactions. The top 20 witnesses each produce one block every 63 seconds worth 0.18 Steem Power per block in earnings.
Get a Steem Witness + Seed Online Today with These Ubuntu Linux Commands! How do we setup our Steem witness and seed nodes if we have no Ubuntu Linux experience? What are the exact commands we need to use to become a witness for Steem and get our servers online? Hopefully this guide will make it ridiculously easy to get started in the command line interface even without ever having used Linux before!
Steem Witness Basic Training! How do we earn Steem Power and become a witness for Steemit today? What is a witness? Where does mining happen in Steem? Which steps to take to get a witness node online? Why take the time to vote for witnesses? Who are the existing witnesses for Steem? Will we read this guide because it has answers to all these questions which when understood helps us to be of best service here and therefore to get the highest return from our time invested?
How to Start Getting Steem Witness Votes? After launching our Steem witness, where is the logical starting point to get votes? The 10 steps in this guide will highlight a few basics that I hope are useful to get the most votes as witness on Steemit because it seems to me the voting process for being a witness with Steemit is challenging at all levels from keeping the list of 30 current at the top to building relationships during a climb up the middle to getting the very first votes at the bottom of the list.
Launch a Steem Witness Today! Find the newest guides for becoming a Steem witness here including hosting, server setup, security tutorials, Steem installation, and optimization! No experience with Ubuntu Linux? Me either! I did the research to make this post because I wanted to have everything I needed to get started today setting up my witness and seed without ever having used Linux before!
Becoming a Steem Witness? What is a Steem witness? Would you like me to learn and teach the steps to become a Steem witness? View current Steem witnesses at https://steemd.com/witnesses.
Complete Witness Installation Guide by @krnel. Welcome to a step-by-step "foolproof" guide to manually install a witness and seed node. All you have to do is type these commands one after the other. If something goes wrong, it's not likely covered here, sorry. Everything works for me after installing several times. You will have to do some research to resolve your issue, or ask for help in the witness steemit.chat channel.
Your guide to setting up a Witness Server (STEEM-in-a-box HF19) This article contains both upgrade instructions, AND install-from-fresh instructions. This article is designed for those running a previous version of my Steem-in-a-box software, or for those looking to set up a new witness server. Thank you @someguy123 for making it so easy with this guide for a new witness to get started!
Setting Up A Linux VPS Securely (Pt.1) - Join Me On My Journey to Become a Witness Along with a goal to get to Level 70 Reputation, I also wanted to host a node for the blockchain, and see about becoming a Steem Witness. That was after getting the rep level first, that I now have. So, I am continuing with the vision I had months ago, and am going to document or journal my journey to setup a Steem Witness Node.
Setting Up A Linux VPS Securely (Pt.2) Welcome back to the second part of securing your Linux Server. I won't talk about becoming a witness, or what a witness is, until I actually get to that part of the setup myself. This is about securing a server first.
Secure Your Linux Server with a Firewall A firewall is the last point of contact before anyone in the vast internet can get into your server. Getting a firewall up is crucial before deploying a server online. UFW means Uncomplicated Firewall and is included in Ubuntu.
Secure Your Linux Server with Fail2Ban by @krnel! Fail2Ban monitors log files to determine if someone who is trying to gain access is a legitimate user. If they aren't, they get banned temporarily by their IP address. Policies can be setup in conjunction with a firewall to log failed access attempts and drop traffic for a period of time, preventing a would-be attacker from even attempting to access your services.
Secure Your Linux Server with Tripwire IDS by @krnel. Security is continually developing, and you can't be sure to have locked down every possible vulnerability for some pesky hacker to get in through. An intrusion detection system will run a check of your system and compare it to a snapshot stored database of what your system previously looked like. Changes that you are not aware of indicate a possibly compromised system. @krnel thank you for writing this guide!
How to: Configuring more frequent time synchronisation on Ubuntu Since they will be removing an inbuilt NTP client in steemd, it is important for witnesses to configure time synchronisation on their servers. It's not difficult, just install one package and set a more frequent rate of NTP polling to minimise the drift. Thank you to @l0k1 for this tip!
Introducing conductor, a simple Steem Witness Toolkit Conductor is a user friendly, KISS utility for creating, updating and management of your witness. Thank you to @furion for creating conductor for us!

Improving Steem

Executive summary: Read these suggestions to improve Steem for inspiration to create our own!
Steem Budget Proposals Whitepaper! When we begin reinvesting 200,000 Steem every 28 days in projects promising to help Steem grow through a decentralized governance system featuring budgets, proposals, and voting, we can expect the value of the Steem we hold to increase exponentially without it costing us anything in upvotes, curation, author rewards, or inflation!
Steem Smart Media Tokens for Dummies! How do we understand the impact of Steemit CEO @Ned's new SMT whitepaper in 2 minutes? Will you read this post for a quick summary in the most basic terms of the whitepaper release yesterday at https://smt.steem.io because knowing what to do next will be simple?
Request to Add Shares Tab for Resteems! How much easier would it be to read blogs with a separate place for resteems? What increase in resteem use would we see if we did not face the problem of having the post we resteemed shared in the middle of our blog? Would we all benefit by having the posts we resteem moved into a tab of their own the way comments and replies are?
10 Simple Steem.io Update Requests! Would the Steemit team please make these few incredibly easy changes to steem.io because these updates will help convert more readers learning about Steem into new investors in Steemit and reduce new user confusion?

Thank You for Reading!
If you found this post helpful on Steem, would you please upvote it and follow me because you will then be able to see more posts like this in your home feed?
Love,
Jerry Banfield with edits by @gmichelbkk
Shared on:

Our Most Important Votes on Steem are for Witness!
Would you please make a vote for jerrybanfield as a witness or set jerrybanfield as a proxy to handle all witness votes at https://steemit.com/~witnesses because 100% of my witness earnings pay for ads that will help promote Steem for years? Thank you to the 2200+ of us on Steem voting for me as a witness, the nearly 1 million dollars worth of Steem power assigned by followers trusting me to make all witness votes through setting me as proxy, and @followbtcnews for making these .gif images!

Or

Let's stay together?