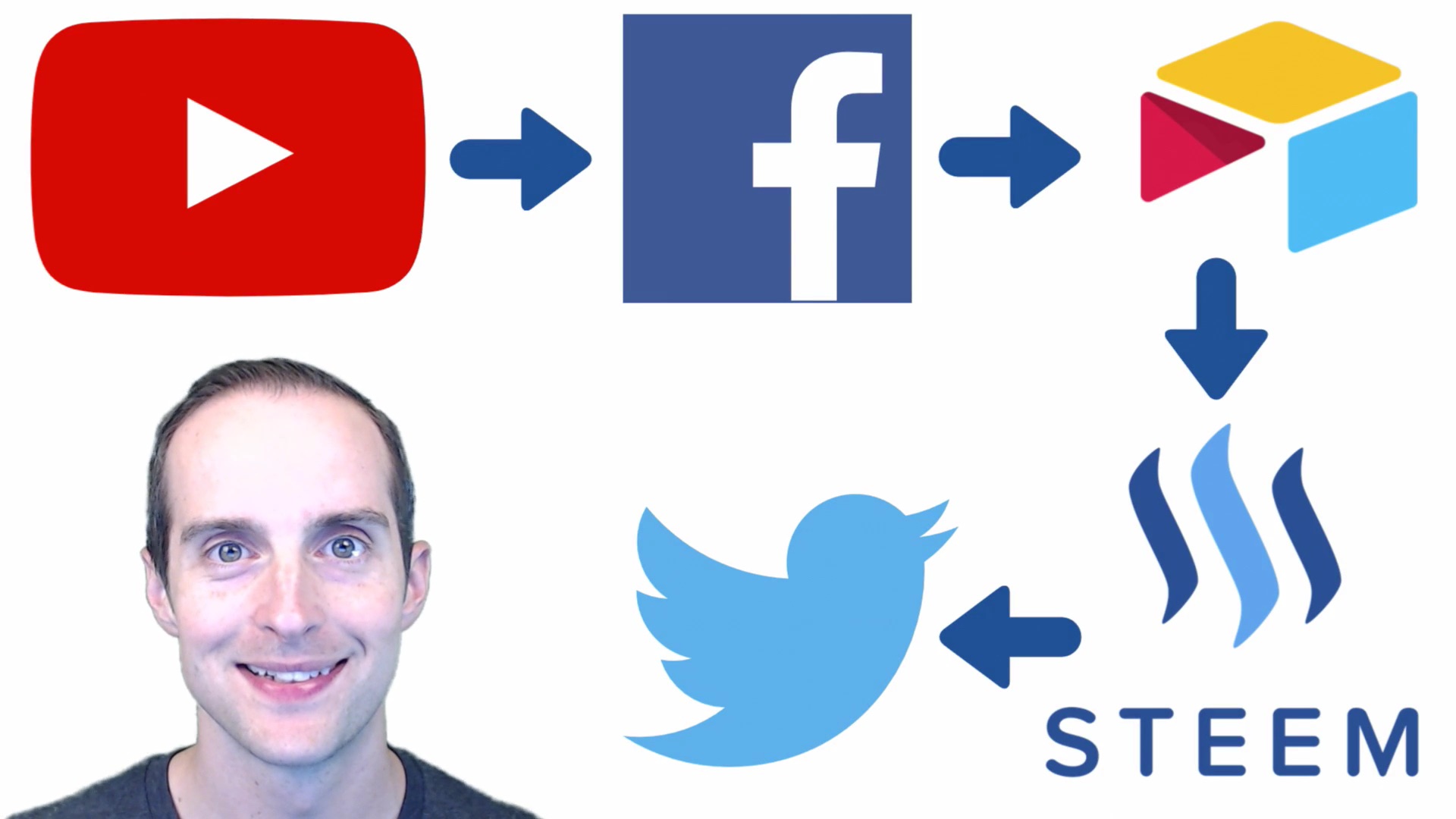 How do we make the best Steem posts in the shortest amount of time and share automatically on Facebook and Twitter? See the workflow I use to turn my videos uploaded on YouTube and Facebook into posts on Steemit which are automatically shared on Twitter and on Facebook. When we know how to do this, it's extremely empowering in terms of getting our gift to the world and sharing our message in as many ways as possible.
My workflow with YouTube, Facebook, Twitter, Steem, and Airtable

Executive summary!
I start by filming an unscripted video on whatever feels right to do each day. After uploading that video to Facebook and YouTube, I pay for transcription of everything I said in the video which costs abotu $0.80 per minute of video. Next, I send the transcription to my friend @gmichelbkk using Airtable. Michel makes edits to the transcription, removes irrelevant information that was only useful for the video, and adds screenshots to make a better post here. Then, Michel flags the post ready to go and I paste it into my submit story as I just did here. I spend anywhere from five minutes to an additional hour or so editing the post here and then I hit submit. Finally, the post goes out automatically to Twitter and Facebook to my existing followers which is how the majority of views come on every one of my posts. View the complete tutorial on how to set this up at https://steemit.com/steemit/@jerrybanfield/publish-steemit-blog-posts-automatically-to-facebook-and-twitter-with-zapier-or-ifttt-and-streemian. This system allows me to spend about an hour to create a video and an additional 30 minutes to an hour to make a post out of it that has a very good chance to rank high in Google that would otherwise take 5 to 10 hours to write. For example, this post is currently 2,391 words which would take at least an hour to write by itself not to mention all the screenshots and editing. Thus, all of my posts are in my voice and of my creation with help in getting the words from my mouth to the page!

Details!
I originally filmed this as a video on YouTube. You can see that I've got a lot of videos on YouTube, 1581 videos already on YouTube to be exact.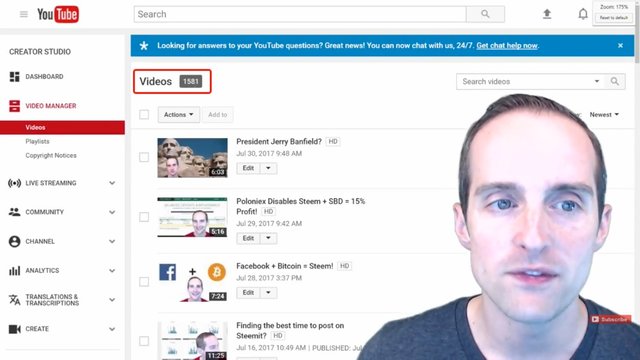 Now, I also have a bunch of videos on Facebook as well, nearly all of my YouTube videos go on Facebook.
Then, I do all these posts on Steemit.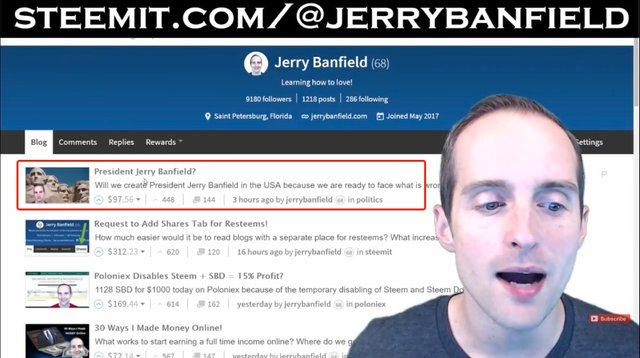 Steemit is what I'm most excited about right now because on Facebook I don't earn any money unless I sell something and YouTube produces a really small amount from ad revenue on a lot of views. On Steemit, a relatively small amount of views like on this new post, 220 views is currently earning $97.
Steemit is what I'm so excited about and the question is how do I get my videos into an engaging format on Steemit?
Just posting a video as a Steemit post often excludes readers like me who want to actually read something.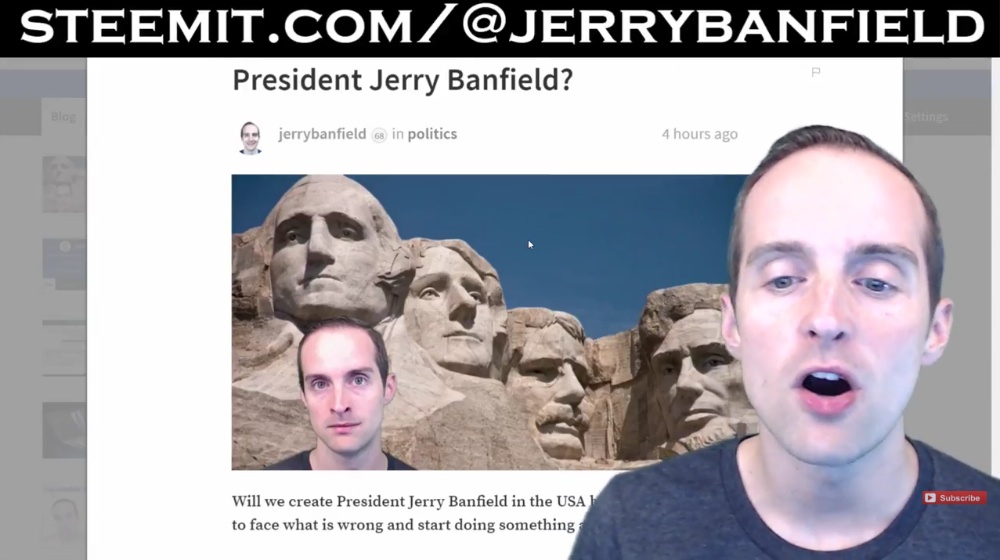 You can see when you look through all of my posts that I have these often massive posts on Steemit, which a lot of people have asked, "How do you get these upvotes? How do you get people to read your blog? How do you get followers online?"
This system is the key to all of it.
Now, I'm grateful to also get a lot of traffic from Twitter. I did a follow/follow back process on Twitter, plus I've had my account for five years or something, and all of my tweets, all of my new Steemit posts and YouTube videos, go out automatically on Twitter, which gives me additional traffic from retweets, additional traffic from likes and impressions from followers.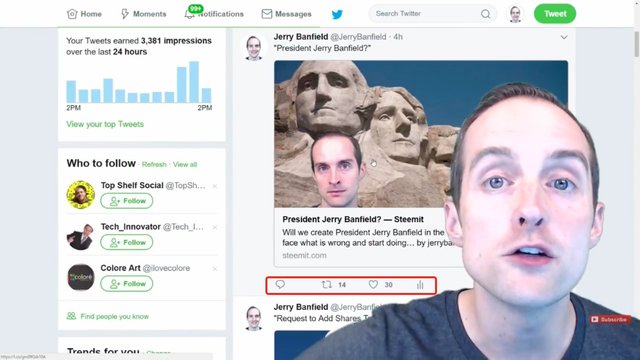 When I put all that together, then I'm able to just make a video and turn it into something that can be used in a lot of different places.
One thing I do that helps is I use GoTranscript and you can substitute any other transcription service or freelancer in place of this, but right now I'm using GoTranscript and this is the key part of the process.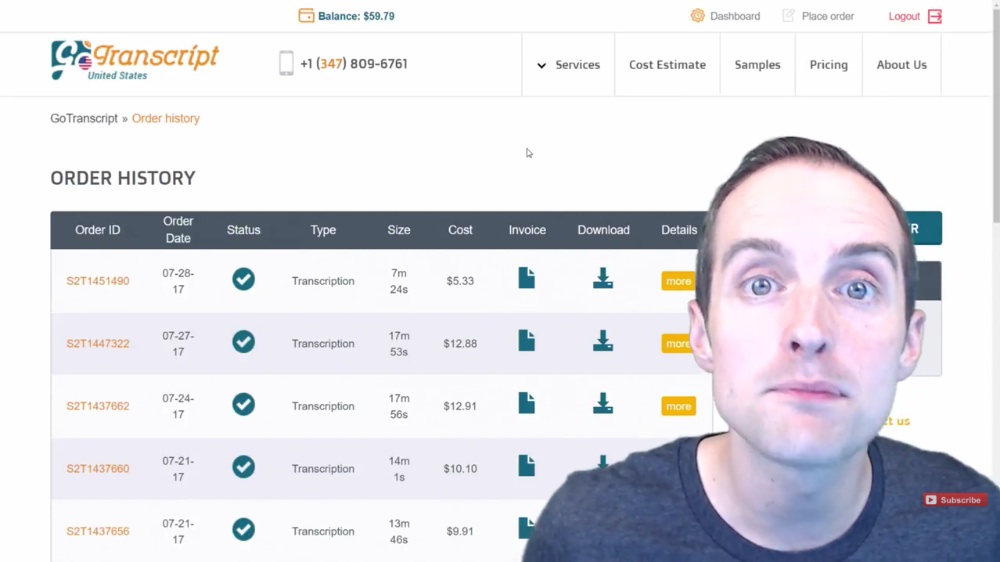 I use GoTranscript and I actually need my Airtable link open over here.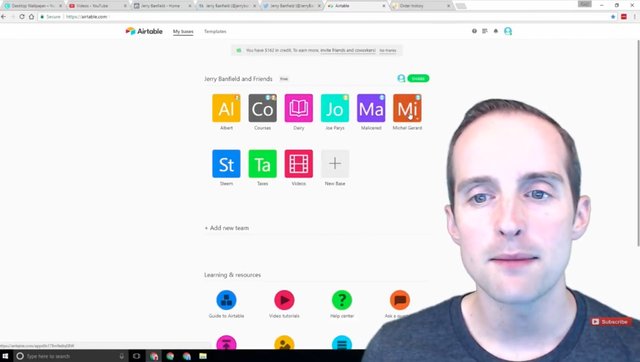 What I do is I collaborate with Michel to get my videos transcribed and when it is done then what I can do is just post them.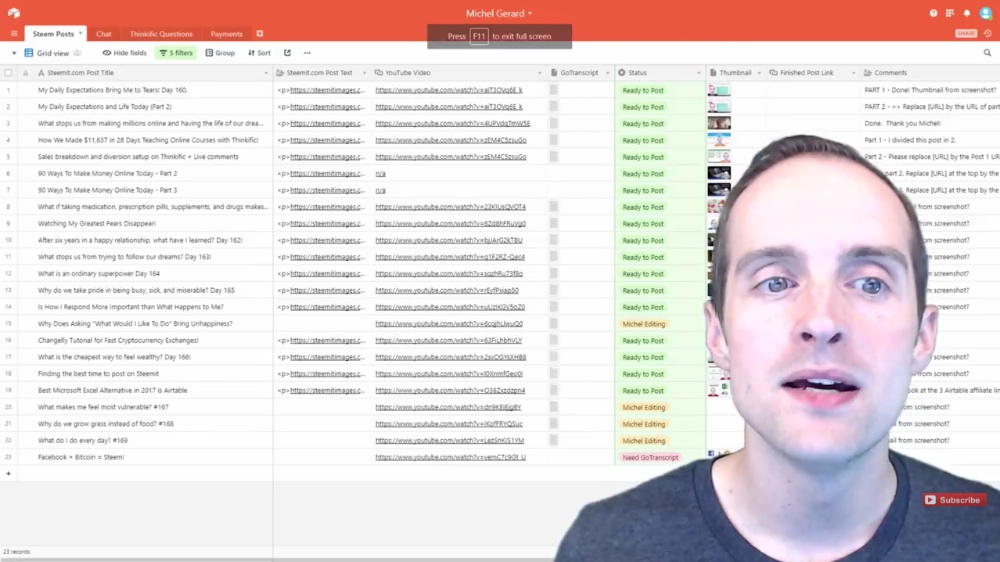 It's easier for me to make a video. It's very easy and natural to just talk about whatever it is that I'm doing. By comparison, if I try and go write a blog post like I wrote yesterday, it took 30 minutes to an hour to write a fairly short blog post, whereas I would need only three minutes of talking to get the same post.
Meanwhile, you can see how long this post is, "30 Ways I Made Money Online," which is great for search engine optimization. This is because I dictated part of it.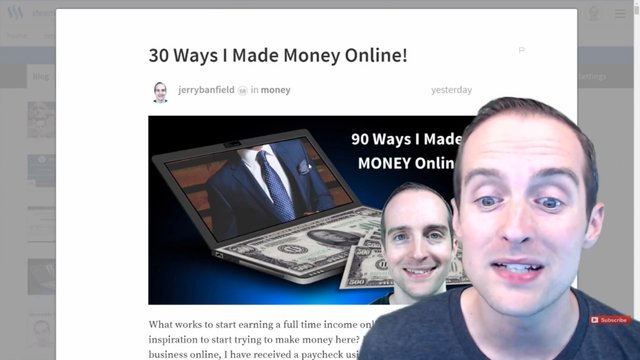 Here's my basic process.

I film a video and I try to optimize for tutorial or inspirational videos.
Here's an inspirational post, "Watching My Greatest Fears Disappear!"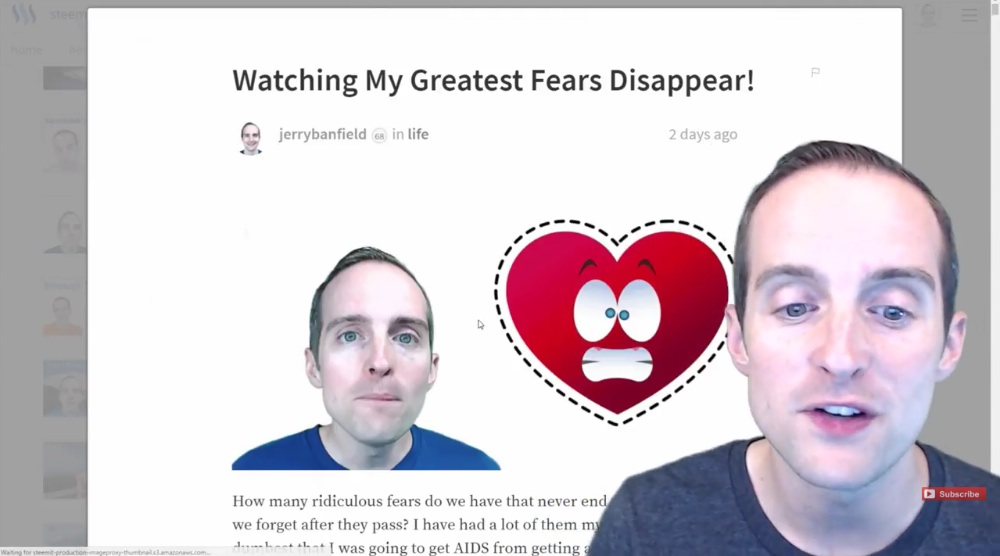 This was originally filmed as a YouTube video, transcribed and edited, and then posted.
By comparison "Does Steemit Do The Most to Support Gender Equality?" was originally filmed as a tutorial video, and then transcribed into a blog post, which now has more comments than actual post text. This was actually made into two different posts here.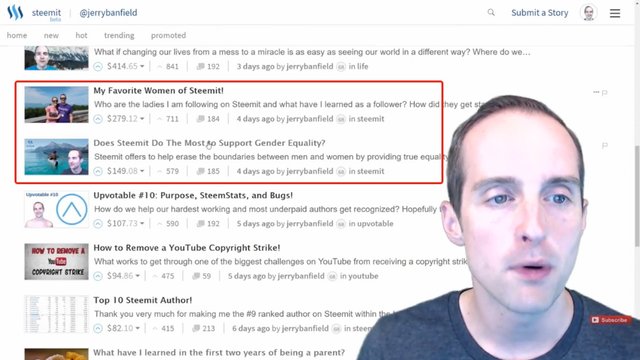 What I do is just film the video to begin with, then I get the video uploaded on Facebook like earlier you can see I did this video, "Will we create president Jerry Banfield?"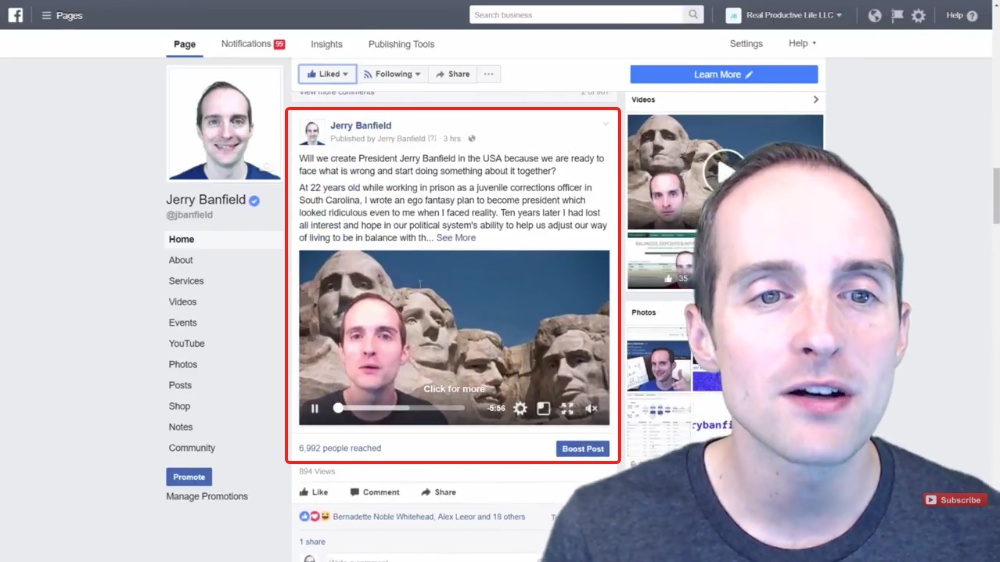 I put that up on YouTube and Facebook earlier today. With this one I actually just wrote a fairly short post with it as well because it was a fairly short video. If it's really short, I'll just do the video and the post together.
If it's a longer, more in-depth tutorial like this one you are reading, where I need screenshots because I'm showing how to do something, then I follow through with the second step of this.
Now, note that when I post a video on YouTube it automatically goes out on Twitter, thanks to YouTube and Twitter's direct integration on YouTube that helps get more impressions for every video.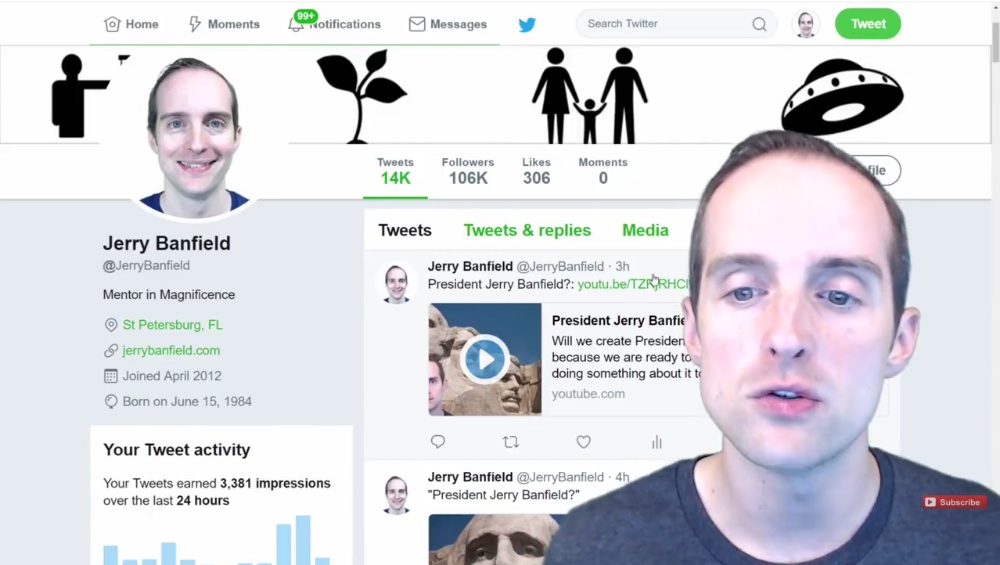 Once I've got the video done, then I do an entry in the spreadsheet using Airtable with Michel Gerard.
I put a new title down here, this one is called "Workflow" or something like that, so I'll just put in a working title there, and then what I'd do is select "Need GoTranscript" on here. If I've got a thumbnail done, I'd drop the thumbnail in there too.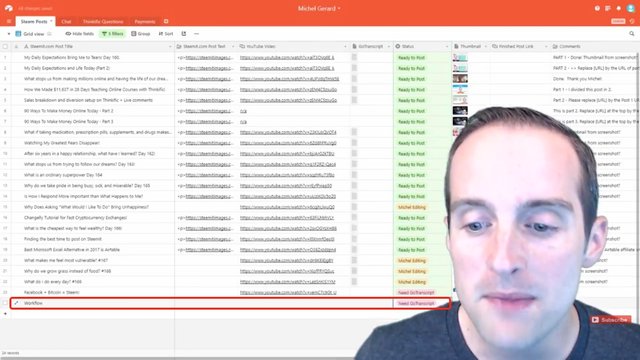 After I've got that done I go to GoTranscript and I place an order. Now, I'll show you how I do this with one from yesterday. This order was already done so I download the transcription.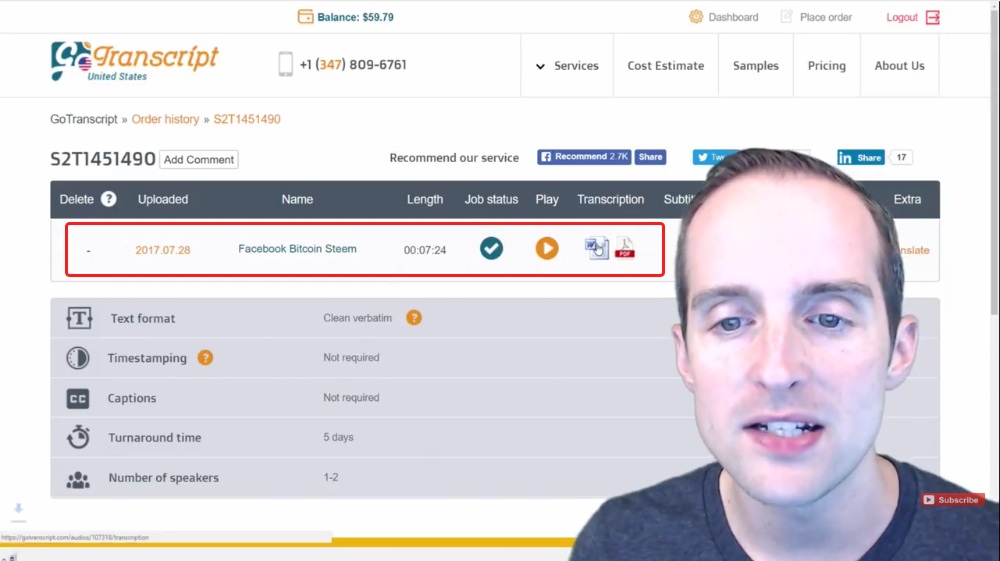 Then, I drag the file over and drop it directly into Airtable.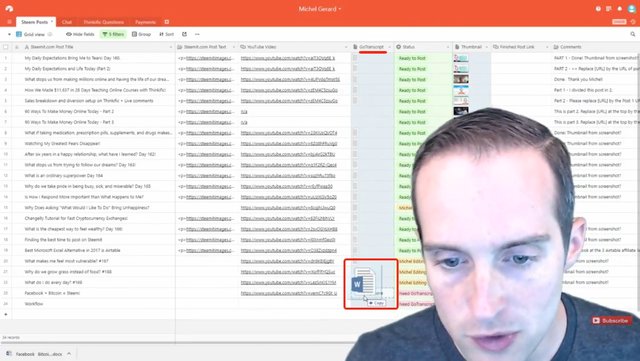 All I do now is switch the status over to "Michel Editing" as you can see in yellow. Michel is ready to begin work on this post then.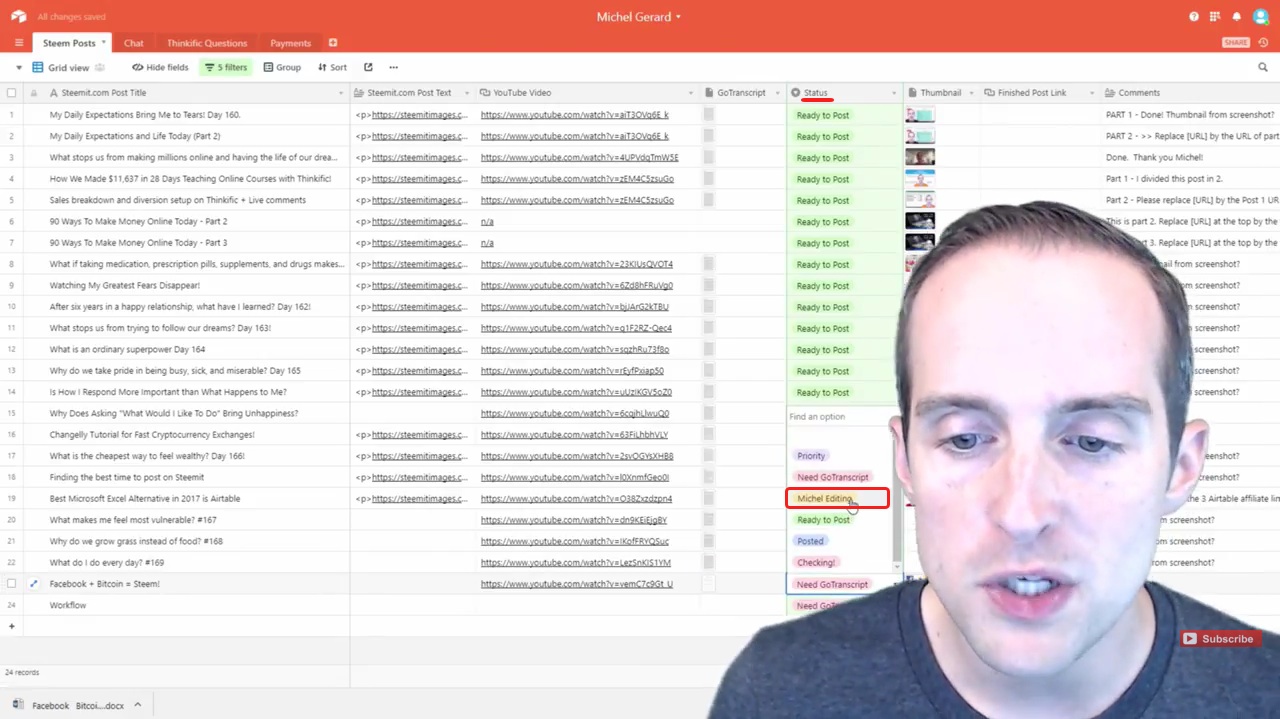 Therefore, all I had to do two days ago to make this happen was to film that video, which took me about seven minutes, and then maybe another five or ten minutes to publish it very quickly onto YouTube and Facebook.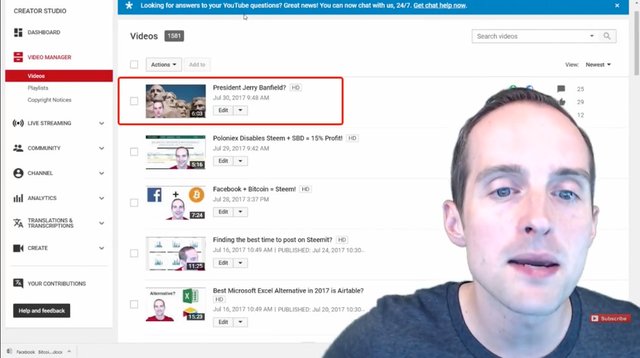 Then I quickly placed the order for it on GoTranscript. I added it to this spreadsheet that Michel uses, and then he will turn this into an edited post for Steemit that will likely then have all the words I said in the video plus screenshots, that then will make a great blog post.
I personally love reading the blog posts Michel Gerard writes because he makes relevant screenshots. He takes everything out of the video and I often am not in the mood to watch a video. I think therefore it's critical if you're creating videos to also have them made into high quality blog posts.
There are people on Steemit who make a lot of great videos, but I'm not often in the mood to watch a video. Meanwhile, I do read a lot, but if all you've shared is a video, I'm not likely to watch it because I can often read much faster than watch the video.
This "30 Ways I Made Money Online" post was originally recorded. Now, I can easily scroll through this quickly, check the info graphics, check specific things. I can take five minutes to look through this and find specific things I like.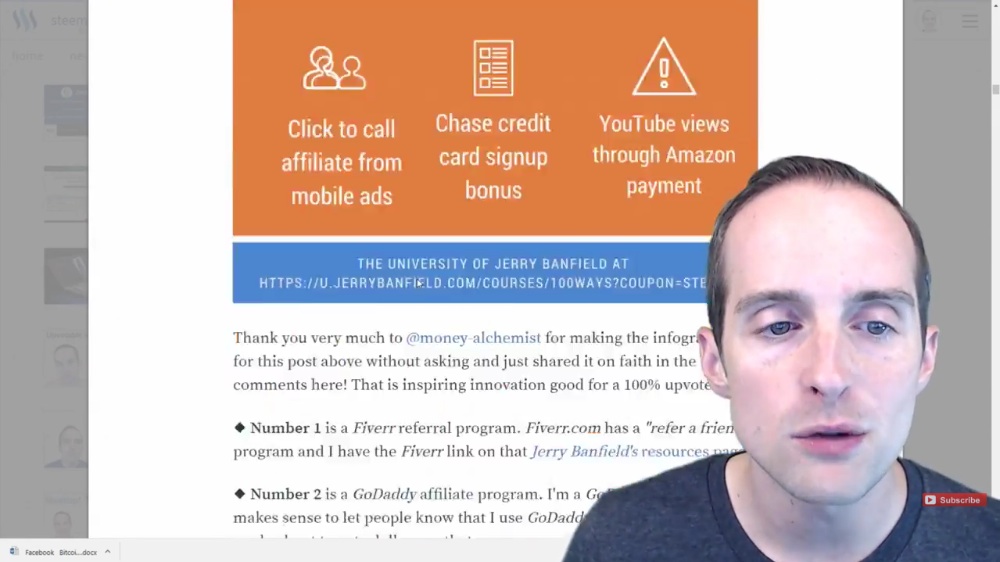 Meanwhile, if I try to watch this entire video it would take me anywhere from 10 to 20 plus minutes whereas I can read it in five. Not only that, but we want Google organic search to give us as much traffic as possible.
It is best to have blog posts for Google organic search traffic and it is best to have YouTube videos for YouTube search traffic. They are the two largest search engines in the world. Therefore the ideal formula is to partner up with some transcription service and editor or just do it yourself. There are lots of automatic tools if you don't want to or can't afford to pay anyone to transcribe or edit your videos into posts. You can simply do it yourself.
YouTube in fact has an automatic transcription that you can then just edit or you can get some kind of software and transcribe it yourself. You can also record with many different methods. You can do something as simple as to get out your iPhone.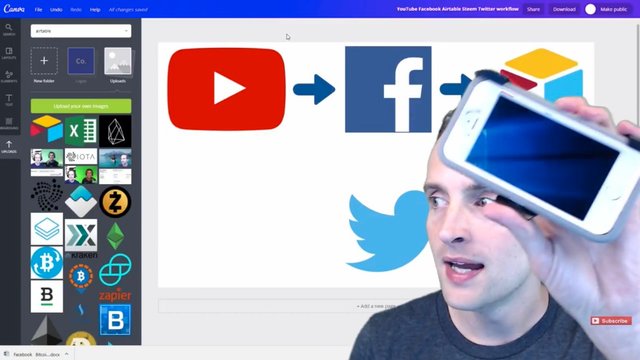 You can just record with that.
You can get out an actual camera. I have a Canon camera I've got linked to on my resources page. I take this camera on the go for higher quality than my iPhone and I'm recording with Wirecast right now on another computer, which is my Mac Pro connected over here to my Windows computer.
This allows me to very quickly, as soon as I'm done recording, as soon as I push the button ending this video, to have it ready to upload, which allows me also to immediately send it straight over to GoTranscript and get it done. Then within a day or two Michel has a post ready to go.
I've actually got about 15 or 20 posts ready to go on Steemit. This makes a huge difference for having a blog because writing out this amount of posts would take forever.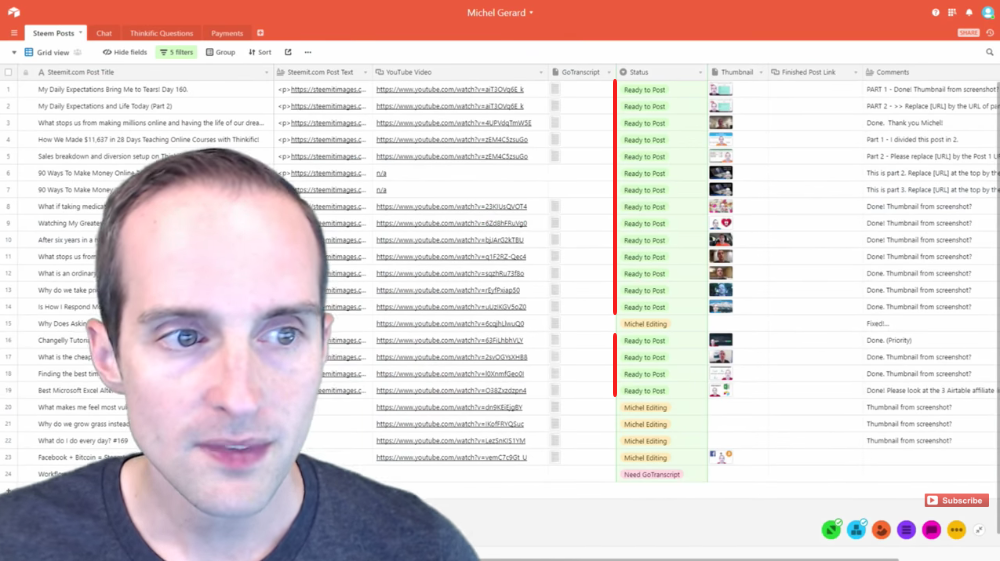 Then, if I have to go on a trip or I've something that comes up, I can just literally copy and paste posts that I've already done the work, which are original. They haven't been written or shared anywhere else, and then they are ready to go for an original new post on Steemit. Meanwhile, the videos are there on YouTube.
I think this is an outstanding system that allows me to focus my creative energy, and then to distribute it through as many platforms as possible. It allows me to distribute it through some of the world's largest distribution platforms.
This approach is optimized for Google, for Facebook, for YouTube, for Twitter, which are four of the world's top websites in terms of traffic.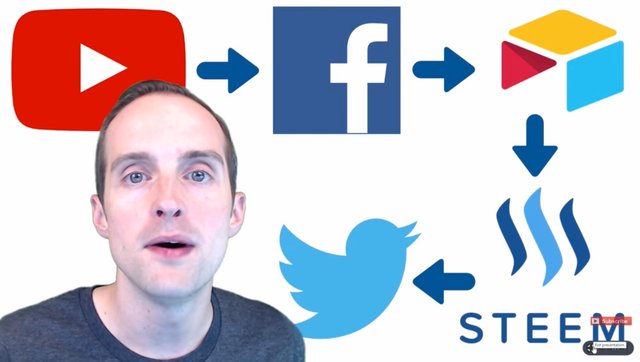 Then it's optimized for now the world's number one website Steem or Steemit for earning money just by posting content, integrated rewards paid directly for making a post. This entire approach is designed to give me the ability to just talk, and turn that into something that's useful for you in so many different ways.
I hope in sharing this process with you this is inspirational to build the smoothest creative process possible. I didn't just start doing this because I was amazing. I've been working online for six years, I've done it, I've tried it almost every single way you could do it. I've written blog posts, then I've read those blog posts in a video, and then uploaded the video. That's another way you can do it. I've done that even recently, the problem is that the quality tends to be a lot lower that way.
If you just put a blog post up on the screen and try to read it, in terms of time that takes a lot longer. Especially for me, it often will take about an hour to write a two to three thousand word post, then to do a video on top of it will take even more time.
You can then also put that on a podcast.
That is something you can do if you prefer to have the words right in front of you, if you don't like to freestyle it. I don't use any script, I don't sit here and plan out exactly what I'm going to say. In fact, all I usually have right when I start, which is probably why I ramble, is the basic topic idea. I try to say things a bunch of different ways to help you learn because we learn best through repetition.
Most of the things we believe in and take as true, have often been repeated to so many times that we don't question them anymore.
That's why I use this approach after testing so many different ways to work. This one is working really well for me, I'm grateful for everyone that contributes, rather you're voting on Steemit, you're liking or commenting on YouTube or Facebook, whether you're retweeting on Twitter, you're transcribing, whatever you're doing, thank you for participating in this process.
I love you, you're awesome.
I hope to see you again soon.
Thank you very much for reading this post which was originally filmed as the video below!
If you found this post helpful on Steemit, would you please upvote it and follow me because you will then be able to see more posts like this in your home feed?
Love,
Jerry Banfield with edits by @gmichelbkk
Shared on:
PS: Witness votes are the most powerful votes we make on Steem because one vote for a witness lasts indefinitely! Would you please make a vote for jerrybanfield as a witness or set jerrybanfield as a proxy to handle all witness votes at https://steemit.com/~witnesses because when we make our votes, we feel in control of our future together?

Or