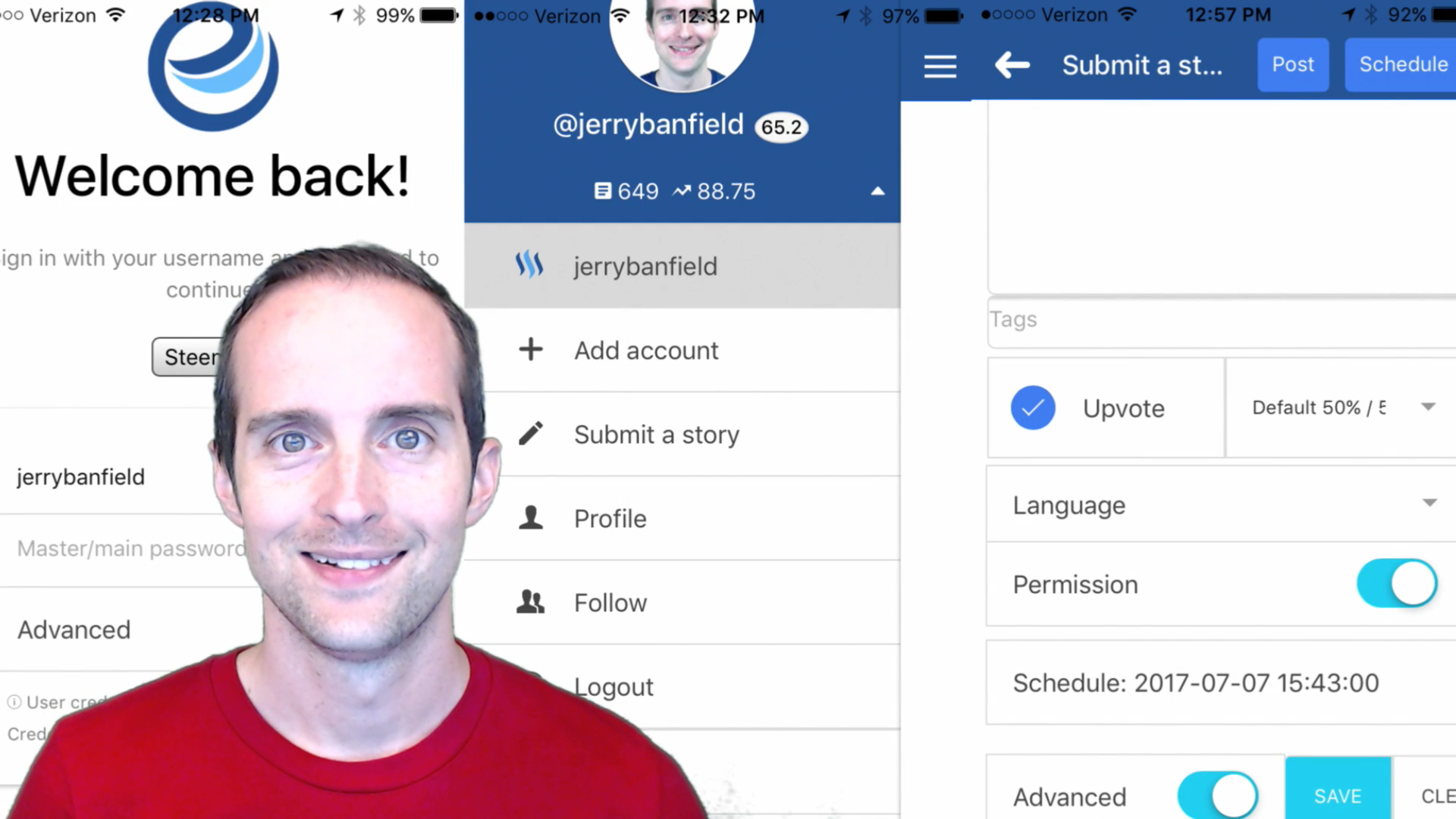 Easy Steemit iPhone and Android app? Yes please! How was my first experience with eSteem? Would you read this post if you would like to see if eSteem on iOS or android is worth using because I will show you the features I care most about here? If you want to start using eSteem, would you use this as a tutorial to start fast because you might have an easier time using it to begin with than I did! If you are developing eSteem @good-karma, would you use this post for feedback on eSteem because as a new user I hope I have provided useful feedback about my first experience?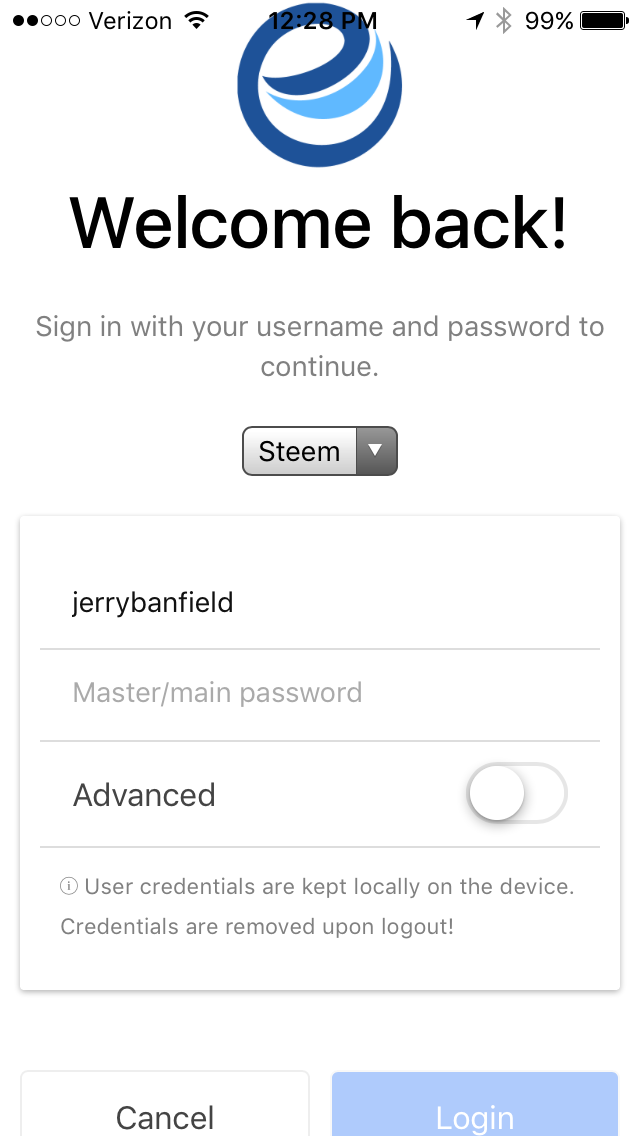 What motivated me to try eSteem?
Post scheduling. I want to be able to schedule posts because this will allow me to write two posts at once and then schedule the second for later in the day. The one critical feature was the main motivation for me to try eSteem and without it I doubt I would have used it. In fact, while I am writing this on the desktop I am testing posting it with eSteem!
Use advanced sign in.
First, what to sign in with? I started with just the posting key but then tried signing in with both because the scheduling did not seem to work with just the posting key which I do not understand. I recommend against signing in with the master password anywhere because if this is compromised the entire account is at risk. Read more from my Steemit account security tutorial at https://steemit.com/steemit-guides/@jerrybanfield/the-steemit-account-security-tutorial-june-2017. Therefore, I recommend signing in with the posting and active key because if there is a security breach anywhere between the phone and the app or within the app, the master password can be used to change the active and posting keys to immediately stop any losses.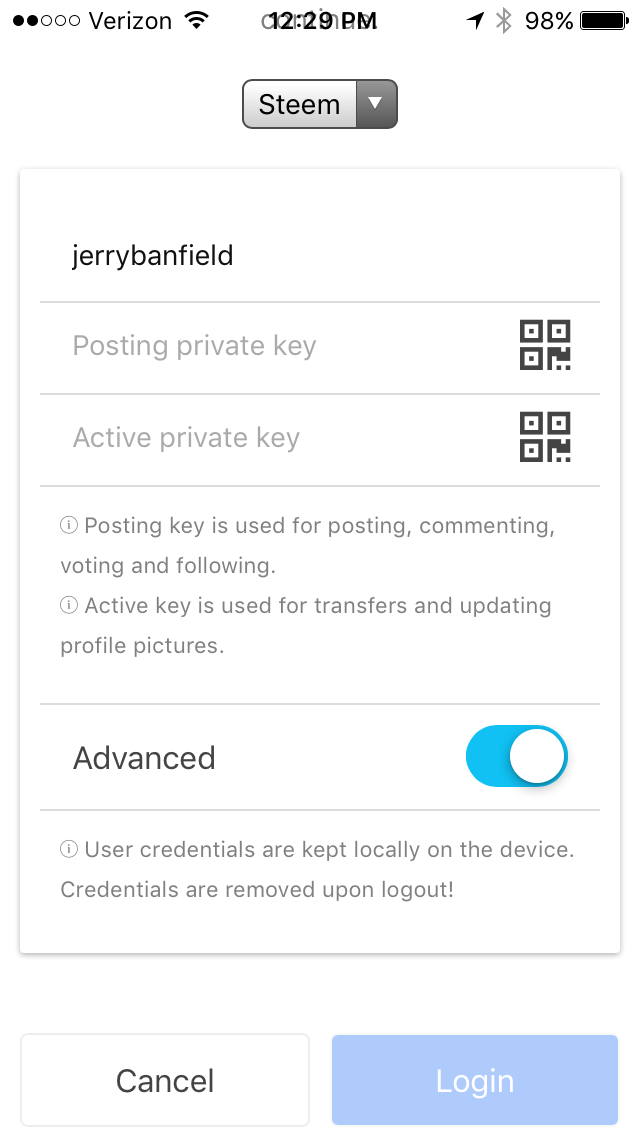 Note that for me the app locked up and crashed both times when I tried to log in. I had to double click the home button and swipe it up to close it to get back in.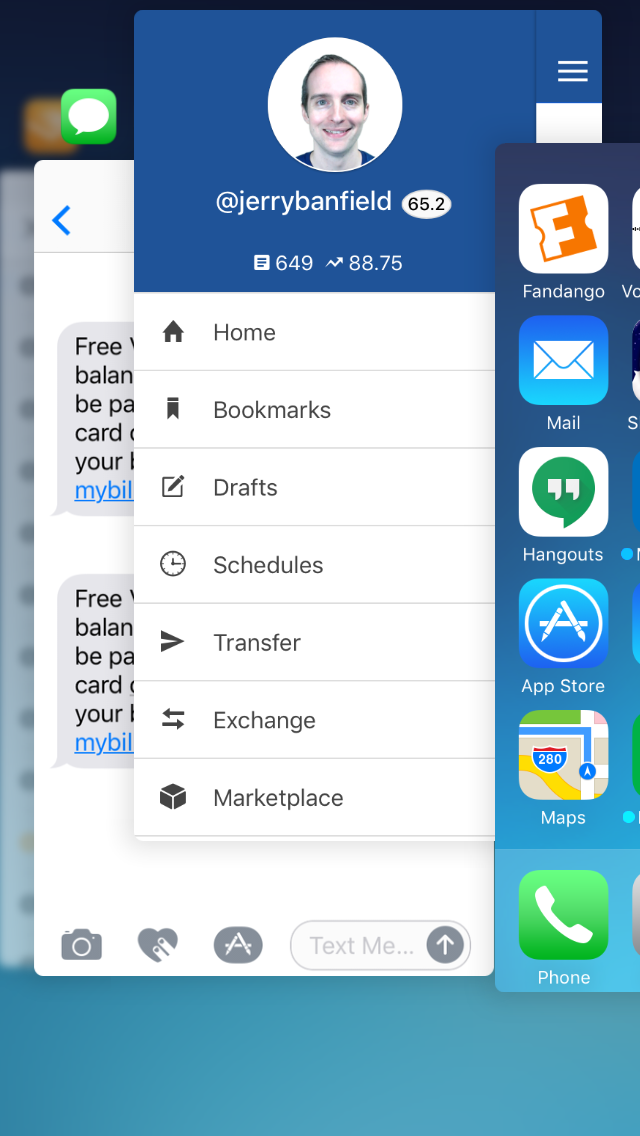 Posting
It took me a while to find how to even write a post because I did not realize the menu for my profile was hidden. The app crashed once while I was trying to test the scheduling options and it took another minute to figure out that I had to click advanced and then click permissions to schedule the post.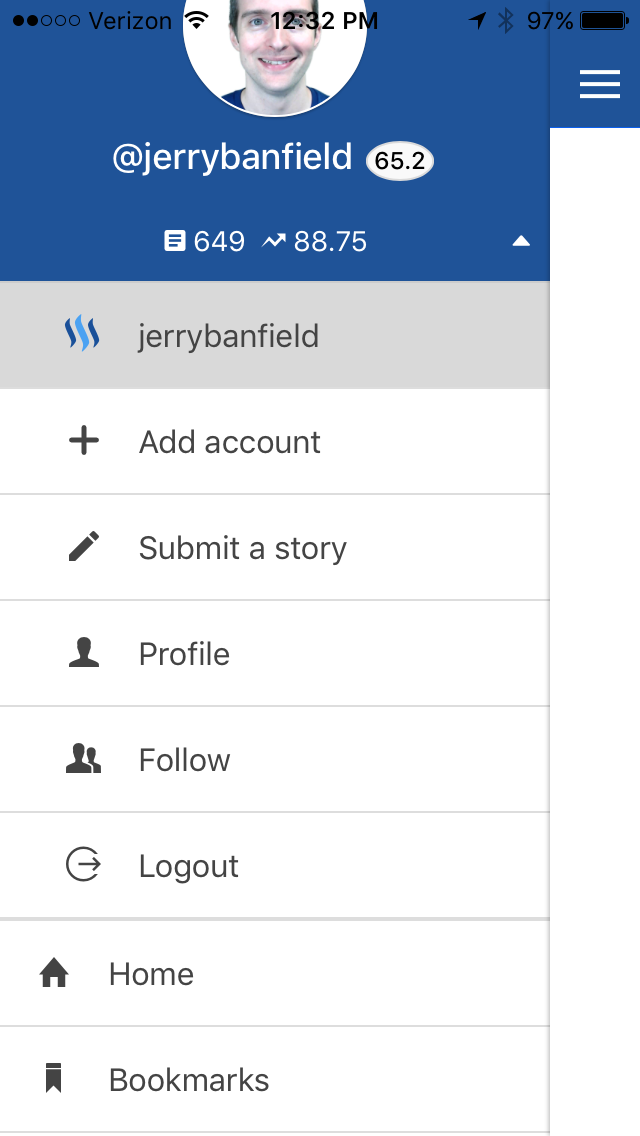 Active key and posting key required to schedule a post.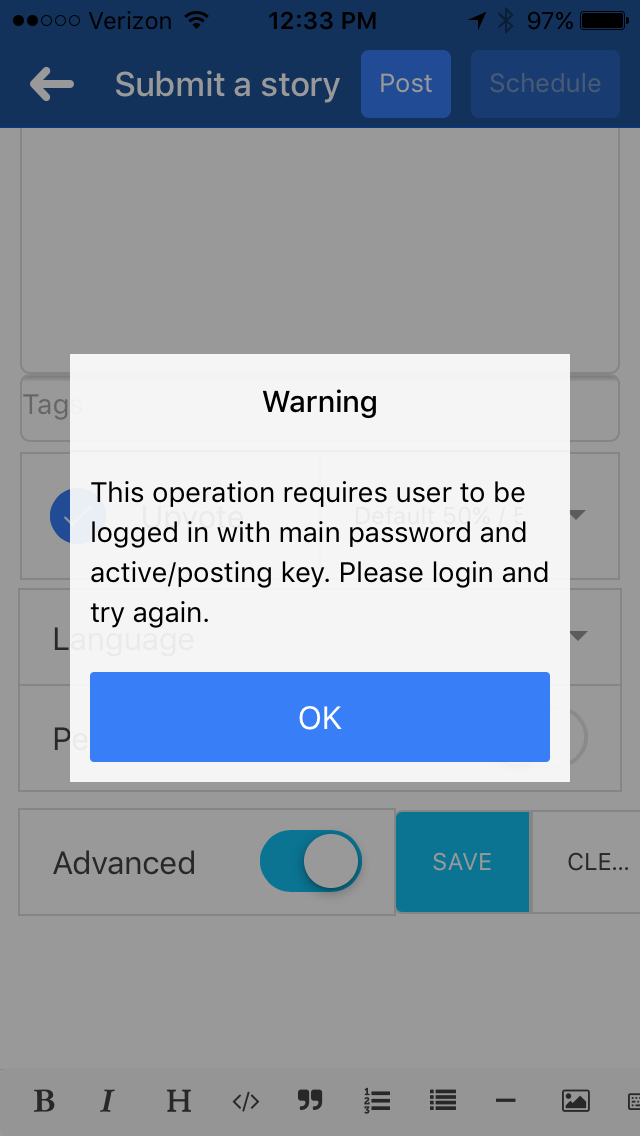 Setting a pin.
Given I am signed in with my posting and active key, setting a pin is a good idea on this app because anyone with access could immediately transfer out my Steem and SBD or start a power down of all my Steem Power just with a few clicks on my phone. Unfortunately when I was interested in just looking at the set a pin option, I had to close the app to back out without setting the pin because there is no back button. Total of four app closes at this point and it would be nice to have the option to set the same pin as the iPhone because the eSteem pin is 4 numbers while the iPhone required pin is now 6.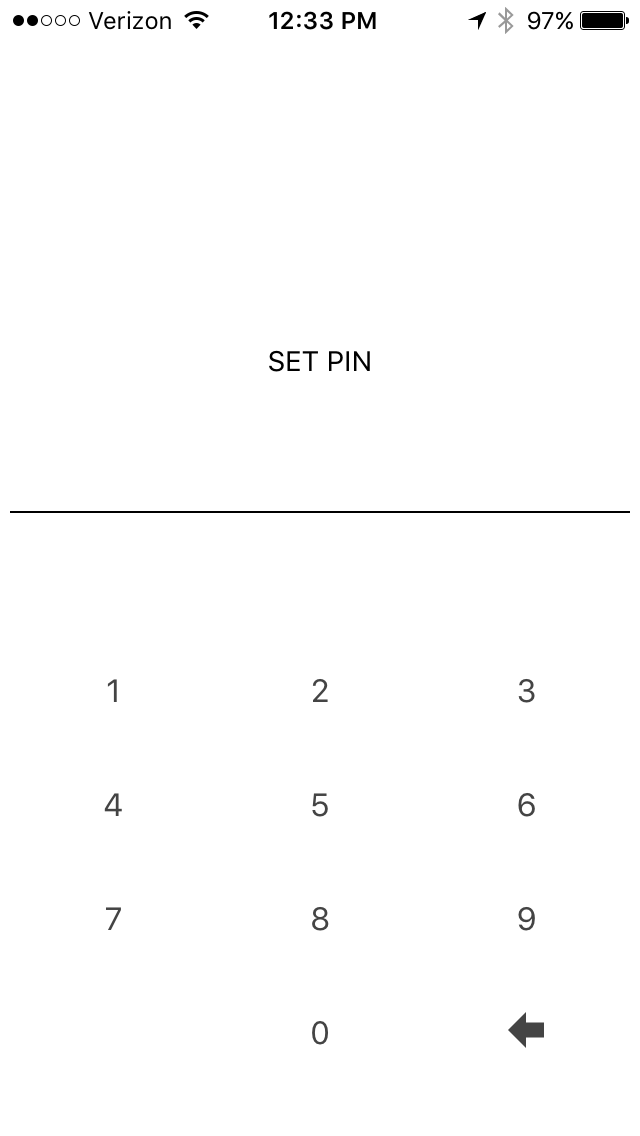 Scheduling a post.
This post is my first post with eSteem and I am testing it by copying and pasting everything straight from the Chrome browser submit story field into eSteem. If this works, I will have the ability to make posts on eSteem! So far it is not letting me schedule the post because it just puts a little loading icon up for a minute and then goes away while not actually putting the post in the scheduled field or in the drafts field. It caused the app to crash with an error about double transaction once. It looks like I will have to publish the post manually from my phone when I held the button down. I tested different days, times, and setting the language with nothing working to actually make the post schedule. I tried saving and this crashed the app also. Fortunately the post is all there after a crash!
Summary
eSteem is an awesome app by @good-karma with a ton of features allowing for full access to Steemit with even more features than available on steemit.com! With a lot patience with the 8 to 10 crashes and errors I experienced within the hour I used it and a big disappointment in the scheduling post feature not working, I am happy I was able to make the post successfully using eSteem and am grateful for the continuing development of the app! I will continue testing the schedule posts feature to see if it works because I really want to be able to schedule posts and am looking forward to the eSteem desktop app also! I hope my first impressions are useful for the developer and for each of us using the app for the first time!
Would you please upvote this post if you found it helpful because I am a massive ego and take pride in seeing how much each of my posts make?
Love,
Jerry Banfield