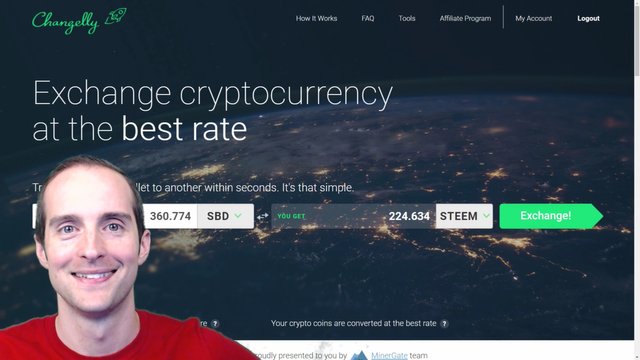 How do we use Changelly to buy or sell Steem with other cryptocurrencies at a 0.5% fee? Would you read this post for the complete tutorial or watch the original video from YouTube because seeing how we use Changelly might save you a lot of money in fees?
New to Changelly?

Changelly works so good for me to make exchanges that I stopped using two other websites which do the same thing but at a higher fee! If you do not have a Changelly account yet, would you please use my link at https://changelly.com?ref_id=ab94a1030fc5 to sign up because you might feel good knowing that Changelly gives me 50% of the fee you pay? Thank you to the 30 of us using the link in the YouTube video with earnings equal to about $12 in the first month!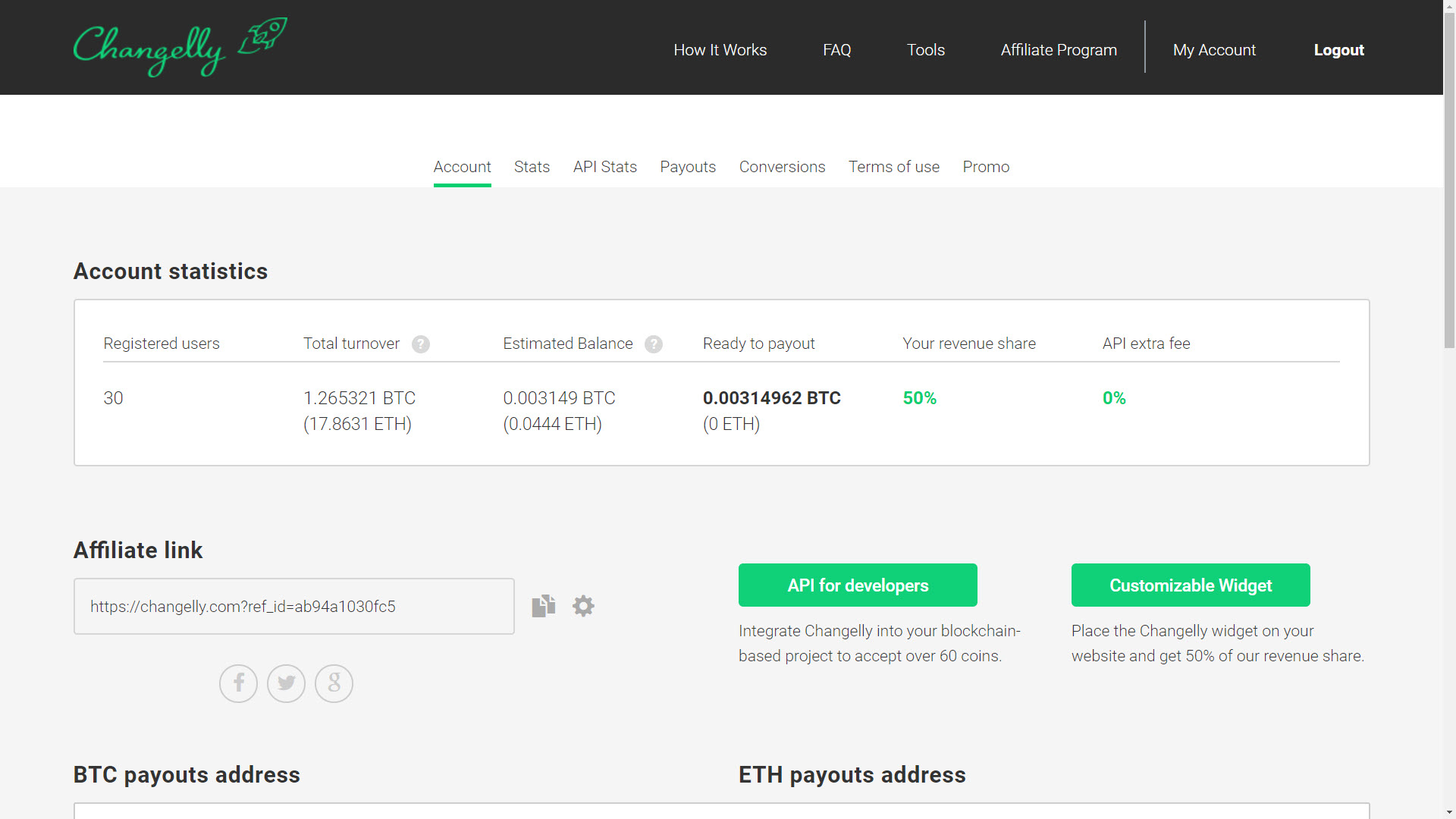 Changelly Tutorial for Fast Cryptocurrency Exchanges!

I'll show you everything in this post so you can see exactly how Changelly works. I will actually do this from my Steem wallet over here one payout at a time.
The first thing I have to do is to redeem my rewards.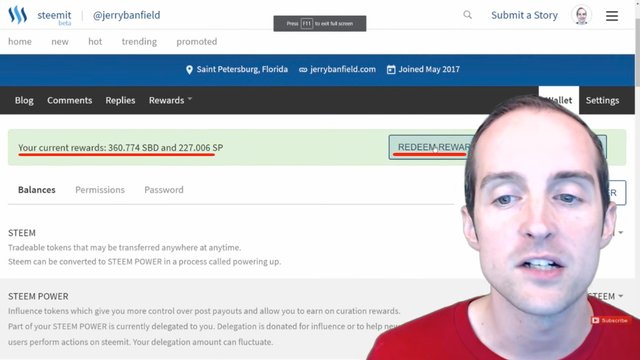 Then, what I do is take my Steem Dollars payment and transfer my Steem Dollars over on to Changelly. Note that when I originally did this SBD was working but today it is just Steem. If we have SBD, we can easily convert them on the Steem Market at https://steemit.com/market.
I hit "Transfer" on this menu.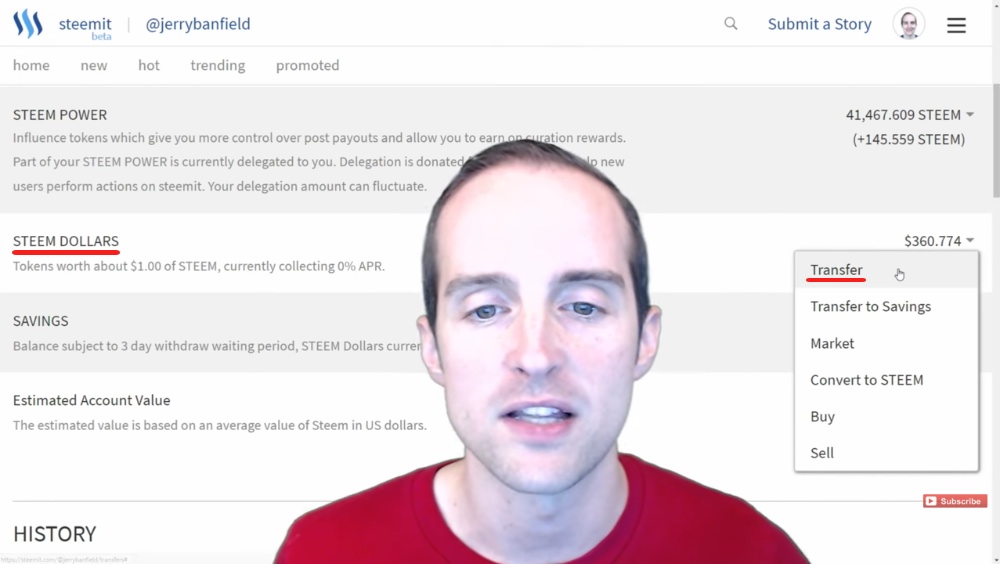 A window opens up and I put the balance in, which is 360.774.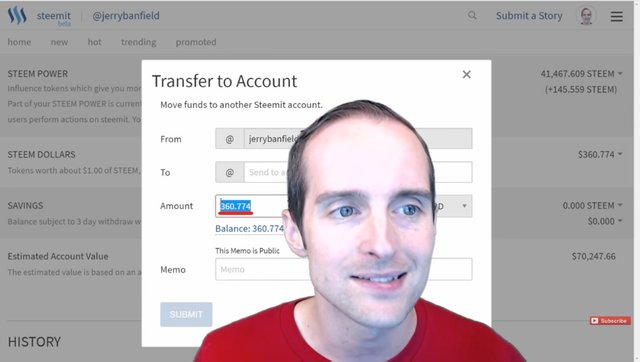 I need now to go to Changelly and see what it will give me.
Now to check the exchange rate I can compare how much I might get on another exchange, but the Changelly rate is one of the best I've found so far after using several other exchanges and it's been recommended by others.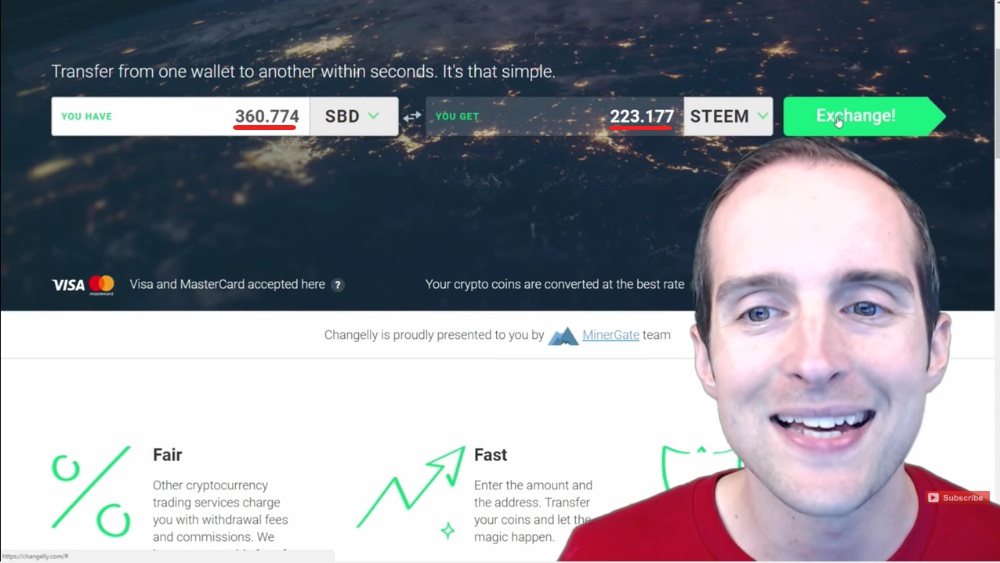 What I'm going to do is use the exchange here.
I hit "Exchange" because I want more Steem in my account for the "Steem J" prize I'm about to pay out.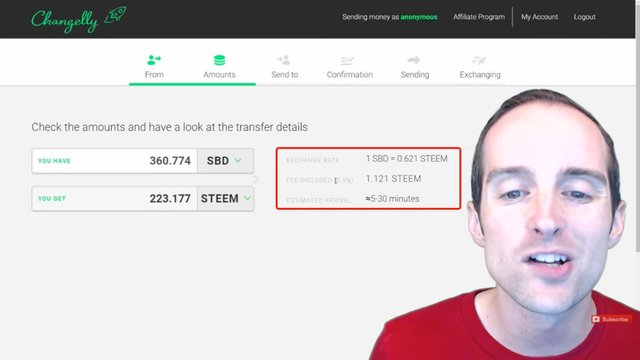 Now what it does, it gives me an estimated arrival and it gives me the total amount of time. It tells me the exact fee included, and then it goes and actually gets the transaction done.
I hit "Next," and then it gives me the Steem address.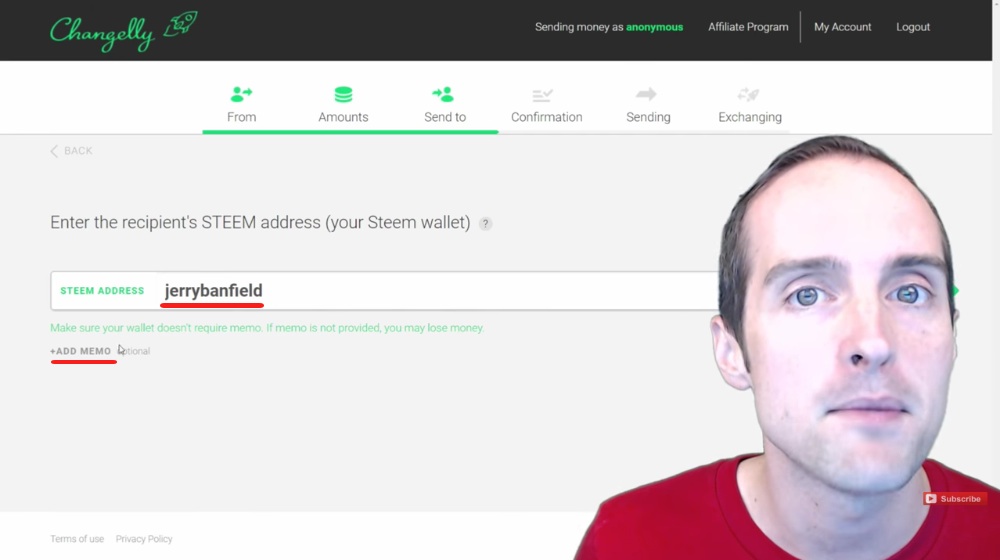 I need to put in my exact Steem address that I can copy from Steemit and paste here. That way I don't accidentally send it to someone else. I don't need to do the "memo" for this transaction because l just send it to my Steem address, but if you're sending to Bittrex or Poloniex, you do need to put a memo in there.
Now if you're doing this with something else like Bitcoin, Litecoin or Ethereum, then it will show you what you need to put in for that.
Then, I hit "Next" again.
Now what I've got is an order field essentially.
I've got the balance and I've got the estimated amount. It can actually give me more or less than what it's saying on here.
I hit "Confirm & Make Payment."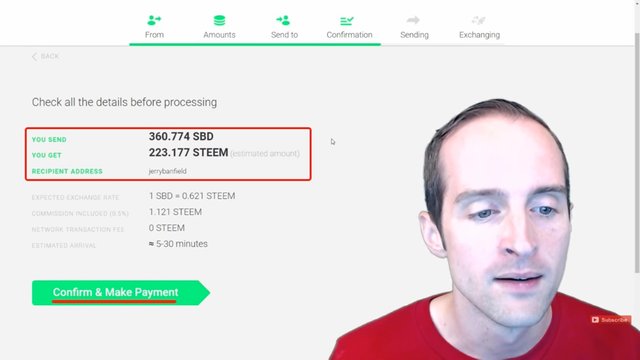 Now what I need to do is send the exact amount over here. I do need to make sure to put the "memo" in because this is automated.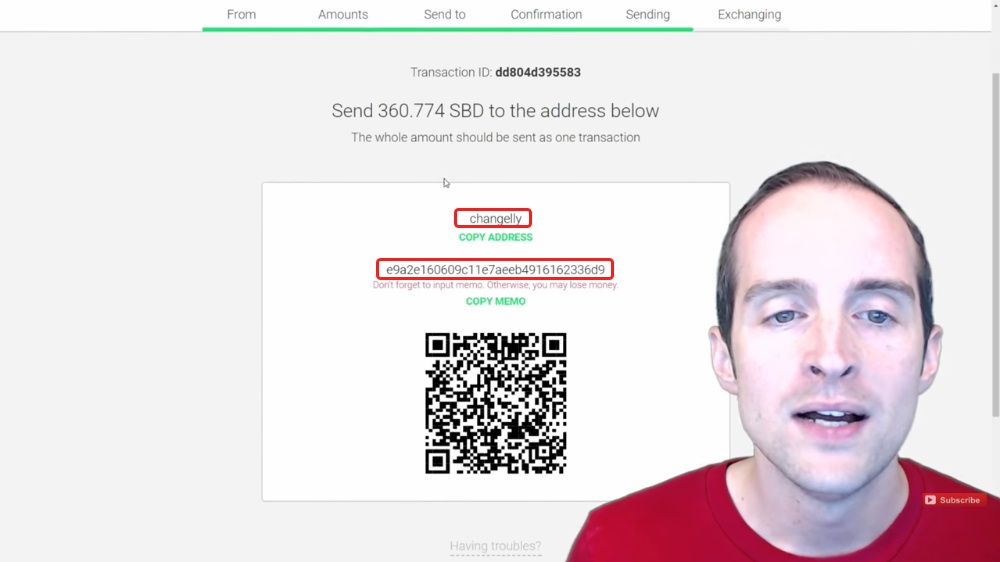 I copy and paste the address "Changelly" over here in the transfer option on Steemit. If you're withdrawing from another exchange, it works the same way, and I do need to put the memo in here because that's how they know I sent it.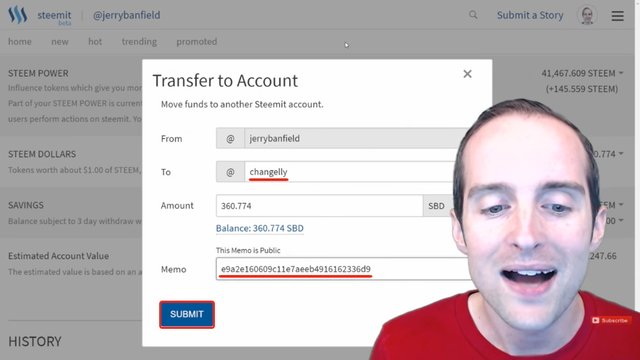 Now for Steem, I actually do not use my password, I use my active key for this transaction, because in using my active key then I am not risking my entire account essentially.
I hit the "Submit" button to complete the transaction.
Now if you got my active key you could clean out my liquid Steem and start a power down, but you would not be able to clean my entire account out unless I wasn't paying attention. I would then use the owner password or the master key to change the active keys, and then you wouldn't be able to do anything after that. On Steem, I highly recommend that you use the active key and the posting key for transactions.
If I go ahead and reload the page right here, then what you can see is that I sent the money over to Changelly here.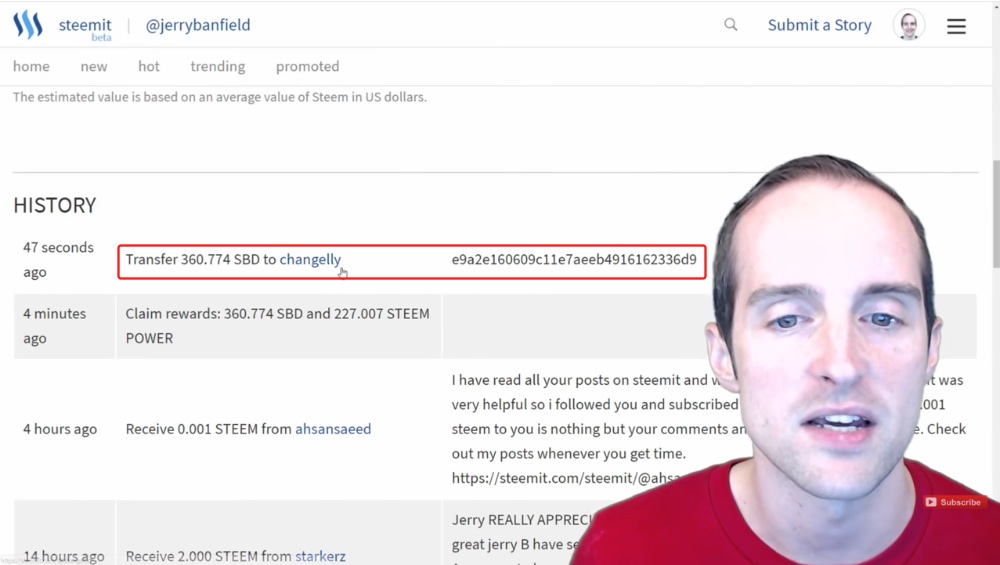 Waiting for the transaction to confirm I can also go to the Changelly wallet and verify that they got the transaction. Below you can see that one minute ago it got that Steem Backed Dollars from Jerry Banfield.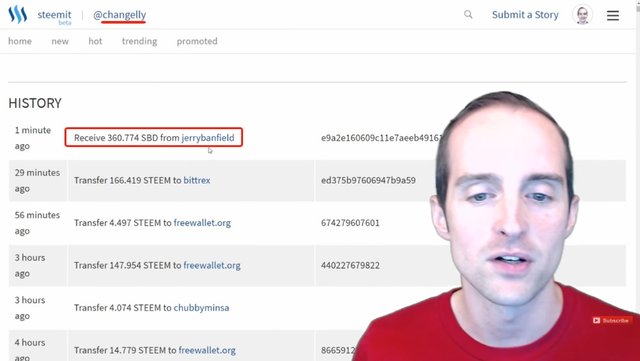 I've got confirmation on Steemit now that Changelly has the address. It will go right to the next page when it's processed the transaction on its end. If it takes a minute, there's no need to panic right away.
I've already tried this on a smaller amount and I feel good about this because I've already sent another transaction with Changelly before.
I recommend that if it's your very first time using it to send a smaller amount of the transaction. That way it's not nerve-wracking. Whereas, if you send something that's a lot the first time, you might have a lot of anxiety. It depends on the exact currency as well, so check how the currency is working.
Now what it did is move over from sending to exchanging. Steem is so fast. It's faster than any of the other currencies I've used. This goes about as fast as possible with Steem.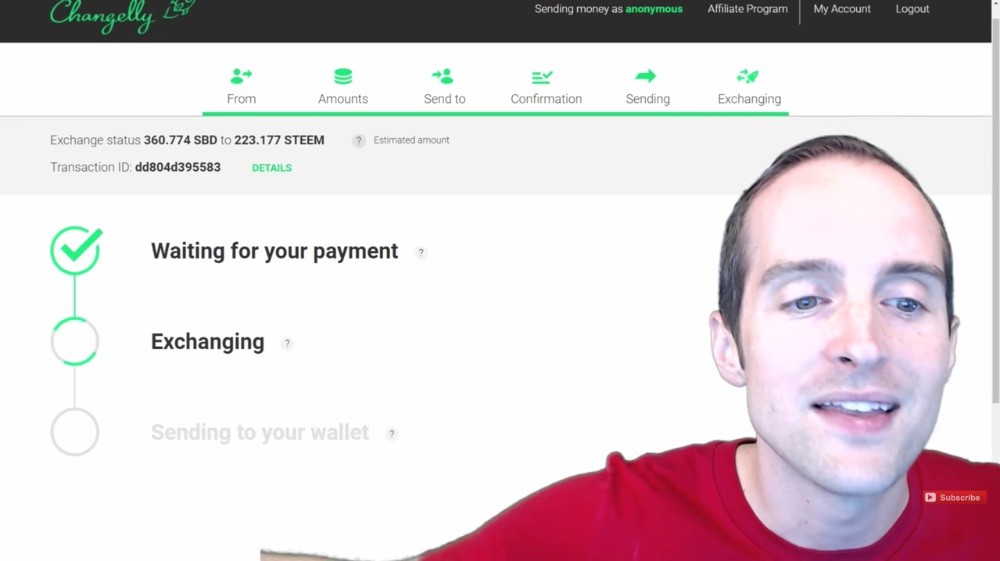 Now if you use something else that takes a bunch of confirmations, it could take a lot longer than Steem. This is why I use and love Steem, it goes so fast.
How cool is this?
I think it's really cool that they have an affiliate program that gives a 50% commission because I've been sending a bunch of referrals to other websites, like Bittrex, Poloniex, BlockTrades that I use that don't have any referral program and this one actually does. This is motivating me to actually use it as well.
If you watch the video you can see in real time the exchange, the actual time it takes and how fast this is.
Now it estimates the Steem and this may not be the actual amount I get, but it will be pretty close. Right now it also appears to actually exchange it. Some other systems use a predicted exchange rate and just have the money on hand. This one appears to actually make the buy order, but it goes really fast. Not as fast as some others like ShapeShift, which goes a little faster, but then at the same time I believe the fee is a bit higher as well. Changelly has one of the lowest fees I've seen.
If I click on the "Details," it pulls out even more details about the transaction. You can see the address, the amount sent in, the address it will put out and if you want the extra details, it's got that.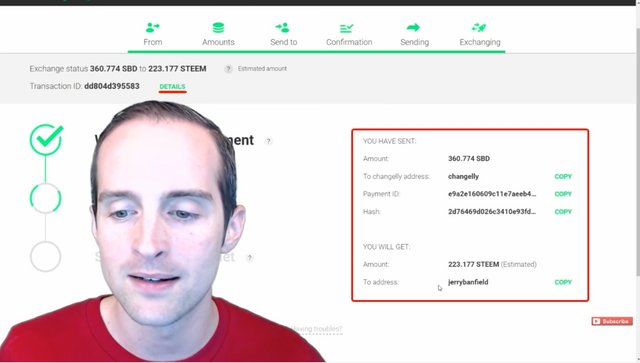 It's exchanging at the best rate now and the nice thing is Steem is so fast that it could actually hit my wallet before the Changelly interface is done. I could even get the amount of Steem back in my wallet before it even tells me it's done. That's how fast the Steem blockchain is.
There we go, the exchange just completed.
I sent about five minutes ago, we are looking at a very fast transaction. You can do this with Bitcoin, Ethereum, Litecoin, and a bunch of other currencies it's got on there.
Now it's sending to my wallet and if I reload my wallet here I see that I got the Steem before it even finished and realized it sent me the Steem. Actually I got the Steem 47 seconds ago.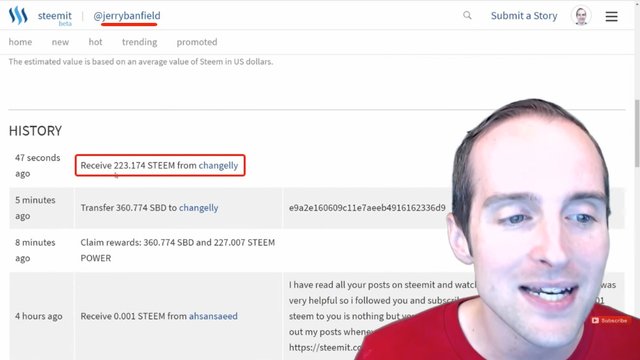 So you can see that this transaction only actually took four or so minutes. Although, it probably felt like an eternity in the video because I talked so much.
So the whole transaction is complete now. I got 223 Steem out of it. You can see the exchange rate I got and the fee I paid. I like how transparent Changelly is.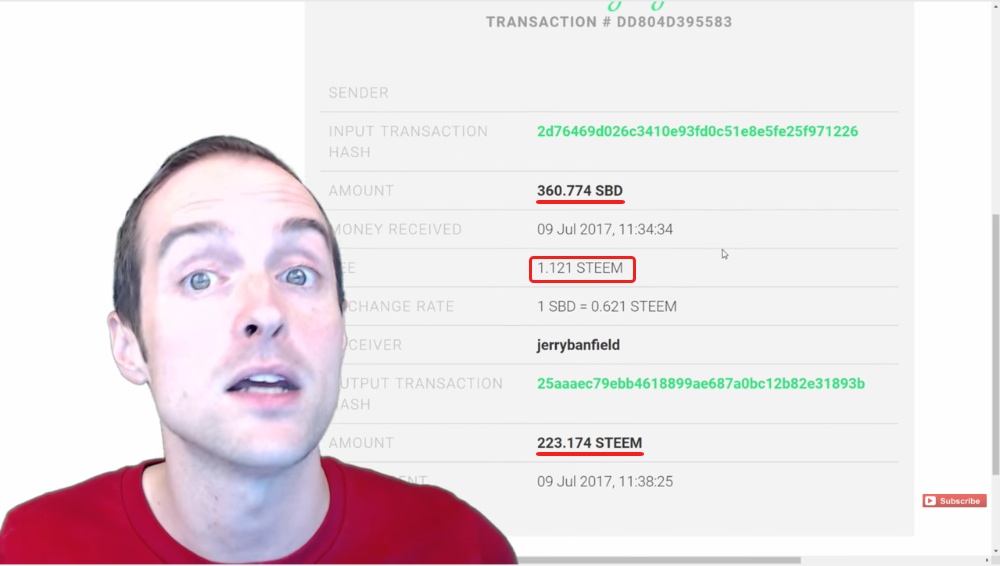 Some websites don't show you exactly what you paid in the fee. They take a big fee and they don't tell you that.
You can see exactly the exchange rate and what I paid here. The exchange rate is where a lot of websites just make their money by giving you a lower exchange rate. Changelly tries to give you the very best exchange rate, and then they show their fee.
I paid a one Steem fee and I got 223 Steem today, and I've got that in my account now. I'm very grateful for that.
Then I've got a system, I put in all the Steem that I received into my spreadsheet and then I'm able to pay taxes on having received that today. How exciting!
Thank you very much for going through this tutorial with me. I hope this is helpful for you if you want to quickly exchange anything in almost real time at one of the best exchange rates through Changelly.
This is one of the main things I'm using now because it's so fast, the exchange rate is transparent and they've got an awesome affiliate program.
I appreciate you reading this.
I love you.
You're awesome and I hope to see you again soon.
If you found this post helpful on Steemit, would you please upvote it and follow me because you will then be able to see more posts like this in your home feed?
Love,
Jerry Banfield with edits by @gmichelbkk