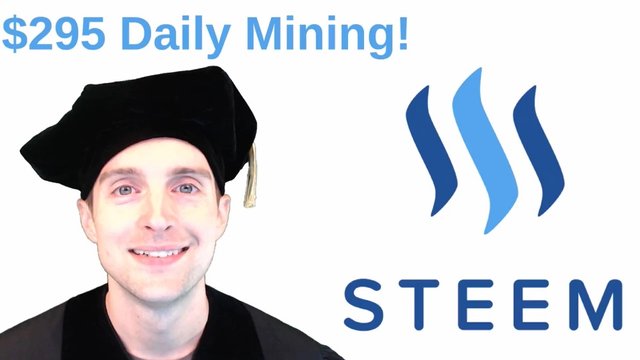 Votes for witnesses are the most important we make on Steem because our votes decide who earns ~ $295 a day for doing the work of creating our blockchain which is usually what we call mining in blockchains like Bitcoin and Ethereum. Witnesses also decide whether to accept changes made by Steemit, what the price of Steem is worth relative to the SBD, which updates should be made in the future, and generally do Steem full time in the top 20. In summary, witnesses receive good compensation for what usually is a gigantic contribution to building our future here! I am a witness for Steem and am honored to be a part of this community which I view as my full time work!
While I titled this post with an emphasis on the money to get the most attention from readers that often are difficult to reach when it comes to anything witness related, my goal is to help increase witness voting participation which currently is at about 4%! That means 96% of users are not even making 1 vote for any witness! Among active users, only 15% even have made one vote! This is REALLY low and I am hoping to help change that along with fellow witness @lukestokes who posts updates showing the voting numbers in detail at https://steemit.com/witness-category/@lukestokes/the-witness-voting-engagement-report-2017-09-13. The craziest data point in Luke's post shows that participation remains low at about 21% even among the most influential voters!
Would you join us in participating in witness voting at https://steemit.com/~witnesses because we will see in the post below how every single witness vote is critical for determining our future on Steem? The easiest way to participate is to set a proxy to handle all witness votes which can be changed at any time. The account acting as a proxy should be a user already voting for 30 witnesses that we trust to make the votes on our behalf until we want to decide who to vote for instead! I am grateful about 100 people have set me as a proxy in the last three months because I check my witness votes every week at a minimum and often every day. Meet more active witnesses that might make a good proxy at https://steemit.com/trending/witness-category.
$295 A Day "Mining" Steem?

Have you ever wanted to participate in mining? I used to think I did not have enough technical skill to participate until I joined Steem and learned more about what it takes to become a witness! I setup my witness server and seed after having no previous experience using Ubuntu Linux by following guides and receiving answers to my questions on steemit.chat in the witness channel. If I can set up a Ubuntu Linux server like this, then there is no reason you can't set one up too! We need every single active witness we can get as we continue to scale up our network here and existing witnesses continue to go offline or inactive! I hope this post provides motivation to get started and scale up!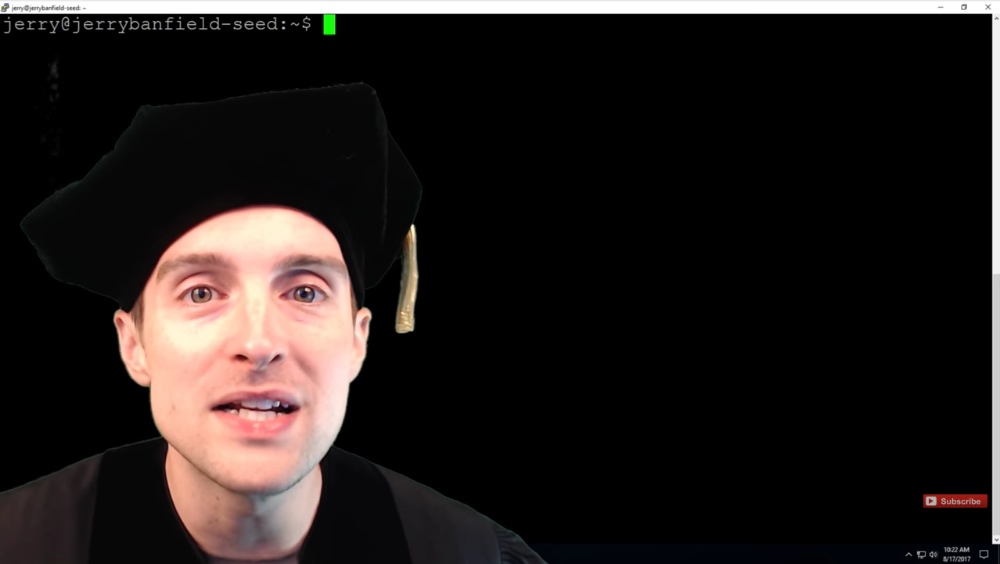 I set up a server in just a month or so of reading an hour a day about Ubuntu Linux. That makes this one of the very easiest and lowest cost mining opportunities to get started with while having some very high-end rewards.
Now, I've just isolated the earnings that are technically from mining in this system and I will show you the actual accounts who are earning this. The truth is, these earnings actually snowball with a lot of other earnings from post, from upvotes that make this an extremely lucrative opportunity that many witnesses were smart enough to get started with over a year ago!
Here is exactly who is making this much today. This is the list of the Steem witnesses which handle all of the creation of the blockchain process, all of the transactions, do everything we think of as mining.
Now, technically it's not called mining because there was proof of work mining, in Steem, we call it being a witness. Therefore, for the rest of this post, I will refer to it as a witness because that's most accurate.
However, I do this with the understanding that you might think of what goes on here as mining.
You can see the top 20 witnesses here on Steem: https://steemd.com/witnesses
I am grateful that within a month, I am down here currently at 61 with getting blocks every few hours or so. I'm currently making about $15 a day as a Steem witness, which is amazing given I just started out doing it. There's this potential for any witness to get up in the top 20.
The top 20 witnesses make $295 a day at the current price.
I'll show you the exact calculations for this and reverse engineer them here. All of this is visible for you to take a look at, at any time. The number came out like this.
What I did is I found a witness who just is a witness. They don't post, they don't earn anything from upvotes, they've just got an account that's a witness. I started off and I took their earnings from this date, August 14.
This entire account was started from zero. All of this was earned from being a witness. You've got proof that this works and it works for a long time.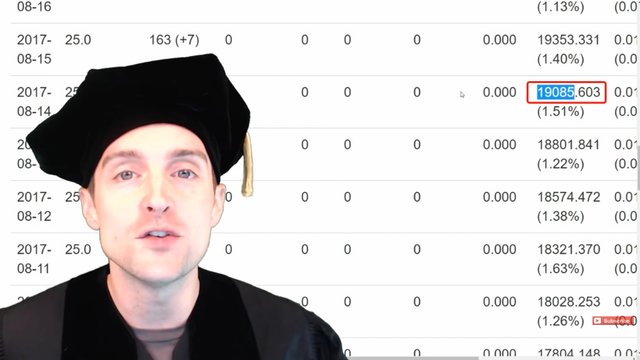 If you look at the amount here, it's 19,085 Steem Power.
Then I go back to the balance 15 days ago, which means this is essentially the starting balance at 15,476 Steem Power.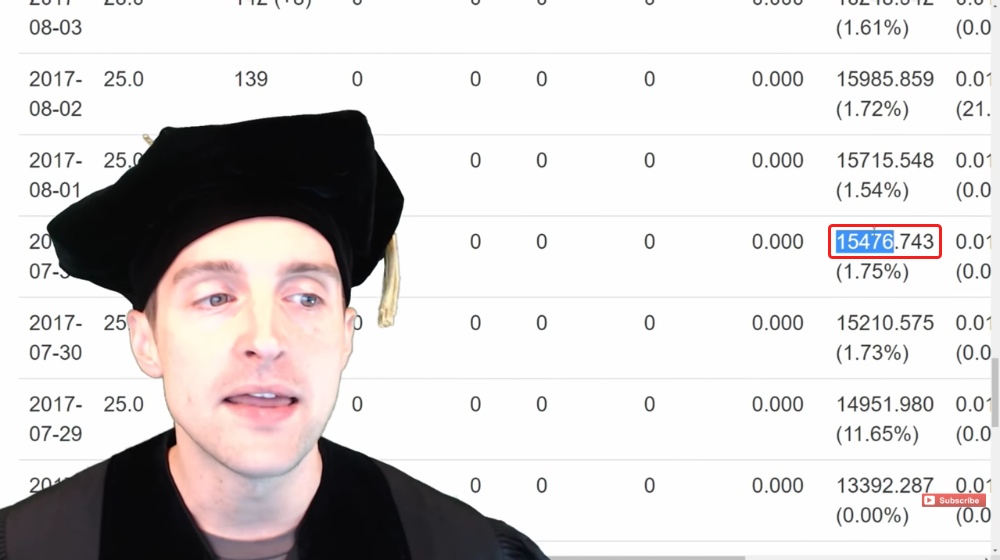 Then you jump forward one day at a time. Meaning the number of the day corresponds to how many days you went forward. One day's earnings would start on August 1. Two days earnings would start on August 2.
Therefore, 14 days of earnings or two weeks go to August 14.
I then subtract 19,085 - 15,476 = 3,609.
That's 3,609 Steem earned within 14 days.
Let's go back over and look at my witness where I pull my witness' price feed, which is $1.145.
We're going to time 3,609 by $1.145.
3,609 x 1.145 = $4,132
That is $4,132 earned in 14 days.
$4,132 ÷ 14 = $295
When I divide by 14, that's $295 earned every single day. Now the Steem price just plunged along with the Bitcoin price today and after taking weeks to get this post ready, $295 is still close enough today to communicate the point. Technically it might be $250 today and maybe tomorrow $125 or $500.
That's just the tip of the iceberg.
These are the earnings that are paid directly in Steem Power, which can be powered down and essentially withdrawn every single week. If the witness chose to power down constantly, the earnings would essentially just pour out of the account and be available immediately in liquid Steem Power.
That's the tip of the iceberg because there's also a lot of other ways to earn. Most witnesses, in addition to simply running their witness server, continue to post online.
For example, here is a post I did about being a witness. If you'd like to learn about being a witness, I have everything up for free now on my Steem profile. I will be continuing to add more.
I've got this Steem Witness Basic Training guide and now also a complete command line interface tutorial showing every single command to enter at Get a Steem Witness + Seed Online Today with These Ubuntu Linux Commands!.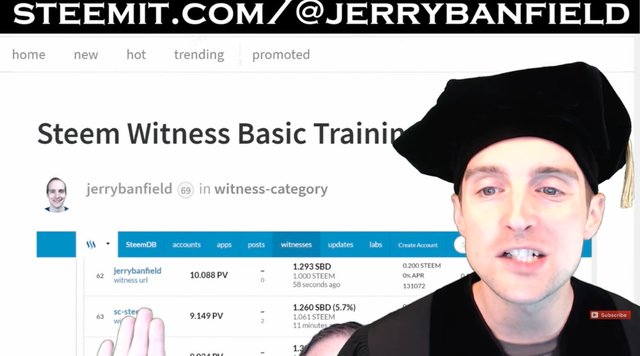 I've got everything explained in this post. I show you exactly what it is, why take the time, and how to make a vote. I show all the basics and I show the exact server I'm using.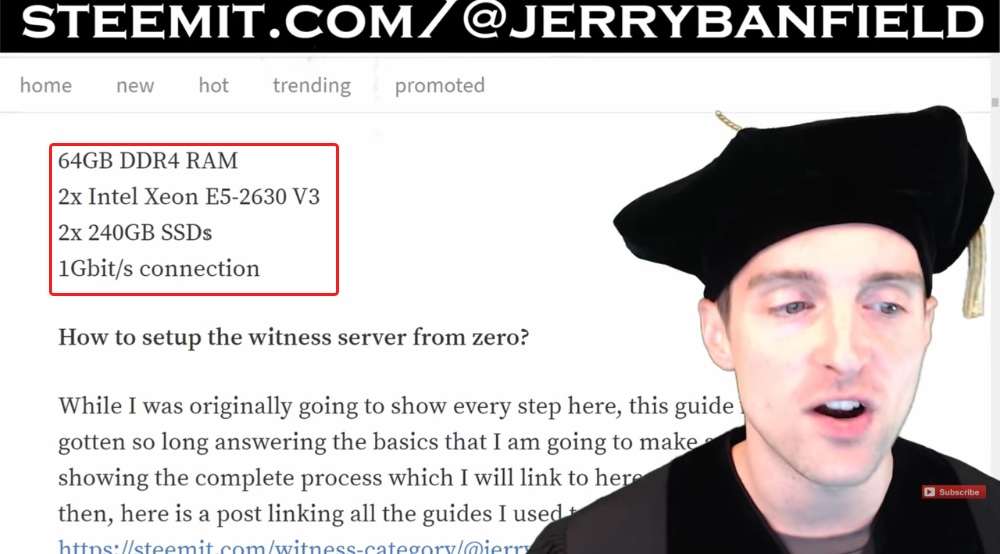 The amazing thing is that there are two other really powerful ways to earn as a witness.
As a witness, you can then make posts that are specific to the witness category. As you can see, I'm not the only one that makes witness posts.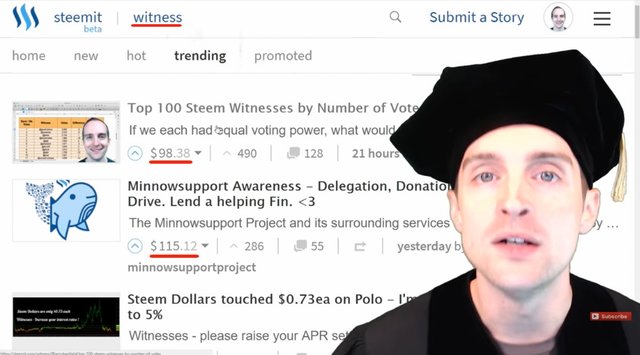 Witness posts are popular among all the witnesses. Any witness, regardless of position, can make a post in the witness category. What we see is that witness category posts tend to earn pretty good. In addition to the daily payouts, then witnesses get to do these posts which provide additional payouts.
All of this is tied to the Steem price. If the Steem price makes a big leap upward, then those witness earnings make a big leap upward as well. Witnesses on Steem were earning as much at $600 plus a day when the price was a bit higher. I believe the price will blow up. Therefore, being a witness is an extremely lucrative opportunity. Even if you're relatively new witness especially when you combine it with these witness earnings.
If you look at these posts, you can see witnesses earning, now yes, not everyone makes $100, but in addition, even as a brand new witness, you can make these posts that earn $10 or $20.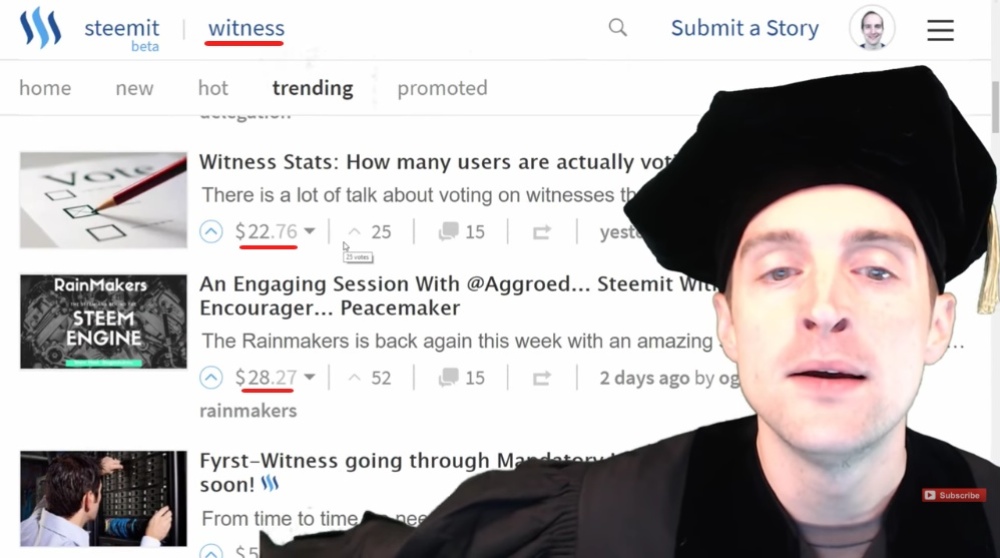 The amazing thing is that it is extremely low cost to get started. You don't have to dump thousands of dollars to build graphics cards and motherboards. That's why this is so cool.
You can literally just rent a Ubuntu Linux server. You don't even need to be very good with it because you can then just get help. You can ask for help, you can learn how to do Ubuntu Linux. All you need to be a witness is a Steem account, and then a Ubuntu Linux server. With a Ubuntu Linux server, you can get to run Steem for about $50 a month. The costs are extremely low. You don't need to go get any equipment.
Then what you can do is you just learn how to run the commands. I barely know what I'm doing on Linux.
What I just did, I listed the directory, and then I changed directory to "Steem docker." This is where the "Steem docker" is located now.
Then you can do: /run.sh logs.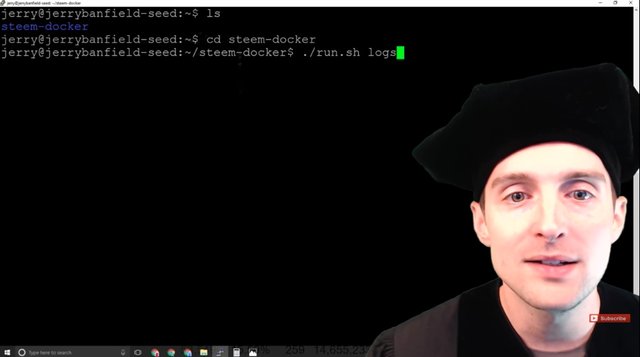 I can now see the block chain being created in real time. I can see who has done the most recent block, the transactions that are going on the block.
These steps are really easy to do and learn. It's not complicated. There's very low-cost getting started, which is why I was able to do it. I'm technically on my seed server.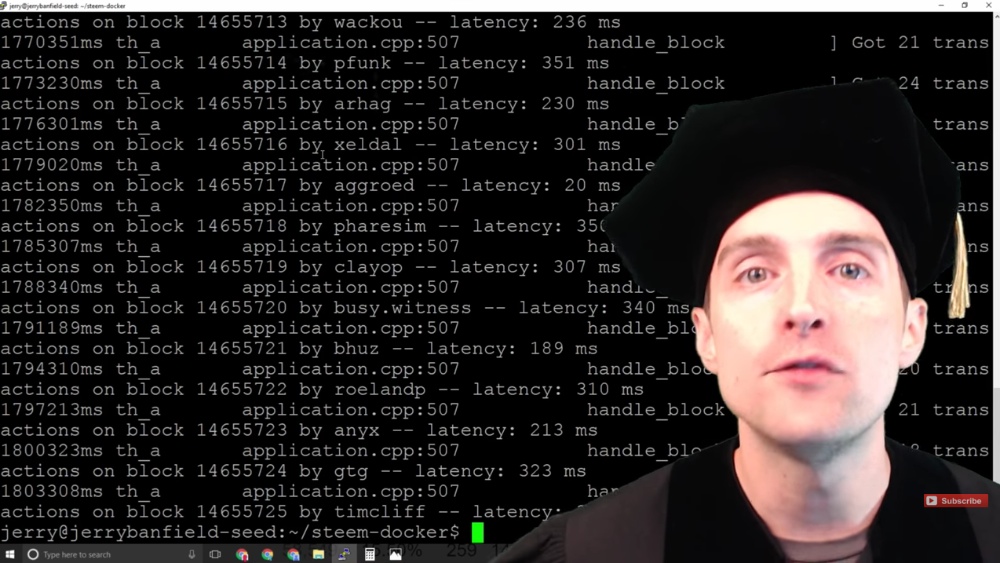 If you really want to do a good job, you can also get a seed server. That'll automatically put you on a top 50 witness mindset. Especially for the future, having a seed server is a good place to practice essentially. I've got my own server up here, and then I can monitor the status of the blockchain.
Then on my witness, I've got essentially the same thing, plus a few extra commands.
The payouts are only for these very top 20 witnesses. Every single one of these top 20 witnesses gets $295 a day.
All of them!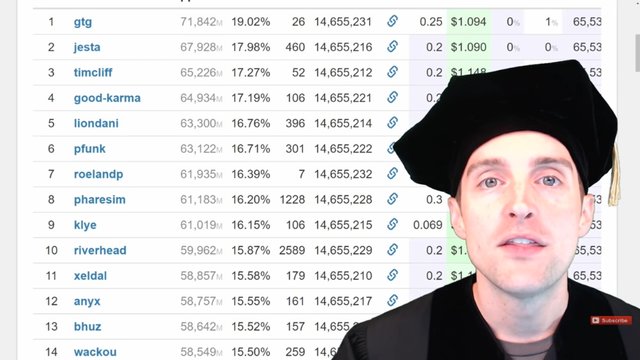 If you'd go into the combined earnings, that's almost $6,000 a day that the top 20 witnesses are earning together. What's really cool about this is that most of the witnesses are individuals. They are real people. They aren't companies with hundreds of employees. They are real people who've set up servers. I believe all of these different servers are managed by different people.
Steem provides a truly decentralized mining environment where all of the Steem blockchain creation is not controlled by a very small minority of users. Many of the other blockchains have very small groups of people who own, and then have companies and a bunch of employees that manage the blockchain.
Most of the existing blockchains are very centralized with a very small handful of people having an extreme amount of power. I like on Steem that this is spread out a good bit.
If you're not in the top 20, especially if you are close to the top 20, you can still earn a very good payout. At rank 50, I earned about 20 Steem Power a day which is easily enough to cover server hosting especially when combined with witness updates. Today at rank 29 I am earning about 40 Steem Power a day.
As we get closer to the top 20, the earnings continue to go up and up too. If we are at 21 or 25, we are probably earning close to $100 a day as a witness.
Then we're in position to jump into the top 20 and "get that big money." I'm impressed that most of these witnesses have been using Steem for a long time, since it came out. The witnesses in the top 20 that have been there for nearly the entire time are so smart for getting on this at the start. Steem is going viral now and the witnesses there since the beginning are in position to continue earning indefinitely. The only baseline thing you need to do is maintain the Ubuntu Linux server and maintain the votes by consistently posting updates showing all the contributions to Steem.
Now, the single most difficult part of moving up this list is getting the votes. THE BEST WAY TO GET VOTES IS TO POST WITNESS UPDATES SHOWING WHAT WE ARE CONTRIBUTING! I'm grateful that after months of posting on Steem, sharing about Steem, that I've got 900 votes or so today out of 13,000 followers. Therefore, it's in everyone's interest to educate about the witness system, both for those on Steem and those who've never been on Steem.
If you are smarter than me, which is certainly possible, you might realize that with Steem, it's called "Delegated Proof of Stake," and every vote is not equal. It's based on how much Steem Power you have.
Therefore, if you look at a visualization of the Steem Power, which I can pull a nice visualization for you up here off of Steem Reports, you can look at the witness voters.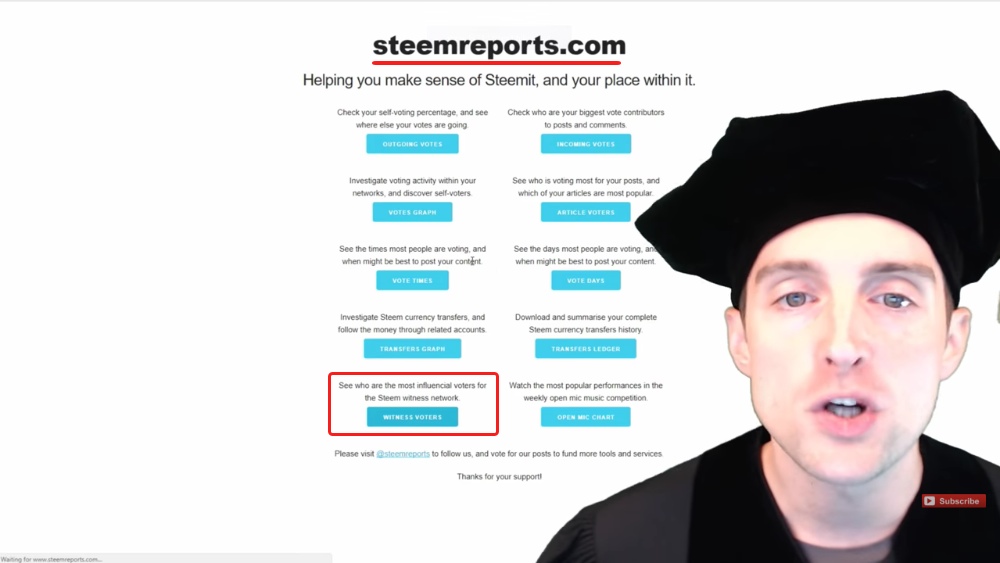 What you can see is that you don't need to convince everyone to vote for you, and that's really good news. In fact, you can see exactly who you need to vote for you in order to get to the number one position.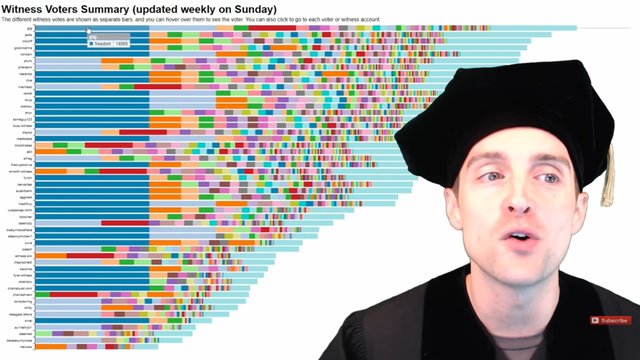 You need Freedom to vote for you, that singlehandedly if just Freedom votes for you that is enough to make it into the top 60. Just one single vote. I am extremely grateful today for votes from Freedom and @clayop which both came in a few hours after I posted witness updates showing what I am contributing as a witness.
In fact, most of the top upvoters have these same votes for them. In fact, it's very hard to get up there without those votes. The nice thing is, if you want to be a top witness, you know exactly who you need to reach and influence in order to get up there.
That makes this a really good mining system because you know exactly what you need to do essentially. You put up a Ubuntu Linux server. You become a part of the community. You get to know the influencers. You put yourself in a position to do a good job, to participate, and to then gather a vote from one of those top influencers by consistently doing witness updates demonstrating what contribution you are making each week.
In that sense, it's the most transparent mining system I know of because you can see exactly who is earning the most, you can see exactly how much each witness we are earning, and you know exactly what to do. There's outstanding guides to get started with it.
I really like this because the competition is clear. If you want to say "compete," I look at it that there's no competition. I'm exactly where I need to be. If where I need to be moves, then all I need to do is simply go along with it. If you are into the idea of competition, you can see exactly who you have to compete with and this becomes a fun power game of who do I make an alliance with, and who do I make my enemy to get out of my way, and who do I need to buddy up to get a vote. You could have a lot of fun playing a power game with this because you know exactly who's playing.
Try Bitcoin or Ethereum mining, it's just brute-forcing, getting all your machines together. That's just a matter, then, of spending a whole bunch of money and time, and then power. That's not a game most of us can play.
The Steem witness game is one that most of us are qualified to play. It's an awesome opportunity because with limited technical skills we can find many other ways to contribute as @timcliff explains in his newest post about being a good witness at Guide to Being a Good Witness. It pays really well with consistent effort and it's very easy to get started with compared to say mining Bitcoin or Ethereum which is nearly impossible for the average person to profit from.
Thank you very much for reading this post which was originally filmed as the video below!
The feedback on the video was so positive that I spent about $100 to get this post created for you here out of the video, and then edited it prior to publishing! I appreciate you being here and I hope you have a wonderful day today.
If you found this post helpful on Steemit, would you please upvote it and follow me because you will then be able to see more posts like this in your home feed?
I love you.
You're awesome.
I hope to see you again soon.
Love,
Jerry Banfield with edits by @gmichelbkk on the transcript by GoTranscript.
Shared on:

PS: Witness votes are the most important votes we make on Steem because one vote for a witness lasts indefinitely! Would you please make a vote for jerrybanfield as a witness or set jerrybanfield as a proxy to handle all witness votes at https://steemit.com/~witnesses because when we make our votes, we feel in control of our future together? Thank you to the 863 accounts voting for me as a witness, the 190.6M VESTS assigned from users trusting me to make all witness votes by setting me as proxy, and @followbtcnews for making these .gif images!



Or