Making The Introduceyourself Post for Day #2 of Steem Basic Training!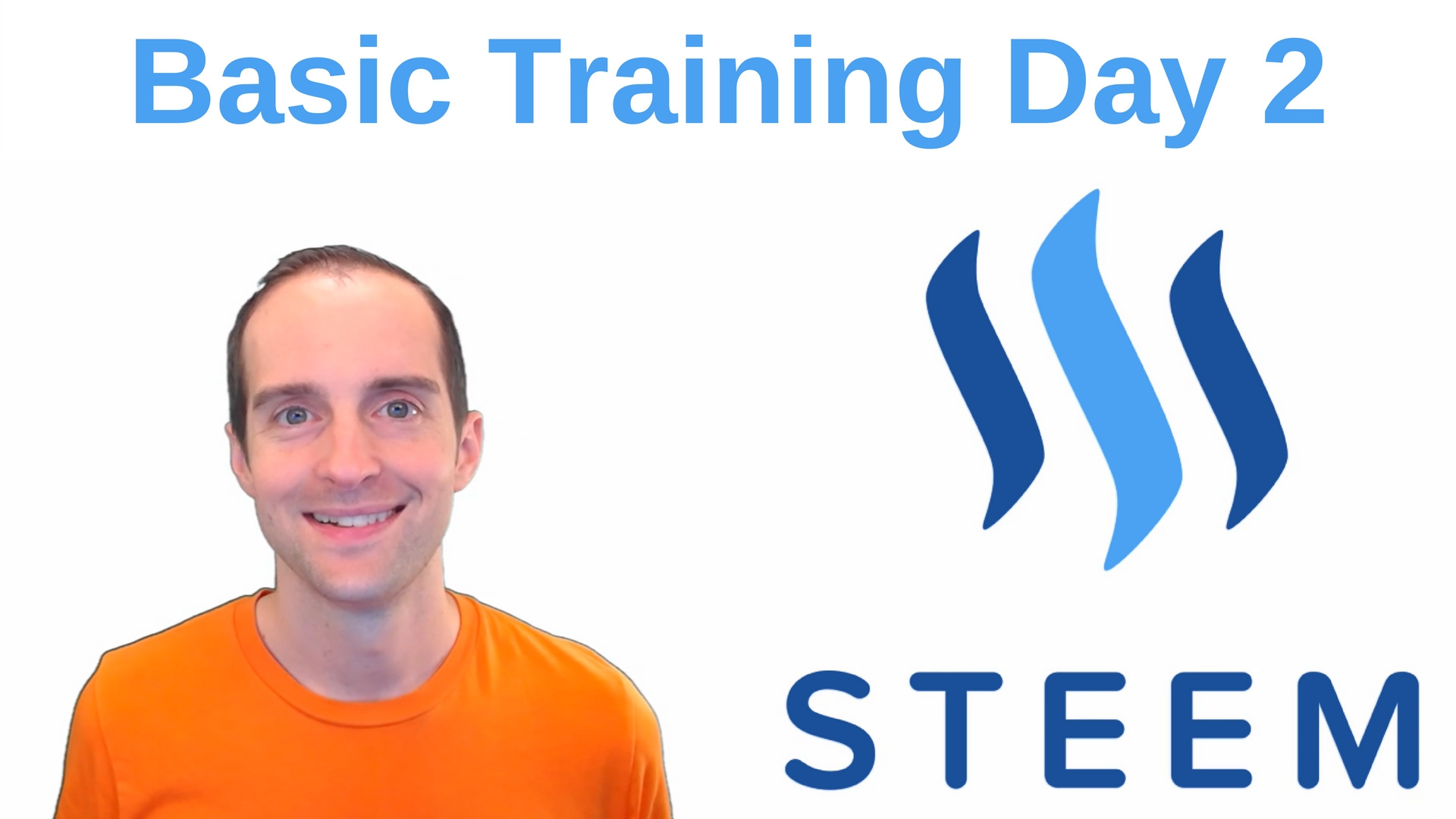 Would you join me in learning how to make an "introduceyourself" post today on Steem because this first post is very helpful for getting new followers, for getting that initial excitement on Steem, and for setting in motion everything else that happens? For those of us that have already done an intro post, I hope this is helpful to use as a resource explaining to friends and family how to make the first post.
Before making the introduceyourself post, will you read the basic training from day 1 at https://steemit.com/basictraining/@jerrybanfield/introducing-28-days-of-steem-basic-training-what-next-after-account-approval-1 because knowing how to use private keys on Steem may minimize the biggest risk to using Steem in the possibility of losing access to the account either by not having the password or having it stolen?
Making the Introduceyourself Post for Day #2 of Steem Basic Training!

The intro post is one of the most important posts we make on Steem and I will show you here how I did my intro post along with some tips for doing intro posts to get the very best long-term effect.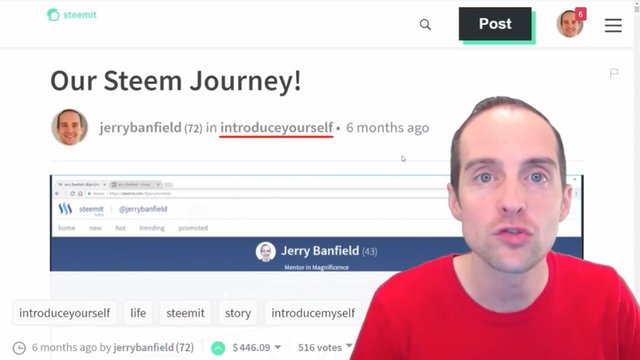 I'm grateful that my intro post earned $446. However, I would not expect that for every intro post because when I made that post we had a different rewards curve than now and a fraction of the number of users which made it easier for a popular post to earn a lot.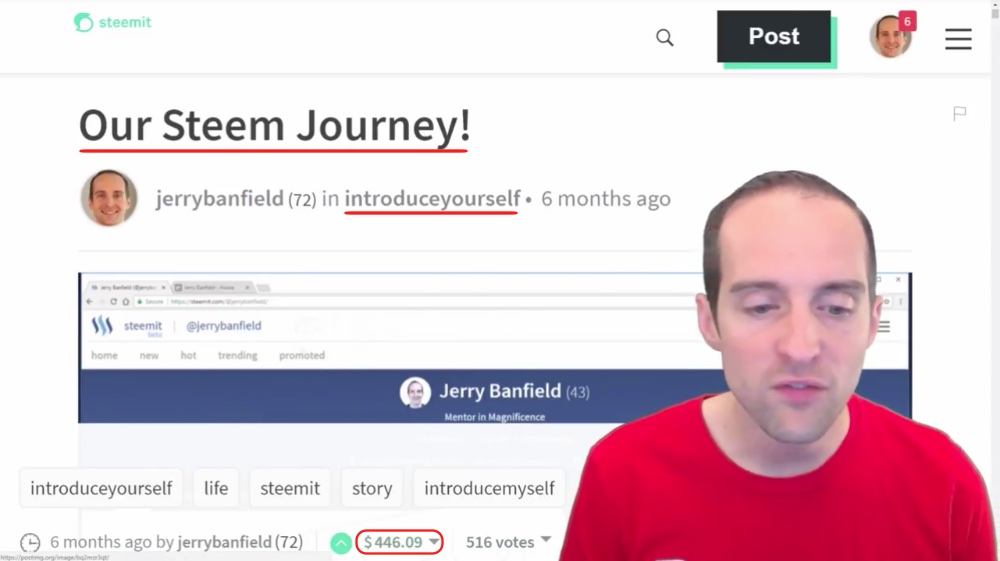 If you'd like to read my intro post just search for "jerrybanfield our steem journey" in Google, which is the name of my intro post or you can find it at steemit.com/introduceyourself/@jerrybanfield/our-steem-journey.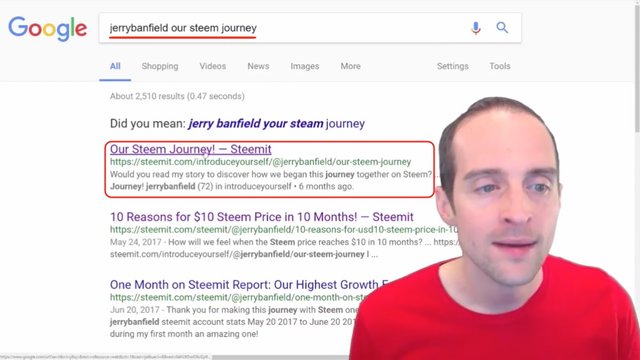 This format is effective because I learned it from others, I used it myself and now I will show you exactly what I recommend for an intro post.
Number one, look at putting some serious time and effort into the intro post. I would say that the intro post generally should be two to five times as much effort as any other normal post.
If someone finds me or if I find a new author on another post, I will often go back to the intro post to try to get to know that person much better. A great intro post is the difference between converting a follower six months from now after we've made hundreds of posts, and someone finally discovering one of them. The intro post will often make the difference between converting a follower and getting added to an upvoter, versus having a bland experience and saying, "Well that wasn't very exciting."
I recommend thinking about telling a life story in the intro post along with lots of pictures and especially if you've already got more than a couple of followers online, do a verification on different social media websites.
On mine, I did a post saying, "What's up Steem," with a picture, a date, and my username, which I then shared and linked to my social media accounts.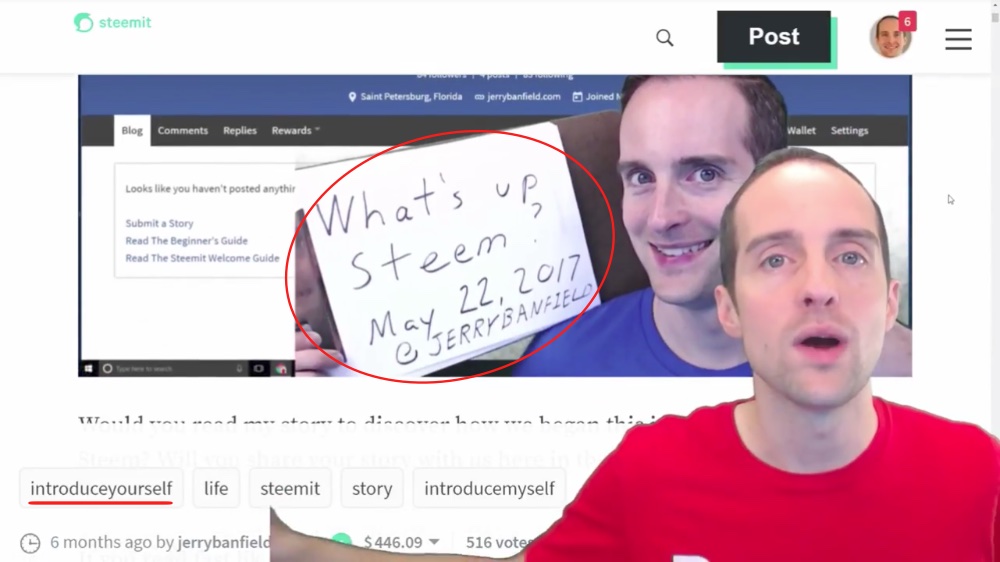 I shared it on my Facebook page, on my Youtube channel, on Twitter, and then it's linked all over my website.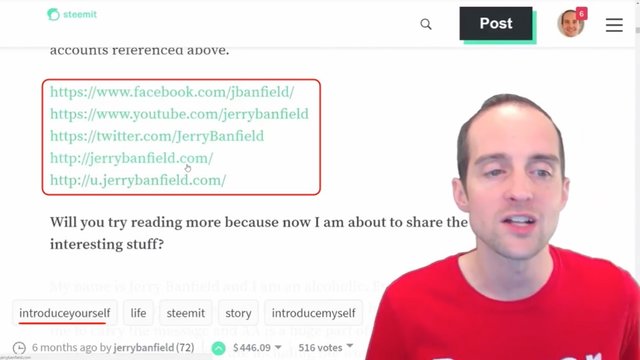 This means anyone who finds me on Steem and checks my intro post will have no doubt that this is the real Jerry Banfield sharing on Steem.
This way it makes it obvious also that you care enough about Steem to share your story with your existing friends on Facebook, or followers on any other social media.
After looking to get the initial picture, which is recommended to do something like some kind of a selfie style to show that this is really you, then a compelling first sentence I think helps a lot, to convert a potential reader into a reader.
Something like, "Would you read my story to discover how we began this journey on Steem?" or some other kind of compelling first sentence.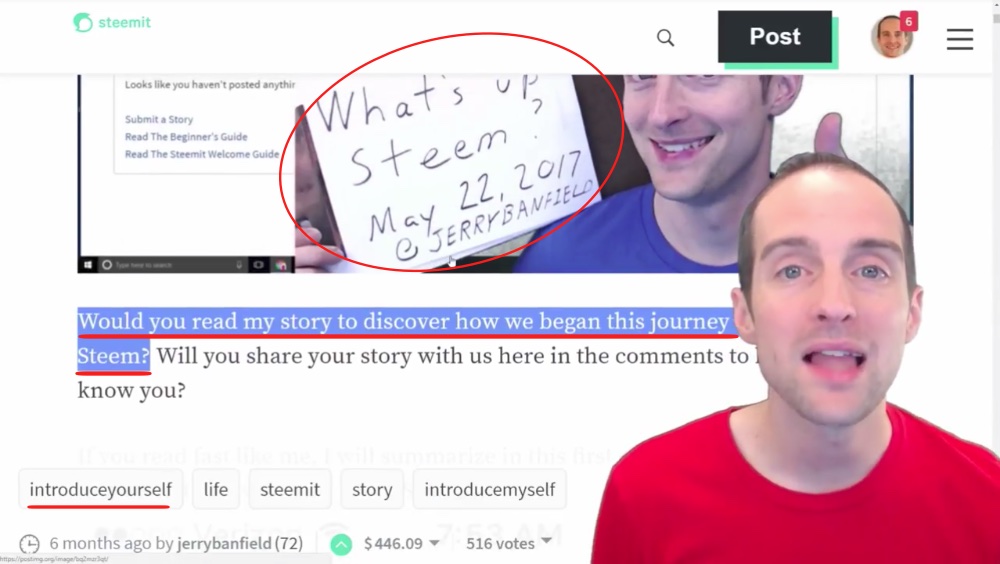 The first sentence appears on the timeline of all posts.
When you view a profile on Steem and you just get to see about this first sentence or so, writing a plan for the first sentence, or a "hi" or "hello," something boring and normal sounding is often a good way to get ignored.
If you want to get people actually click on and read the post, make sure the first sentence has a phrase that's interesting. You might write the entire rest of the post, and then go back and look at the first sentence.
Writing a first sentence that will prompt curiosity, that will prompt people to want to know more after reading this sentence, or something just asking like I say, "Would you read my story to discover how we began this journey together?"
It's just a simple ask, a very open and personal ask: Would you read my story?
We like reading stories, therefore, having something that suggests there's a story inside tends to work well.
I think it's also very nice to put who invited you to Steem or how you came to discover Steem. In my first post, one of the very first things I did was to explain how I joined Steemit. I summarized the first paragraph with a picture of how I got an invitation.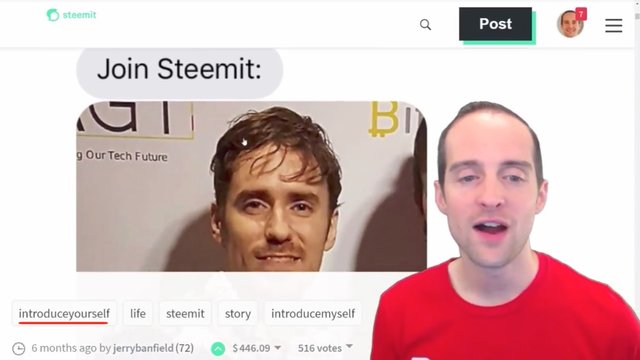 My friend @robertgenito invited me to Steem on April 21, 2017, when the price was in the twenty-something cents, then I waited a month after the price went up to a dollar thirty-four, and then joined.
I tagged the exact user who invited me.
This is helpful because, let's say you've watched one of my videos and you tagged me in the post, if you use tag jerrybanfield as one of these tags, I will have a good chance to see your post and upvote it.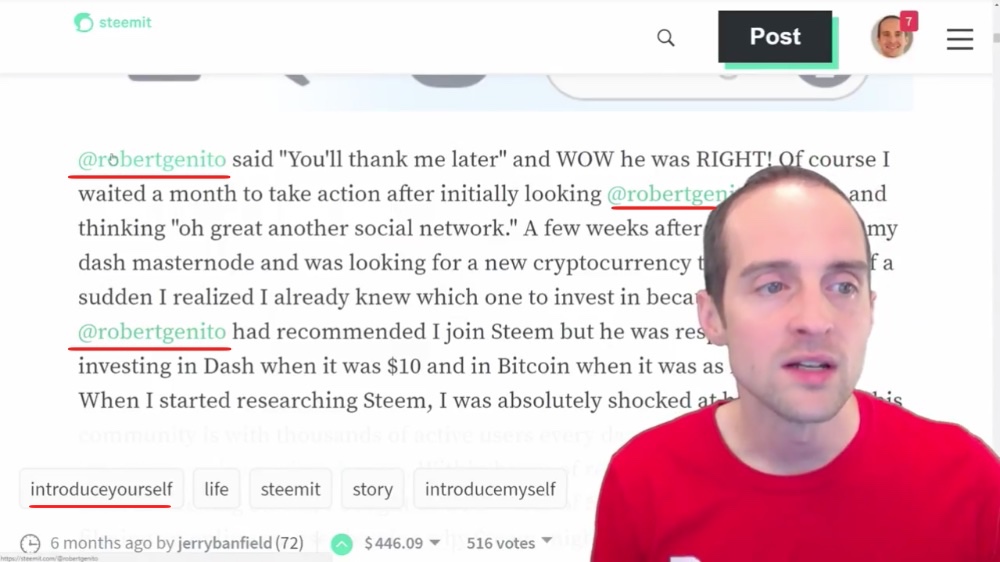 If you tag an individual user who invited you to Steem, you have a very good shot of them getting notified that you made a post, and one of your most likely sources of upvotes, is the person who invited you to Steem or inspired you to join Steem.
I spent the entire beginning of the post thanking the person who invited me for joining Steem explaining exactly how I joined.
I shared my hopes for our community to be the top social network in the world.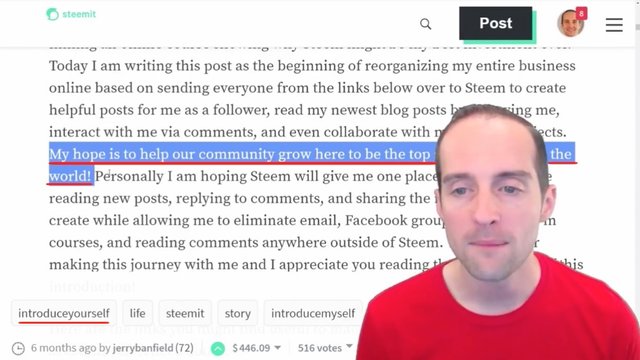 I shared that I also bought into Steem and I shared the links to my social media accounts.
Then, after all this, I wrote the rest of the post.
I made a very specific ask here, "Will you try reading more because now I'm about to share the really interesting stuff?"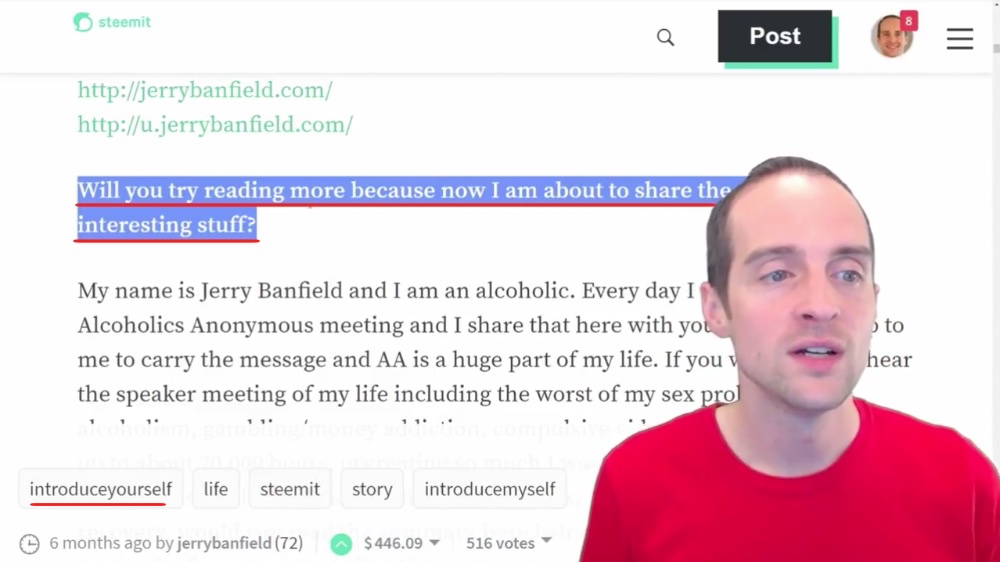 I think that for a great intro post it's important especially on Steem to share things that we often might not readily share on Facebook with our friends or family, but to share things that are more personal.
In my post, I get right into, "My name is Jerry. I'm an alcoholic. I go to Alcoholics Anonymous every day," and I shared some of the worst problems and struggles in my life along with some of the best things that have happened in my life.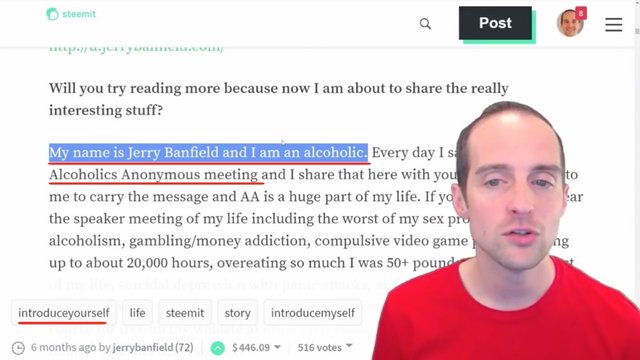 I shared all this in my intro post because this helps to get to know me as a person. This helps to get to know the flaws and the downsides, and what most of us are desperate for, online especially, is to get to know a real person.
We're filled with all these edited images of success. We're filled with videos where the stupid parts and mistakes were taken out, except for my videos, which have those included.
We are desperate to connect on a deeper level and the easiest way to do this is to open up about the things we're scared to share, to be vulnerable, to share some of the painful and challenging experiences of our lives.
I have been drawn into the very best intro post where this exact same thing was done. I think her name is @jessandthesea and she shared an intro post about her journey as a cam girl. That drew me and a lot of other readers in, because these are things normally that on most social networks, at least that I've used, these aren't the kind of thing people talk about.
Steem provides us the gift of not being censored as anything we post on Steem stays on the blockchain and is there regardless of what anyone else thinks.
The opportunity with Steem is to open up and connect on a deeper level. The rest of my post here is opening up and connecting on a deeper level.
I shared pictures of my family including my daughter, I shared pictures of my dogs and I shared basically a story of my life.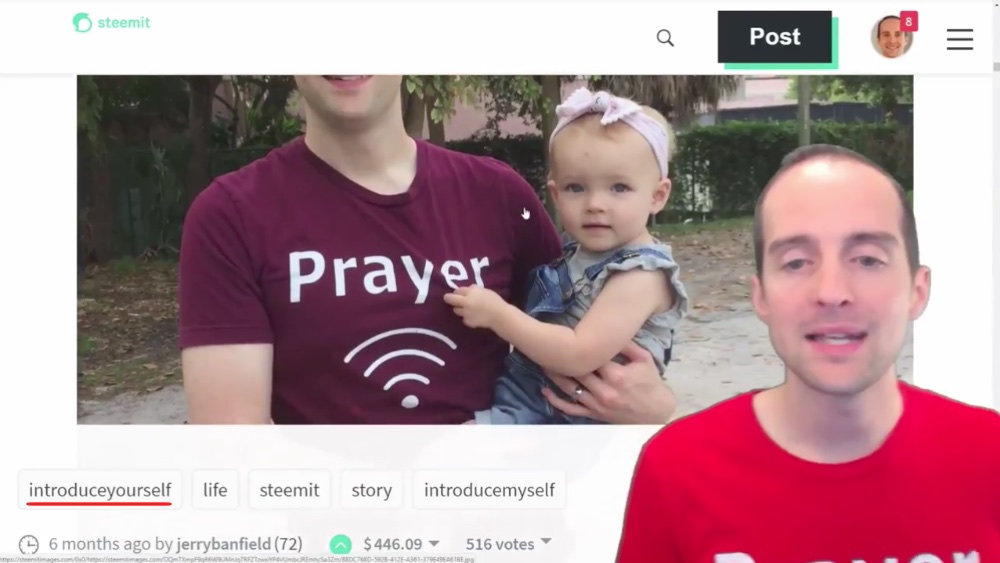 I shared things like, "I nearly drank myself to death and almost took my own life lots of times," I shared where I went to the college and I shared my career, like being in law enforcement.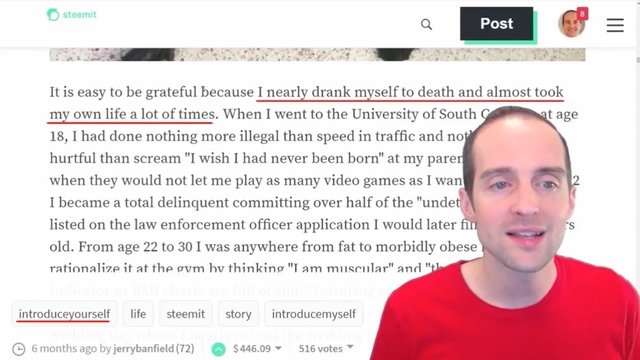 I shared a picture from my wedding and I shared some of the craziest years of my life along with pictures.
I shared a picture here with my wife and I shared some of the most intimate struggles I've had, the most desperate moments of my life.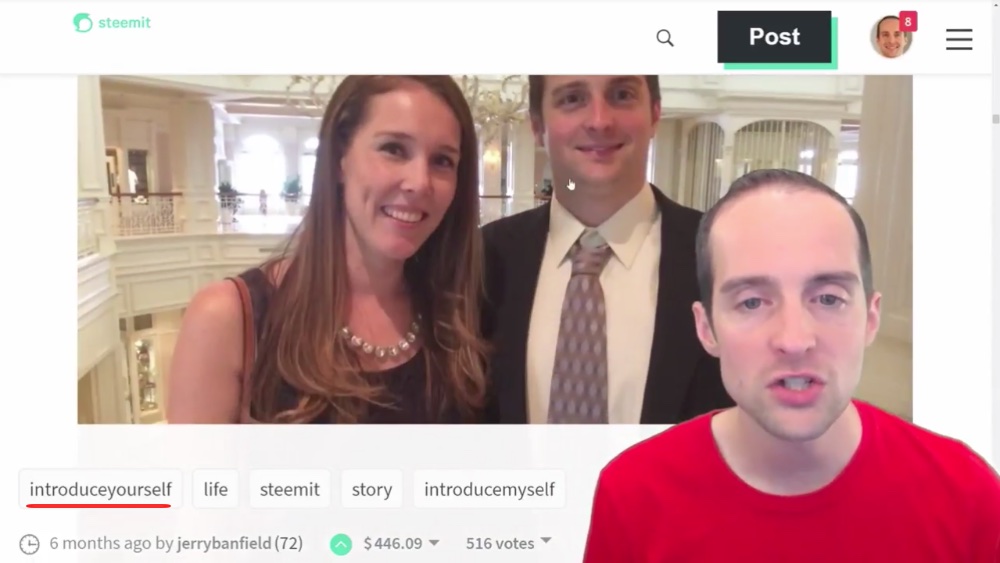 I shared the great amazing things that have happened to me in my life. I shared where my business nearly went under, and then by some miracle I started teaching courses.
I linked and connected my friends who brought me in the cryptocurrencies, I linked their websites. I shared the good and bad, my mistakes and success with investing in the Dash community, and then I shared exactly how all this led me into Steem, and how much Steem I bought.
I made a video course about Steem and I shared all of that.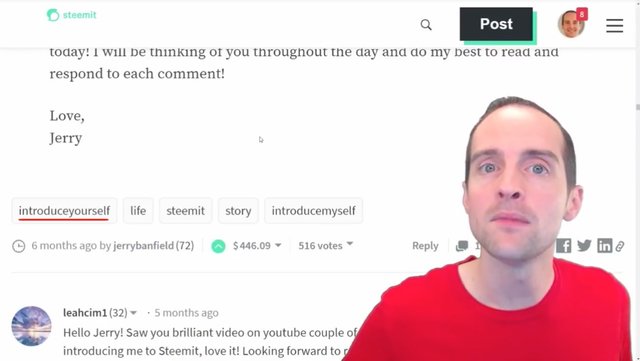 I shared completely and openly from the heart as it relates to Steem and how all that ties into my life.
I'm grateful even though this was my first post on Steem that it got 516 upvotes. It got thousands of views on the post and hundreds of comments including one here from Craig Grant that I was very excited to see and hundreds more comments.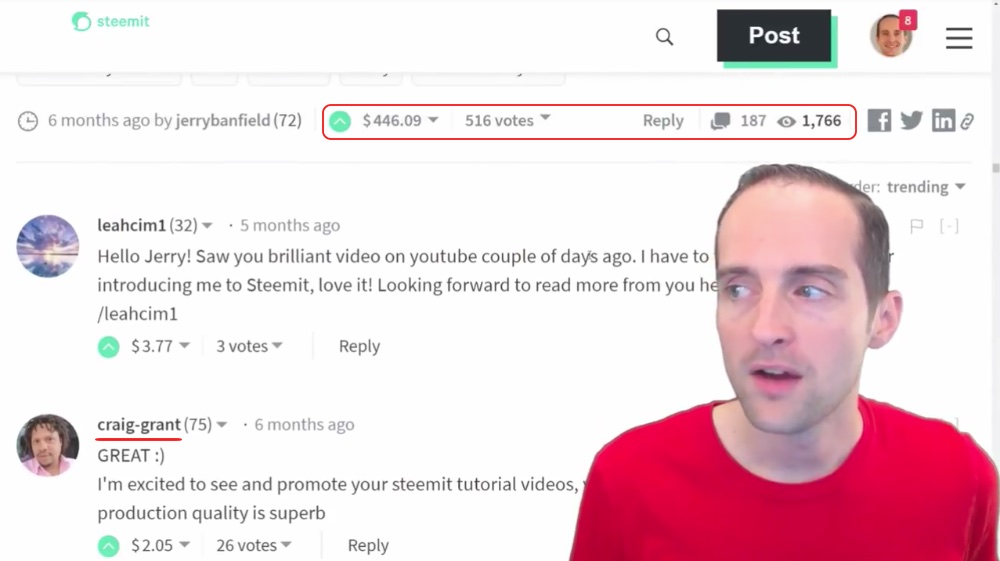 Now, for the intro post it's critical to use for the main tag "introduceyourself" because that's where those of us looking to find new users on Steem tend to find new users.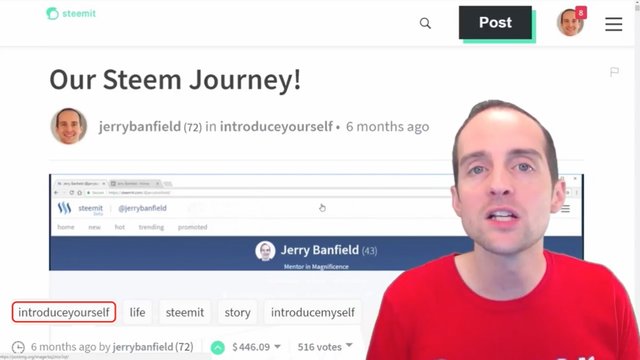 As you can see this post took a lot of time and effort, much more time and effort than most of my posts on Steem.
If you can even include a video, it might be nice. I recommend a long format for the post as well. If you speak multiple languages, I recommend doing it in multiple languages, both languages there.
If you speak Chinese and English, for example, I would recommend you to do a full English version and a full Chinese version. If it's over the character limit and won't submit the post, then separate it perhaps into each.
The idea is that you want the one intro post for anyone for the next year that finds our profiles, we want that intro post to be something that people scroll back and start off and get to know us, and begin to build a deeper relationship with us.
This intro post lays a very strong or weak foundation. If we just take a quick selfie and write a paragraph, that often leaves a very weak foundation. Someone who finds our posts in three months and gets excited, comes back and sees the selfie and a paragraph, just gets disappointed and doesn't follow or upvote any of our new posts.
Having an intro post like this is a resource that can pay dividends in the form of upvotes and followers indefinitely.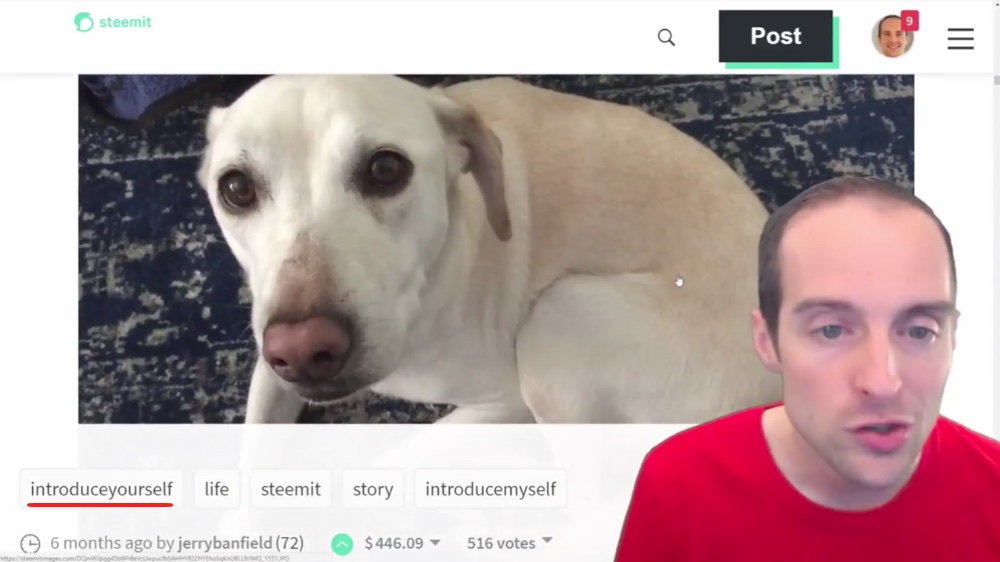 I highly recommend doing it in a similar format, and then also to set reasonable expectations.
I have millions of followers online and there were people already posting that I was going to join Steem before I joined, so this intro post got more upvotes and attention than probably 99% of intro posts do.
I also bought 10 or 15 Bitcoin, which today is a lot more Steem than it was when I bought Steem with Bitcoin. I bought a lot of Steem, something like 28 or 30 thousand Steem right when I joined.
In other words, I bought enough Steem to be a top one or so percent user immediately when I joined. If you look on the upvotes you can see that one of the top upvotes on the post is from me. I voted the post up 2 dollars and 58 cents with my very first upvote.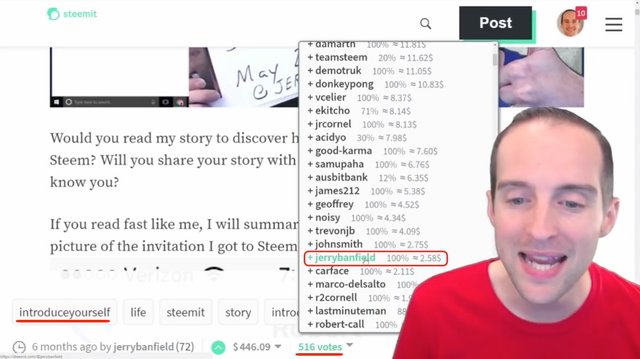 Therefore, if you want to invest, it's good to do that before putting in the intro post and we will talk more about that another day.
I've shown you my intro post as an example format that I hope is helpful for you. I've given you very clear tips such as using the "introduceyourself" tag, explaining how you joined, sharing the biggest struggles in your life, posting lots of pictures, and I've given you the jerrybanfield tag to help me find your post! If you'd like me to see your intro post please include that and I will have a chance to give you an upvote and welcome you to Steem as well.
I hope this has given everything that you need to make a very strong start on Steemit with a first intro post that can immediately, if well done, grab new followers right away, and then over time as some of the other posts you make get discovered, the intro post may convert followers who might have been on the fence into being very enthusiastic and ongoing followers.
I'm grateful today to have this experience to share this with you during day 2 of my 28-day Steem basic training. Day 1 featured account security at https://steemit.com/basictraining/@jerrybanfield/introducing-28-days-of-steem-basic-training-what-next-after-account-approval-1
I hope this is helpful for you and I appreciate you joining me here.
Final words

Thank you for reading this blog post, which was originally filmed as the video below.
If you found this post helpful on Steemit, would you please upvote it and follow me because you will then be able to see more posts like this in your home feed?
Love,
Jerry Banfield with edits by @gmichelbkk on the transcript from @deniskj
Shared on:

Our Most Important Votes on Steem are for Witness!
Would you please make a vote for jerrybanfield as a witness or set jerrybanfield as a proxy to handle all witness votes at https://steemit.com/~witnesses because 100% of my witness earnings pay for ads that will help promote Steem for years? Thank you to the 2100+ of us on Steem voting for me as a witness, the nearly 1 million dollars worth of Steem power assigned by followers trusting me to make all witness votes through setting me as proxy, and @followbtcnews for making these .gif images!

Or

Let's stay together?
If you want to stay updated via email, will you sign up either to get new emails daily at http://jerry.tips/steemposts or join at http://jerry.tips/emaillist1017 to get an email once a week with highlights?
If you would like to build an ongoing relationship with me online and help me get to know you, will you please choose a reward on Patreon at https://www.patreon.com/jerrybanfield and join the discord server afterwards because I check discord daily for new messages and host voice calls once a week for partners and clients?