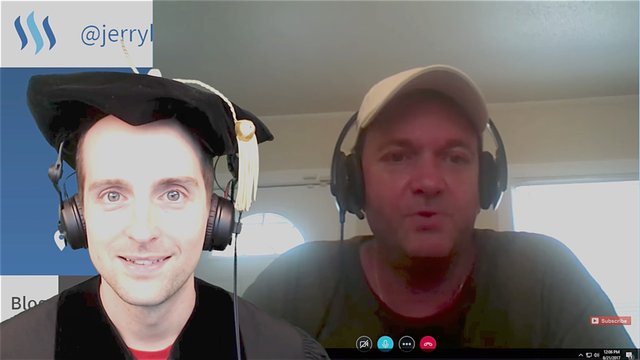 The minnow support project helps new Steem users earn more from posts and was kind enough to do an interview with me! This is part 1 of the interview which I hope is helpful in answering the questions: "What can I do to contribute the most today on Steemit? How may I help the minnows (users with very little Steem Power) increase earnings and make a valuable contribution here?"
Summary! When we ask how to help the most online, we receive answers for exactly what to do that will also bring us our greatest return! For learning about what works to get started working online and reaching the next level, the questions we ask determine the results! As I write this now, I am asking
What follows here is the edited transcript of the beginning of my interview with Steem witness @followbtcnews where he asks me these questions and I provide an answer life along with sharing stories building my business as an entrepreneur online and my adventures in cryptocurrencies especially Steem.

Interview with Steem Witness Followbtcnews!
Jeff:
Hi, everybody.
Welcome to MSP Waves Radio.
This is Follow BTC News with the Minnow Support Project @minnowsupport. Tonight, we have a real special guest that has decided to come on the show for us at our request. I think everybody's going to really appreciate the next hour we have here. The special guest I'm going to introduce you to is, Jerry Banfield.
Mr. Banfield here is a real popular Steemian on Steemit. He also runs a witness node for Steemit. Jerry's been an affiliate marketer and online marketer for years, but I'm going to let him tell you that story.
Jerry, I'd like to welcome you to the show.


Jerry Banfield:
Thank you very much, Jeff, for having me.


Jeff:
Yes, sir.
It's a pleasure to have you here. I've been following you for a while and I got to say I'm really impressed with a lot of the stuff that you do online. You help a lot of people and I knew as soon as they started this radio show, that you were going to have to be one of the guest on the show because I really admire some of the work you do.
Jerry:
I appreciate it, Jeff.
I'm very grateful you reached out to me for the interview today.
Jeff:
Absolutely, Jerry.
We've been doing this show just a couple weeks now. I've been an affiliate marketer since about 2007 or 2008. I try to teach some of the guys that listen to the show how to make money online. Now, you know as well as I do, it's not something that you start out day one and you become a millionaire. It just doesn't happen. No matter what books you buy or where from that promise you that with $20 they're going to show you how to make a million dollars, it just don't happen.
What I like to do possibly is maybe you talk a little bit about what you think is a good way for people starting out, whether it's on Steemit, or YouTube, or Facebook or maybe all those combined, maybe you have a few tips to some of these guys that might help them break into affiliate marketing to where they might be able to produce a little extra income every month.


What is a good way for people starting out on Steemit, YouTube or Facebook?
Jerry:
When I started out about six years ago, initially I was motivated to start my business based on what I can do to help other people. At the time, I was struggling with video game addiction, which I was hoping to use to avoid dealing with my alcoholism, and I started a business to do video game addiction online.
I started my business to help people, to do some good to help solve big problems that I've been struggling with. Very quickly, I got sucked into this whole "let's try and make money online" thing and I started playing video games again, and I said, "All right. I'm just going to use my business to make money online."
For years then, I continued to focus and ask the question, "How do I make money online? What can I do to earn more cash? What can I do to get people to pay me?" A lot of self-centered questions that gave me answers that were effective at just getting the result, but not effective at keeping the rewards of the result or doing much real good.
I came up with all kinds of hustling schemes. I have started buying Facebook likes on Fiverr for $5, and then I upsold them to clients who'd pay $100, a lot of scammy business systems that were effective in producing money, but at some point, the clients were quickly either unhappy with the results or wanted more of me and I couldn't deliver it.
The more I asked about "how do I get what I want?" the more I got it, and it didn't bring me any happiness. I had one client, he paid me I think close to $1,000 to do his Facebook ads. He was blowing up my phone while I'm at Disney with my family. He was completely unhappy with the service and I was completely unhappy working with him. That's the kind of results you get when you keep asking, "How do I get money? How do I make more money? How do I get this and that?"
Finally in 2014, I was about to go out of business. All of my money was spent. I was running up balances on all my credit cards.
In desperation, I said, "Screw it. If I am going to go out of business, I'm going to at least make a difference. I'm just going to tell everyone the best of what I know for free. I'm just going to put the videos up there with all my secrets, all the best things I've learned and I'm just going to tell everyone everything."
Because then if I go out of business, at least I've done some good on the way out.
Once I started doing that, I got a really positive response. I showed people, here's how you get Facebook likes for one cent, which I'd been hustling to clients and saying, "Look, here, I'll get you Facebook likes with Facebook ads," and selling them for 10 or 20 cents, and then I'd get them for 1 cent. So I just showed how to do that.
Now, all the clients I still had stopped ordering, but I got a lot of positive feedback, a lot of love and support, and then I realized what I needed to do is think about helping other people.
How do I help the most other people today?
When I started asking that question, then the answers I get, they may not bring money in immediately, but the more I asked that question and go back and forth, the amount of money that comes in is absurd.
Today on my Steem profile, some people have gotten envious and jealous, and well I understand that. I would make a post and it makes $100 in a couple hours, a post yesterday several hundred dollars, which I did all kinds of things like this when I first started my business, and nothing worked to make money.
I posted a video yesterday. People were kind enough to give $231 in the first 24 hours.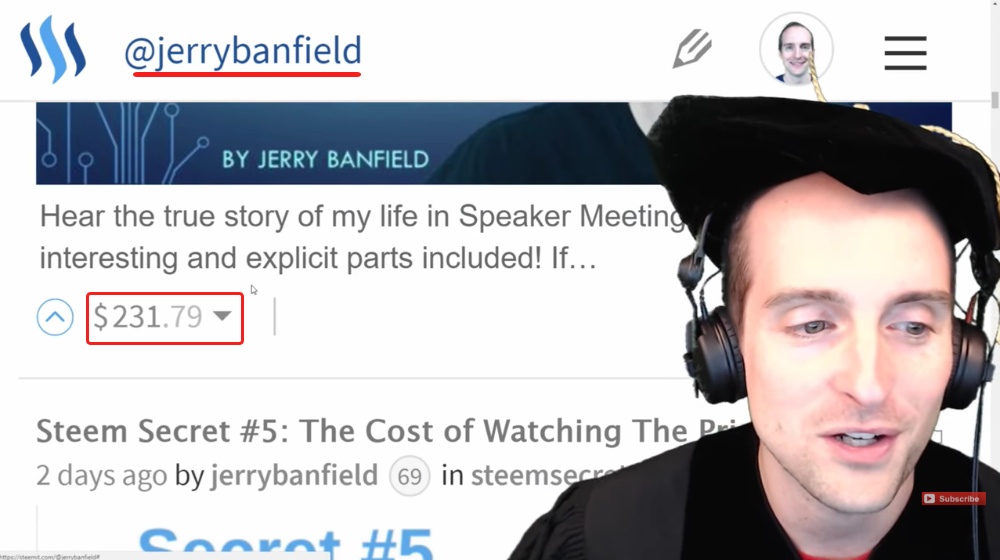 It's unbelievable what is possible after years of asking, "How do I help other people? How do I give the most? How do I share the most? How do I serve other people?"
When we're working online, we have practically infinite choices for what to do. We may not see that at first, but we can write, there are so many things we can do. The question is where to do it, what to say?
The answers to those questions are, how do I help people, how do I solve the most painful and annoying problem in someone else's life today?
Doing that repeatedly, it doesn't do much at first, which a lot of us will start out and try a little bit of that, but it doesn't make any money right away. We post on Steem, we upload a video, it's really good. No one sees it and we say, "F it! I'm going to go back to what I was doing before."
But when we keep going down that path, helping others, we get this fan base that just builds in, builds in and builds in, everyone that I've helped and that I've made a real difference. I've shared some of the worst things that have happened in my personal life, and I share that and everyone is just blown away with that, then consistently follows and will join me when I go somewhere else.
I've seen several other people say this. The basic idea is you want a 1,000 passionate fans, a 1,000 raving lunatics, you might say, that just love everything you do and you get those by individually helping each one, by doing an interview with them or writing a post that really helps them.
You build one person at a time. You meaningfully help one person at a time, and then when you get about a thousand, you can start doing almost whatever you want, but if you make poor choices about doing whatever you want, you'll start losing that 1,000.


Jeff:
Basically, you're opening yourself up. You're coming in, you're helping others and by doing that, you're planting seeds basically to where down the road, it's coming back at you, kind like the old proverb, "Do unto others as you want them to do unto to you." You're helping them and by doing that, it's coming back to you.
As you're doing that, you're opening yourself up on a personal level to these people to where they can get personable with you, and you're saying that that's helping as far as the social networking, like places like Steemit. When you make a post on Steemit, you've got people that you've been communicating with for a while now and opening up to them.
When you post something on Steemit, they can appreciate it because they know you on a personal level. So they enjoy reading your post and you're making money from these post because these are people that you've been communicating with for a while and building relationships with.
Does that go with what you are saying?


Jerry:
Yes, exactly.


Jeff:
I hope people are paying attention because that sounds like good advice, spend time networking, communicating with your followers, communicating with getting people onto the platform, maybe from other platforms, communicating with them on Facebook or Twitter and bringing them over to Steemit.
Once they're on Steemit, since you've been communicating with them already, they're going to continue to communicate with you on Steemit.
Does that make sense or?


Jerry:
Exactly.
Wherever you have the chance to communicate with people, when we communicate with people over time and consistently focus on, I like when you say the phrase networking, I used to think of networking as I'm going to go to an event and sell myself.
When we focus on giving, what can I give to this follower on Twitter?
What can I give to my friend on Facebook?
The more you give, people are very responsive then when you ask something, like, "Would you come off of Facebook and join me on Steemit?"


Jeff:
Okay. That makes sense.


Is a big following on social media a sign of success?
Jeff:
I haven't really thought about bringing people. I'm trying to think here. I can tell you've done really well. You do a lot of networking. I mean, I'm looking at your YouTube channel here and you've got close to 200,000 subscribers. On Facebook, you've got over two million people that follow your posts on Facebook.
On Twitter, you've got over a 100,000 followers. Then, we get over here to Steemit, you've got over 11,000 followers. When I see those numbers, that tells me you've been busy. I don't see where you get time to eat or sleep, because if you're out there building and forming relationships with these people, that's a lot of work. That's a lot of people you have, following you and paying attention to what you're doing. That's a lot of influence, but they're not going to follow you if they don't like what you're doing. That shows something there also.


Jerry:
Some of it shows good things and some of it shows bad things too. When you see all those likes and subscribers, a lot of those are people who I've helped, who are generally interested and excited in what I'm doing next, but a lot of that has been me using systems of advertising, systems like follow-follow back, doing collaborations with other instructors and video producers.
The funny thing is a lot of what looks good is actually in my mind like failure. I've advertised to millions of people. I think I've reached 100 million people on Facebook with my ads, and 99 million or so of them are not caring about what I have to do or are being annoyed by seeing my ads. Millions of people liked my page, they just clicked it once maybe accidentally, they weren't even thinking about it, and then have no idea who I am, or what I'm doing, or why I'm appearing on their newsfeed.
On Twitter, I did this follow for follow system where, "I'll follow you, you follow me." Then, I got frustrated. I couldn't even use Twitter when I was following 100,000 people, so I paid ManageFlitter to remotely and manually unfollow 100,000 people for me. I essentially tricked all of them into following me, and then I unfollowed them.
On YouTube, I partnered with instructors who could do videos on popular viral subjects and got out there. I got a bunch of subscribers, and then failed to deliver videos that those subscribers liked. What I'm getting at is, a lot of times what we think looks like success may not be.
I am exactly where I wanted to be. I wanted to have tons of followers online and be popular, and influential or whatever, but from the inside, today, it doesn't look any better, or worse, than having no followers online, or having a few followers online, because there are ups and downs to each situation.
If you've got two, three or five followers online, you have a pretty good shot at giving them exactly what they want. If you've got 10 listeners on your show or 100, you've got a good chance of giving those listeners exactly what they want doing a really good job for them.
With millions of followers, the one thing I'm guaranteed to do with every single thing I publish is to make someone mad, to get a hateful comment, "God, just kill yourself man."
Every single thing I do is incredibly annoying to someone. Everything I do is wrong to someone. It's almost impossible for me to even satisfy a small percentage of my followers, which is quite humbling.
Now, more followers isn't necessarily better. It does look better until you start looking at the details like, "All right, maybe it sucks to have 100,000 people wanting you to make a video every day. That's a lot of pressure."


Jeff:
I've got to be honest, I've never looked at it like that. It's never occurred to me that the more people you have, listening or watching what you do, the better chances you have like you said, you're not going to make everybody happy. I swear I've never even thought about that. That makes perfect sense.
One of the good things is, you do have the people that you are making happy, the people that are satisfied with what you're doing. In the long run, I would think, the people that you are making happy that's what helps them make money, because a lot of the stuff that you post is showing people what to do and how to make money, so it's helping them. At the same time, it's helping you.
Is that fair to say?


Jerry:
Absolutely.


End Part 1!
Thank you very much for reading this post, which was originally filmed as the video below!
This is the first part of the interview with @followbtcnews and I invite you to look for part 2 and 3 that will be in future posts because of requests to make my posts a bit shorter when possible!
Would you join me today, by leaving a like on this video or upvote this post on Steemit?
If you found this post helpful on Steemit, would you please upvote it and follow me because you will then be able to see more posts like this in your home feed?
Love,
Jerry Banfield with edits by @gmichelbkk


Shared on:
PS: Witness votes are the most powerful votes we make on Steem because one vote for a witness lasts indefinitely! Would you please make a vote for jerrybanfield as a witness or set jerrybanfield as a proxy to handle all witness votes at https://steemit.com/~witnesses because when we make our votes, we feel in control of our future together?

Or