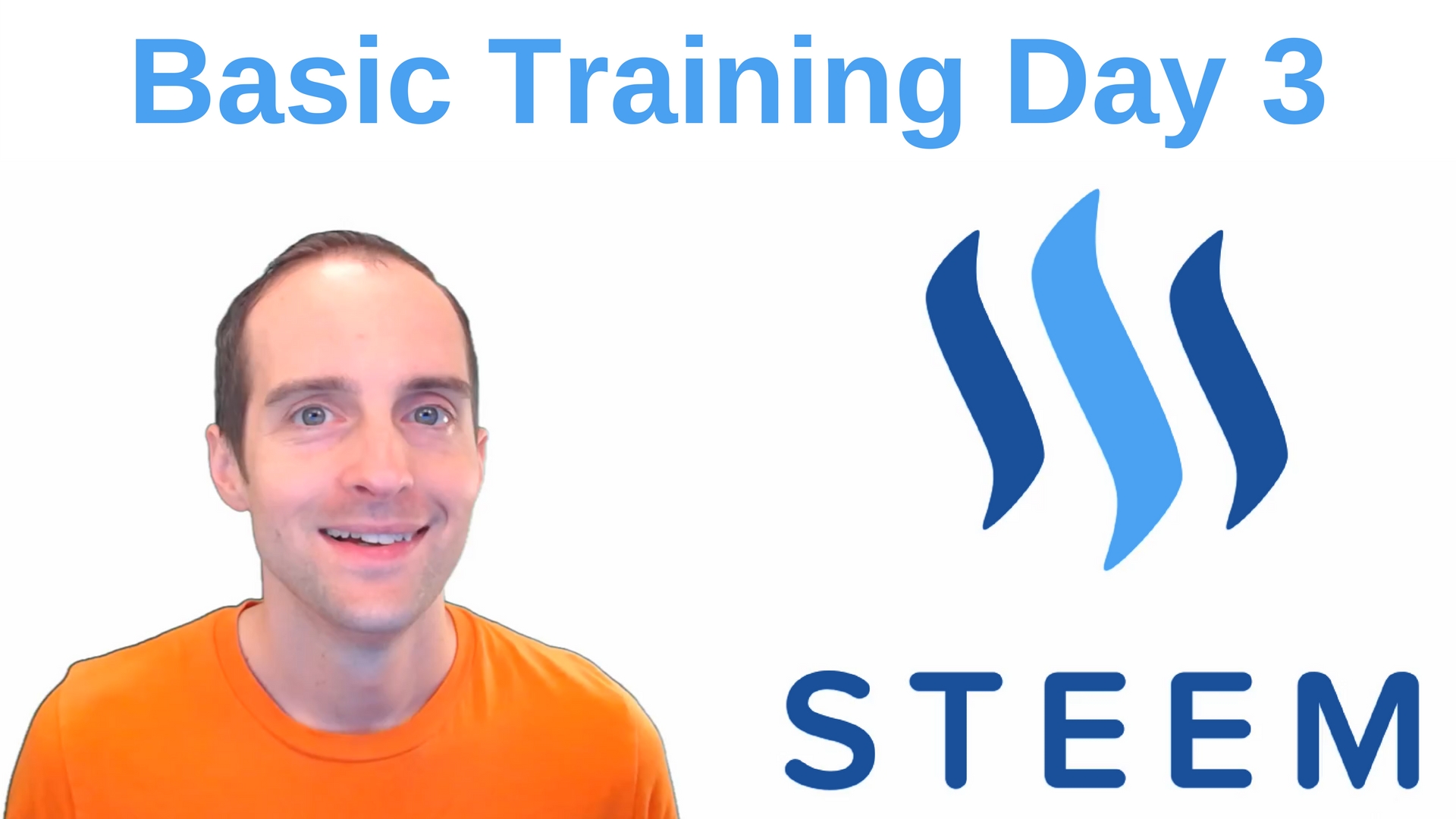 Would you read through this post today on Steem if you are new because we will see that the critical thing to do is to respond to comments on Steem starting with those on our first post?
Respond to Comments on Steem to Convert Readers to Followers! #3

Responding to comments on Steem means that when anyone makes a reply on our posts, we then respond with our own comment.
Here's my profile on Steemit.
I have responded to over 3,000 comments on Steem, which is why it shows that I have 3,312 posts today.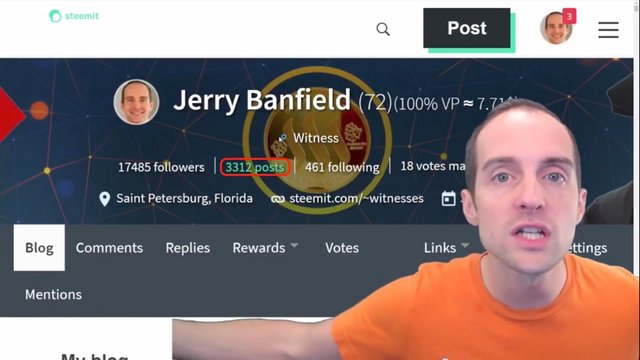 Even though I've actually made about three hundred posts on my blog, it counts comments and posts together, which is why I have over 3,000 comment replies plus 300 posts today.
Now, personally, I started out responding to as many comments as I could on Steem. I tried to respond to every single comment if possible. Sometimes I got behind and missed a lot. Other times I'd go through and respond to as many as I could.
Now, if you think bigger is always better here's an example, it's not. It is ideal to respond to every single comment. As we are building followers, it's critical to build a relationship with every single comment we get, because each comment we get on our posts that are not from some bot or spam, that's a chance we make of building a deeper relationship with a reader who will stick with us potentially for years.
I know as a reader, I love it when authors respond to my comments. Now, there is a big problem though. The more followers we get as an author, the harder it is to respond to individual comments.
I will go through and show you some of my posts down here now. You will see that my posts on average have 50 to 100 comments on every single post.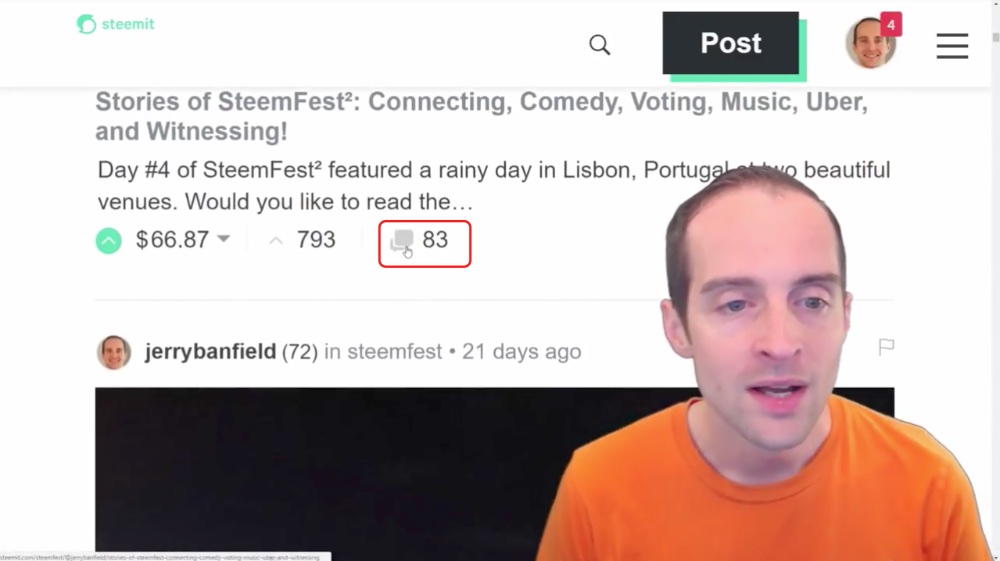 If you scroll down my profile at https://steemit.com/@jerrybanfield, you will see that I have posts with 50, 90 or even more than 100 comments. I personally don't practice this anymore because there are too many comments for me to respond to.
As you can see, my wife did a great job with this on her first post that got 254 comments. Now, close to half of those comments are from her, and especially building an introduction post, you are likely to get lots of comments on that.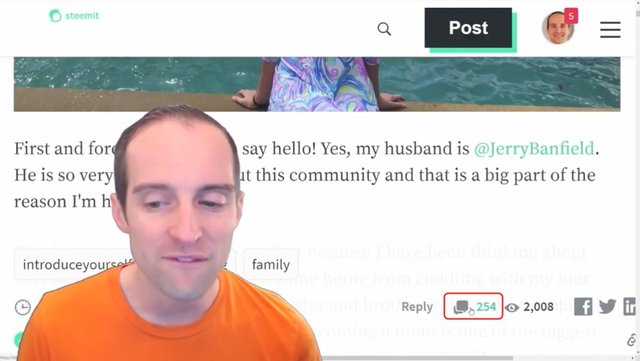 What happens in the bottom of the post, you have a chance to click "Reply" and as soon as we click "Reply" on a post, this is how we respond to a post. You can type comments in here, "Comment here," and then you click "Post" to make the post show up as a comment.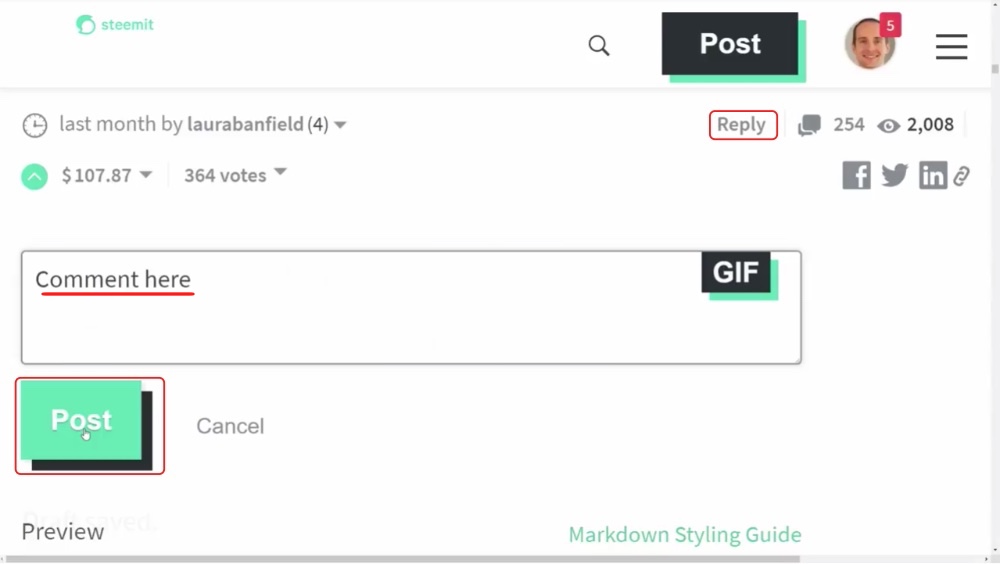 Comments are replies after you click the "Reply" button on a post on Steem and you can also reply to individual comments.
You can see @laurabanfield consistently responding to the comments on this post, not every single comment, but she put about 50 or so replies to the comments.
If you look at her profile, you can see how many comments she did in total. She has 90 posts, therefore, she made one post on her blog, and then responded to 89 comments on her first post.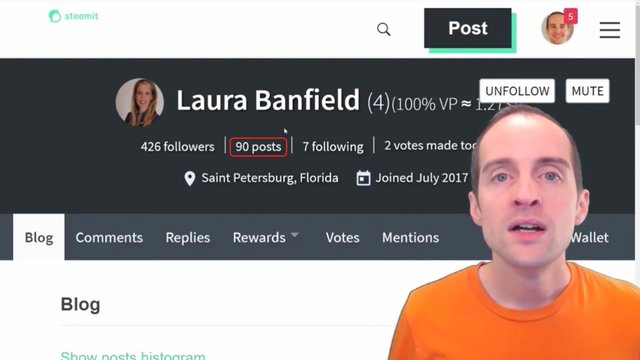 That is the ideal recipe because this intro post is often a limited opportunity. Once you've done the intro post, this is often one of the easiest posts to get recognized on and to actually get people to respond to and make comments.
It's amazing the opportunity to make an intro post and to make posts on an ongoing basis that is missed when we fail to respond to comments.
Now, unfortunately, if you get about 50 comments on a post that, in terms of time, is about an hour to read through all the comments and make thoughtful responses. The problem with that is an hour of responding to comments often fuels up all these other ego-driven interests and can make things more interesting.
It's good that comments make things more interesting and interactive. Over time some of the negative looking comments will be some of the most helpful, and some of the comments that consistently come will be some of the most active readers.
Not just for people who are commenting, but most people, if you see on this post my wife did, 2,000 views and 200 comments, the ratio of comments to views is actually very small, but the number of people who are then reading through the comments is also significantly higher than the total number of people commenting.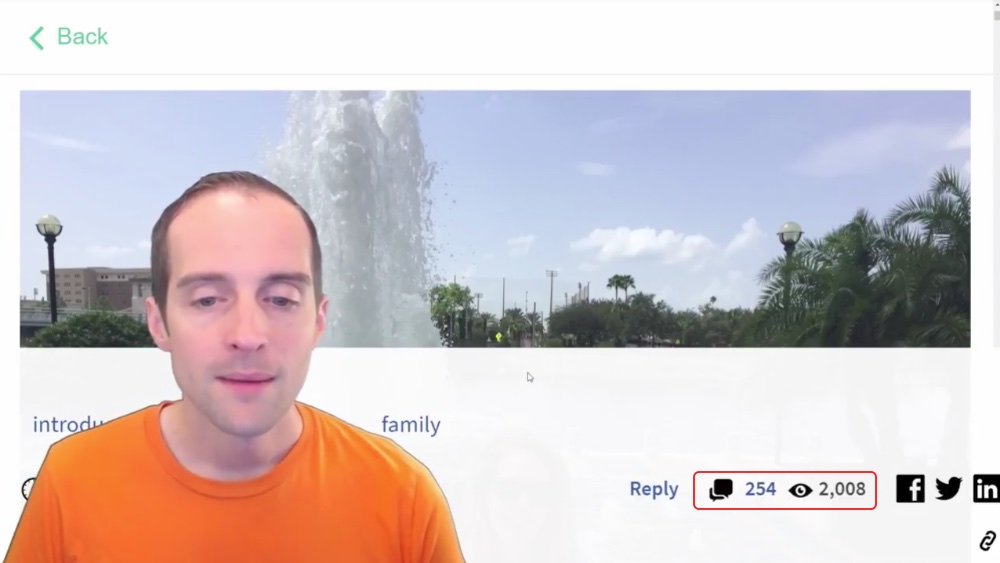 I often look through comments on posts where I don't even actually interact or make a comment on the post. Lots of times you can have amazing things happen just by putting a comment reply up.
Now, to start, it just makes sense to comment on our own posts to begin and to just use that introductory posts to start. We make our intro post and reply. I suggest replying to every single comment on the "introduceyourself" post, even if it's a reply to a reply.
Make that deep relationship beginning through comments. Then, going forward, if you get too many followers and you can't respond to all the comments, which may require a change, but initially and for 99% of authors, I would say it's critical to respond to the comments.
Thank you very much for reading this post, which has been interesting for me to write given I'm sharing advice that goes different from what I'm actually doing today, which I hope is useful for you to see.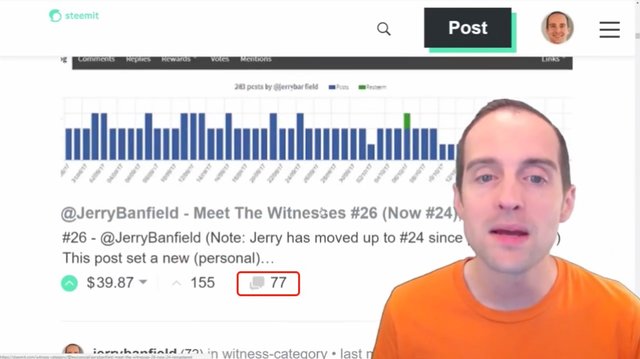 If you wonder how I got to having so many followers replying to comments, thousands of comment replies has helped a lot with building followers, helped so much that now there are too many comments.
Thank you very much.
For further reading, here is an awesome post by @ilyastarar sharing a lot more about the value of commenting and how to do a great job with it at https://steemit.com/steemit/@ilyastarar/steemit-earning-guide-series-for-frustrated-minnows-and-newbies-part-1-comment-comment-comment-e3f37f4222e2e
I love you! You're awesome.
I hope day three of Steem basic training was useful for you today.

Final words

Thank you for reading this blog post, which was originally filmed as the video below.
If you found this post helpful on Steemit, would you please upvote it and follow me because you will then be able to see more posts like this in your home feed?
Love,
Jerry Banfield with edits by @gmichelbkk on the transcript from @deniskj
Shared on:

Our Most Important Votes on Steem are for Witness!
Would you please make a vote for jerrybanfield as a witness or set jerrybanfield as a proxy to handle all witness votes at https://steemit.com/~witnesses because 100% of my witness earnings pay for ads that will help promote Steem for years? Thank you to the 2100+ of us on Steem voting for me as a witness, the nearly 1 million dollars worth of Steem power assigned by followers trusting me to make all witness votes through setting me as proxy, and @followbtcnews for making these .gif images!

Or

Let's stay together?
If you want to stay updated via email, will you sign up either to get new emails daily at http://jerry.tips/steemposts or join at http://jerry.tips/emaillist1017 to get an email once a week with highlights?
If you would like to build an ongoing relationship with me online and help me get to know you, will you please choose a reward on Patreon at https://www.patreon.com/jerrybanfield and join the discord server afterwards because I check discord daily for new messages and host voice calls once a week for partners and clients?