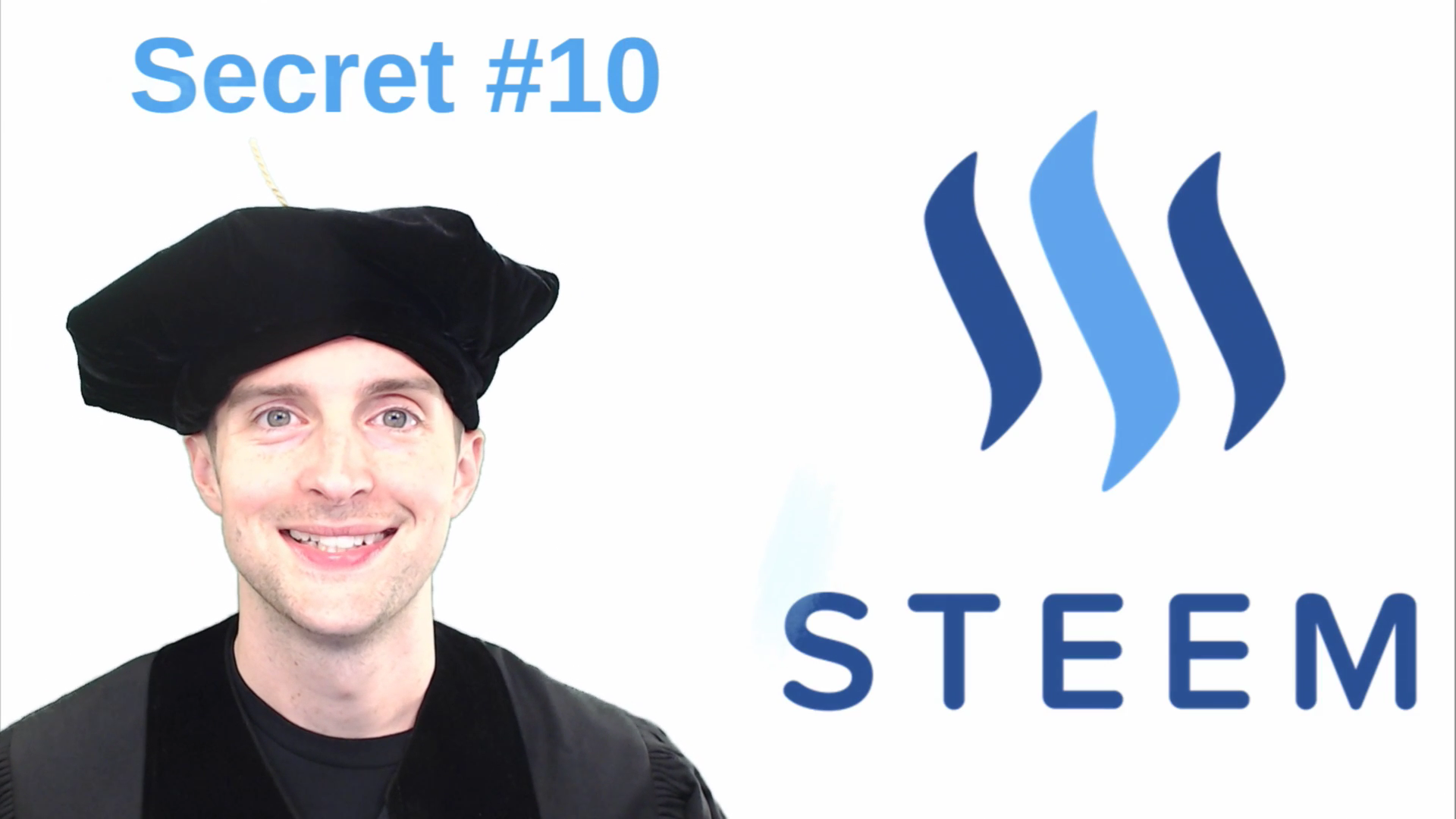 Learn how to earn a retweet on Twitter by the @steemit account in Steem Secret #10! With over 33,000 followers on Twitter at https://twitter.com/steemit landing a retweet by Steemit is a huge opportunity to to greatly expand the reach and upvotes on a post! This quick post first shows examples followed by a quick tutorial explaining what steps to take to be in position to get retweeted!
Recent Retweets!
---
Reading this retweet led me to give @stellabelle a full upvote and add her to my @steemvoter!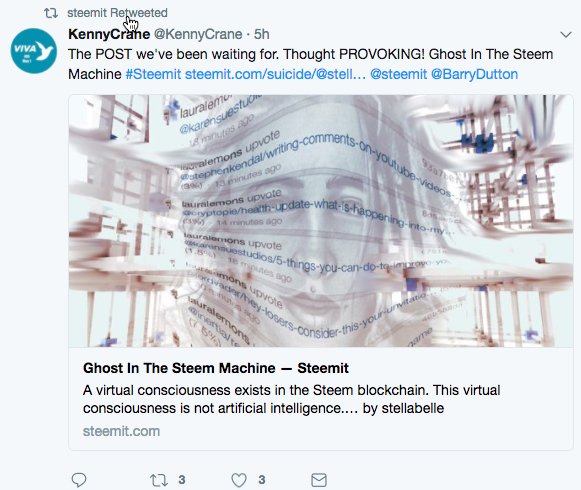 @teamsteem consistently earns retweets with his posts and is already on my @steemvoter at 100%!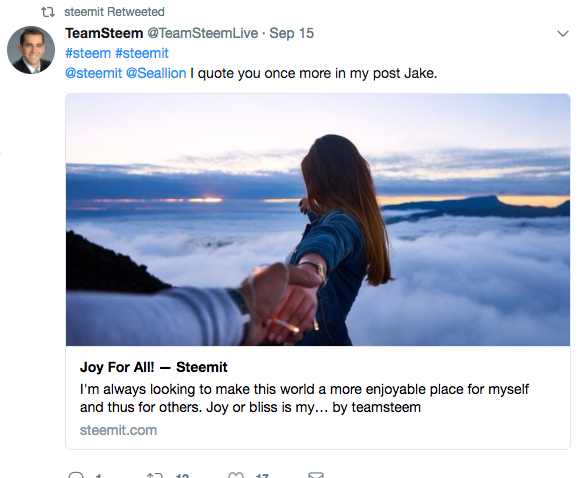 I am grateful that the Steemit Twitter account has consistently retweeted my posts including the two below. With @andrarchy being the community manager for Steemit, I believe he is responsible for the tweets and I am consistently impressed with the choice of what is chosen to share!
In this first example, I believe Steemit originally made the post and then shared it again with a self-retweet.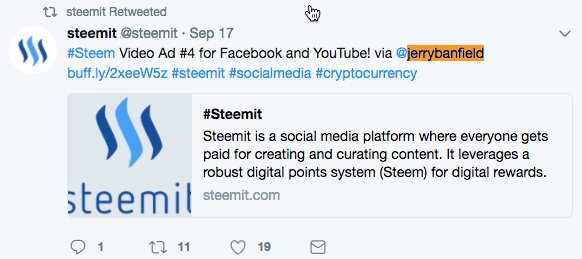 In this second example, a post that automatically went to my Twitter account as soon as I posted it to Steem earned a retweet. While I am not sure whether the post itself or the retweet or some other factor led to the outcome of @freedom voting for me as a witness via proxy @pumpkin within 24 hours of the update, I am extremely grateful for that witness vote which put me in the top 30 and the retweet that might have helped with that!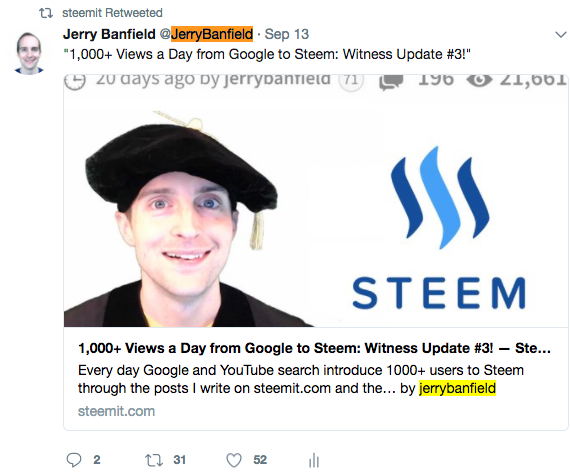 How to Get a Retweet?
---
Fortunately placing ourselves in a position to get a retweet from the @steemit Twitter account is very simple regardless of how many followers we have or how many upvotes we get. Here is the process.
Write an outstanding post by learning from the retweets already happening at https://twitter.com/steemit. An outstanding post is useful in solving problems and raising consciousness often including relevant pictures and links without overdoing self-promotion. Did you just spit your drink on the screen when you saw me writing that last sentence because 95% of what I post about involves me in 95% of the post? Maybe some humor too! If you find fear coming up of a great post going unnoticed as a reason for not even bothering to try, be aware that readers working with curation projects such as @curie and @ocd and my upvotable posts are consistently checking Steem for the very best new posts every single day. The majority of truly amazing posts do receive enough attention to earn a retweet through the author's own promotion and/or inclusion in a curation project!
Setup an automatic post to Twitter as explained in my tutorial at https://steemit.com/steemit/@jerrybanfield/publish-steemit-blog-posts-automatically-to-facebook-and-twitter-with-zapier-or-ifttt-and-streemian. All I have to do by following what I showed in that tutorial is push POST and this automatically goes out to Twitter and Facebook every time.
Make hundreds of helpful posts and a retweet is likely to come regardless of upvotes or followers! The idea is to repeat and forget about even checking to see if a retweet happened! When we focus on what we are contributing, we tend to get a LOT back and produce with the assumption that what we do is GOOD ENOUGH. Not better than anyone else or worse but just good enough. While I used to spend so much time analyzing the one person that shared my post or complaining about how few people read my blog, today I am unaware of the majority of sharing resulting from my work because I focus on doing my work instead of what response I am getting. Several of my videos on https://www.youtube.com/jerrybanfield and posts here went viral with me noticing for months. Do good every day and the Universe will provide everything in return!
Thank you for reading this quick tutorial that I have shared in response to feedback requesting some shorter posts that are easy to learn from!
Love,
Jerry Banfield
Shared on
PS: This post today is a part of my service as a full time witness for Steem! Witness votes are the most important votes we make on Steem because one vote for a witness lasts indefinitely! Would you please make a vote for jerrybanfield as a witness or set jerrybanfield as a proxy to handle all witness votes at https://steemit.com/~witnesses because when we make our votes, we feel in control of our future together? Thank you to the 1012 accounts voting for me as a witness, the 237M VESTS assigned from users trusting me to make all witness votes by setting me as proxy, and @followbtcnews for making these .gif images!

OR