Earn 24% Renting Steem Power with MinnowBooster! #8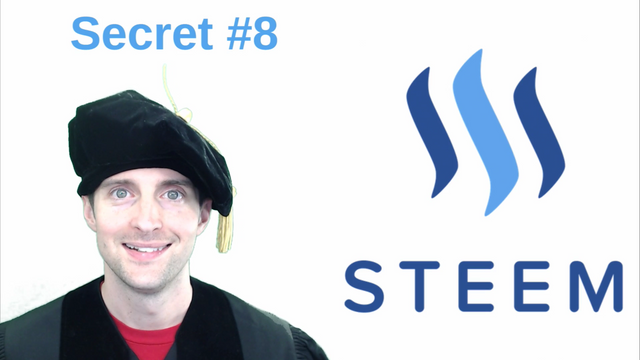 In Steem Secret #8, discover the easiest method investors can use to get a returns at 24% APR by leasing Steem Power via delegation at https://www.minnowbooster.net/market. This is a GREAT ALTERNATIVE to POWERING DOWN for getting liquid Steem without having to touch the principle! For anyone holding enough Steem Power to use the marketplace, this is the most simple system I am aware of to get a great return with the least possible effort!
Before making this post, I tested this on 35,000 or so Steem Power. In exchange for delegating my Steem Power by the process I show below, I am receiving about 30 Steem per day for 4 weeks. I tried this to both make the best post for you here and to see how it felt to have a greatly reduced vote. Long story short I love the payments and hate having a vote under $2 after having it as high as $38 at one point! With my daily participation on Steem, it does not make sense to loan my Steem Power because I can give much more than 30 Steem a day worth of upvotes to others which invariably will come back to me as well. In about three weeks, I will have all my Steem Power back along with about 1,000 Steem and I will not be planning to loan it again because I want to give the most back with my upvotes. That said, if I was an investor holding my Steem on an exchange or holding Steem Power in my wallet without using the voting power most days, it would make A LOT OF SENSE to follow the entire process I show below!
How does it work?
Pictures
Landing page on https://www.minnowbooster.net/market.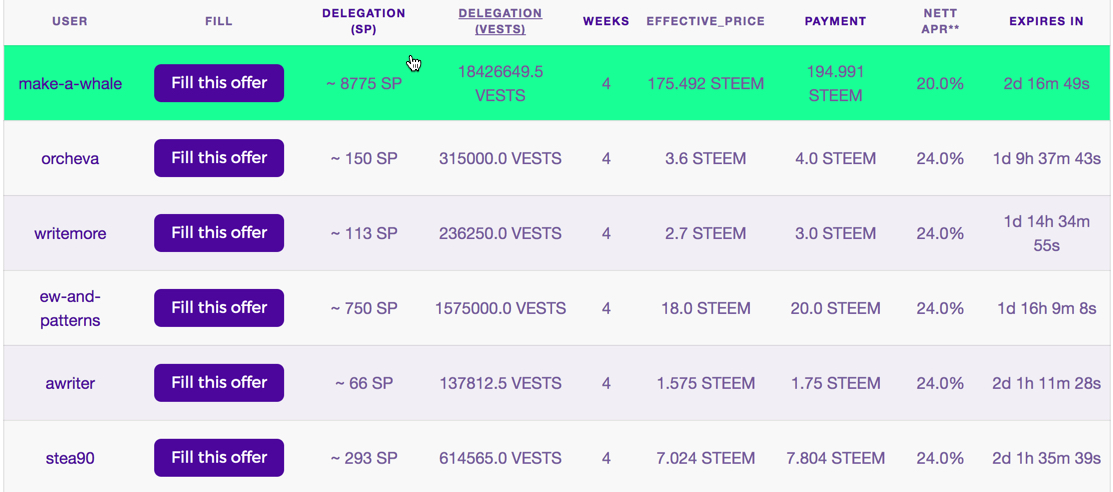 After clicking fill offer.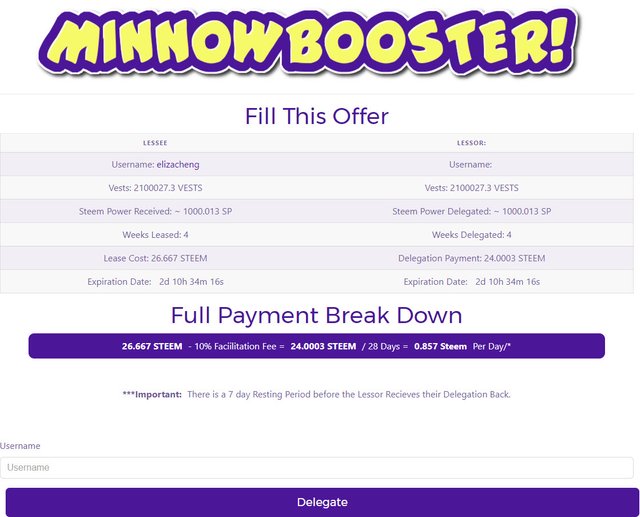 User info showing my delegations.

Daily payments! Here are the last two.

Note that @minnowbooster takes 10% of the fee paid by the borrower and collects the entire payment upfront which is then sent automatically out to the lender in equal daily payments.
Why borrow?
Before participating, it is important to understand why a user would participate on the borrowing side. Let's take the opposite of what I did. Instead of loaning my Steem Power, I could have paid the Steem I am receiving and borrowed that much more. I would then be able to vote my own posts up higher and upvote others higher. As an author, I REALLY appreciate every author that has an auto upvoter set on me guaranteeing a consistent amount of earnings on my posts. I am planning to show my gratitude by getting my own upvoter set on many of those upvoting me the most. When we see how much it helps us as authors to not only be able to upvote ourselves but to upvote others, we can also see the value of borrowing Steem Power to accelerate the process of getting more votes and giving more to others. The secret to getting a lot of upvotes is giving them along with writing posts that readers love and enjoy consistently. Thus, a new author without the funds to say load up with 35,000 Steem Power equal to about $60 a day in upvoting power can instead pay less than $1000 to borrow that much instead. Through a combination of voting others up and a few self upvotes, borrowing the Steem Power might be a better option in some cases that trying to just use the smaller amount because of the chance to hit the trending page with a higher vote.
This strategy is absolutely ideal when the price of Steem drops temporarily allowing a buyer to grab say 1000 Steem Power cheap and then when the price goes high to borrow much more at effectively a much higher rate to pay out way more than the initial investment. For example, let's say the price of Steem drops to $0.50 one day in an epic plunge allowing one of us with $1,000 to buy 2,000 Steem. Let's say the price then corrects to $1.50 making that 2,000 Steem now worth $6,000. Instead of cashing out, 1,000 of the Steem is then used twice to borrow about 35,000 Steem Power for two months which is enough for about $60+ in upvotes every day. With a combination of self upvotes and voting others upvote, the author hits the trending page with a post or two along with getting new auto upvotes by others. The original $1,000 ends up resulting in payouts of $10,000+ in author rewards alongside auto upvotes for about $10 per post leaving the original borrower in a position to consistently earn thousands of dollars a month in posts on an original investment of $1,000.
Thank you for reading this and I hope this post about https://www.minnowbooster.net/market was helpful!
Love,
Jerry Banfield
Shared on
PS: Witness votes are the most important votes we make on Steem because one vote for a witness lasts indefinitely! Would you please make a vote for jerrybanfield as a witness or set jerrybanfield as a proxy to handle all witness votes at https://steemit.com/~witnesses because when we make our votes, we feel in control of our future together? Thank you to the 717 accounts voting for me as a witness, the 196M VESTS assigned from users trusting me to make all witness votes by setting me as proxy, and @followbtcnews for making these .gif images!

OR