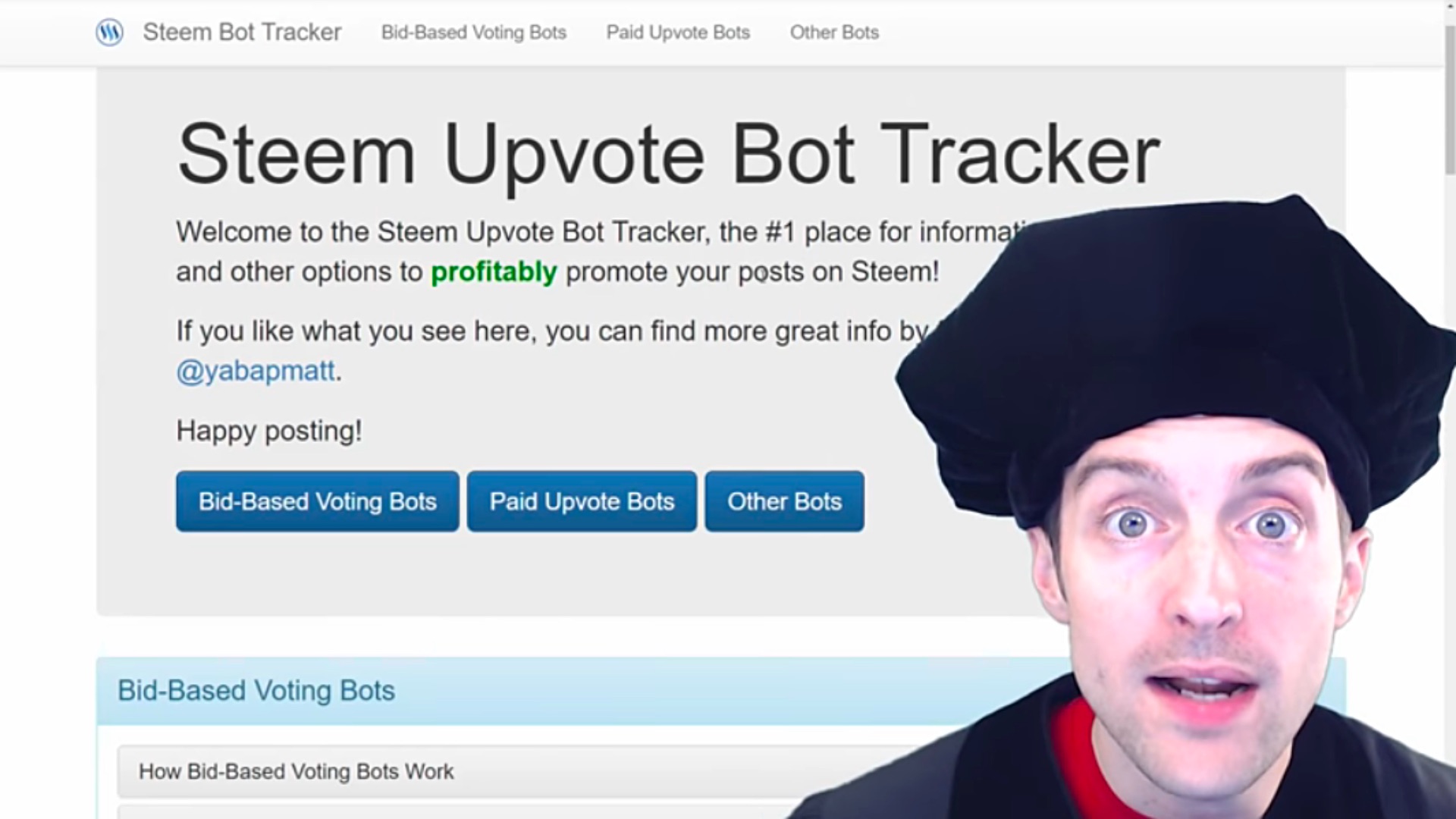 How do we get more upvotes on a post on Steem?
Using the new Steem Upvote Bot Tracker by @yabapmatt we can see a list of upvoting bots running the Dr. Otto vote bidding bot by @inertia along with other custom post voting bots like @minnowbooster, which will give us upvotes in exchange for SBD.
Anyone with a witness server, seed node or other Ubuntu Linux can run a voting bot on a Steem account and accept bids in exchange for votes using https://github.com/inertia186/drotto.
Note I have tested bid based voting bots over the last month or two before making this post. Today I generally choose not to use any of them on my posts or make a system to profit off of paying for votes or running my own bot because I think a better investment is to buy more Steem and power it up to increase my own vote. Bid based voting bots are very useful for special cases to promote a post or counter downvotes on an occasional post. Sending SBD to a voting bot generally leads to a significant profit for both the bot operator and/or the Steem power delegation funding the bot.
If I ran a voting bot on my account, I would easily make about 100 SBD every day at the current price of Steem around $1. I choose not to run my own bot today even though it would be easy to setup on my seed node server because we have enough voting bots. I can do more good with my votes to help inspire hundreds of authors to keep adding value to our blockchain than I can making $100 a day for myself by running my own voting bot. Paying to use upvoting bots generally results in those with a lot of Steem power earning even more and everyone not using a voting bot to have a bit smaller upvote. The best way to promote posts is to simply buy Steem and power it up giving an indefinite vote increase.
That said, I still show this because it may be helpful for specific posts where a large amount of promotion is desired! Voting bots are also an amazing testimonial to the ability to innovate within the Steem blockchain economy which is good for all of us! To use the bots to upvote a post, follow the steps in this post or watch the tutorial video at the end of the post to get the votes on your post! The short version is to watch which votes, if any, are profitable, send the SBD to the right bot at the right time using a link to the post in the memo, and wait for the vote! This can be done for any user and sometimes for comments.

Steem Upvoting Bot Tracker Shows Profitable Promotion Potential

How do we give our posts a bit of a boost if we want to increase the amount of upvotes, but we've already maxed out our own voting power and we have some Steem Backed Dollars to promote them?
I will show you here how we can do that using Steem Upvote Bots on this tool by @yabapmatt. This tool by Matt, called Steem Upvote Bot Tracker, shows which one of the Steem upvoting bots is available, how much it's going to vote for and how much its next vote is worth.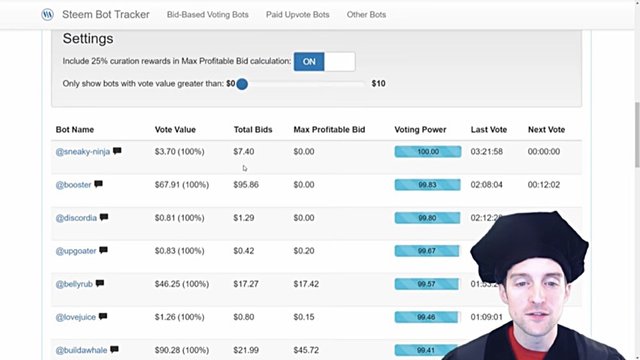 I think that if you want to use an upvote bot this is extremely helpful to see which ones are profitable, to see which ones are worth using and at the same time to have a better alternative than "Promote" post.
The official option to promote a post on Steemit is to use this "Promote" button. If I dropped all of my 1,900 Steem Dollars in here I could promote this post and it would go up to the very top of the trending page.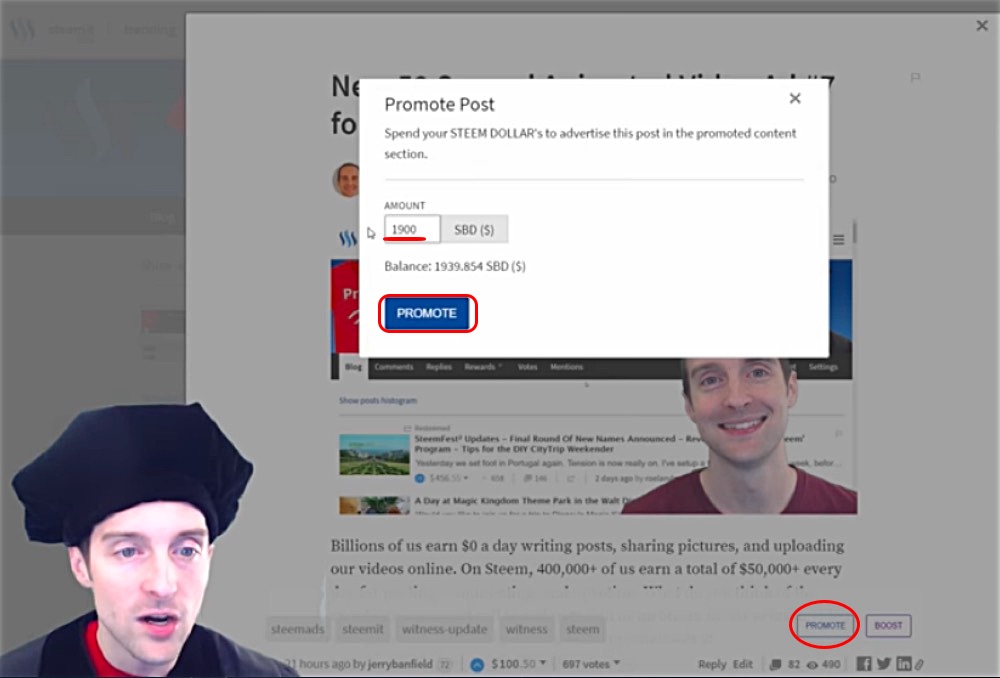 It would take 1,900 of my Steem Dollars, essentially burn those as far as I understand and put it into the upvote, which I don't think I would then get paid for either, but it would just put that into the post.
This is the official option to promote and this will put it up both in the promoted content, and if it's high enough it will put it, as far as I know, onto the Trending page and Hot page as well.
This is a great way if you want to instantly promote your post and get it up to the top of the Hot page. You can just spend about 10 Steem Dollars and promote it and that will allow it to go right up there to the top. Now, the problem with this is it's essentially burned. As far as I understand you don't actually get that back since you used it to promote it. It just essentially gets burned and is gone.
Now, with these upvote bots what you're essentially doing is paying for an upvote from a bot that often has a lot of Voting Power.
For example, @booster has a $67 upvote right now, @buildawhale has a $90 upvote, and then @bellyrub has got a $46 upvote.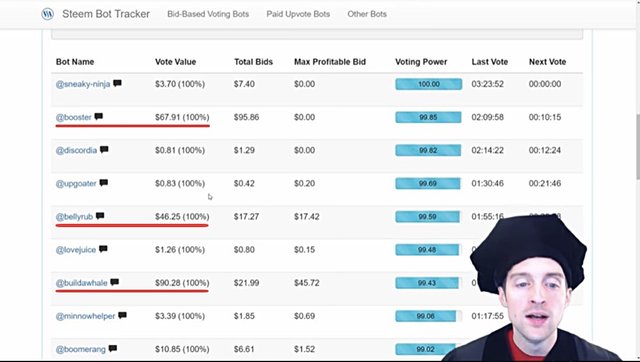 Now, that's at full power. What happens, these bots use the program, I believe, created by @inertia called something like "Dr. Otto" and you can run this on any account, even if you hardly have any Voting Power.
I could run this on my account if I wanted to, I've been considering it, but so far I've decided not to, and you can then accept upvotes from memos and Steem Backed Dollars sent in wallet transfers.
This is how these bots work: you send a memo with a minimum amount of Steem Backed Dollars and a link to your post, and then these bots put a corresponding amount of votes on your post based on how much you've sent.
What I will do is show you how I've used that and where I found this.
I found this on Utopian.io, which is a project by @elear. An incredible project created within the first month or so of @elear being on Steem.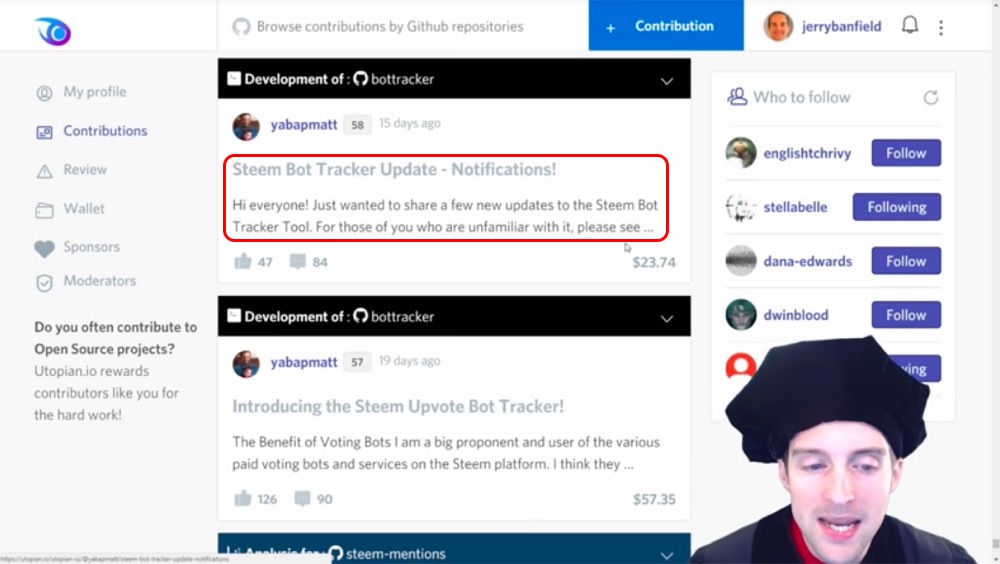 I found this by browsing Utopian.io. I found Matt's update here, which has earned him between these two over $70 to create this upvote tracker, and it's located at http://steembottracker.com.
Steem Bot Tracker is then what I use to find all these different bots and to see which one is worth putting in a vote on.
This Steem Bot Tracker allows us to see which bots are worth using and to see which bots are available. These are bid-based bots I focused on so far, but there's also straight-up paid upvote bots.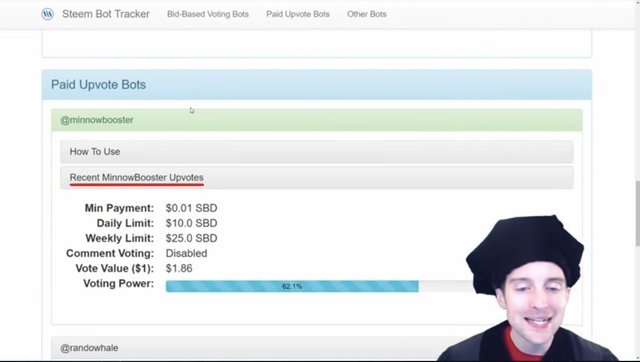 For example, you can use @minnowbooster and some of these other bots have different rules that you can use to get upvotes.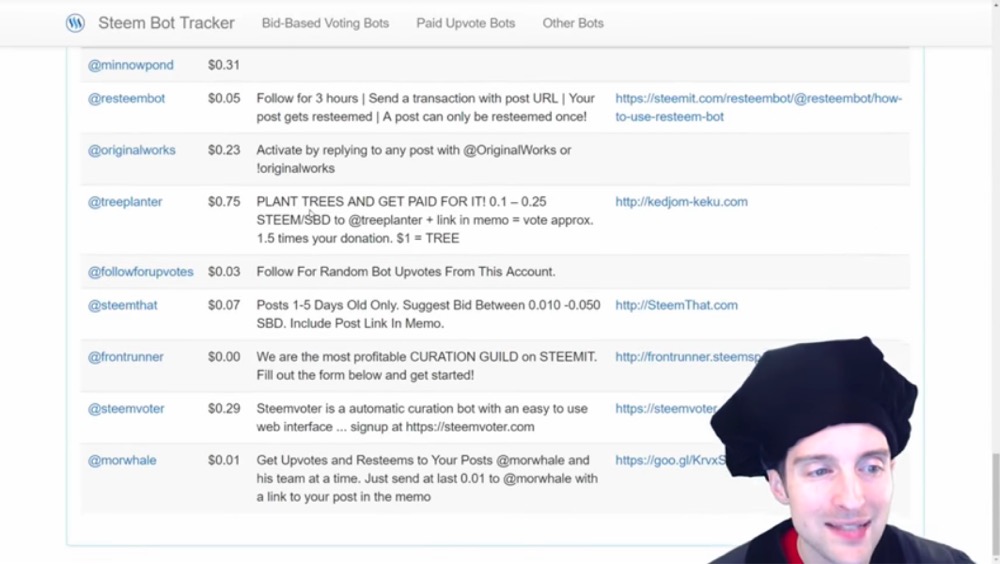 You also have vote calculators, you can calculate how much they are worth.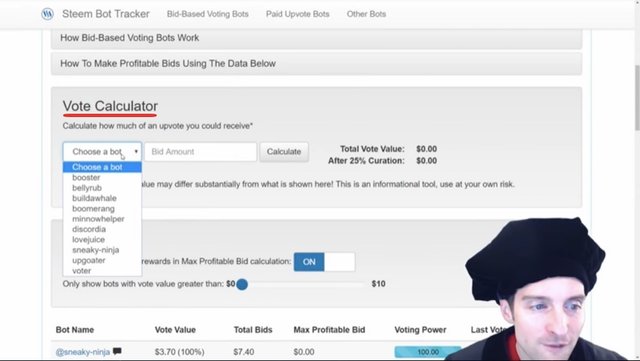 I will show you how to use these and why you might consider using them. The first time I used any of these voting bots I had a couple of posts written by other authors where I wanted to get some extra votes. After I'd already done my full upvote, I wanted some more votes on it.
Here's why?
My friend Michel Gerard wrote a nice post about why he's voting for me as a witness. I gave him a hundred percent upvote on it worth $7. He got a few more upvotes, which gave him about $10. @nextgencrypto then came along after I resteemed this and down-voted it $11 hiding the entire post and taking all the rewards away.
I looked at that and said, "Well, I don't agree with that. I will take some of my Steem Backed Dollars to promote this."
What I did then, I sent each of these voting bots about 11 Steem Backed Dollars. I sent @bellyrub 11 Steem Dollars, I sent @buildawhale 11 Steem Dollars and I sent about $10 or so to @minnowbooster.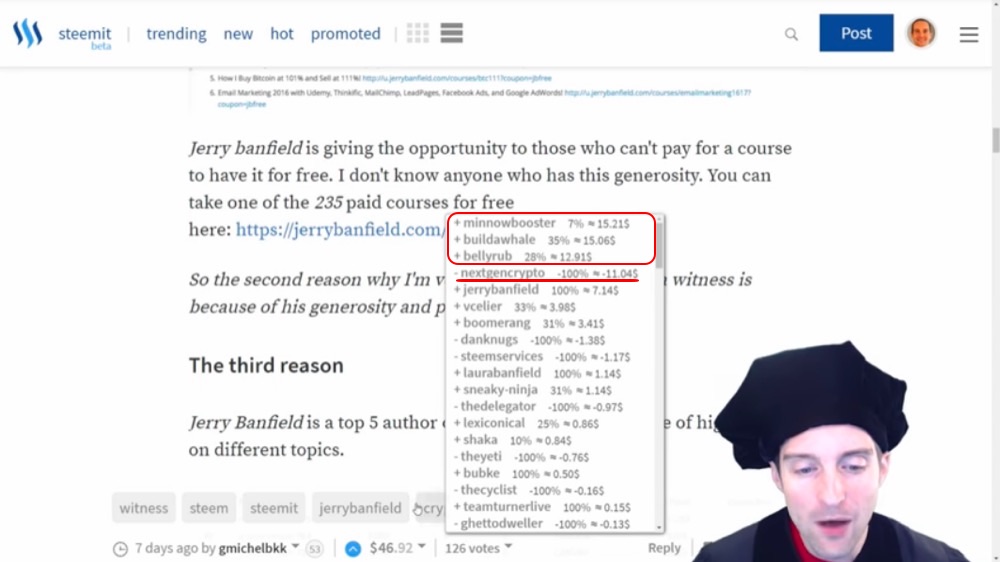 Now, these bots collectively added $42 or so in upvotes to the post. While the post was hidden before and I'd already upvoted it, so it couldn't be uploaded anymore, I spent about $30 and these bots added about $40 in upvotes to the post, and the post has earned $46 in rewards.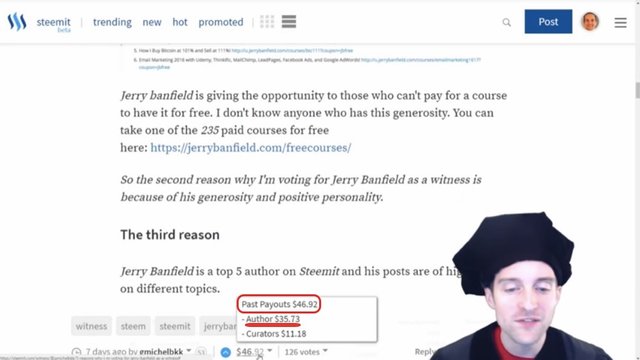 Now, the author gets $35, so @gmichelbkk will get $35. The curators will get $11 on this post.
I will get a lot of the curation rewards because I made one of the first votes on it for a large amount and so I will get maybe a few dollars back from the curation rewards. I use this upvoting bot because I couldn't use any more of my own voting power and I felt it should be upvoted more.
These upvoting bots can be used in similar situations.
For example, I have a new post here.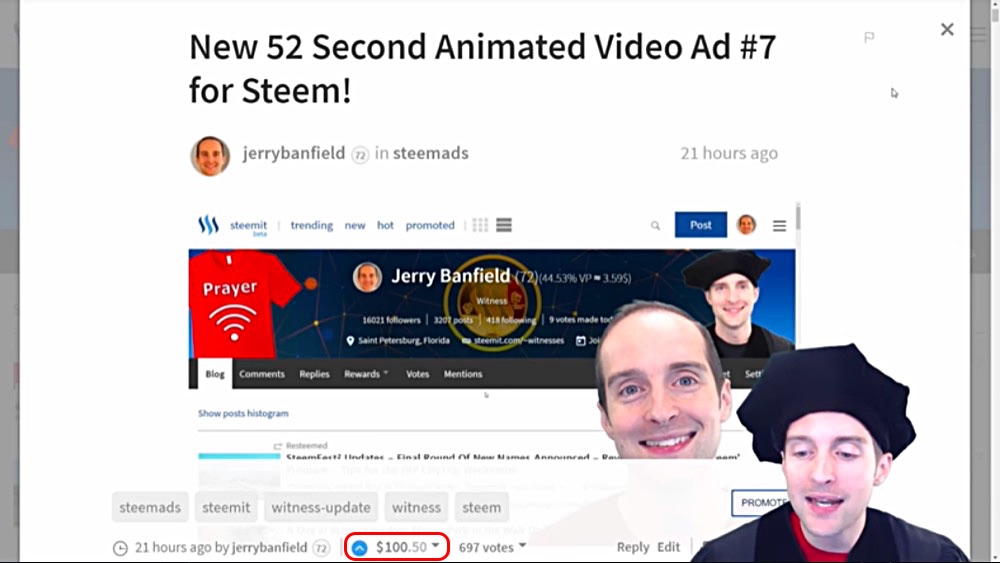 Now, I'm grateful it's earning $100. It doesn't need to earn more than $100, that's enough. However, if I wanted to push it further up on the trending page, then I could just grab the URL on this post and go into my wallet, and then go over into "Transfer."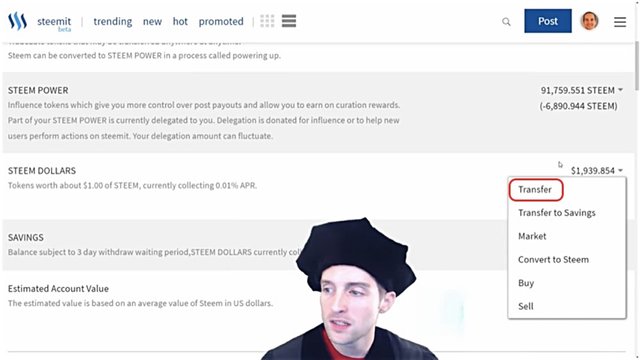 Then let's say I wanted to use @booster, I would type "booster" in without the @ and put in my bid.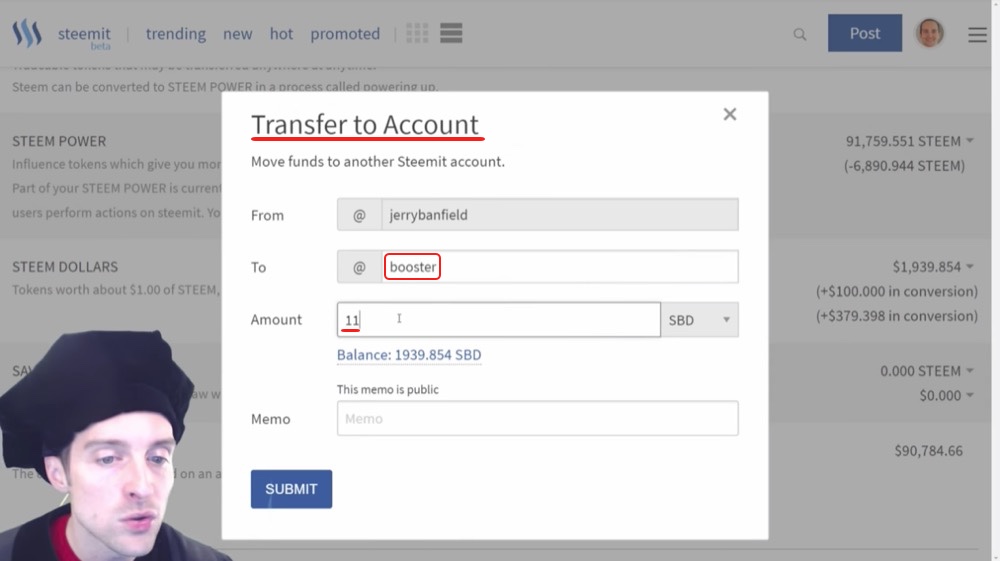 According to the voting bot track, I wouldn't want to actually use @booster, right this moment because it has $95 in bids on a $67 upvote, which means that it's not likely to even pay back what the users have voted for. After the next set of upvotes, that might change in a few hours and it might be profitable.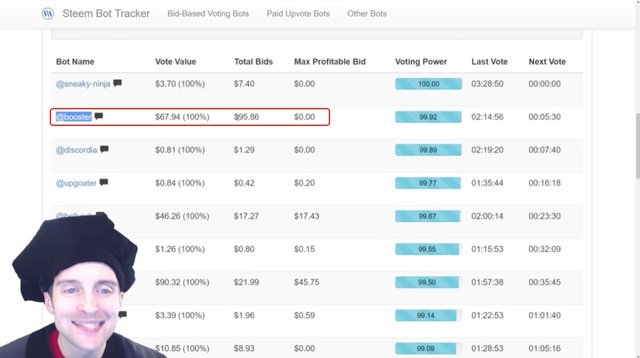 Now, that's why you want to use something like this Steem Upvote Bot Tracker. You can see which one of these is available and @bellyrub might be a better bet right now because it has $17 on upvotes available.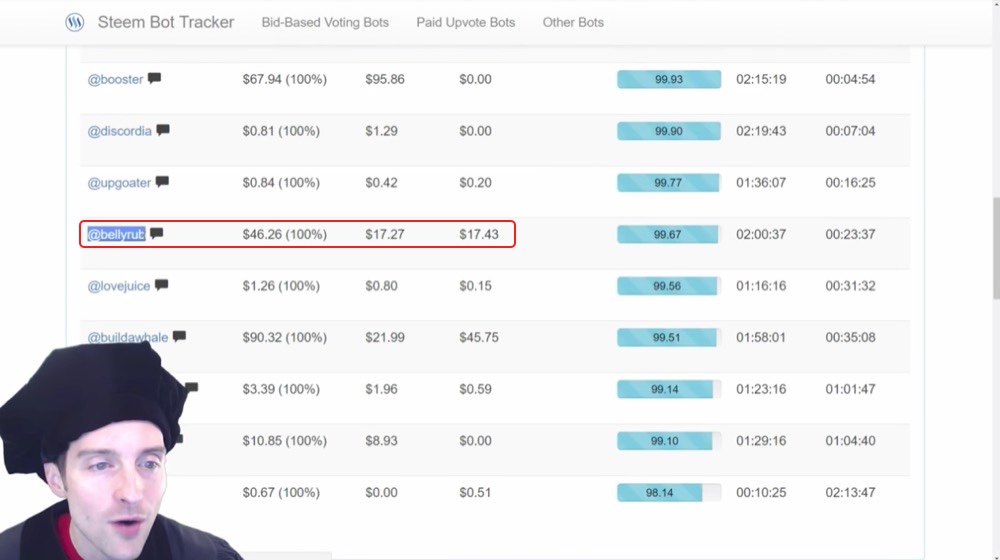 I would use @bellyrub right now because not as many people are on it, and then for $11 what I would do, I would put in the URL of the post in the Memo here.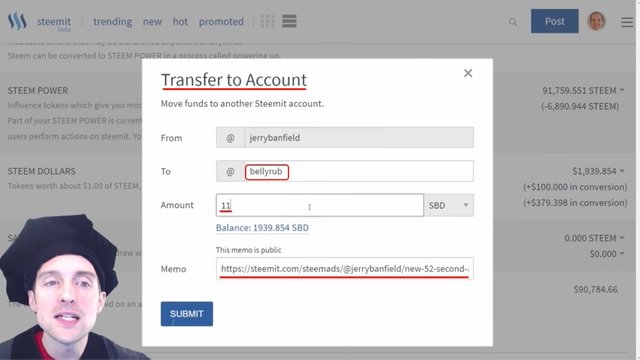 This is all I need to do to use one of these upvoting bots: I go to my wallet, I do a transfer, I put in the name of the upvoting bot and I put in a bid that corresponds with the Max Profitable Bid on here.
I don't want to go do a bid that's less than the profitable bid.
For example, if the max profitable bid is zero, I'm essentially losing money. If I send $11 dollars to @booster right now, just because it's got a bunch of bids as it's so popular, I will probably only get a $5 or $6, maybe $7, upvote.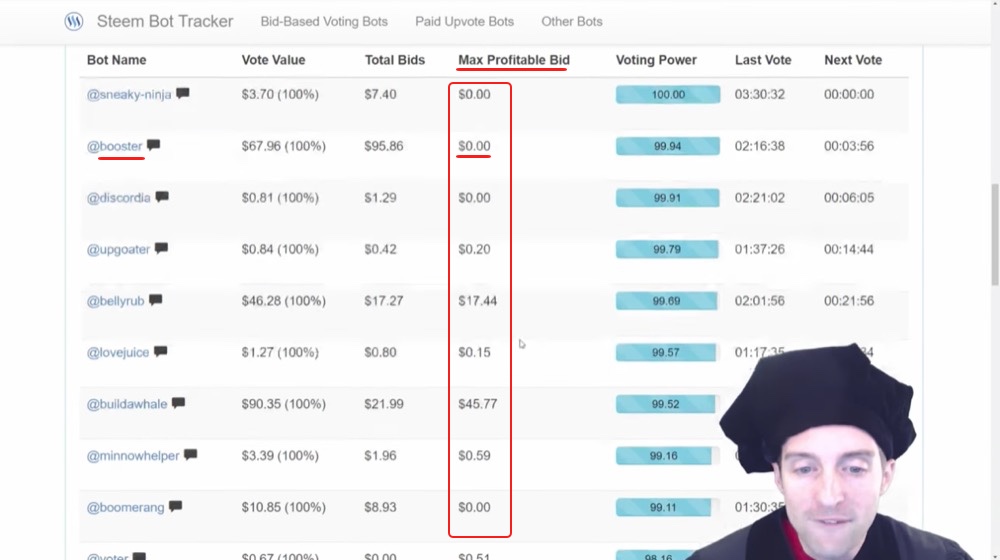 You use this Max Profitable Bid column to pick out one of these bots. Now, keep in mind that some of them have different amounts of time until they're going to vote.
For example, @buildawhale is going to vote in 33 minutes, so if it's that profitable of a vote, I might be able to send $20 and get a vote for $45.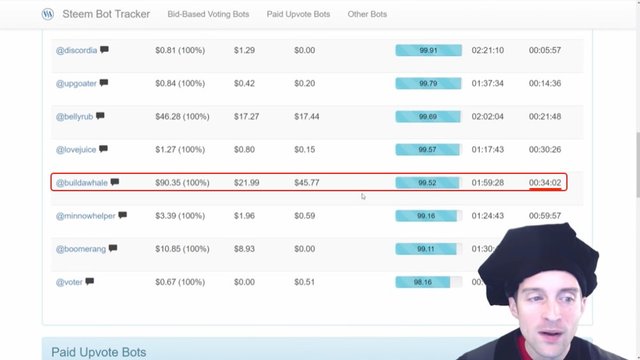 Maybe I will use that, but now that I've shown you this tracker that will probably ruin the ability to just sneak in for a lot of us and get a profitable upvote because any of us can look at this, and then do this.
If I wanted to send to @bellyrub, I got the post in, and I submit here.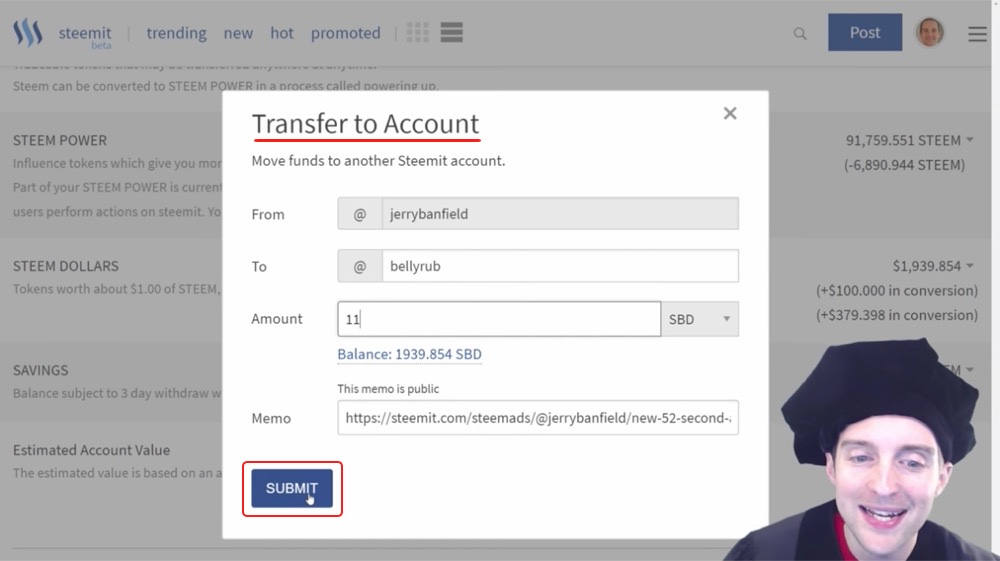 Then, as you can see in the transfers, each individual one of these transactions has its own follow-up.
I sent 11 Steem Dollars to @booster for that same post and it said, "Unable to accept bid." I sent something to @minnowhelper and it didn't accept, @randowhale did not accept it either.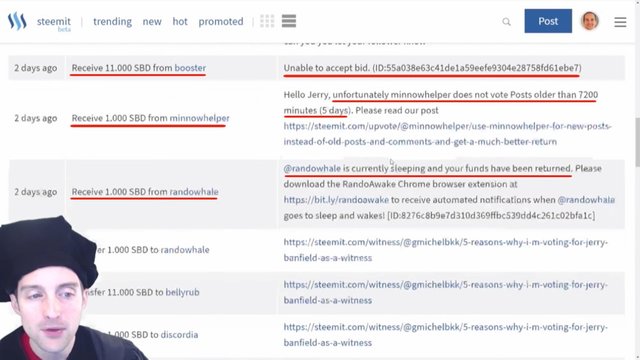 However, these 11 Steem Dollars I sent to @booster, @buildawhale and @bellyrub, all of these went through as you can see on my friend Michel Gerard's post here.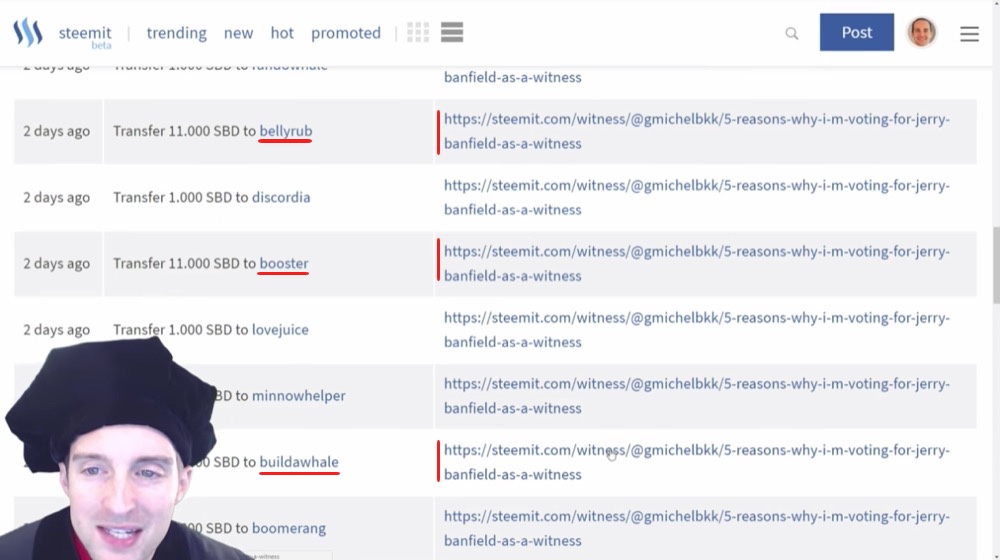 That's how you use these Steem Bot Trackers, I've seen a lot of questions like, "How do I get my post promoted a bit more?"
The best time to use these bots depends on when you're hoping to get a return out of it in terms of, for your curators or for yourself. If you want to boost this up and help your post to reach the Trending page, you want to hit your post as soon as possible.
If I wanted to do this on one of my newest posts, the ideal scenario for my curators, I would set it up to go off about one hour after my post went up.
That way all of the curators automatically voting on my posts would get good rewards that were enhanced by the bots, and then my post would have the best chance to go into the Hot and the Trending page.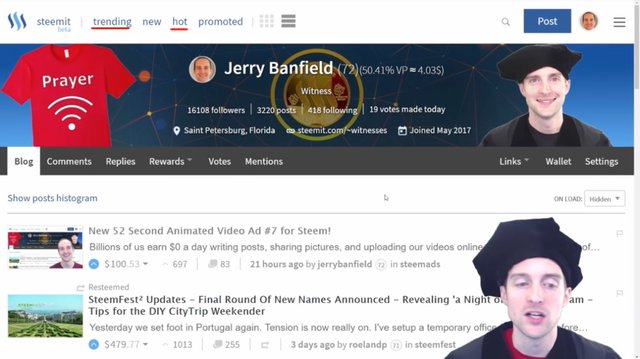 Now, there's not a ton of people, that are checking the Hot page and the Trending page all the time, but there are additional followers and votes you can get from being up there. If I want to make a new post today, and then push it up with the upvoting bots, I could do that and the first 24 hours essentially is the best time to do that.
If @buildawhale and @bellyrub both continue to have a good profit margin here, by the time they go to in about five minutes, I may just throw in my $10 because I'll get more than that back on an upvote, and that will boost the rewards for all my curators as well.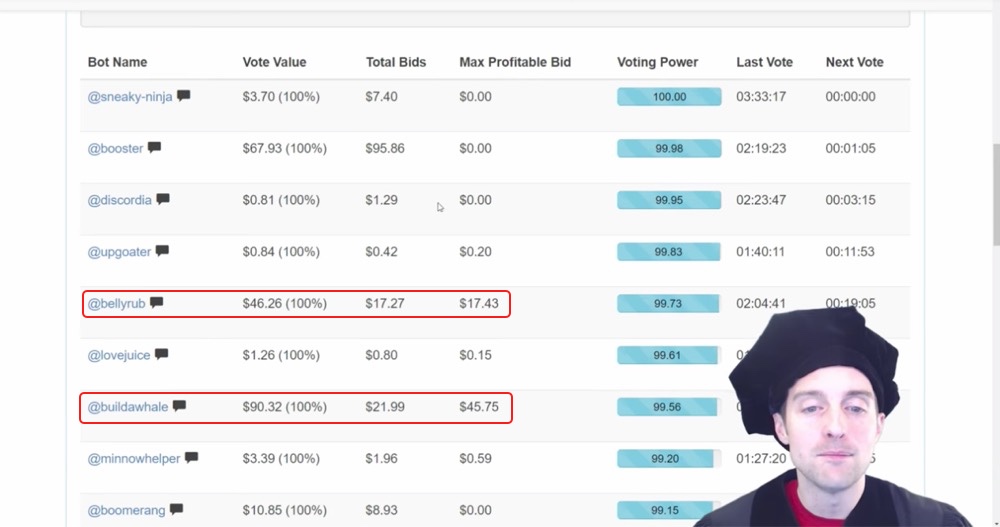 One key way to get a lot of upvotes is to provide good rewards for curators. That means for the people who upvote you automatically early especially, if you pay out good consistently, if your posts get more votes after the first hour, you've got a good shot at having people set you on an auto-voter because after that first hour it is mostly manual votes. If your post do a good job getting manual votes that's attractive for the automatic bot voting if that makes sense.
Now, one downside to consider is that you're essentially paying for Voting Power using these, which means you are lining the pockets essentially of whoever runs these voting bots.
Who we choose to give our money to on these bots makes a difference as to who's making a profit. These bots are very profitable and it's worth learning exactly who's responsible for the bot as well. Even if the bot is paying good money on an upvote, you may want to consider, "Who am I helping? Who am I essentially giving this money to?"
It's not obvious on the bots themselves right away to see exactly who is profiting from these bot upvotes. That's something to consider and I realize that on principle a lot of us may just say that you shouldn't even allow voting bots like this because it kind of ruins the curation in some ways.
I had1,900 Steem Dollars in my account when I made this and I could essentially just use these upvoting bots all the time to give my curators bigger rewards, to draw even more auto-upvotes on my posts.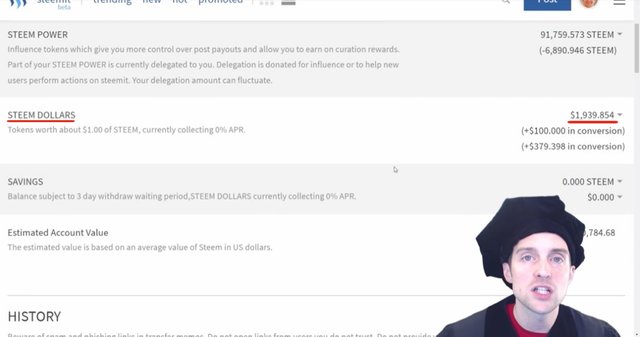 Using these voting bots produces a lot of profit for the people running the voting bots and it then potentially reduces the ability or the effectiveness of other users being able to just get normal votes or to compete with someone who's essentially paying for upvoting bots.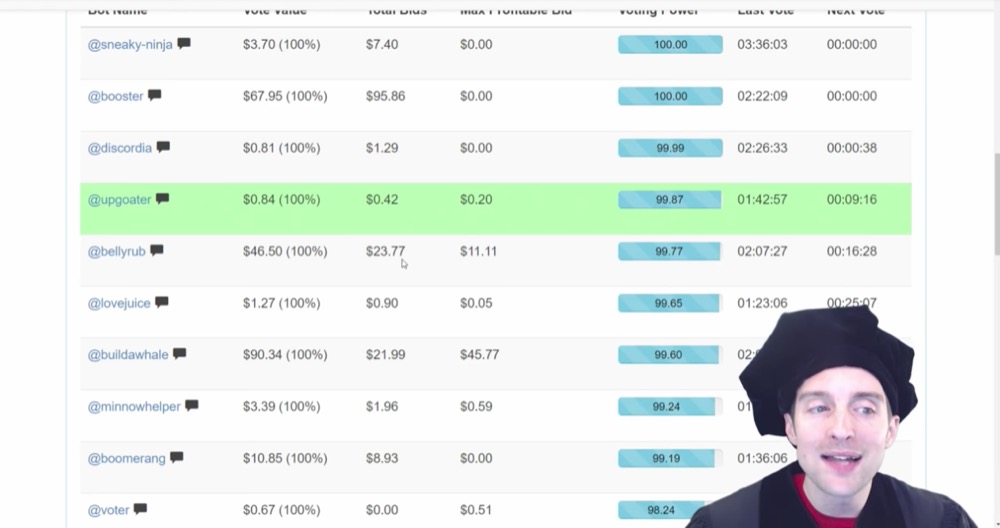 There's some downsides to these bots as well and I encourage you to take a look at this in terms of whether you want to use them or not, and to understand that sometimes these may not work properly. You may send money in, it might take hours to get a refund if the bot's vote doesn't go off for some reason.
They can be very helpful though for getting some new views on your posts, especially if you're struggling to get over that ten or twenty dollar mark on a post, and you just want some additional traffic from the Trending or the Hot page.
Using these voting bots can help, but at the same time if there are too many people using the bots, if the Max Profitable Bid is zero, then essentially it is losing money to send over to that bot. If you see the voting bot is in the profitable area, you might be able to get a good vote on that.
I appreciate you reading this.
I hope this has been helpful for you.
I love you.
You are awesome.


Final words

Thank you very much to Matt or @yabapmatt for making this tool for us to track these bots.
Thank you to the managers of the bots who've given us this option, whether or not we should or should not use it, but this is at least here, it is possible for us to use.
I hope you have a wonderful day today.
Thank you for reading this blog post, which was originally filmed as the video below.
If you found this post helpful on Steemit, would you please upvote it and follow me because you will then be able to see more posts like this in your home feed?
Love,
Jerry Banfield with edits by @gmichelbkk on the transcript from @deniskj
Shared on:
Would you please make a vote for jerrybanfield as a witness or set jerrybanfield as a proxy to handle all witness votes at https://steemit.com/~witnesses because the rewards I receive go to pay for ads which will help promote Steem for years? Thank you to the 1900+ Steem accounts voting for me as a witness, the nearly 1 million dollars worth of Steem power assigned by followers trusting me to make all witness votes through setting me as proxy, and @followbtcnews for making these .gif images!

Or

Let's stay together?
If you want to stay updated via email, will you sign up either to get new emails daily with post at http://jerry.tips/steemposts or join at http://jerry.tips/emaillist1017 to get an email once a week with highlights?
If you would like to build an ongoing relationship with me online, will you please choose a reward on Patreon at https://www.patreon.com/jerrybanfield and join the discord server afterwards because I check discord daily for new messages and host voice calls once a week for partners and clients?