Krispy Kreme - Apple Crumble
Morning Everyone,
Finished off with the Krispy Kreme Mini's yesterday so now I'm back to their regular sized donuts. In actual fact, the one I am going to tell you about seemed bigger than usual. Let's welcome Krispy Kreme's Apple Crumble donut. (Clap clap!)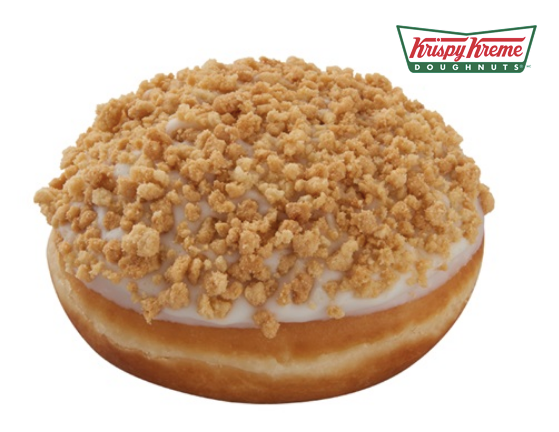 Apple Crumble
With a delicious tangy apple filling, hand dipped in icing & topped with golden crumble."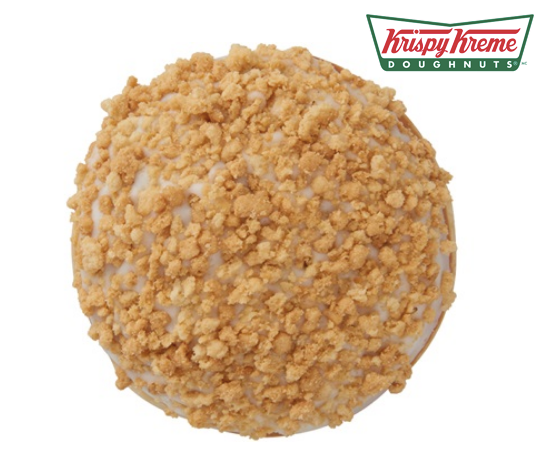 It's been a while since Krispy Kreme have had a new apple flavoured donut. They normally have their Apple Pie one on the menu, but this one has taken its place. This donut not only looks great but smells great too. It really does smell like an Apple Crumble. It has that sweet and spicy scent. The donut is pretty large and I have to open up really wide to get a bite in. My teeth crack through the crumble and icing then sinks into that lovely donut texture and homes in on the centre. First of all the icing, crumble and apple filling altogether tastes just like apple crumble. The topping is really crunchy and biscuity, and the icing is sweet. The jam as described is tangy and there are lots of little pieces of apple. I'm glad as I didn't want just apple jam in the middle. I think it's the filling that has the spice that I can smell. I'm pretty sure it's cinnamon. Would make sense as apple pies normally have cinnamon in the filling so thy not an apple crumble? Overall a very delicious donut! I'm going in for more!
Ok, yes this donut is so good that I've probably had more than a dozen of these donuts alone, on top of all the other ones I've had as well. I'm surprised I'm not the size of the house! This donut was so good that I had to write to Krispy Kreme to ask how long they were on the menu for. They replied back "They will be on the menu for as long as you want them to be." I was kind of ok with this response. I kept telling myself 'They will announce the last day of the donut before they go.' Well guess what? they didn't. The one weekend where I didn't get any was the final time to get my hands on these, They did announce that weekend some other donuts were going, but they didn't mention this one ONCE! I'm GUTTED!!! I could almost cry!
I really really really really, REALLY want to see this back. A lot sooner rather than later. I'm happy with later if it means they will put this on the menu again. I'd be devastated if it never comes back… probably one of my favourite donuts and sweet things I've ever had the pleasure of having in my life.
KRISPY KRME MINI'S
Mini Original Glazed
Mini Chocolate Sprinkles
Mini Strawberry Sprinkles
Krispy Kreme - Pudsey Doughnut
Krispy Kreme - Limited Edition KitKat
KRISPY KREME DUO'S
Praline Chocolate Cheesecake DUOGHNUT
Double Chocolate DUOGHNUT
KRISPY KREME CHRISTMAS COLLECTION 2019
Festive Cherry Sparkle
Speculoos Shimmer
White Chocolate Shimmer
Poppy Penguin
Rudolph the Reindeer
KRISPY KREME HALLOWEEN COLLECTION - 2019
Jack o' Lantern
Toffee Apple
Sid the Slime Monster
KRISPY KREME AMERICAN PIE COLLECTION
Reese's Peanut Butter Pie
Maple Pecan Pie
Cherry Pie
Banana Kreme Pie
Krispy Kreme - Original Filled Salted Caramel
Krispy Kreme - Original Filled Nutty Chocolatta
Krispy Kreme - Mother's Day Donuts
KRISPY KREME EASTER COLLECTION
Lemon Glazed Ring
Lemon Chick
Easter Egg
Bunny Bum
KRISPY KREME CHRISTMAS COLLECTION
Winter Berry
Rudolph
Merry Sparkle
KRISPY KREME HALLOWEEN COLLECTION
Spooky Sprinkles
Vimto Ring
Jack-O-Lantern
Vimto Shimmer
Frankie Frankestein