Krispy Kreme American Pie Collection - Cherry Pie
Hello Everyone,
Recently I wrote about the Banana Kreme Pie from Krispy Kreme and how much I was comparing it to their Lotus Biscoff. Today I am going to give you my thoughts on their Cherry Pie.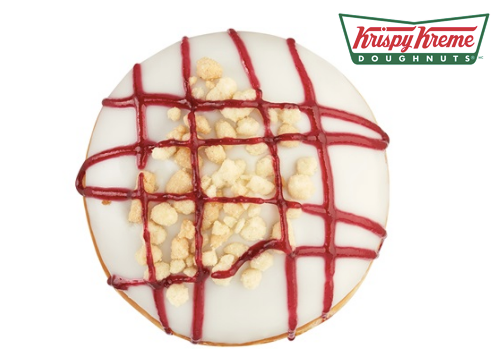 Cherry Pie
"Oozing with a delicious cherry pie filling, hand dipped in icing and topped with crunchy shortcake crumble and cherry sauce."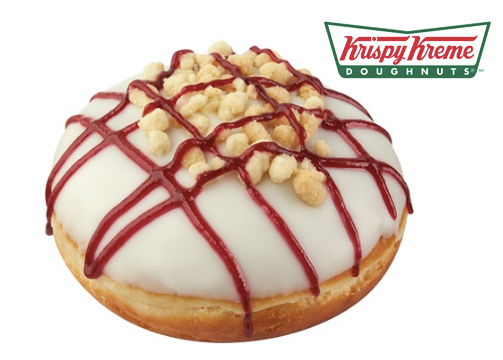 After my disappointment of the Banana Kreme Pie donut, I was really looking forward to tuck into the Cherry Pie donut. I haven't had a cherry donut before and the thought has crossed my mind when trying to think of new flavours that companies should come up with, so I was so excited when I saw this on the menu. The donut did look like a Cherry Pie donut. It reminded me of a Cherry Bakewell. The donut did smell cherry like, and when I took my first bite, I was expected to be hit with an explosion of cherry flavour. I couldn't really taste the cherry jam on top and the shortcake pieces were a bit 'meh'. I didn't read the description of this donut when I bought it. I thought it was going to be filled with cherry jam. Well that's what I would have done when creating it. The donut had a cherry flavoured kreme on the inside. Much to ones disappointment! Even then I struggled to get any hint of cherry flavour. When I did after eating half of the donut, it tasted really fake! I mean really fake! Nothing tasted fresh and fruity at all!! Again I was left feeling deflated. The only nice thing about this donut was the icing on top.
Again, another disappointing donut. Krispy Kreme are killing me! I waited so very long before I got my hands on these. I wish I hadn't bothered. Just so fake and horrible. If someone was to ask me what I think a cherry pie filling is, I would say its lashings of jam and fruit. This didn't have either! Really this donut should have done away with the kreme, or if they wanted kreme in the middle, then at least do a little bit and pad the rest out with a sticky sweet jam like their Glazed Raspberry. I have a few more donuts to go. Fingers crossed for the next ones, eh?
Keep an eye out for future donuts of the American Pie collection… I can't wait to tell you my findings!
KRISPY KREME AMERICAN PIE COLLECTION
Banana Kreme Pie
Krispy Kreme - Original Filled Salted Caramel
Krispy Kreme - Original Filled Nutty Chocolatta
Krispy Kreme - Mother's Day Donuts
KRISPY KREME EASTER COLLECTION
Lemon Glazed Ring
Lemon Chick
Easter Egg
Bunny Bum
KRISPY KREME CHRISTMAS COLLECTION
Winter Berry
Rudolph
Merry Sparkle
KRISPY KREME HALLOWEEN COLLECTION
Spooky Sprinkles
Vimto Ring
Jack-O-Lantern
Vimto Shimmer
Frankie Frankestein