Krispy Kreme Easter Collection - Easter Egg
Afternoon Again Steemit,
So I have just wrote a post on Krispy Kreme's Bunny Bum donut. Now I am going to tell you about their Easter Egg donut. This post is making my mouth water just thinking about this donut. Read on to find out more!
Easter Egg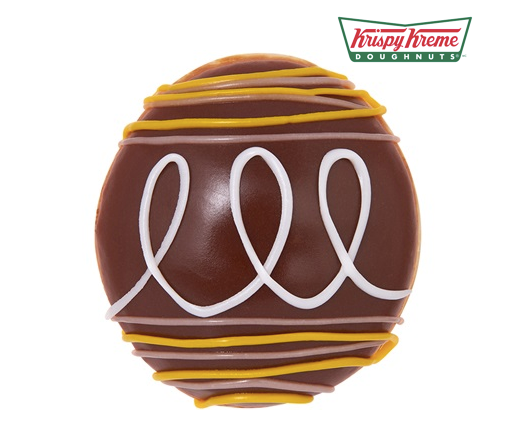 "With a chocolate kreme filling, hand dipped in chocolate icing and topped with an icing decoration."
As mentioned on my previous post I took a guess on what each of the donut flavours would be. I guessed this one as being chocolate. It's a 'chocolate egg!' Chocolate eggs go hand in hand when celebrating the Easter period. Again, this donut was just as soft as the other one. Really sumptuous. These donuts were decorated just like chocolate Easter eggs. I love the look of the swirls on the front and the icing on the top and bottom. The chocolate icing was very tasty and the inside was even better. I expected quite a dense, bitter filling inside the donut, but the inside was just like a fluffy, chocolate mousse! I don't think I've ever had such a fluffy, light centre before. The chocolate was delicious. Not bitter in the slightest… just a really nice chocolaty taste.
When I guessed this was going to be a chocolate egg, I was a little bit disappointed because Krispy Kreme always have chocolate donuts on the go and I thought it would be nice to have some different flavours for a change. I'm glad they did bring out the chocolate Easter egg now. This has got to be one of the tastiest chocolate donuts I've had from Krispy Kreme in a long time. I think what made it so delicious was the texture inside. It was so divine. A chocoholics must!
KRISPY KREME EASTER COLLECTION
Bunny Bum
KRISPY KREME CHRISTMAS COLLECTION
Winter Berry
Rudolph
Merry Sparkle
KRISPY KREME HALLOWEEN COLLECTION
Spooky Sprinkles
Vimto Ring
Jack-O-Lantern
Vimto Shimmer
Frankie Frankestein
KRISPY KREME CARAMEL SELECTION
Caramel Glazed