Krispy Kreme - Pudsey Doughnut
Good Afternoon,
Today's donut is a very special one indeed. Its a charity donut and 20% of each Pudsey single donut sold, Krispy Kreme will donate to BBC Children in Need. Children in Need happens every year in November and it is run by the BBC. Pusey Bear is the face of Children in Need and the charity raises money for disadvantaged children and young people in the UK.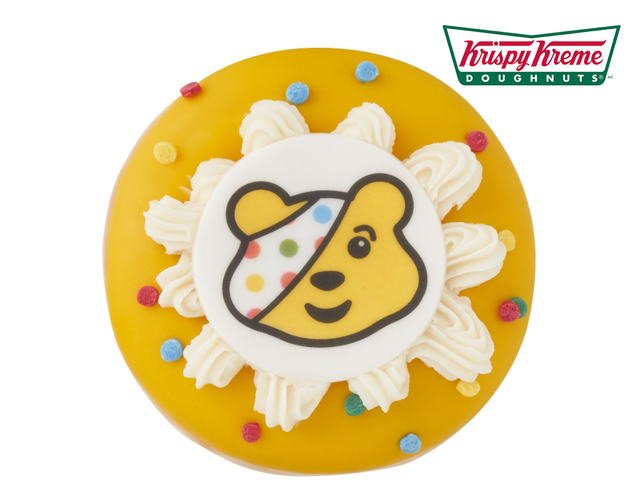 Pudsey Doughnut
Krispy Kreme's Signature Original Glazed ring, hand dipped in yellow icing and finished with delicious vanilla kreme frosting, colourful sprinkles and an edible Pudsey decoration."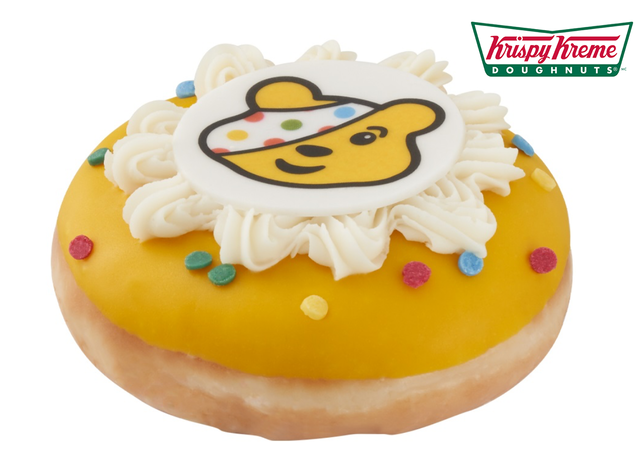 I have never seen a Krispy Kreme donut so colourful and vibrant and what's more it's for charity! The brightness of the yellow icing and the colourful dots to represent Pudsey Bear is a really nice touch. I love Pudsey's face propped up by a thick layer of vanilla kreme frosting too. He is one special bear. Usually when I have a donut with a centrepiece or something fancy on top, I always pick it off first and eat it. Not with this donut though. I bite straight in. The yellow icing is just the right thickness and when you get into Pudsey (sorry Pudsey), you can see your teeth marks in the vanilla kreme frosting. The only way I can describe what it's like eating this donut is this… imagine you have a big nice of birthday cake, you open wide and take the biggest bite, then you get hit with the surgery, vanilla flavour cream and frosting and the fluffiness of the sponge cake. Well yeah, that's exactly the same experience you get with this donut. It literally tastes like birthday cake. I haven't had a donut taste like this before. It was soon delicious!!
I was very happy to see that Krispy Kreme got into the spirit of things last year and they were donating to Children in Need. I for one have always given to charity and it was nice I could help in another way too by doing what I love doing the most. Eating Krispy Kremes!! No one has to tell me twice! This is one of the best flavour donuts and style of donuts I have seen from Krispy Kreme. I'm so glad with it's flavour too as I think this appeals to everyone, which means draw in more crowds and draw in more money for charity!! It's a win win! I happened to have three of these donuts. It's all for a good cause! Well done Krispy Kreme!
Love this little bear, I hope he comes back this year.
Krispy Kreme - Limited Edition KitKat
KRISPY KREME DUO'S
Praline Chocolate Cheesecake DUOGHNUT
Double Chocolate DUOGHNUT
KRISPY KREME CHRISTMAS COLLECTION 2019
Festive Cherry Sparkle
Speculoos Shimmer
White Chocolate Shimmer
Poppy Penguin
Rudolph the Reindeer
KRISPY KREME HALLOWEEN COLLECTION - 2019
Jack o' Lantern
Toffee Apple
Sid the Slime Monster
KRISPY KREME AMERICAN PIE COLLECTION
Reese's Peanut Butter Pie
Maple Pecan Pie
Cherry Pie
Banana Kreme Pie
Krispy Kreme - Original Filled Salted Caramel
Krispy Kreme - Original Filled Nutty Chocolatta
Krispy Kreme - Mother's Day Donuts
KRISPY KREME EASTER COLLECTION
Lemon Glazed Ring
Lemon Chick
Easter Egg
Bunny Bum
KRISPY KREME CHRISTMAS COLLECTION
Winter Berry
Rudolph
Merry Sparkle
KRISPY KREME HALLOWEEN COLLECTION
Spooky Sprinkles
Vimto Ring
Jack-O-Lantern
Vimto Shimmer
Frankie Frankestein