Praline Chocolate Cheesecake DUOGHNUT
Hello Again,
After yesterday's Double Chocolate DUOGHNUT, I now bring to you today Praline Chocolate Cheesecake DUOGHNUT. As mentioned, it makes a change for some different chocolate ones to come out, so let's see what this one is like. Read on to find out more.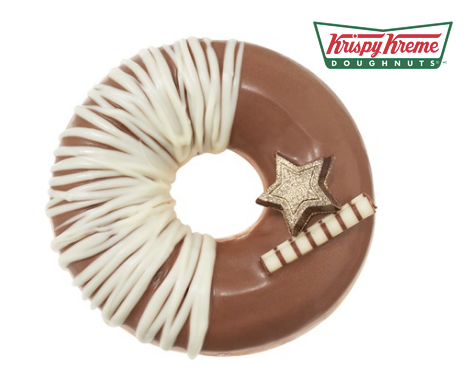 Praline Chocolate Cheesecake DUOGHNUT
Dipped in a chocolatey coating, with a rich praline chocolate cheesecake filling, hand decorated with a chocolate star and scroll."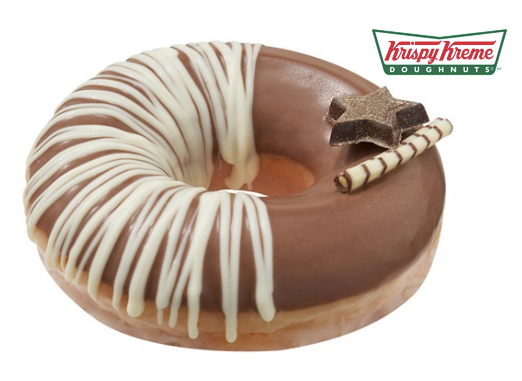 Yes!! A new ringed chocolate donut!! When I saw the one sat next to the Double Chocolate DUOGHNUT, I was immediately drawn in. I have never seen a ringed donut look so good! The chocolate icing was pretty shiny and I loved the white chocolate icing that covered half of the donut. As with the Double chocolate DUOGHNUT, this one had a chocolate star and scroll, which again, I take off and eat first. Yum! The Chocolate star has a nice snap which you can really hear when you bite into it. The scroll is good too. So, after taking a bite into this ring, you get the taste of the chocolate coating, but then you enter the centre where you get the lovely cheesecake filling. You can really taste the nuttiness of the filling and it has a really good consistency. Its really smooth, but it's not runny. The last thing you want is the filling to come oozing out when really you want it in your mouth. It tastes a little bit like chocolate spread but with the background note of cheesecake lurking around. Really nice!
Another good chocolate donut from Krispy Kreme, you can't go wrong with old fashioned chocolate and it's so much better thigh the cheesecake flavour too!
Might have a chocolate surprise donut next… You'll have to wait and see...
KRISPY KREME DUO'S
Double Chocolate DUOGHNUT
KRISPY KREME CHRISTMAS COLLECTION 2019
Festive Cherry Sparkle
Speculoos Shimmer
White Chocolate Shimmer
Poppy Penguin
Rudolph the Reindeer
KRISPY KREME HALLOWEEN COLLECTION - 2019
Jack o' Lantern
Toffee Apple
Sid the Slime Monster
KRISPY KREME AMERICAN PIE COLLECTION
Reese's Peanut Butter Pie
Maple Pecan Pie
Cherry Pie
Banana Kreme Pie
Krispy Kreme - Original Filled Salted Caramel
Krispy Kreme - Original Filled Nutty Chocolatta
Krispy Kreme - Mother's Day Donuts
KRISPY KREME EASTER COLLECTION
Lemon Glazed Ring
Lemon Chick
Easter Egg
Bunny Bum
KRISPY KREME CHRISTMAS COLLECTION
Winter Berry
Rudolph
Merry Sparkle
KRISPY KREME HALLOWEEN COLLECTION
Spooky Sprinkles
Vimto Ring
Jack-O-Lantern
Vimto Shimmer
Frankie Frankestein